Recounting the positive affirmations in this post is the best way to start your day. Every day begins with several expectations and aspirations. To build the momentum and the mental fortitude to forge on with your dreams, the need to start the day rightly can't be overstated.
While positive affirmation isn't an isolated magical formula for happiness or individual growth, it is a formidable force if practiced alongside other great and helpful principles that stabilize your interaction with the world.
Create momentum for a successful relationship, productive businesses, and sound health by deliberately making these inputs into your subconscious. These daily affirmations will make a meaningful impact on your personal growth.
1st January: Love finds me wherever I go.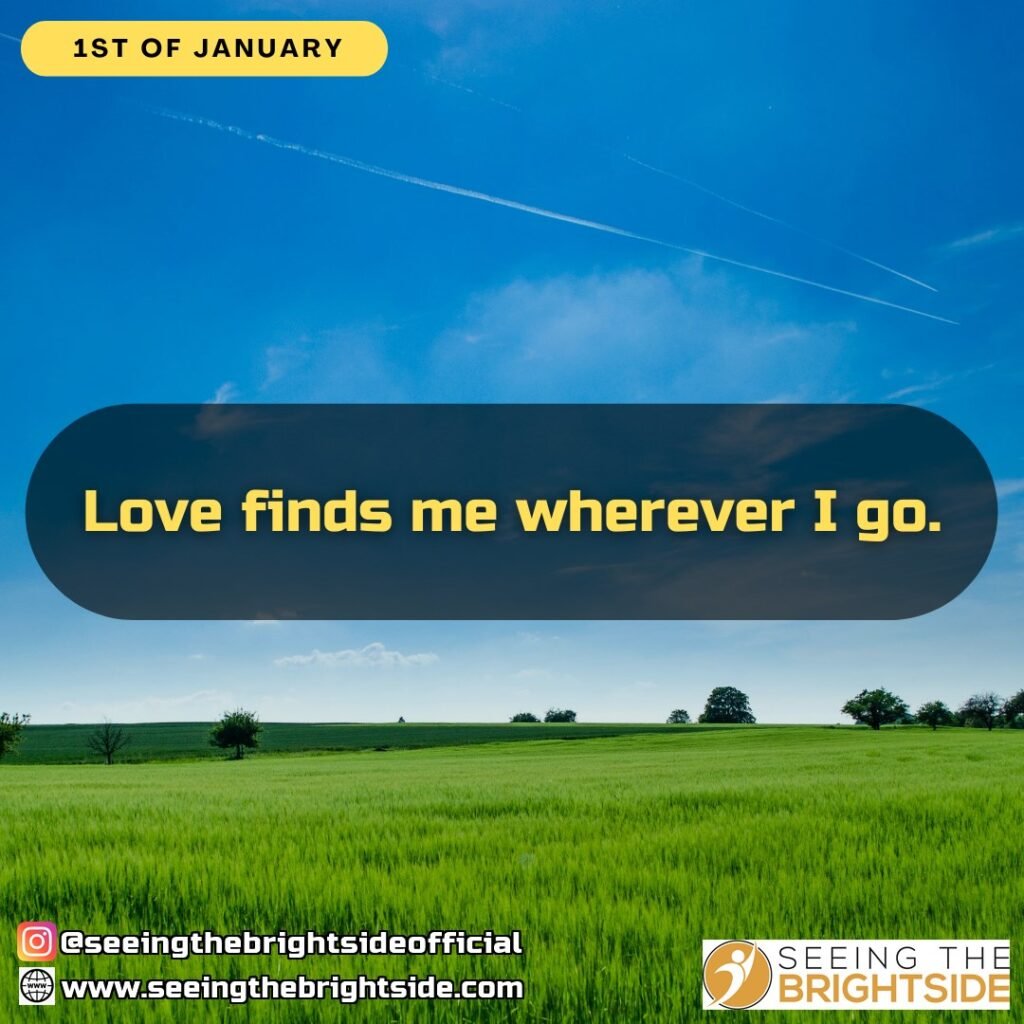 2nd January: My body feels healthy and wonderful every day.
3rd January: Every aspect of my life is filled with peace and joy.
4th January: I am in a perfect health because i choose to be happy.
5th January: Everywhere i go, joy and love surround me.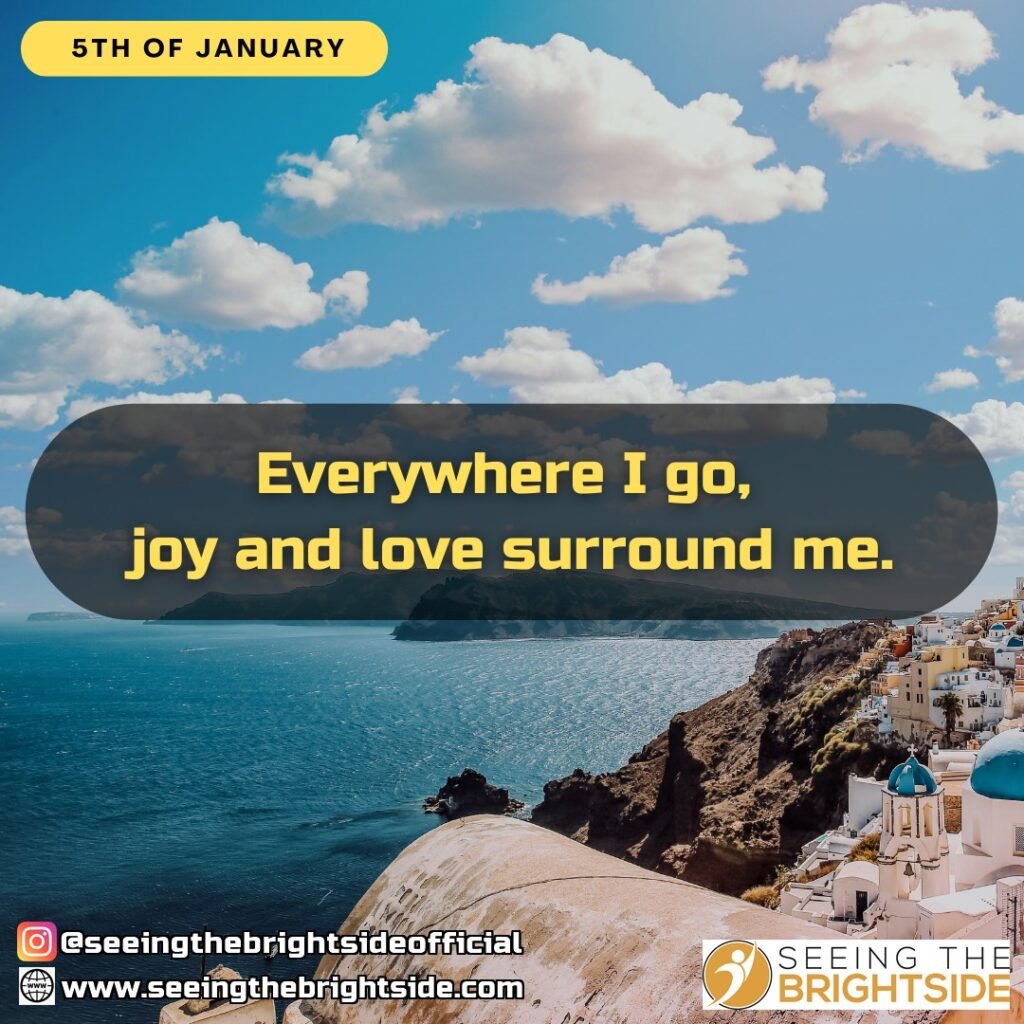 6th January: Joy makes the essence of my being.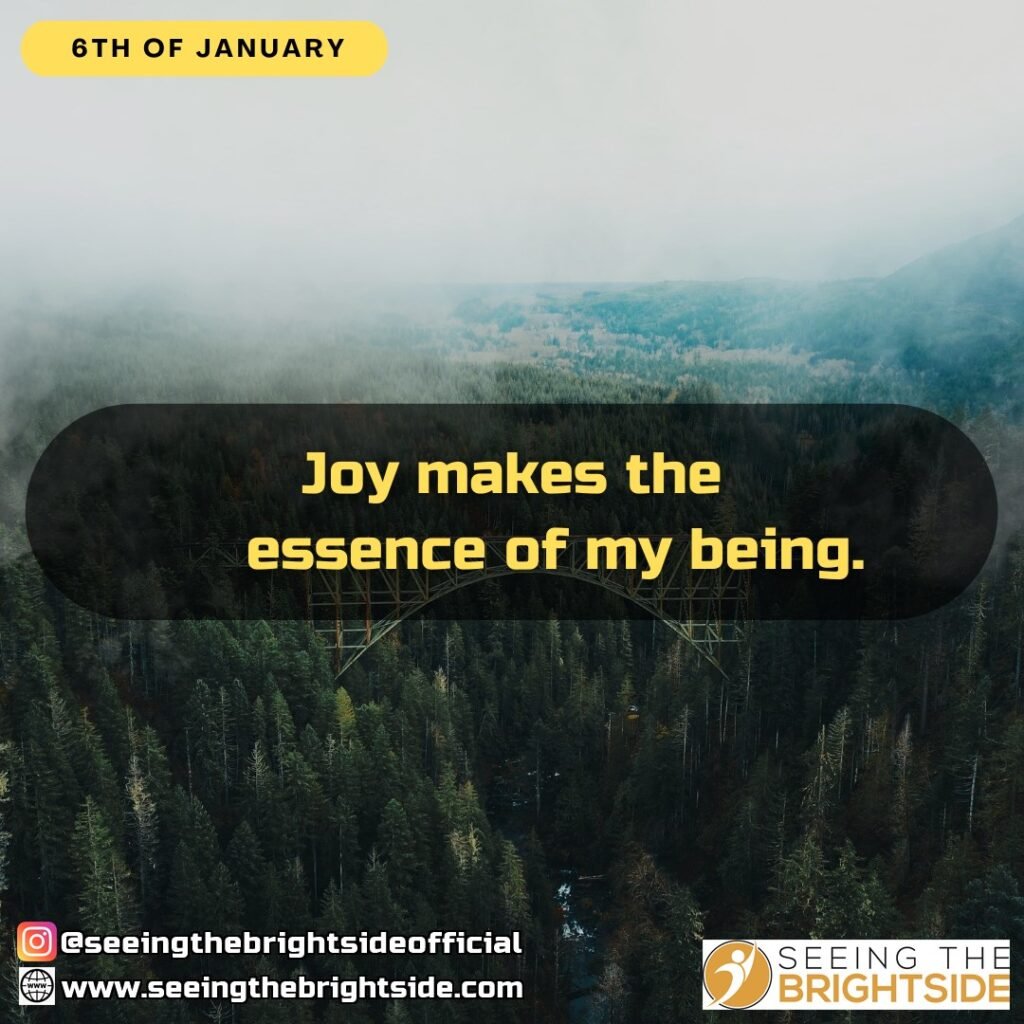 7th January: I have the peace that is deeper than all understanding on the inside of me.
8th January: My mind is peaceful as the depth of the ocean.
9th January: I view my world through the eyes of wonder and excitement.
10th January: I only wish the best for myself and others.
11th January: I am most receptive to blessings.
12th January: There's so much beauty in the nature that surrounds me.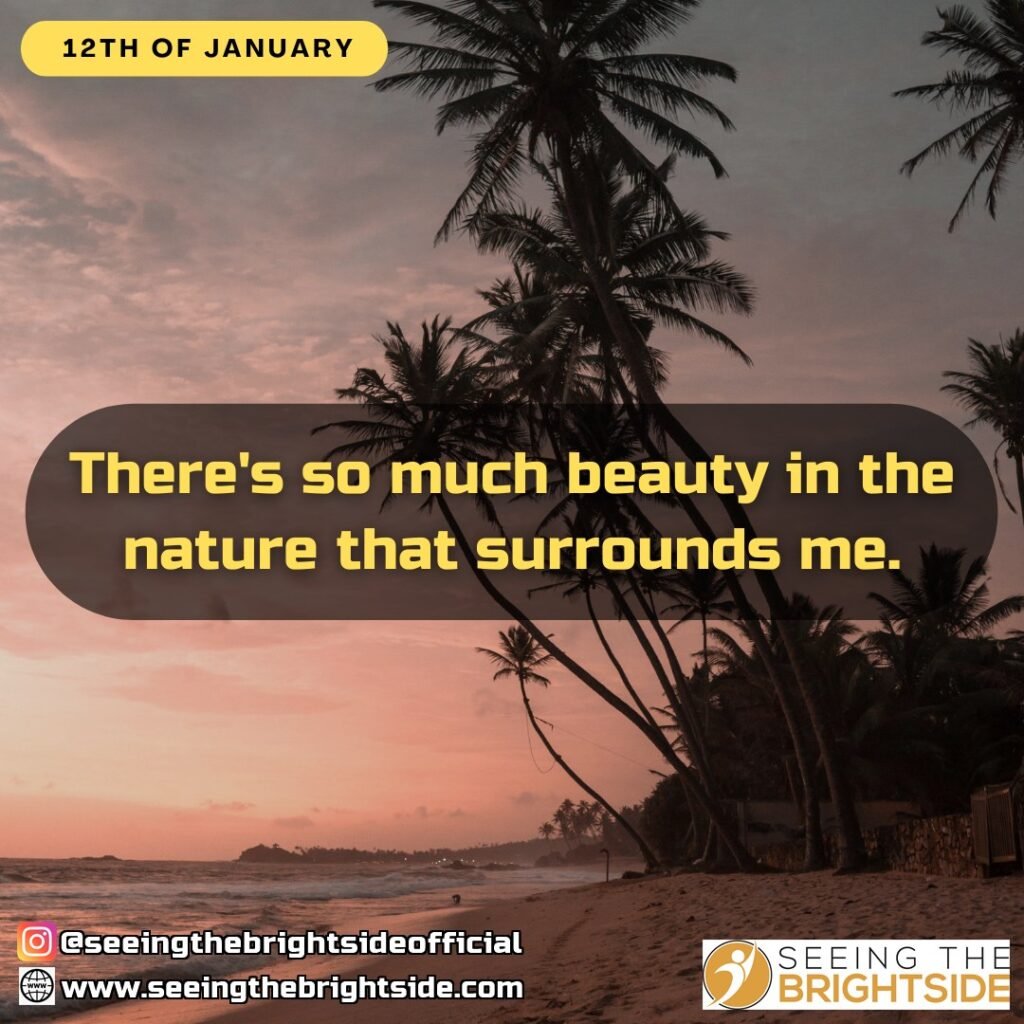 13th January: I creatively express my highest potential everyday.
14th January: Everyone i meet will accept and love me.
15th January: I let my unwavering faith do marvelous work for me always.
16th January: I am blessed by the divine breath that flows through me.
17th January: Love and healing flow through me because i am a channel of grace.
18th January: Everything i desire will come to me quickly.
19th January: Everything will work together for good in my life.
20th January: I will fulfil my heart desires.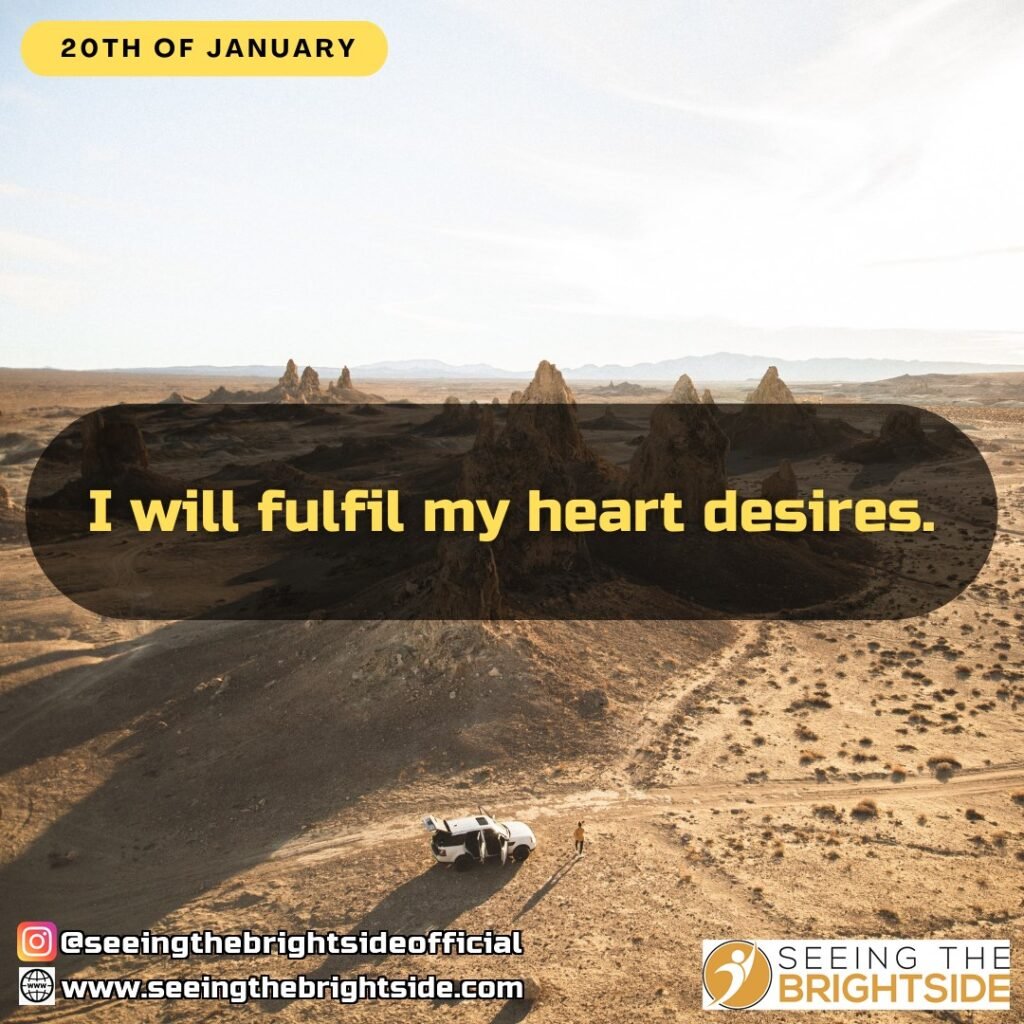 21th January: Every aspect of my life will express higher wisdom.
22nd January: My life will unfold perfectly.
23rd January: I give thanks for all the things i have.
24th January: My life is a product of positive change.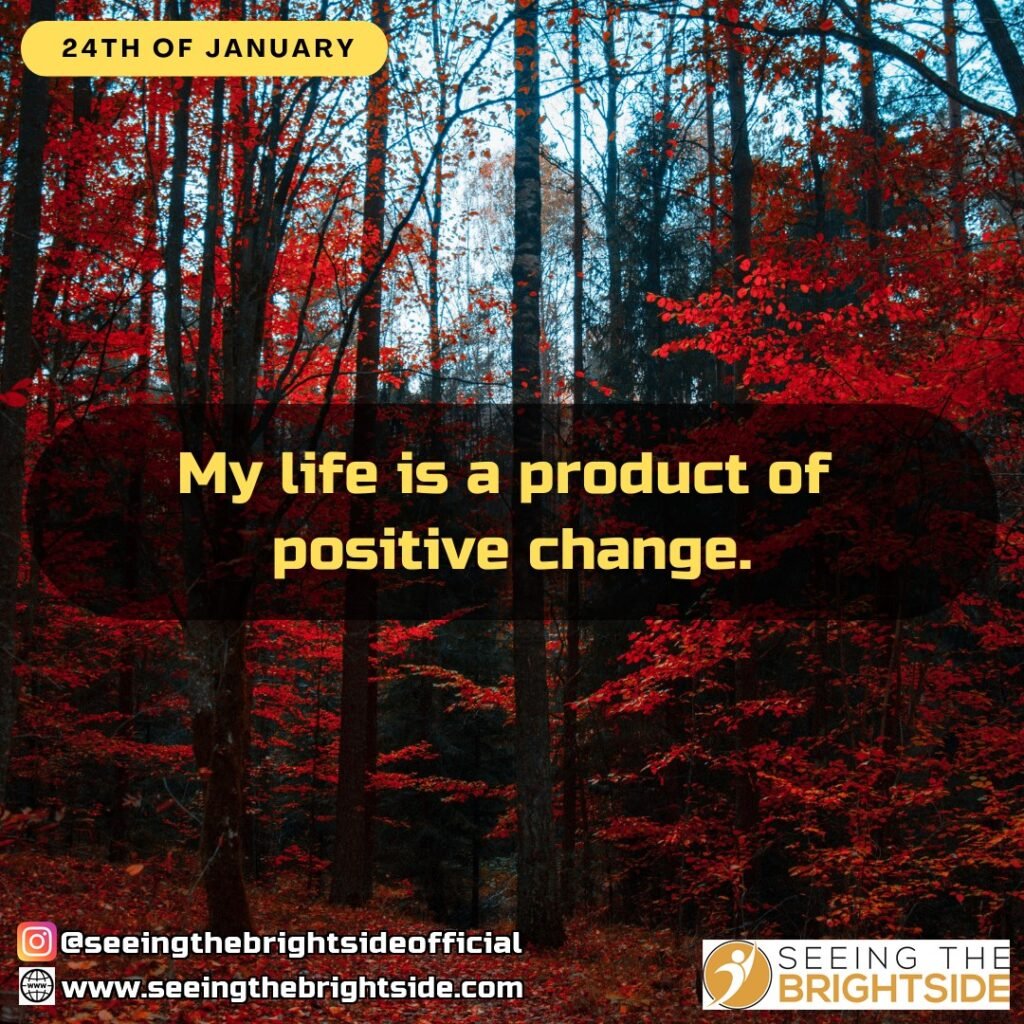 25th January: Every situation i encounter is a learning point.
26th January: I will encounter good fortunes all the days of my life.
27th January: My faith keeps me strong.
28th January: Peace and serenity are all i care about.
29th January: Abundant joy is all i see around me.
30th January: The joy that emanates from my soul fills my life unexplainably.
31st January: I carry joy inside of me always.
1st February: My world will expand today.
2nd February: I am thankful for life as i move through each day.
3rd February: My life blesses others.
4th February: I trust my life is under divine guidance.
5th February: I trust my life has the best outcomes.
6th February: I am open to all possibilities of abundance.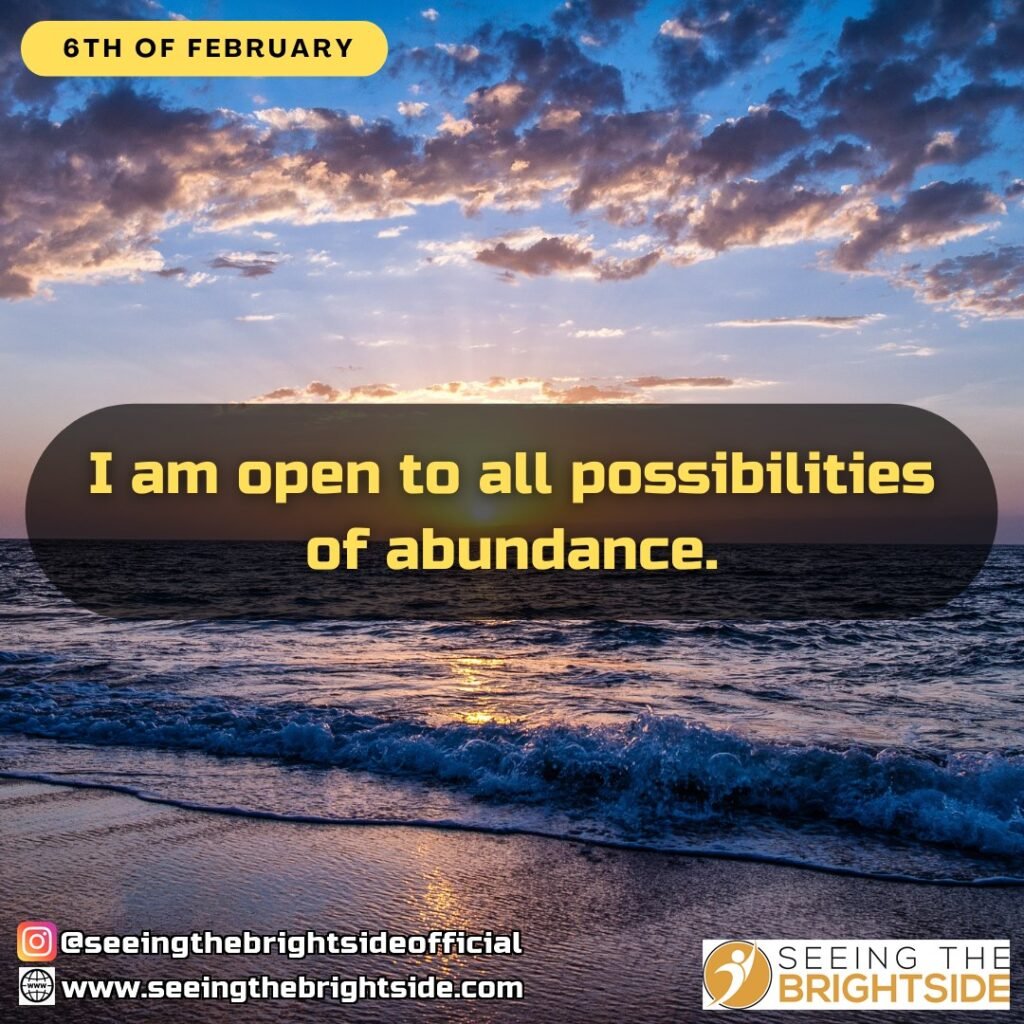 7th February:I bask in the abundance of the universe in me.
8th February: I am hopeful of receiving something extraordinary today.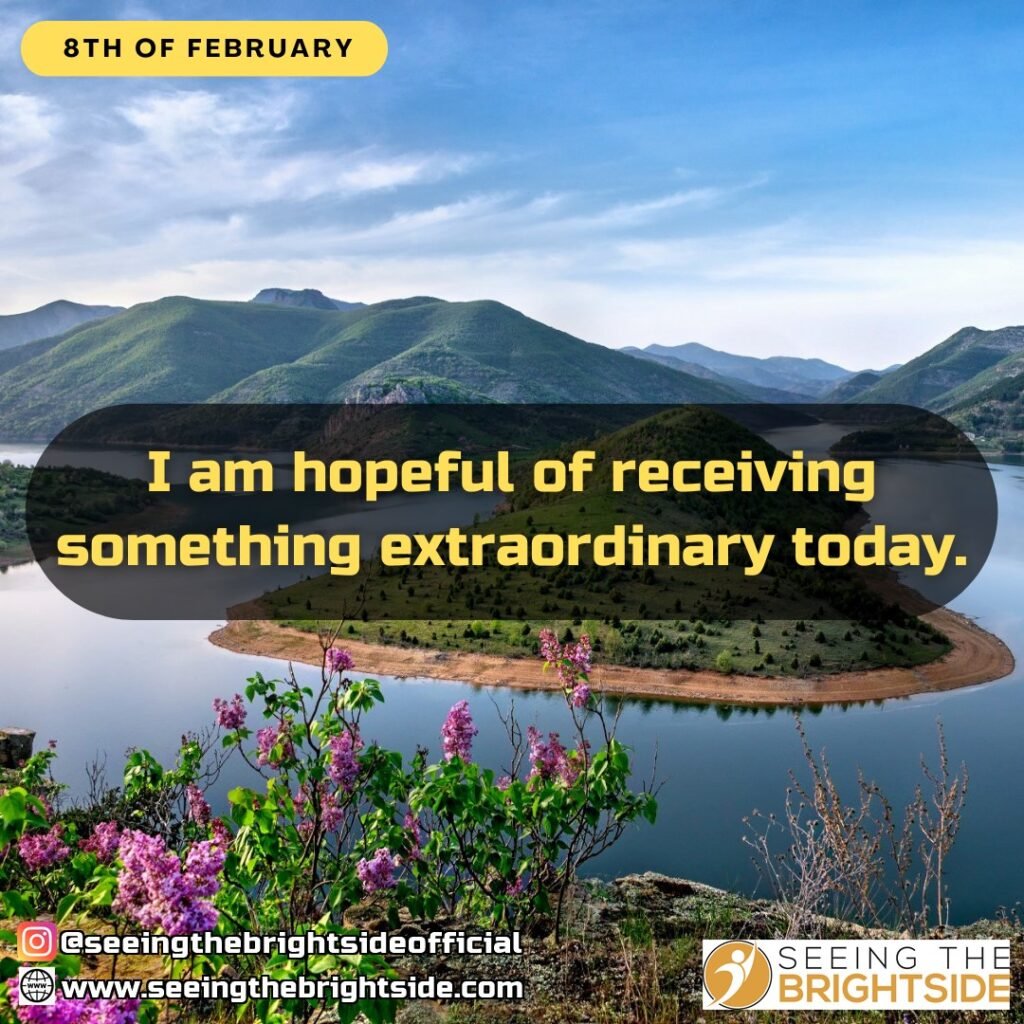 9th February: I receive unlimited prosperity.
10th February: Prosperity is my lot.
11th February: I will live in abundance.
12th February: I will experience remarkable coincidences in my life daily.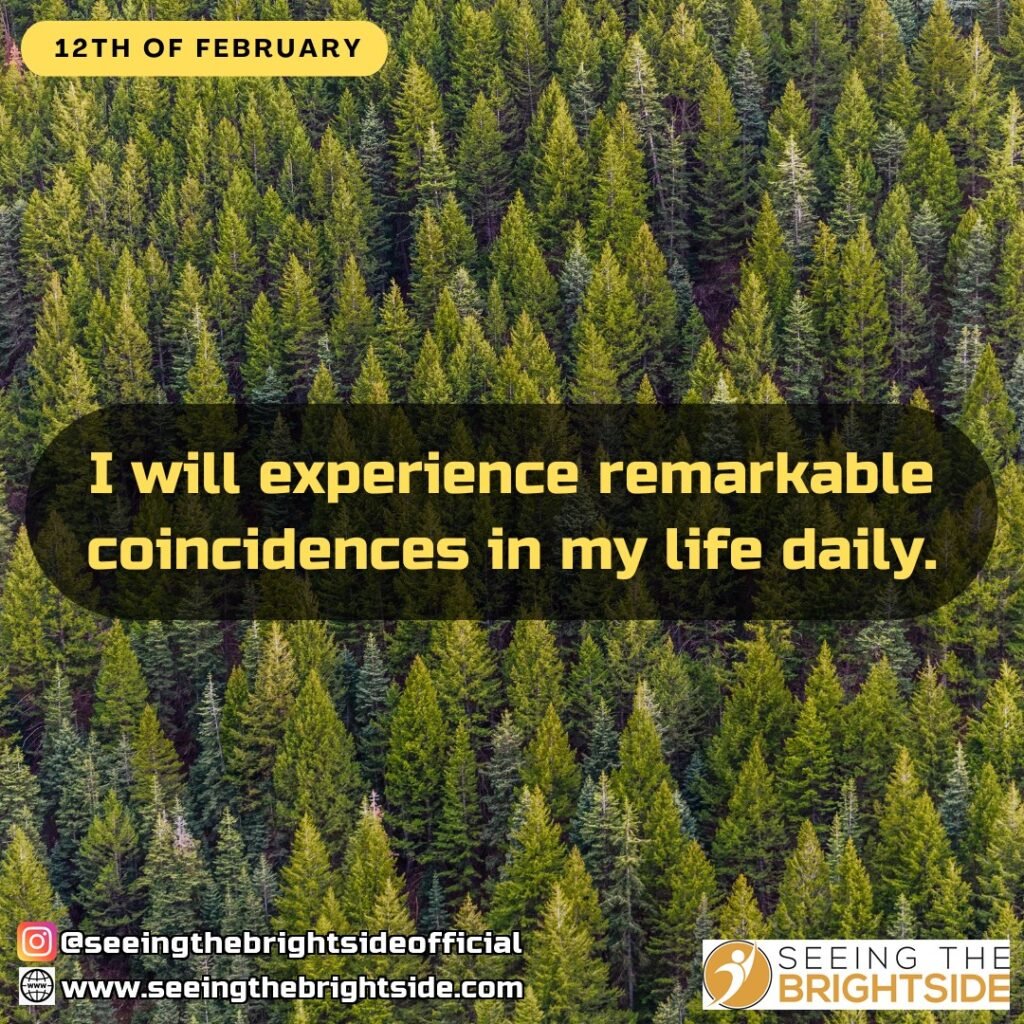 13th February: Opportunity comes my way at every point in my life.
14th February: I will experience endless joy daily.
15th February: Abundant opportunities will surround me daily.
16th February: I will derive great success in everything i do.
17th February: I will always be met with good news.
18th February: Beneficial circumstances flow through me always.
19th February: I am expectant of great things every day of my life.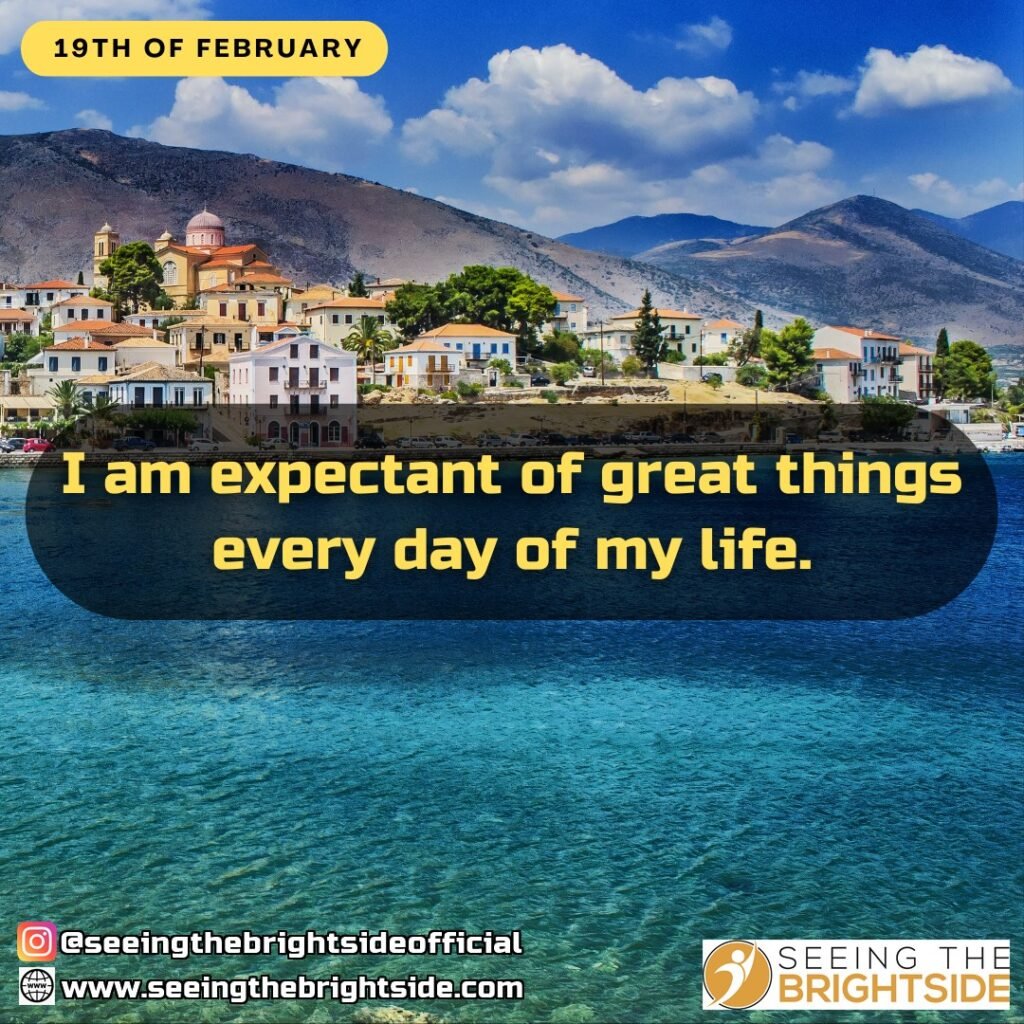 20th February: I get the best because i expect it always.
21st January: I am blessed with miracles every day of my life.
22nd February: My positive mindset attracts favour to me.
23rd February: My smart work earns me a blessing.
24th February: Things work out for me, marvellously.
25th February: Everyday i am blessed with limitless fortunes.
26th February: I will think positively today and always.
27th February: Exciting opportunities will come my way always.
28th February: I will always have constructive and powerful thoughts.
1st March: I will only attract wealth, good fortune and prosperity.
2nd March: My life attracts great and beneficial friends.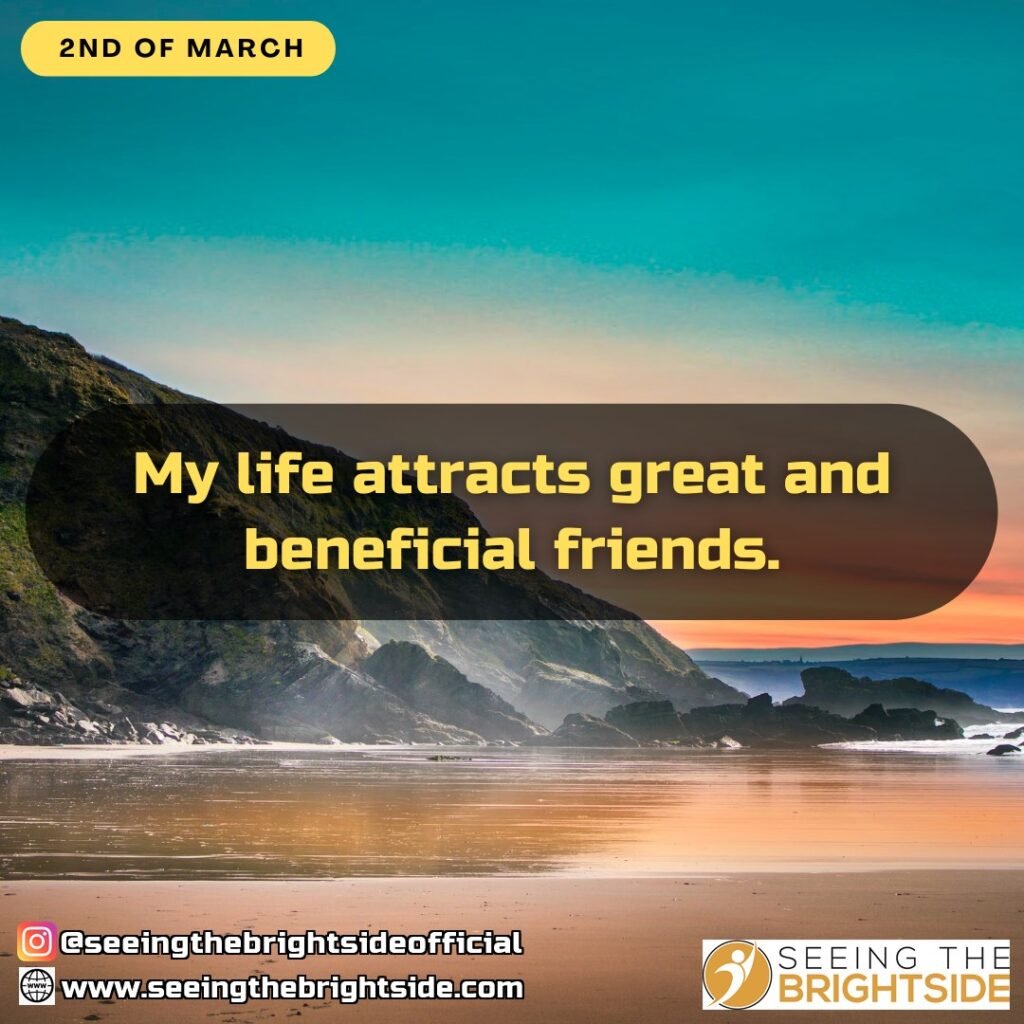 3rd March: Every aspects of my life has a blessing attached to it.
4th March: My life attracts successful people.
5th March: Only great jobs will come my way constantly.
6th March: Only good things are attracted to me.
7th March: I am blessed and fortunate.
8th March: Good things will come to me quickly and effortlessly.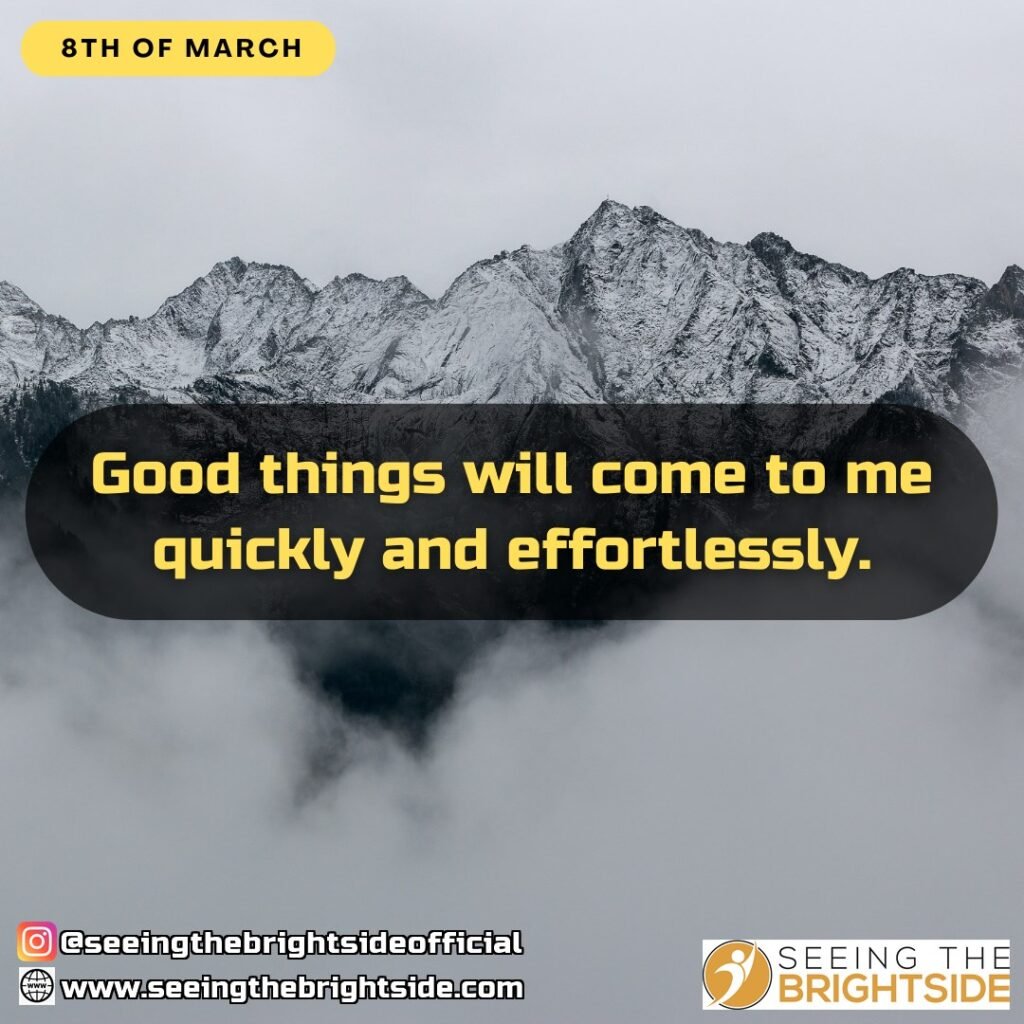 9th March: Things will come to me at the right time because i deserve the best.
10th March: I attract my greatest good every day.
11th March: Good things are manifesting in my life always.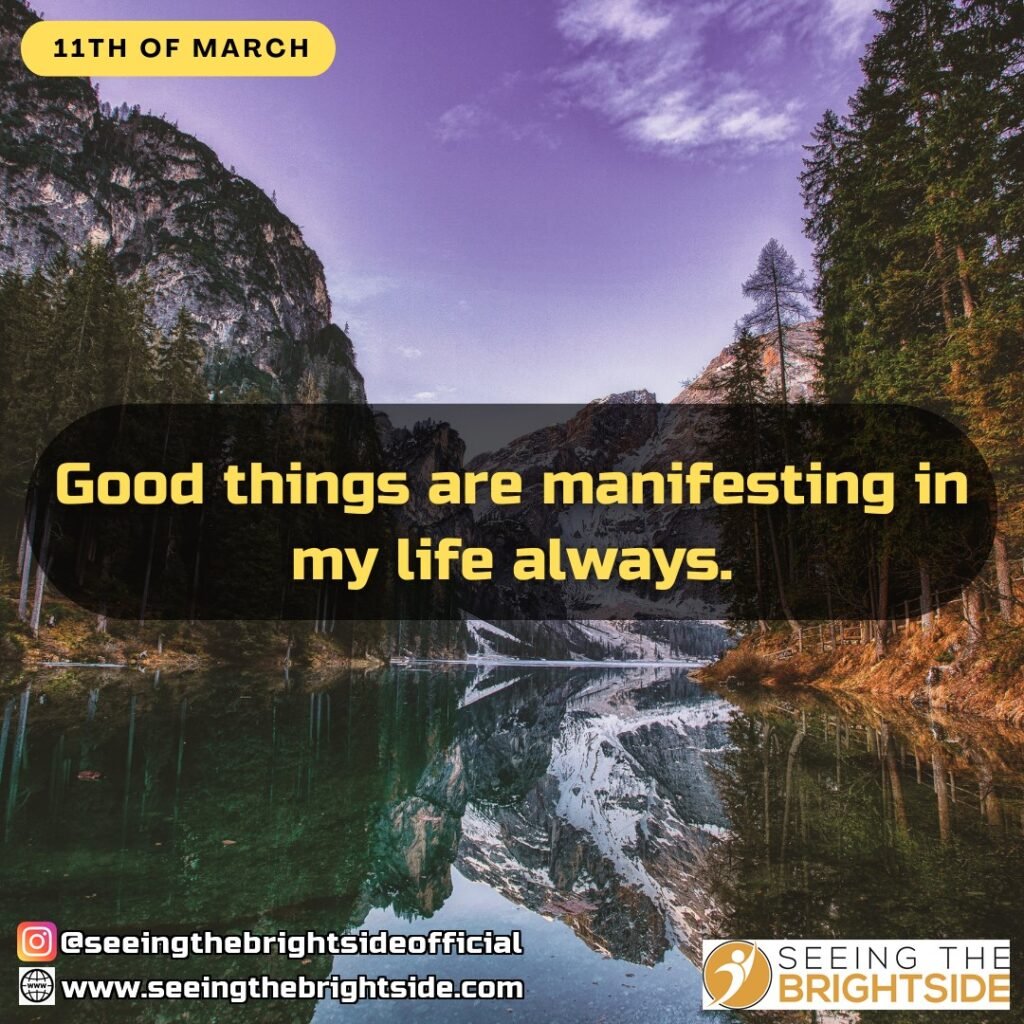 12th March: I have great joy and happiness always.
13th March: My life manifests miracle every day in wondrous ways.
14th March: My life magnets miracles.
15th March: I am propelled by the vision to make the world better than it is.
16th March: Favour speaks for me in every area of my life.
17th March: I choose to live in a world of abundance, love and joy.
18th March: My life is a miracle.
19th March: I have the course to celebrate the miracle of my existence every day.
20th March: I get all i want through my loving thoughts.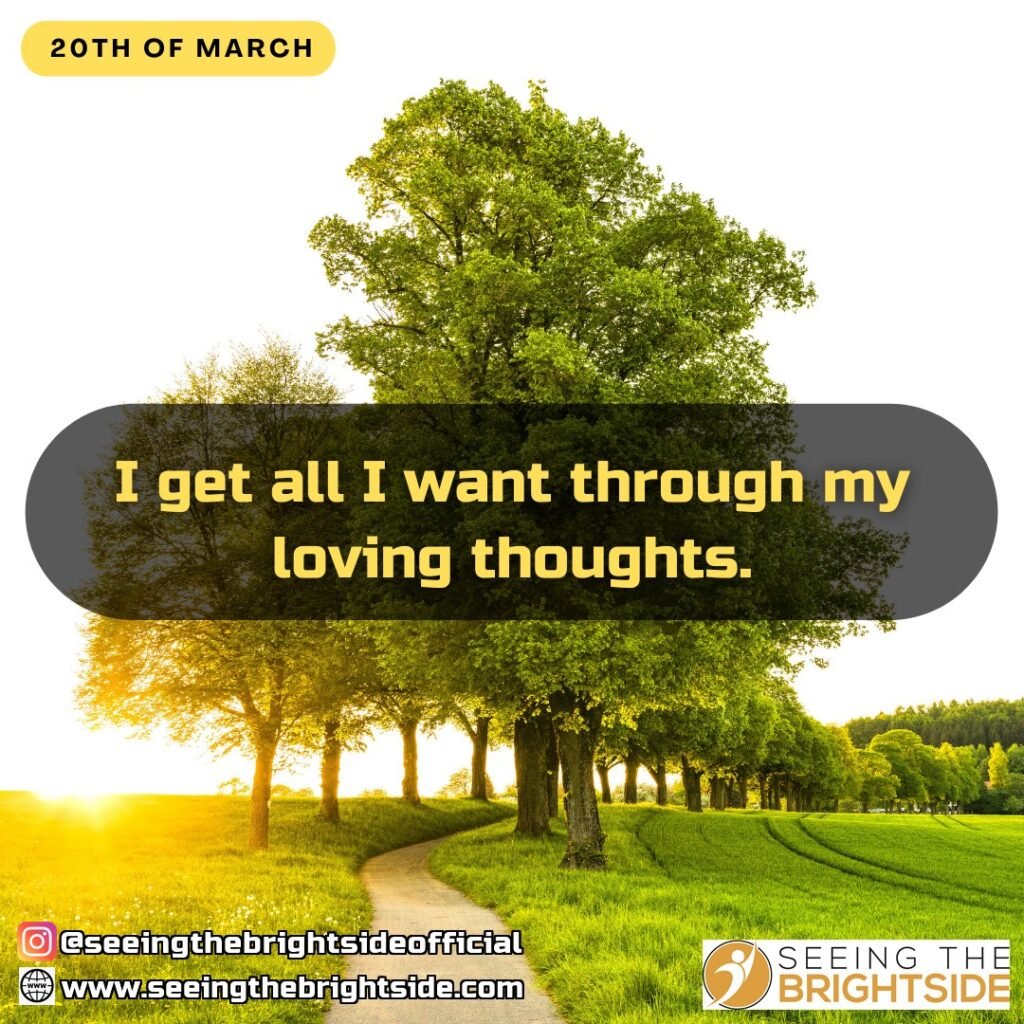 21st March: My brilliant light dispels every lack in my life.
22nd March: I cherish the wonderful experience of love and friendship.
23rd March: I attract great relationships.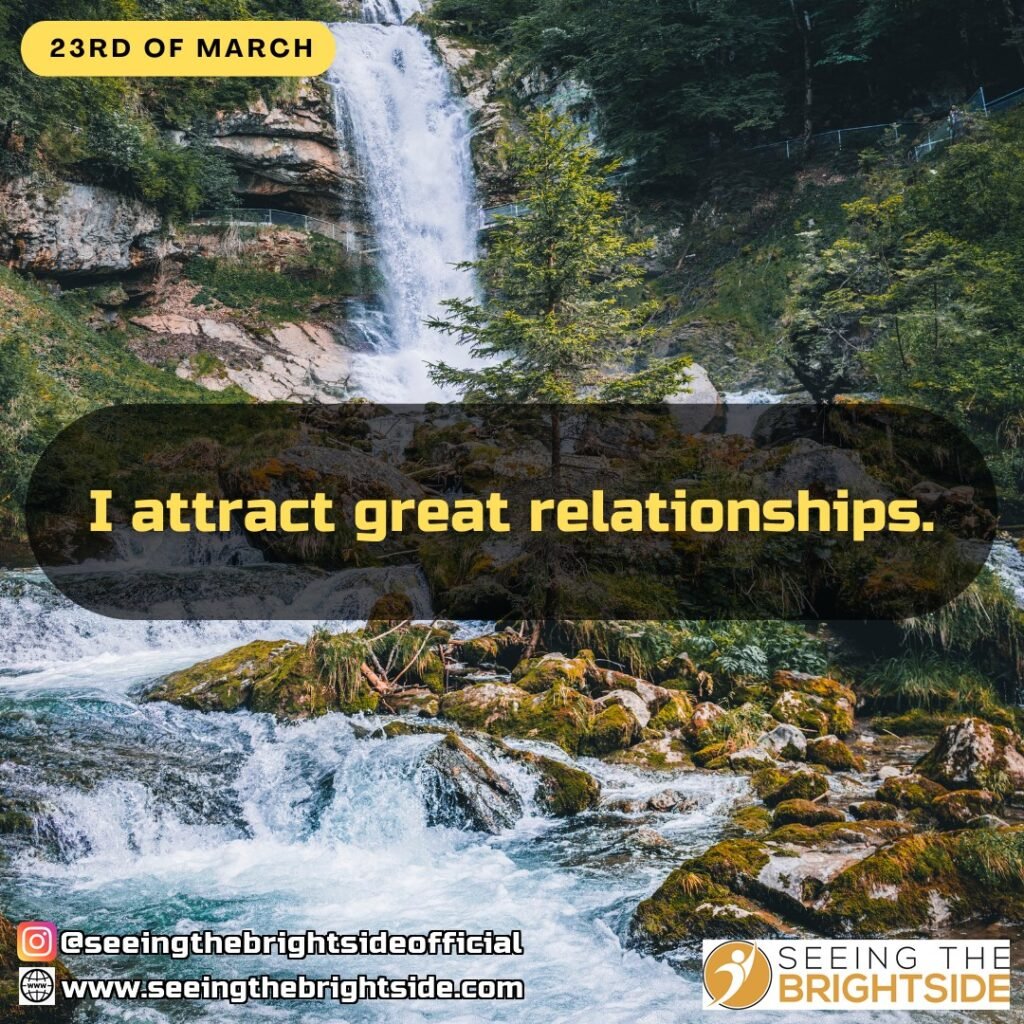 24th March: My future is independent of my past.
25th March: My life will get better every day.
26th March: My endless talent and potential will help me achieve my goals.
27th March: I am grateful for the caring and supportive people in my life.
28th March: I am optimistic, always.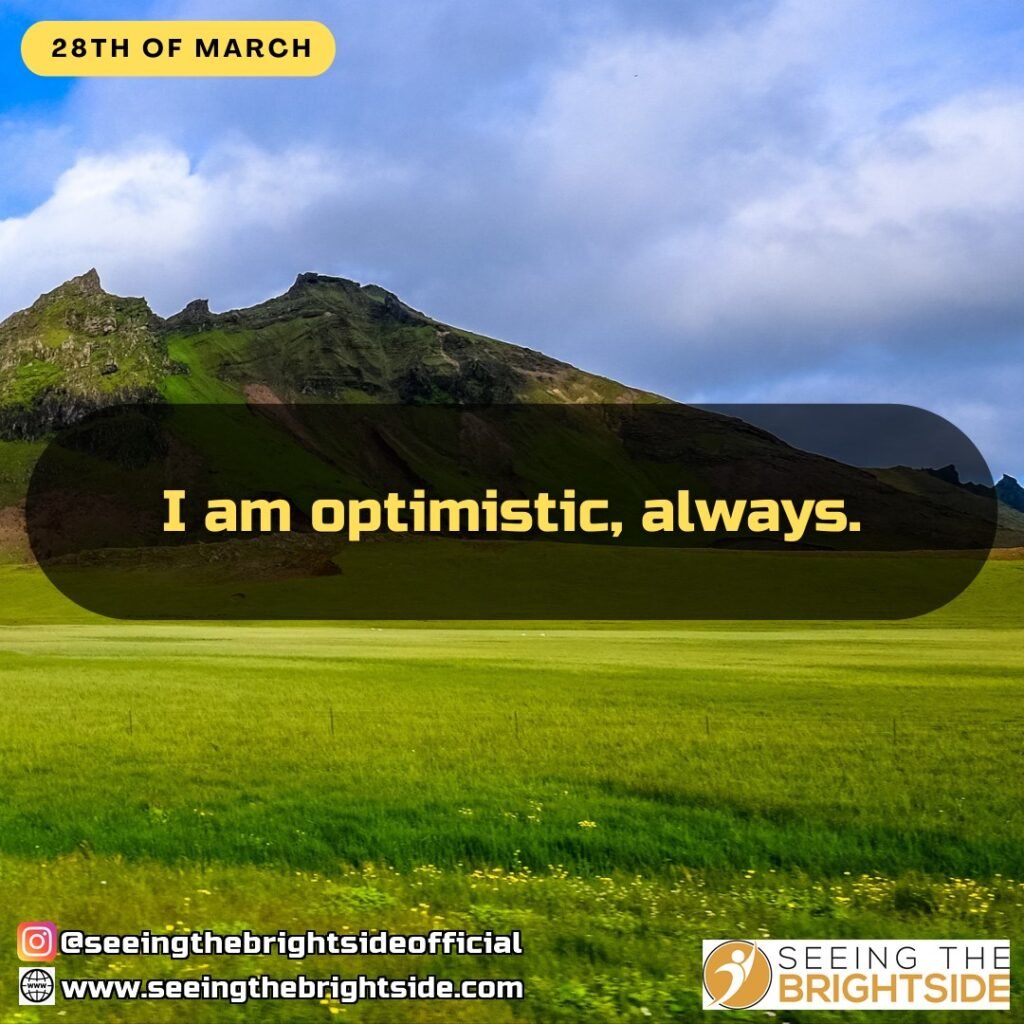 29th March: I get through difficult situations always.
30th March: I evolve as i learn through my mistakes and challenges.
31st March: I love myself, unconditionally.
1st April: My self confidence brims with positivity.
2nd April: I offer love to others and i deserve it too.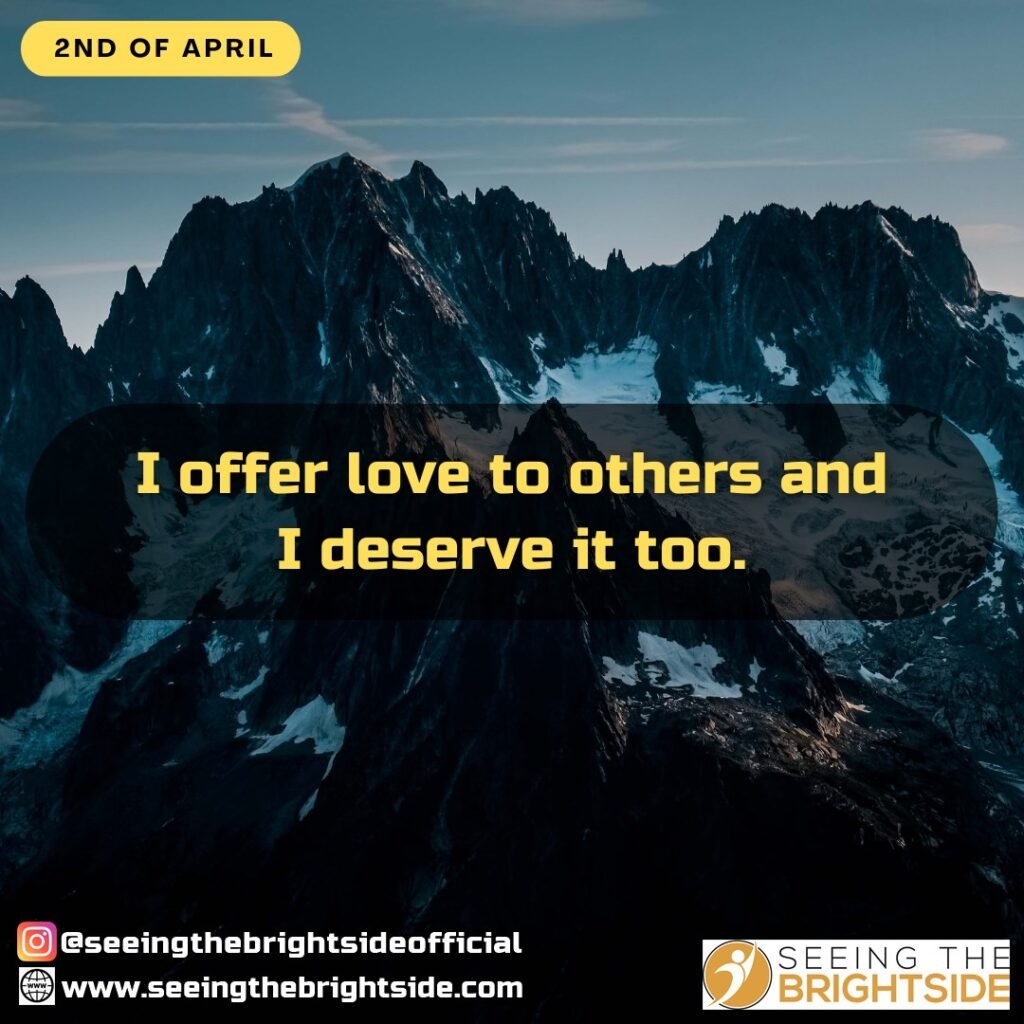 3rd April: I am capable of facing all odds because i am unique.
4th April: I will not give up till my goals are achieved.
5th April: I don't compare myself to others because my life is unique.
6th April: I do amazing things with ease.
7th April: I forgive myself always.
8th April: I live in confidence and bravery.
9th April: My creativity is endless.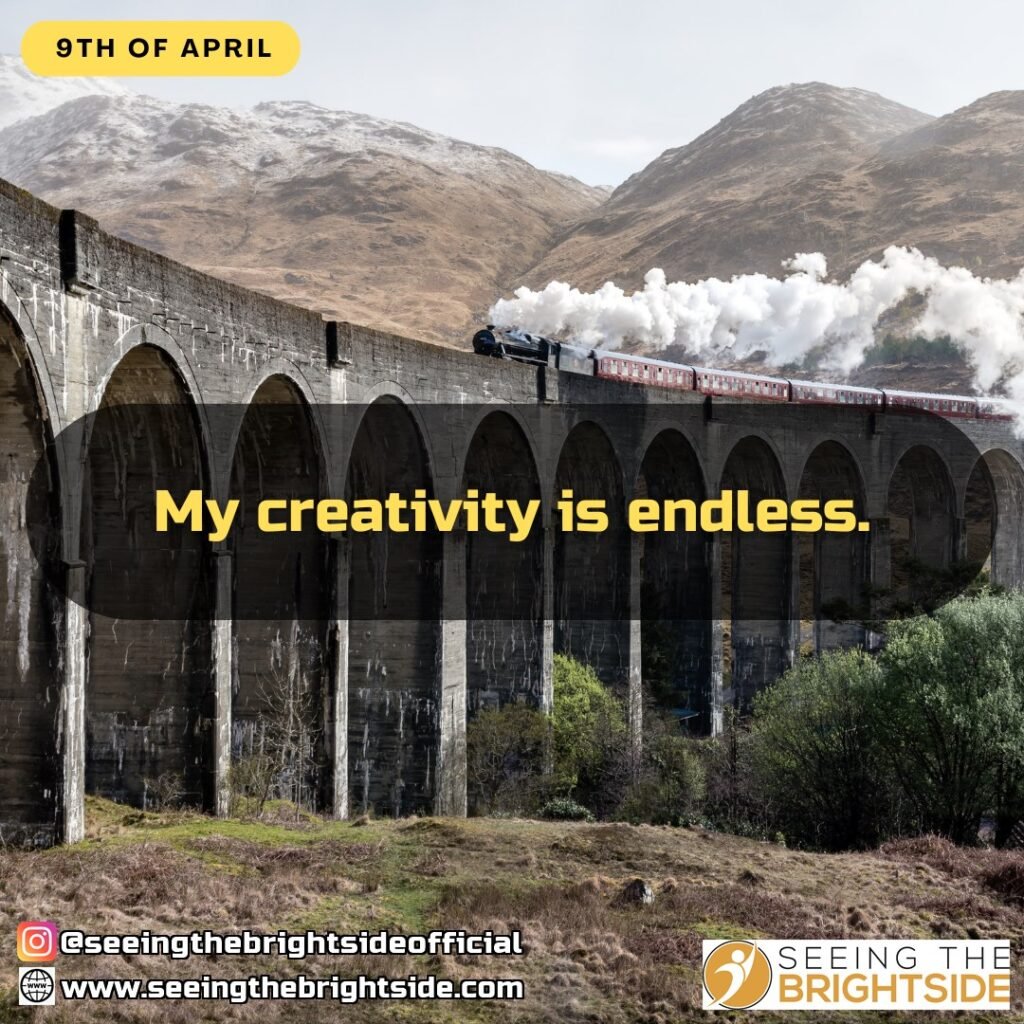 10th April: I am cute, smart and intelligent.
11th April: My confidence helps me achieve success in all i do.
12th April: My goals will never be left unattained.
13th April: I live by compassion and benevolence.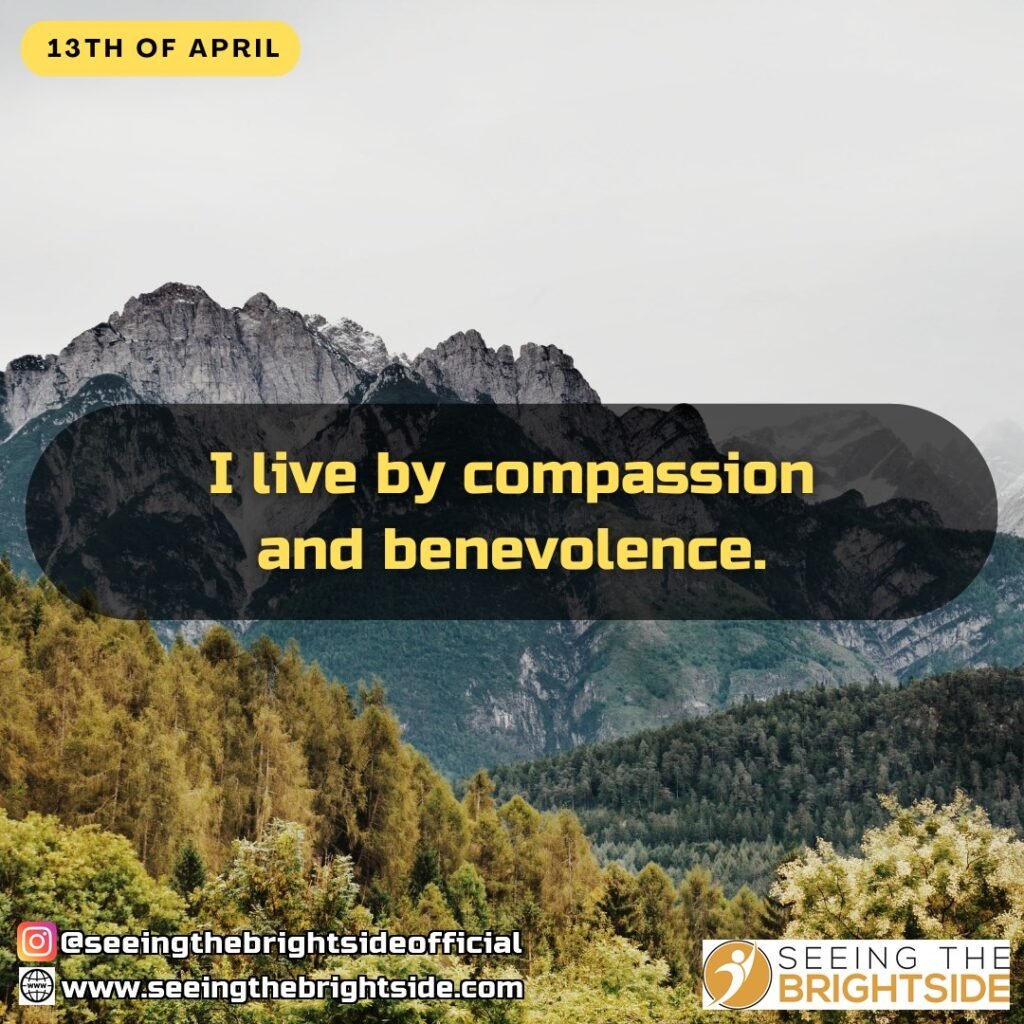 14th April: My resilience and confidence help me handle situations.
15th April: I achieve excellence through challenges.
16th April: I bounce back quickly from difficult situations.
17th April: I get better by learning from my past.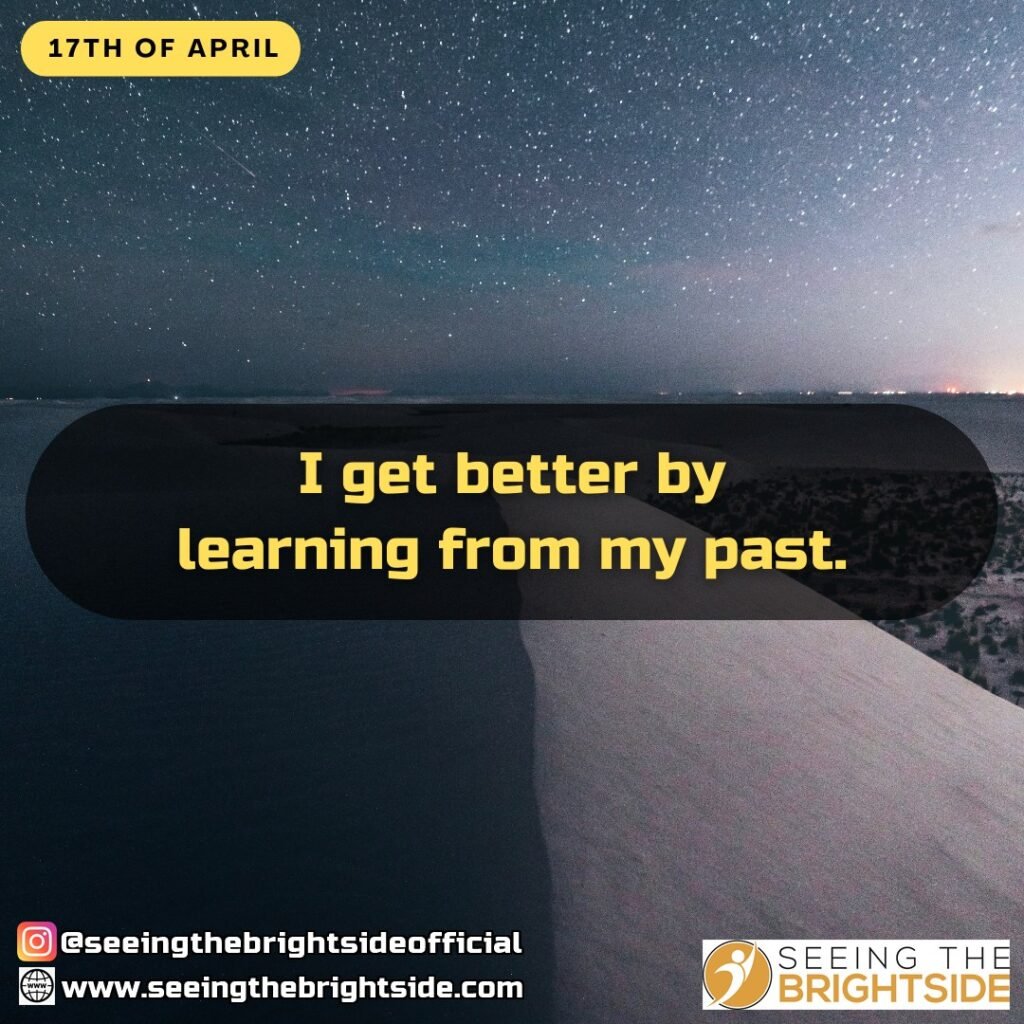 18th April: I cherish the fine things in life.
19th April: I will always be happy and healthy.
20th April: I don't give up on defeats.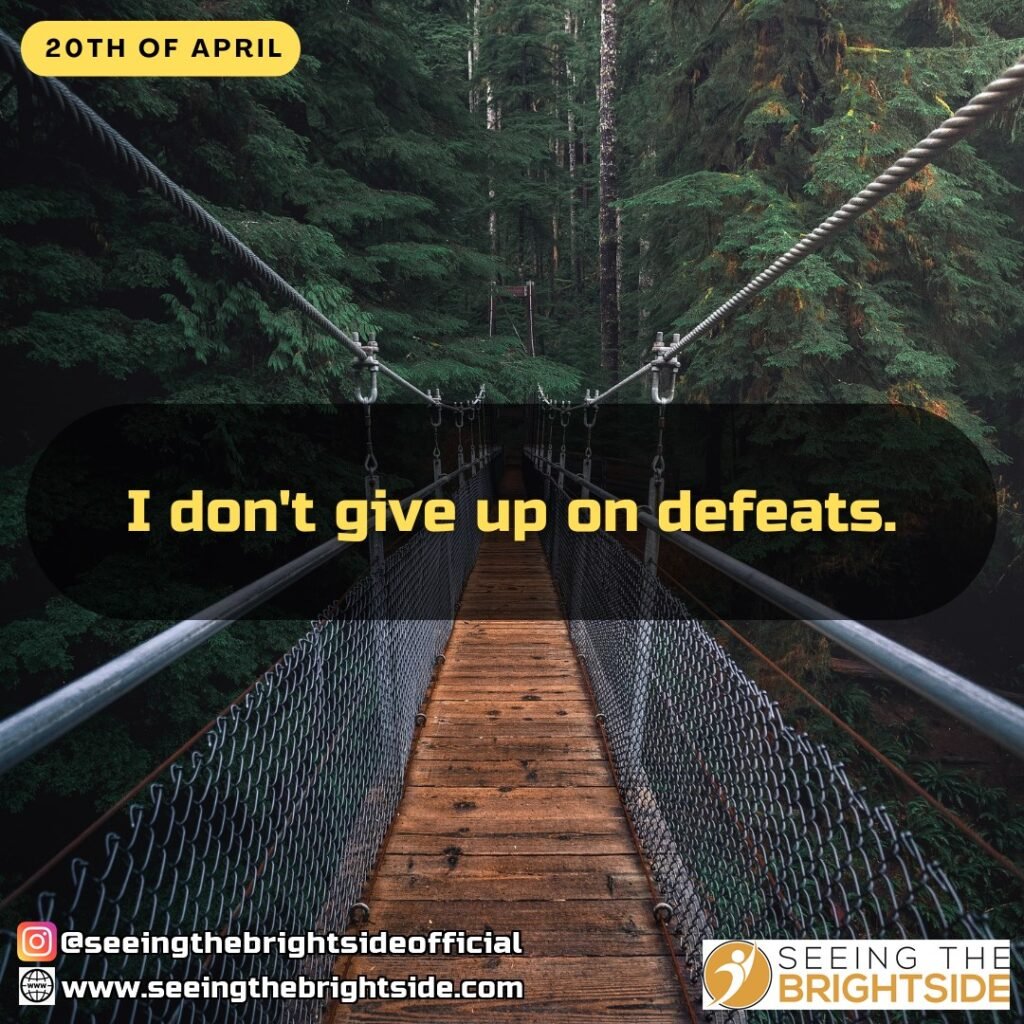 21st April: My happiness knows no bound.
22nd April: I radiate happiness.
23rd April: All will be well with my life.
24th April: I do not look for joy elsewhere because it's within me.
25th April: I cherish happy memories every moment of my life.
26th April: I live in abundance and completeness.
27th April: I feel happy each day because of the peace and harmony that dwells in me.
28th April: My life is full of positivity.
29th April: My happiness is connected to making others happy.
30th April: I feel good because my life is worth living.
1st May: It feels great to be me.
2nd May: I have good thoughts because my mind is relaxed.
3rd May: My mind is calm always.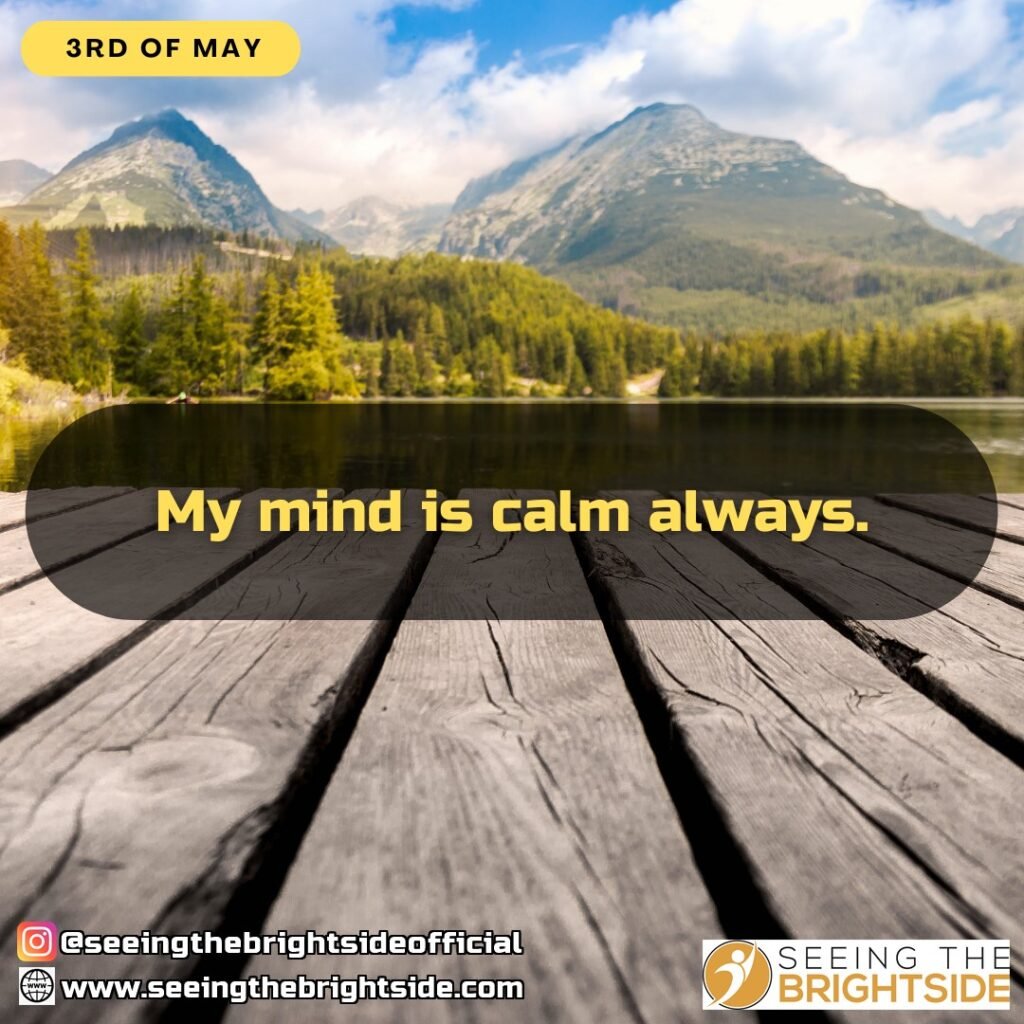 4th May: I love calm moments and live by it.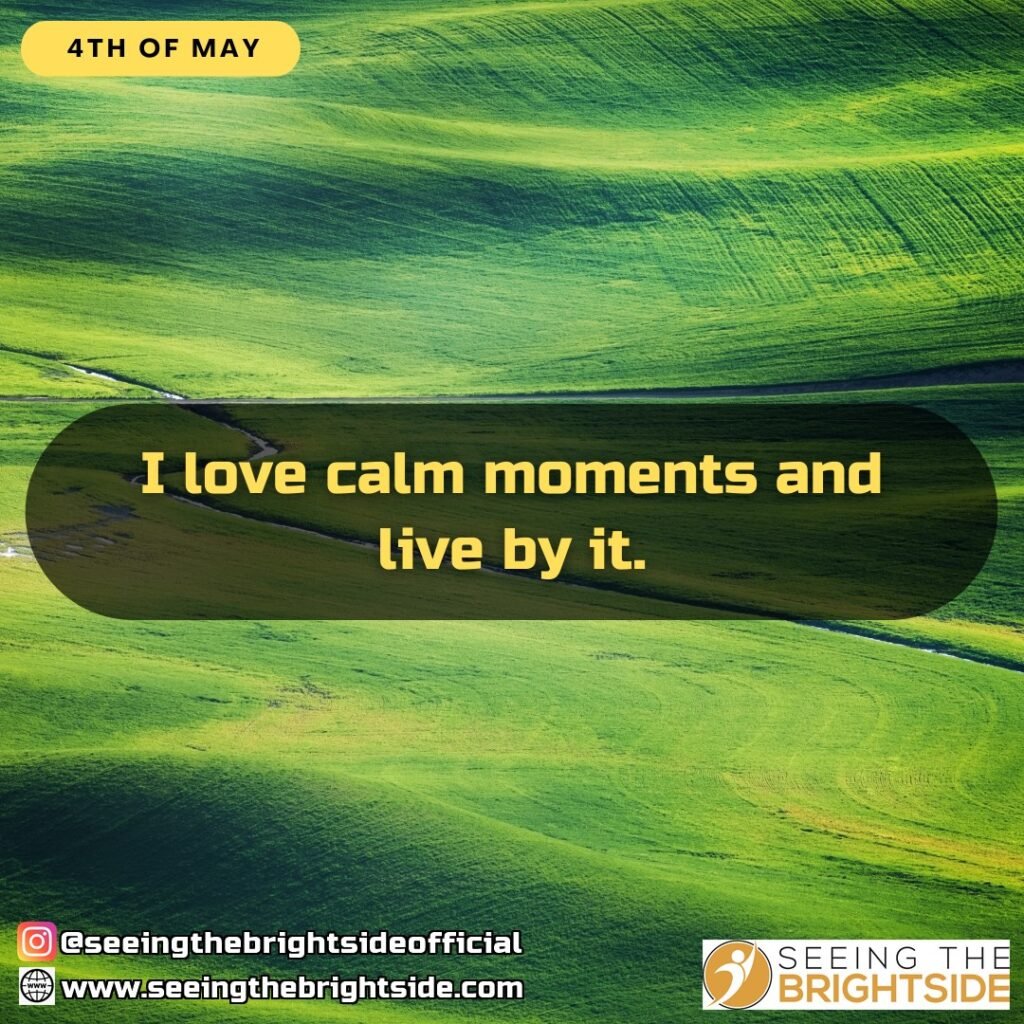 5th May: I do what is right for me always.
6th May: I am confident in my ability to stay calm despite misfortunes.
7th May: The ability to let go of things is what i love most about myself.
8th May: I allow myself to learn and grow.
9th May: I deserve all the care and love of this world.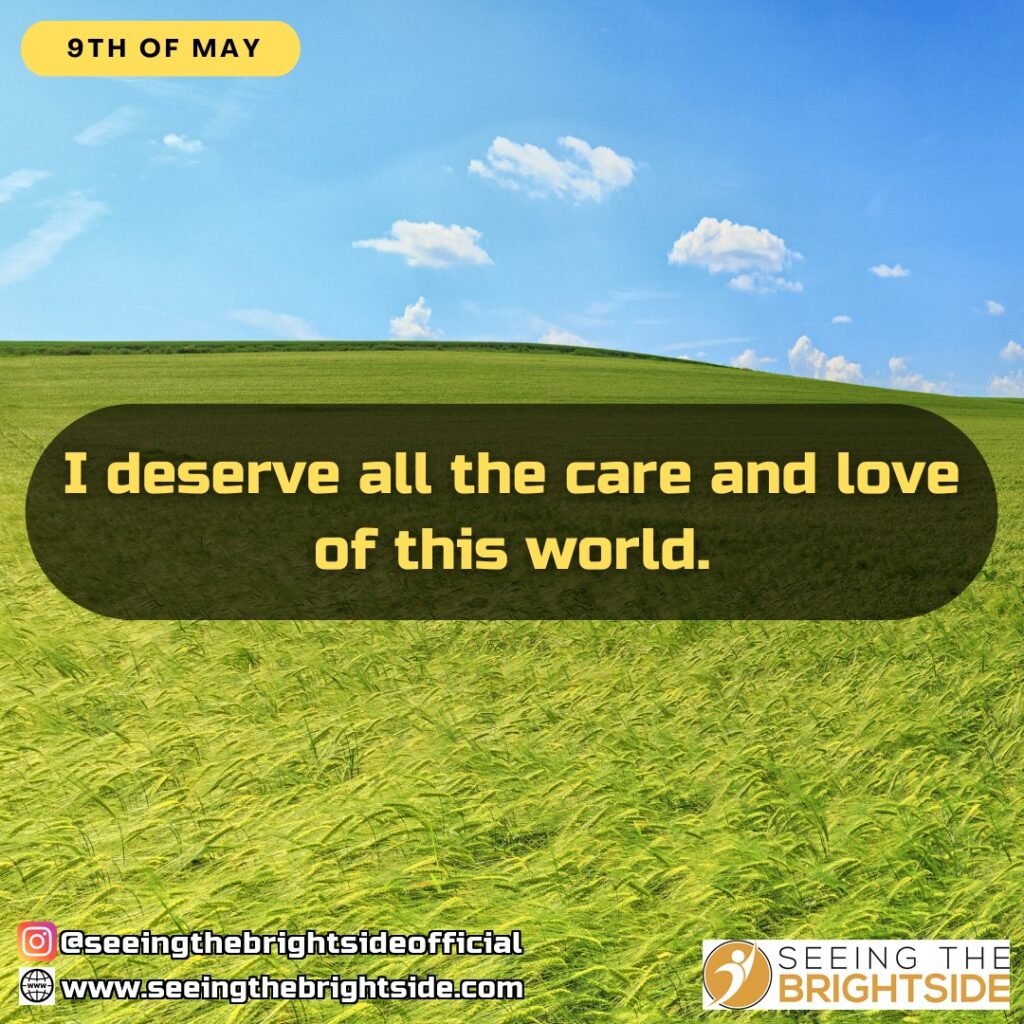 10th May: I will achieve my goals through drive and ambition.
11th May: I am good at helping others fulfil their dreams.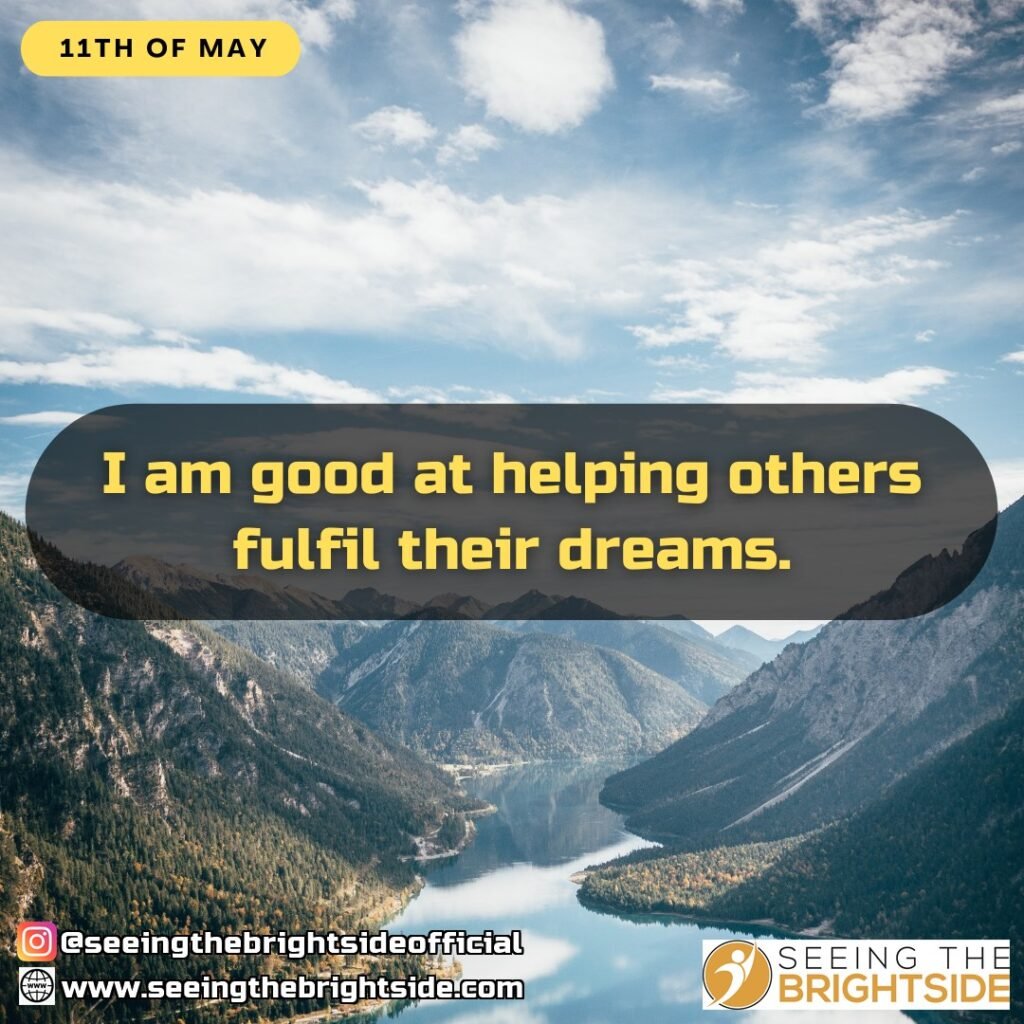 12th May: I am creative.
13th May: My mind is filled with brilliant ideas.
14th May: I will invest my energy in things that matter to me.
15th May: I am at peace with myself.
16th May: My existence makes a difference in the world.
17th May: I have the most harmonious interactions.
18th May: Love finds me easily and effortlessly.
19th May: I attract a loving and supportive people.
20th May: No project fails in my hand.
21st May: I attract loving and fulfilling relationships.
22nd May: I draw love and fulfilment into my life every day.
23rd May: I am valued.
24th May: Love finds me everywhere i go.
25th May: I don't seek revenge.
26th May: My life will always be surrounded by love and peace.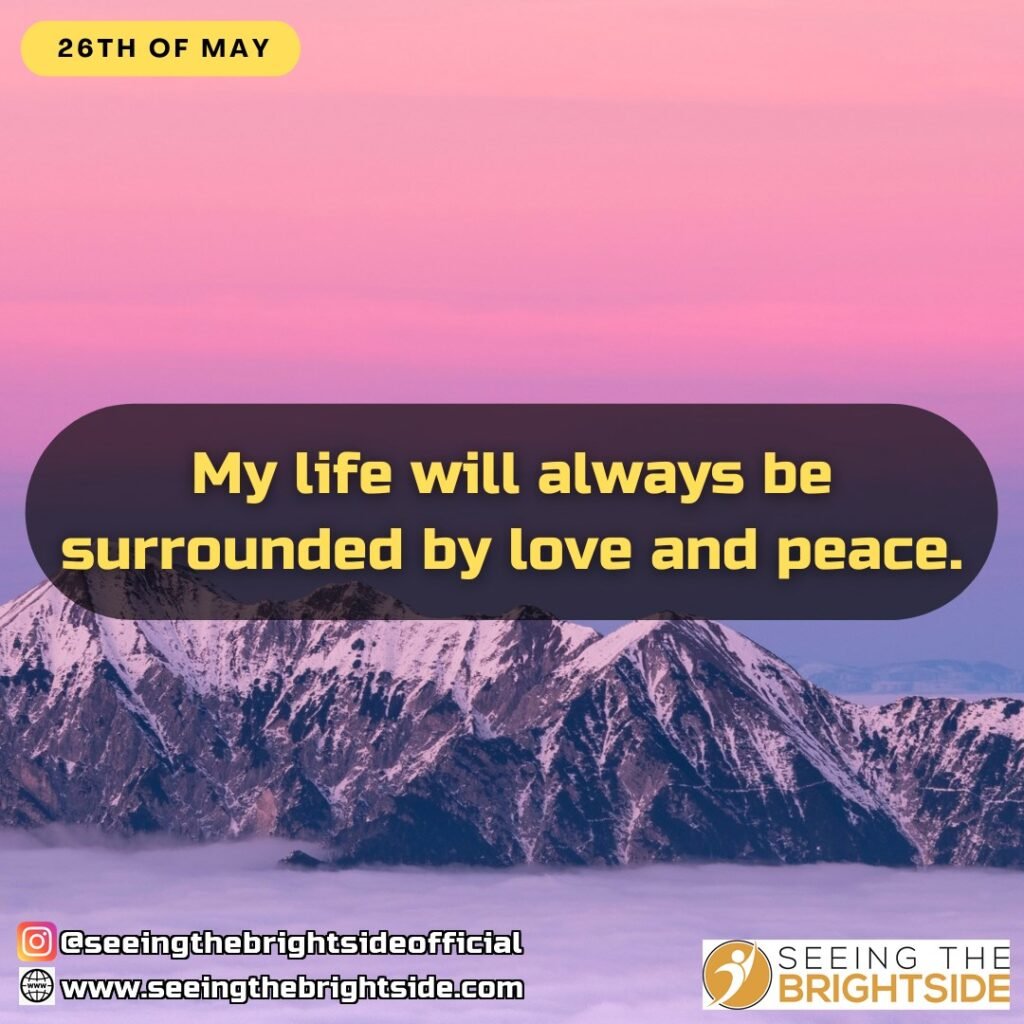 27th May: I am open to receive and give love.
28th May: My heart grows in love everyday.
29th May: I overcome obstacles always.
30th May: My love life is going to get better every day.
31st May: My thoughts are always faithful and loving.
1st June: True love will always find me.
2nd June: My life radiates love and appreciation.
3rd June: My world will always revolve around love and joy.
4th June: A perfect aura of wellbeing surrounds my mind and body.
5th June: Beauty and nature surrounds me.
6th June: Every day has an opportunity for me.
7th June: I am the author of my happiness.
8th June: I am worth more than my mistakes.
9th June: I accept no excuses for failure.
10th June: My life will get better every day.
11th June: I feel safe and secure in my skin.
12th June: My life will always be calm and peaceful.
13th June: I am confident.
14th June: I will be surrounded by positive energy today, tomorrow and forever.
15th June: I am calm, i have patience, and my emotions are under control.
16th June: My energy is abundant.
17th June: My accomplishments will be limitless.
18th June: My body deserves love and appreciation.
19th June: I choose to focus on things that bring me happiness.
20th June: I overcome problems with exceptional solutions.
21st June: The beauty inside of me shines brightly.
22nd June: My flaws teach me to be better.
23rd June: My life has no space for negativity.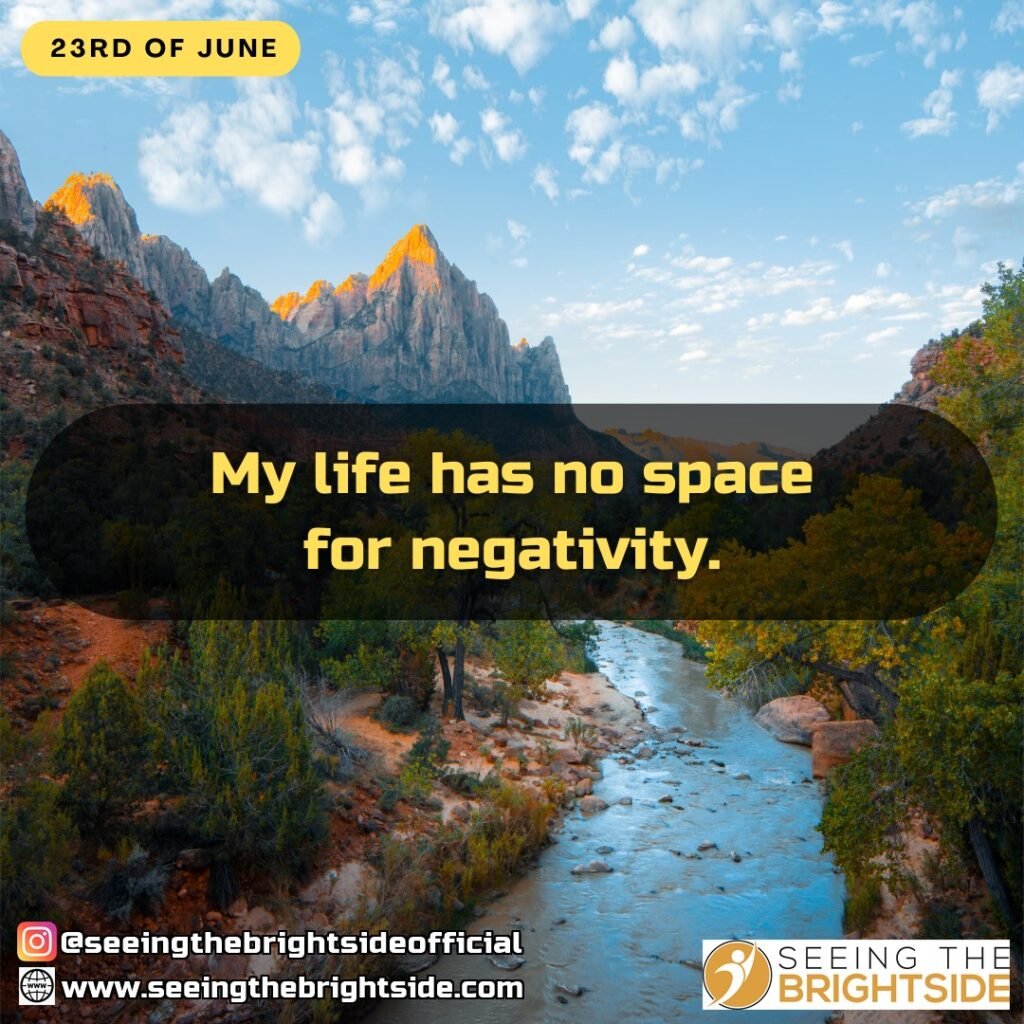 24th June: I am hopeful, always.
25th June: I am a unique version.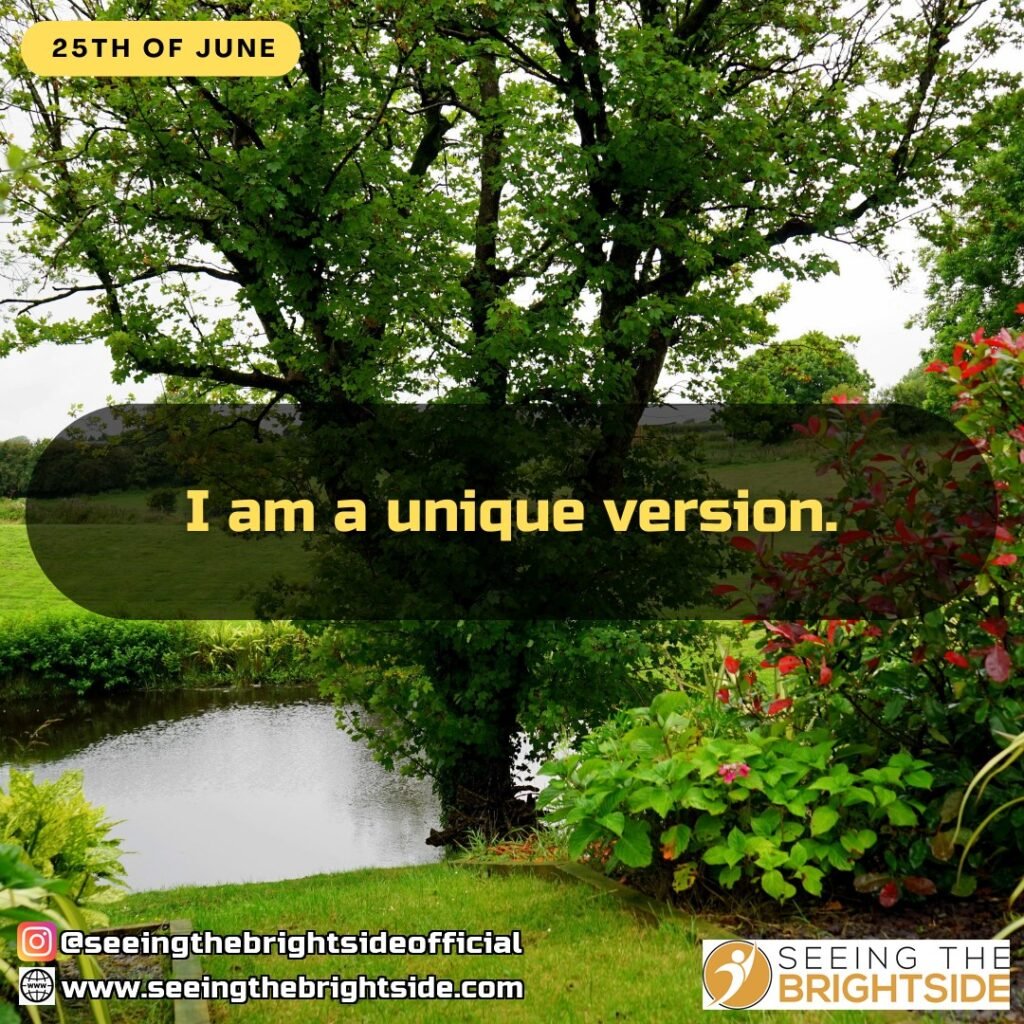 26th June: The power to create all the success i desire is within my reach.
27th June: I choose positive habits over negative habits every day.
28th June: I accept change because my life is a process.
29th June: Regardless of circumstance, i choose happiness.
30th June: I am a product of unconditional love.
1st July: Good things are coming my way.
2nd July: There is a universe in my heart that drives me towards greatness daily.
3rd July: I'll rather be hopeful than fearful.
4th July: I'm not weak because i seek help from others.
5th July: My day is full of potential.
6th July: The thought of a new day energizes me.
7th July: I work smarter every day.
8th July: I will see an increase in everything i lay my hands to do.
9th July: I will not let comparison demotivate me.
10th July: I will be financially stable.
11th July: My wildest dreams and imaginations will come true.
12th July: I have energy in abundance.
13th July: My effort will yield productive results.
14th July: I fear no threat.
15th July: I do all things with ease.
16th July: I represent excellence.
17th July: I become who i desire every day.
18th July: I'm in awe of my capability.
19th July: My worth is priceless.
20th July: My doggedness inspires everyone in my life.
21st July: All the wealth of life will come to me.
22nd July: Nothing is too hard for me.
23rd July: My mistakes are stepping stones to a beautiful future.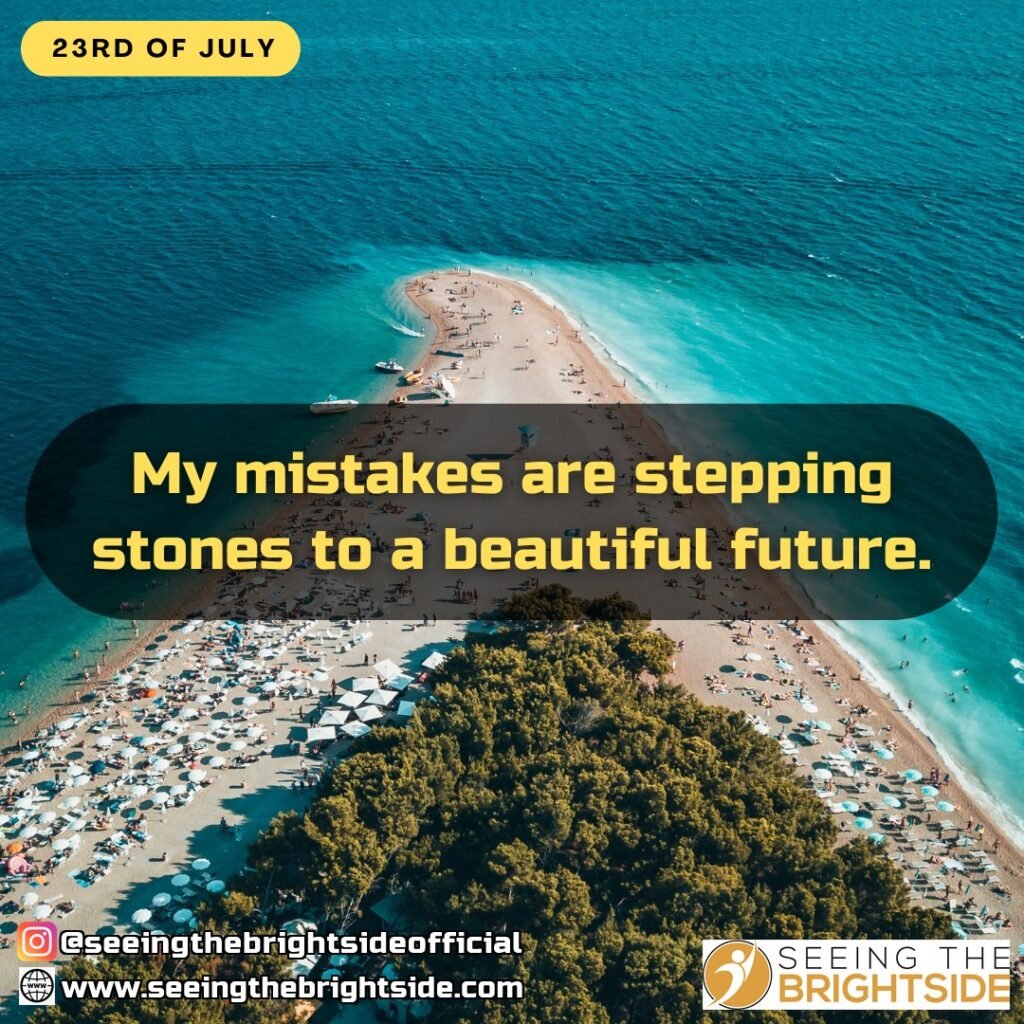 24th July: I will have reasons to love myself more every day.
25th July: I'll remain focused than quit.
26th July: I feel glorious without anyone's permission.
27th July: I will work with abundant enthusiasm.
28th July: I am content.
29th July: I choose happiness today.
30th July: My life flows with endless opportunities.
31st July: I am committed to achieving great goals.
1st August: My imperfections made me unique.
2nd August: I embrace optimism over negative thoughts.
3rd August: I am proud of my skills and ability, it can only get better.
4th August: I cultivate habits that attract success.
5th August: I have no fear of tommorrow.
6th August: I accomplish my goals because i believe in myself.
7th August: My gifts and talents are unlimited.
8th August: I will make choices that create a healthy atmosphere within and around me.
9th August: I am thankful that my body heals and gets better every day.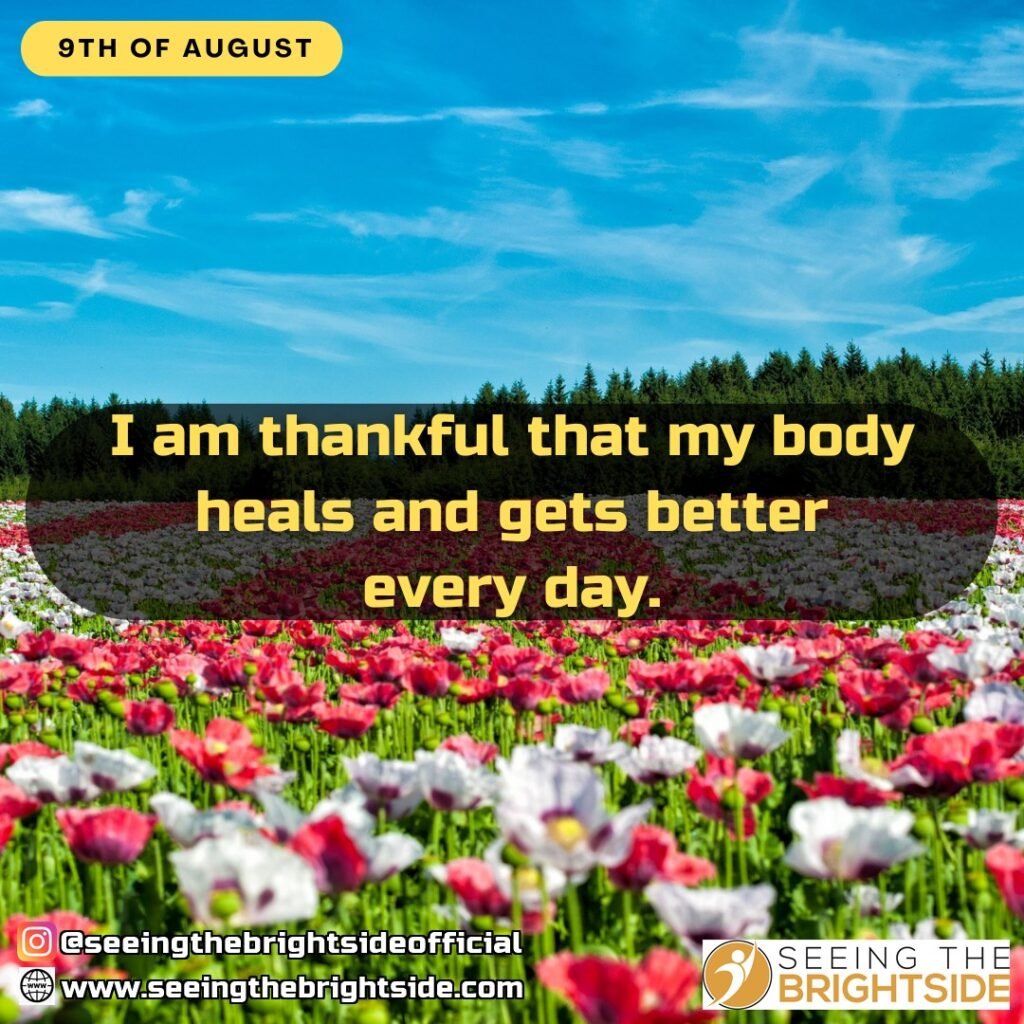 10th August: I will become healthier as i get older.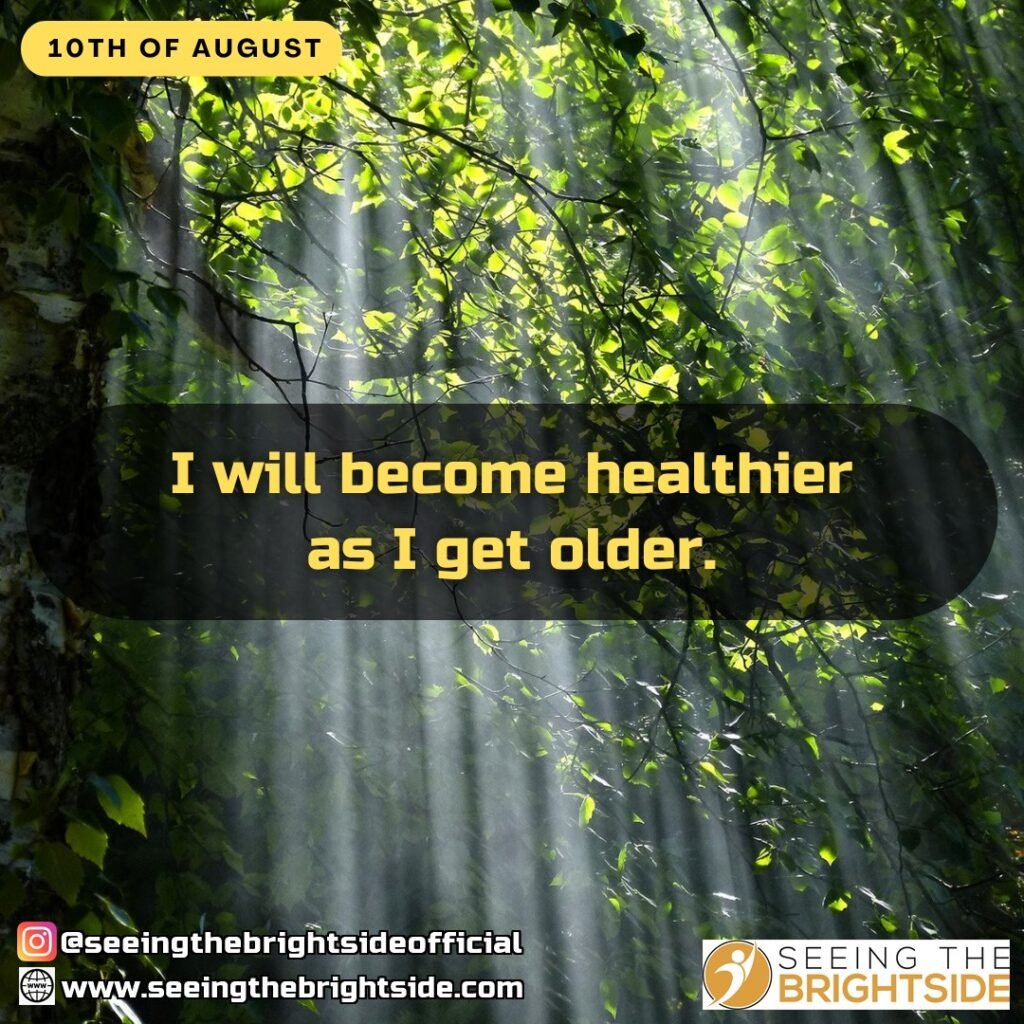 11th August: I will not stop until i achieve the body shape i desire.
12th July: I have abundant vitality in me.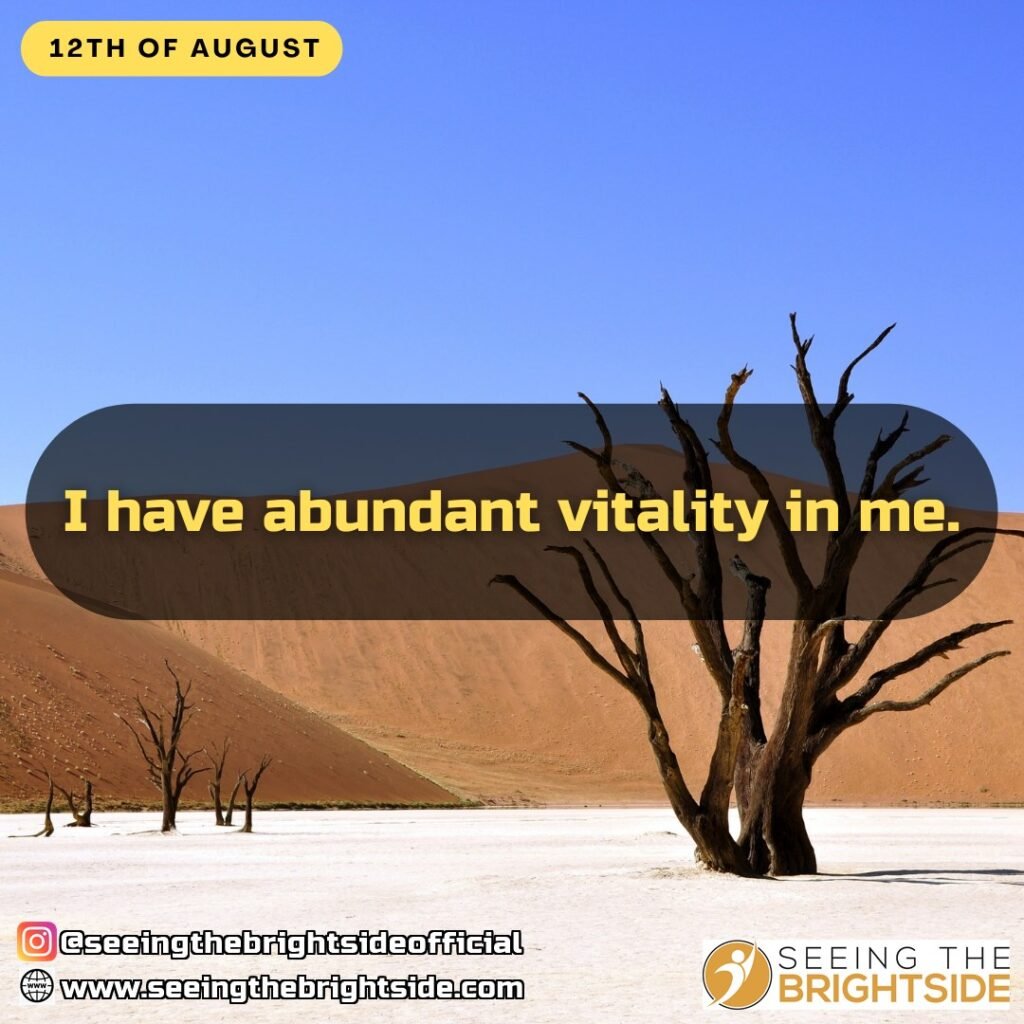 13th July: I invest in myself because i am worth it.
14th August: I possess the energy to achieve all my goals.
15th August: I carry with me an aura of possibilities.
16th August: I have the most valid feelings and thoughts.
17th August: My panics are temporary.
18th August: I believe everything will be alright.
19th August: I celebrate my wins and analyze my losses.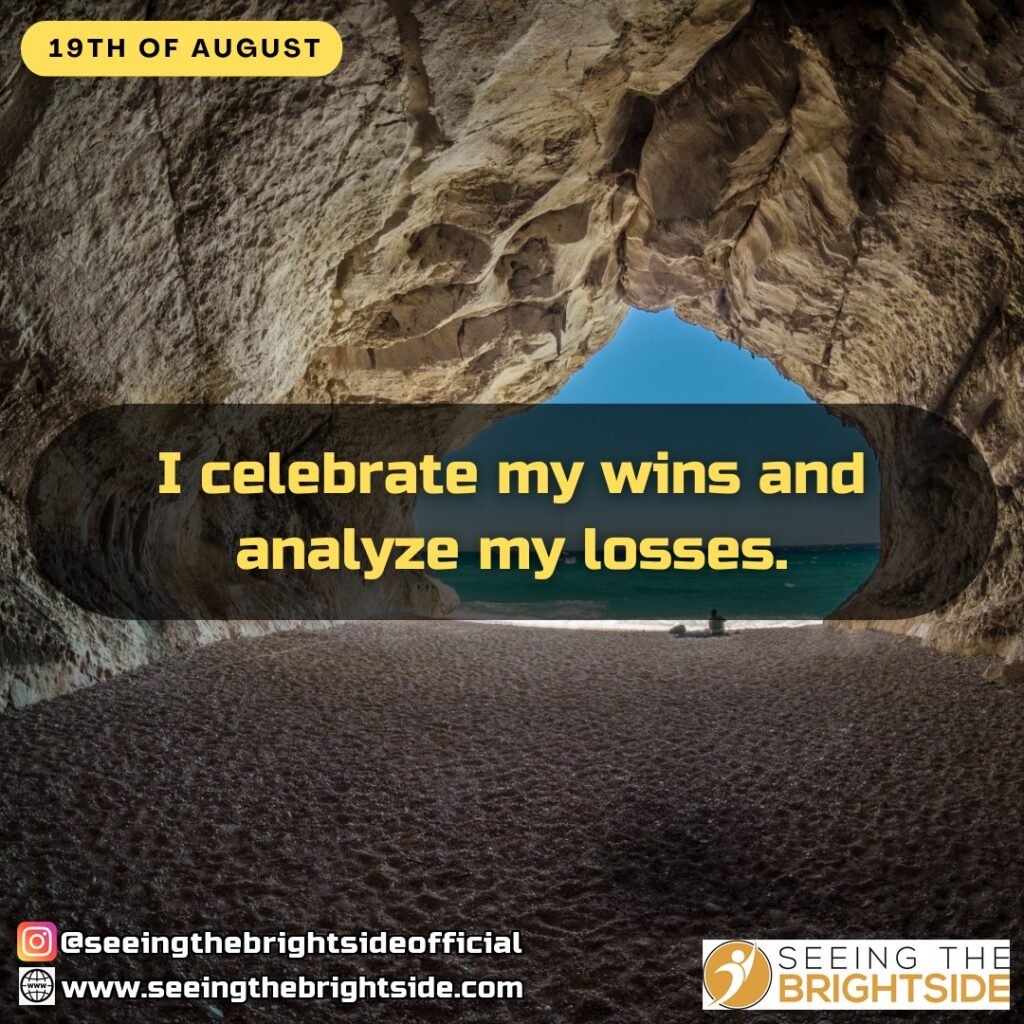 20th August: My anxiety does not define me.
21st August: Every day is an opportunity to make a difference.
22nd August: opportunities will not slip past me.
23rd August: I will persevere despite my challenges.
24th August: I give no rooms for toxic thoughts.
25th August: I will follow my dreams and live authentically.
26th August: I will do the best of my ability always.
27th August: I will speak only kind words to myself.
28th August: My life will be full of love and empathy.
29th August: I am unique in all my ways.
30th August: I am super smart.
31st August: I am full of excitement, always.
1st September: My courage outshines my doubt.
2nd September: My soul is tranquil; my body is healthy; my mind is brilliant.
3rd September: I have no fear of survival because my talent is endless.
4th September: I peacefully detach from those who have hurt me in the past.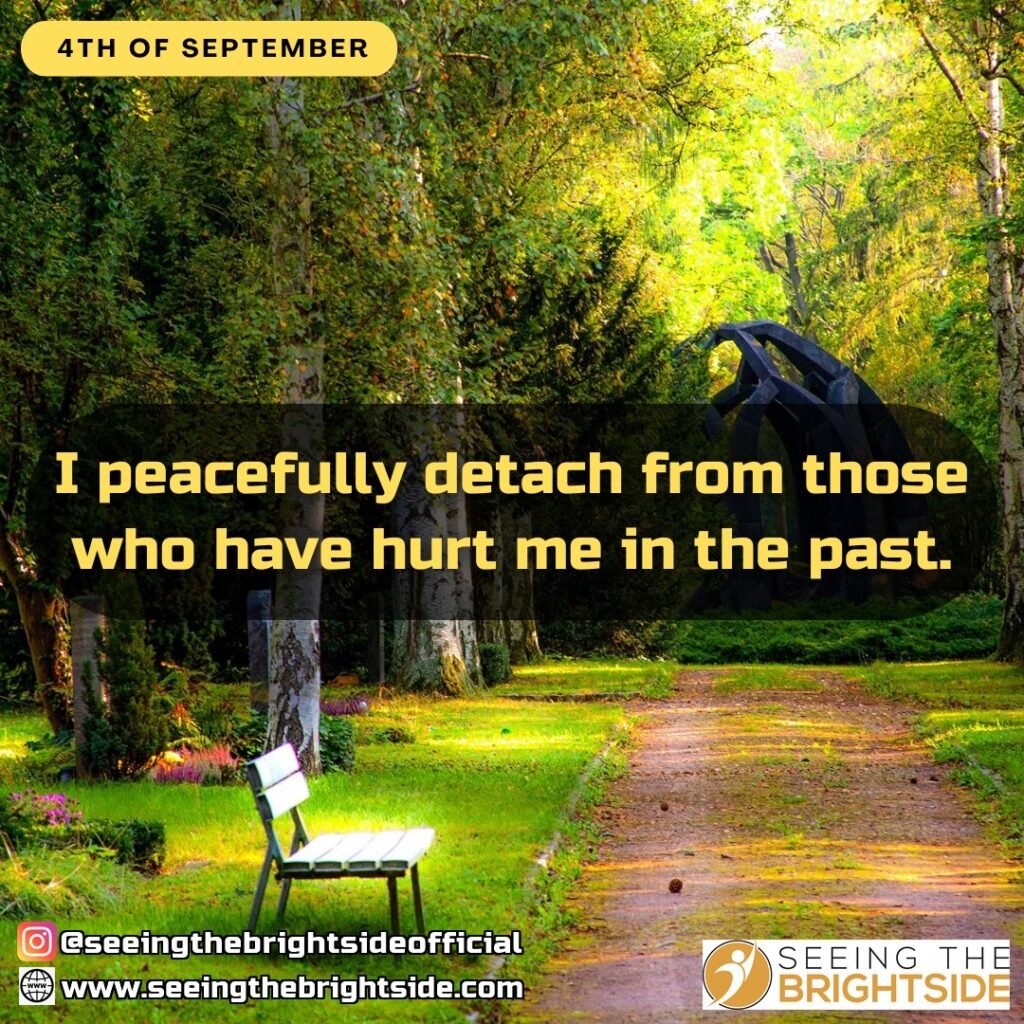 5th September: I replace my anger with love.
6th September: I possess the quality to be extremely successful.
7th September: My creative energy leads me to brilliant ideas.
8th September: My blessing and accomplishments make me happy.
9th September: I have infinite potential to succeed.
10th September: My courage helps me stand for myself.
11th September: Positivity flows through my mind.
12th September: My life is full of prosperity.
13th September: I am an indestructible powerhouse.
14th September: I do things today that my future self will appreciate.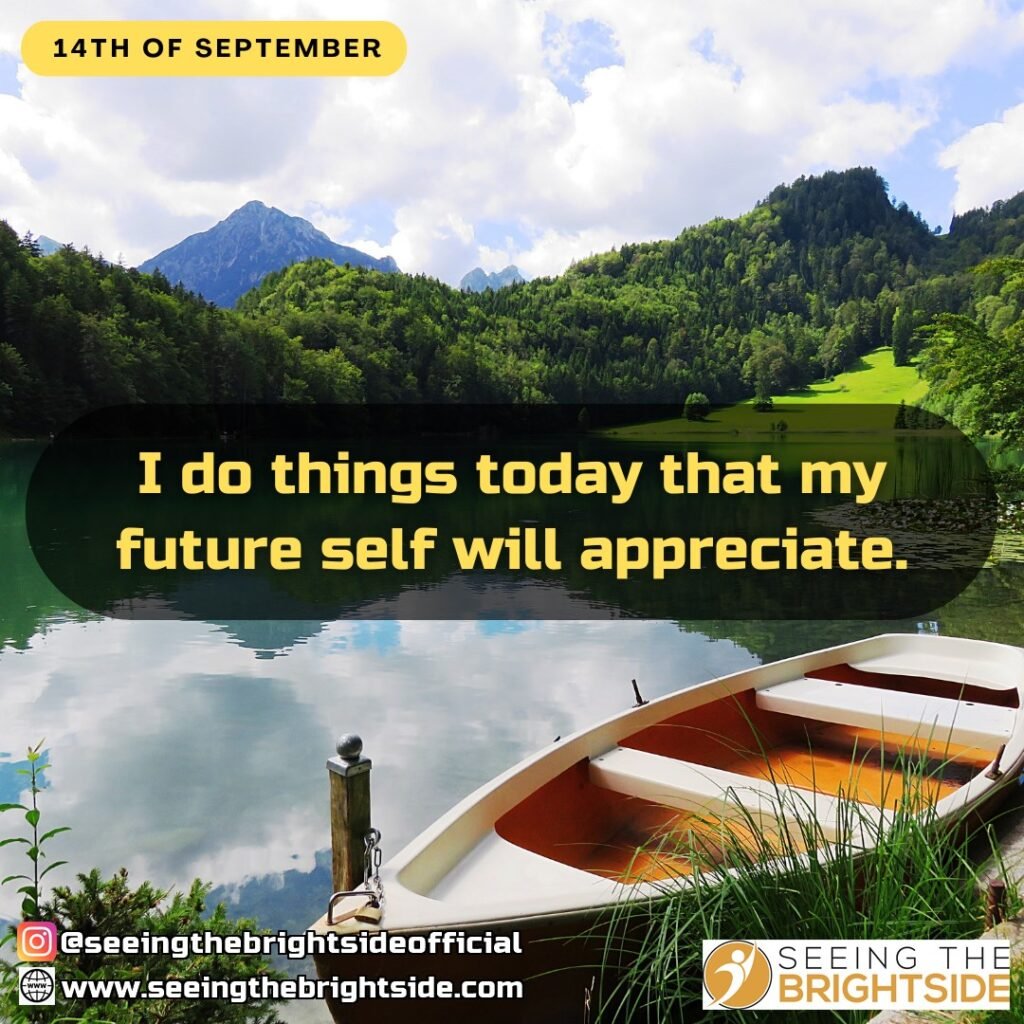 15th September: Every action i take furthers my career.
16th September: My work makes me enthusiastic and excited.
17th September: I am productive.
18th September: Love is the foundation of my relationship.
19th September: I will find love and affection everywhere i go.
20th September: I am confident about my body.
21st September: I will be healthy and full of energy.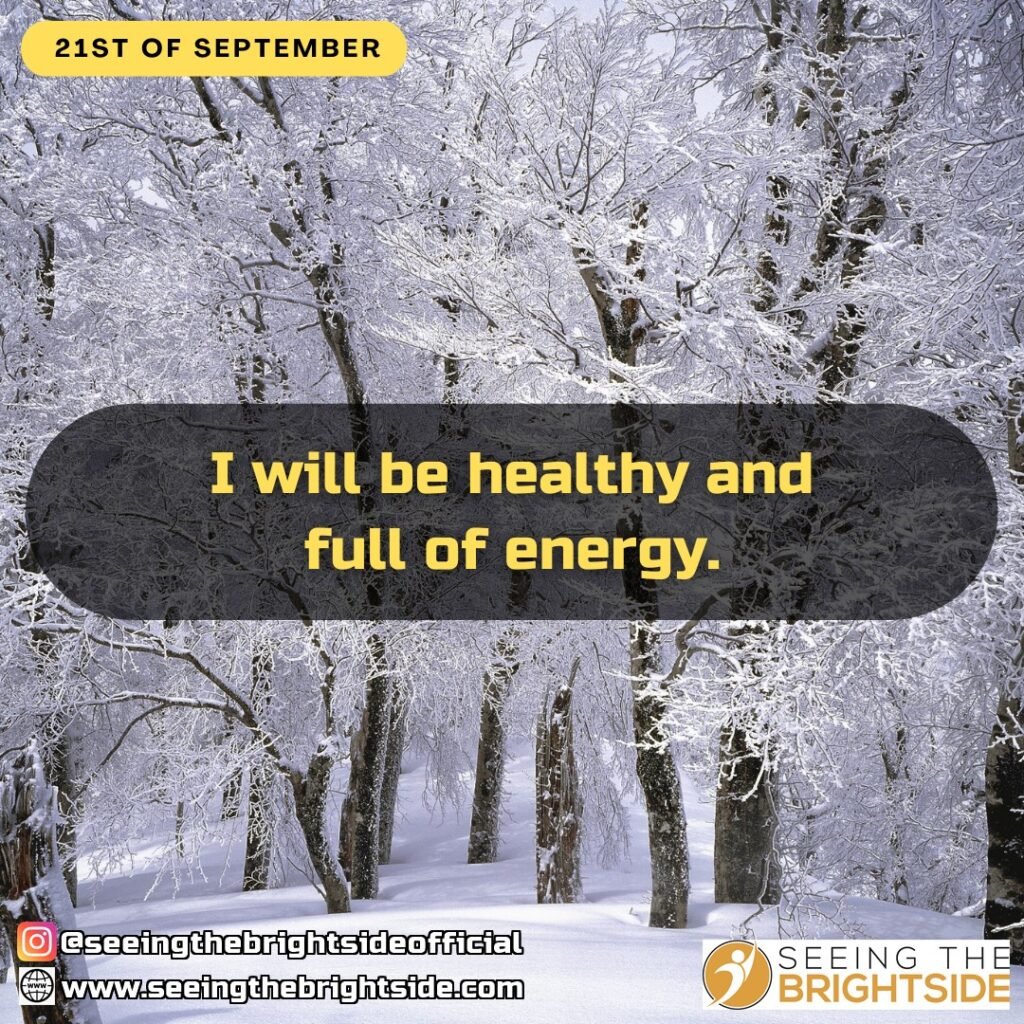 22nd September: Nourishing thought and feelings are my motivation.
23rd September: I cherish every second of my life.
24th September: I have so much joy and love to give.
25th September: I attract opportunities that create money.
26th September: My actions will produce prosperity.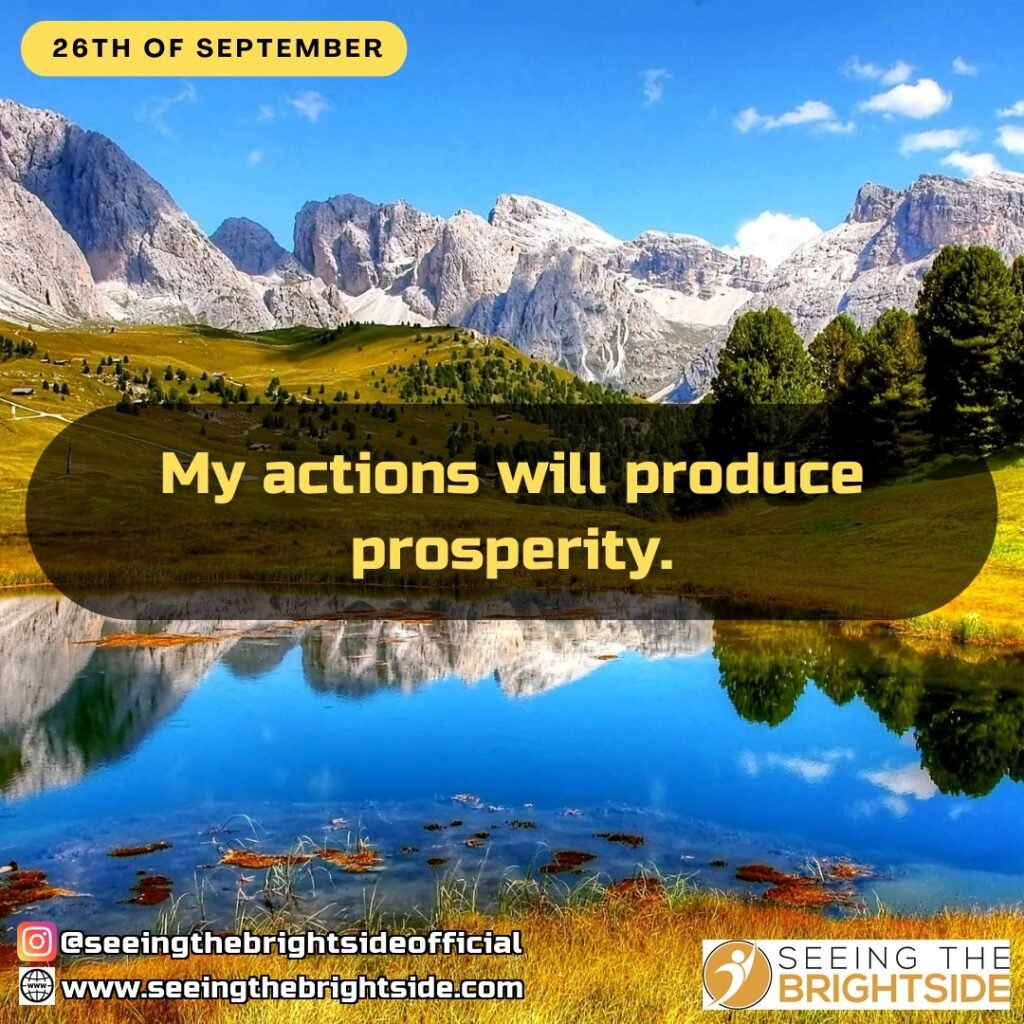 27th September: I am free from the stress that affects productivity.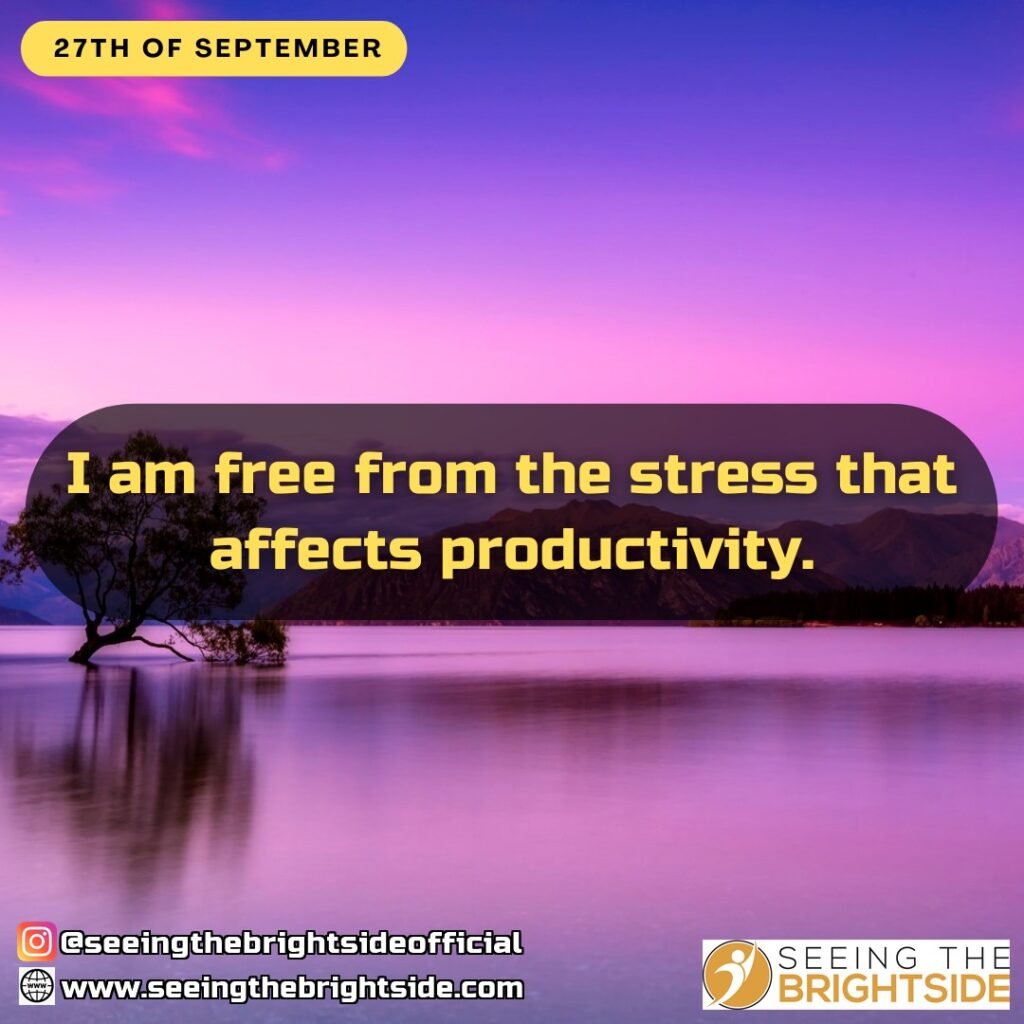 28th September: I cherish and love myself.
29th September: I say no to things that do not make me happy.
30 September: I deserve success and happiness.
1st October: Letting go of the past has helped me move forward.
2nd October: I have forgiven myself.
3rd October: I relax my mind and body by releasing stress.
4th October: My mental attitude is optimism.
5th October: I am hopeful that tomorrow is full of opportunities.
6th October: Every day amazing things happen to me.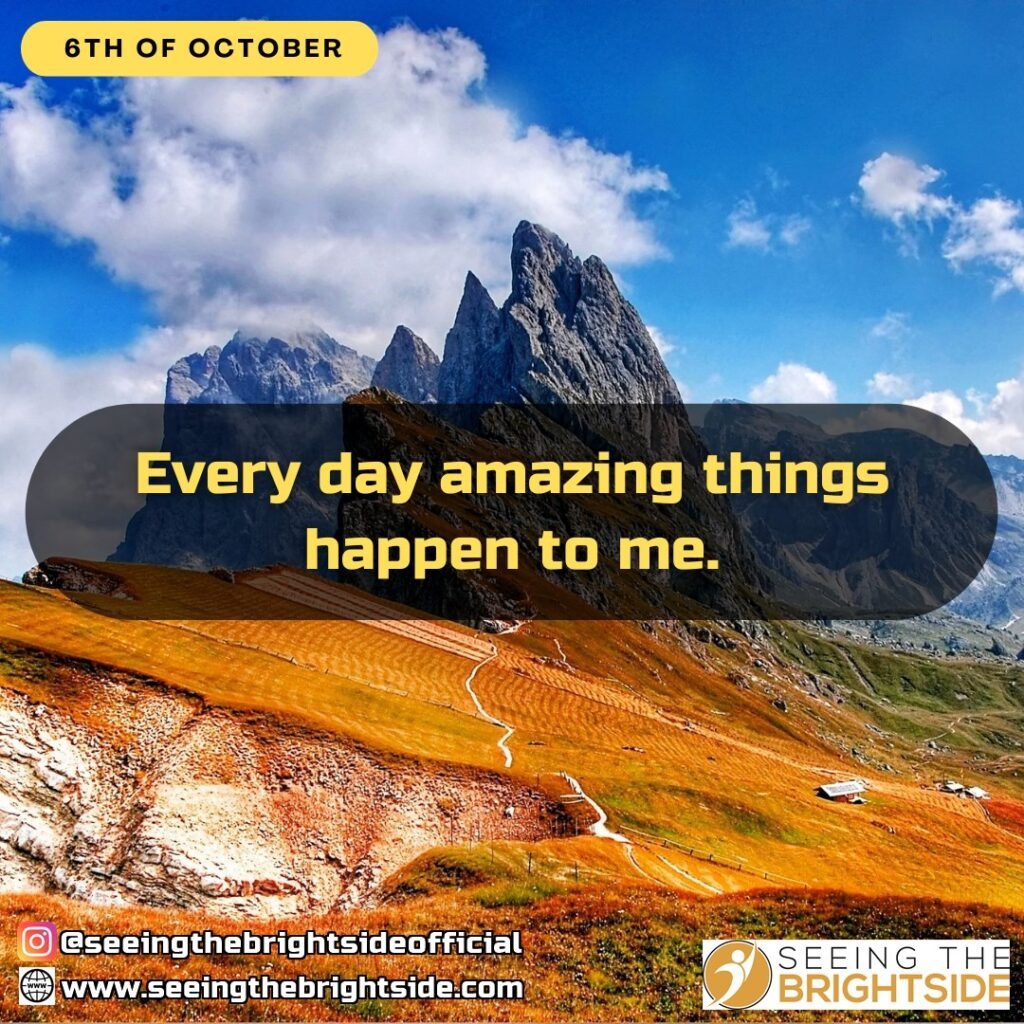 7th October: I am patient, caring and understanding.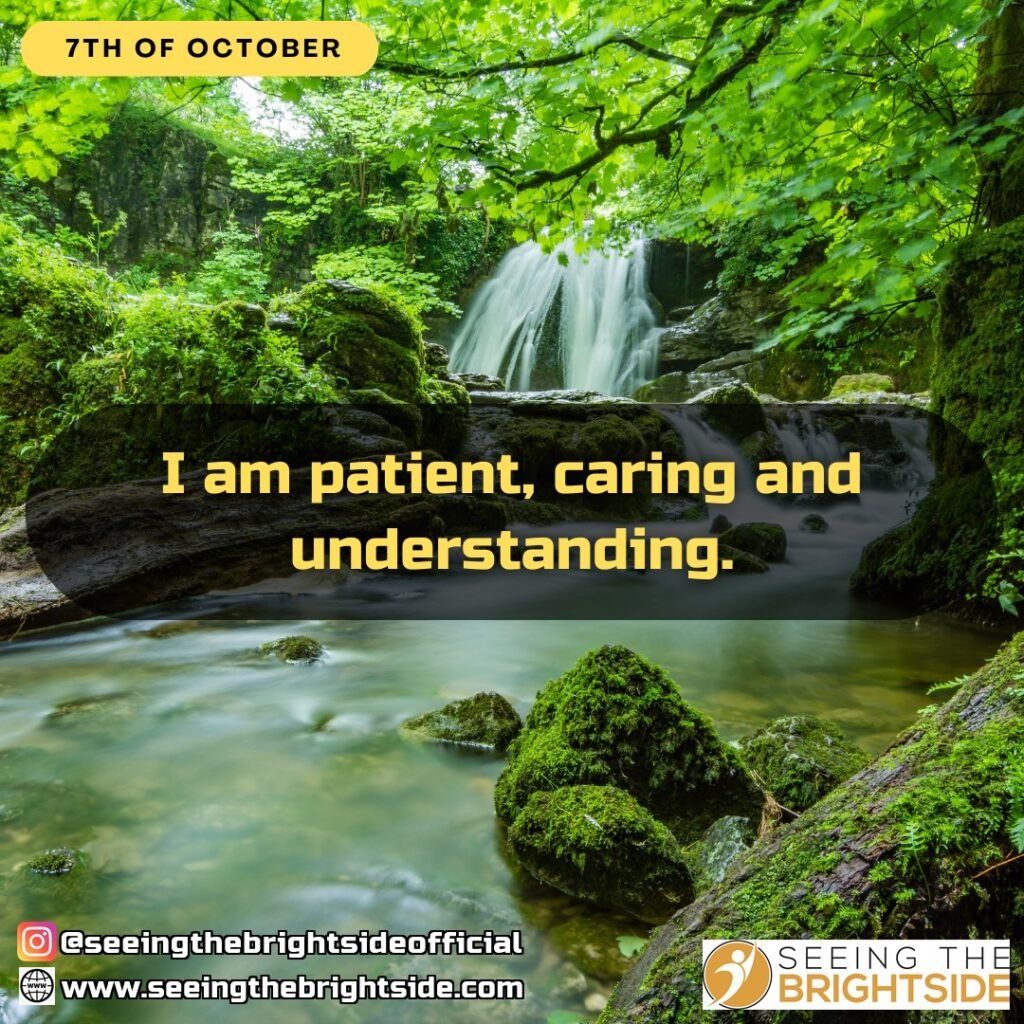 8th October: I remain balanced in all situation.
9th October: I am filled with positive charisma.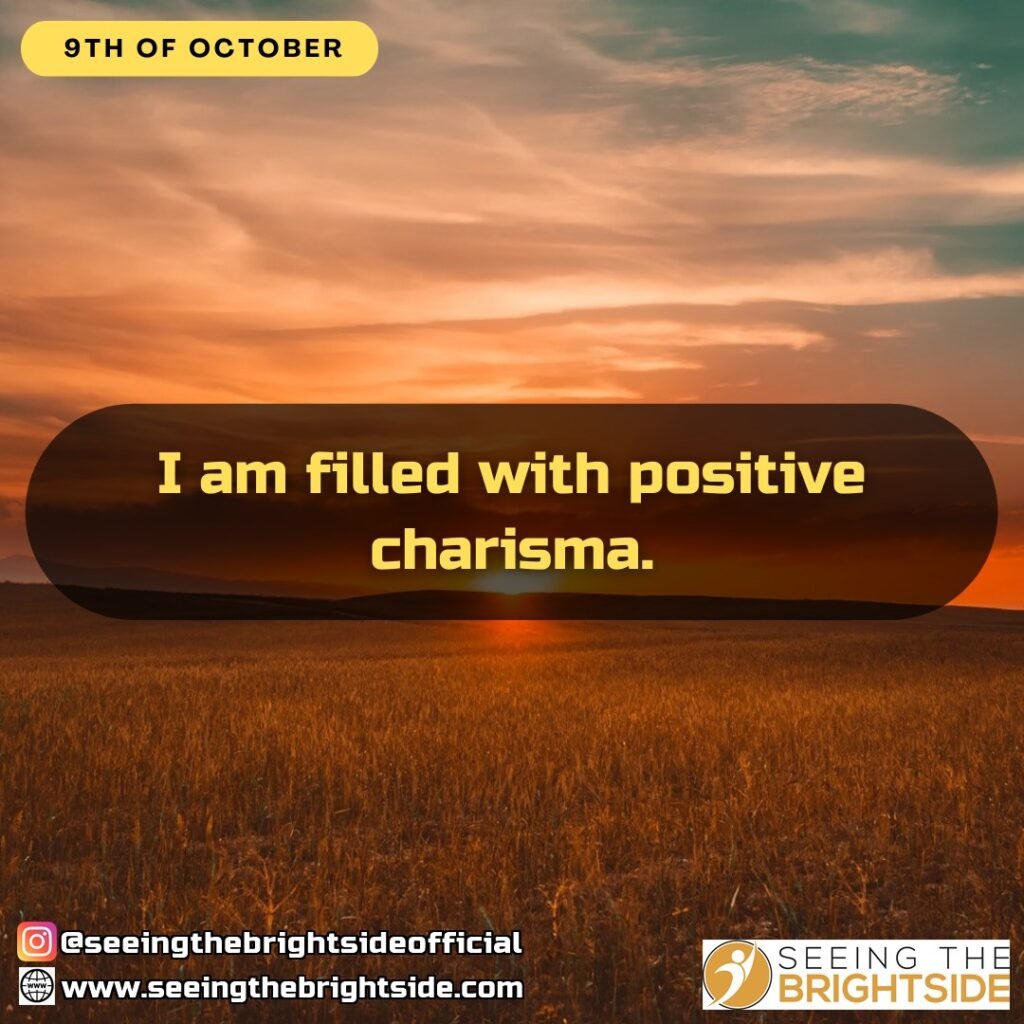 10th October: I create my world with my positive thoughts.
11th October: I love myself too much to be with someone undeserving.
12th October: I compare myself to me only.
13th October: I am original.
14th October: I chose to be happy irrespective of the circumstances.
15th October: All is well with me and my family.
16th October: Things can only get better for me and my family.
17th October: I will make the world a better place.
18th October: I feel enthusiastic about life.
19th October: I find happiness in all i do.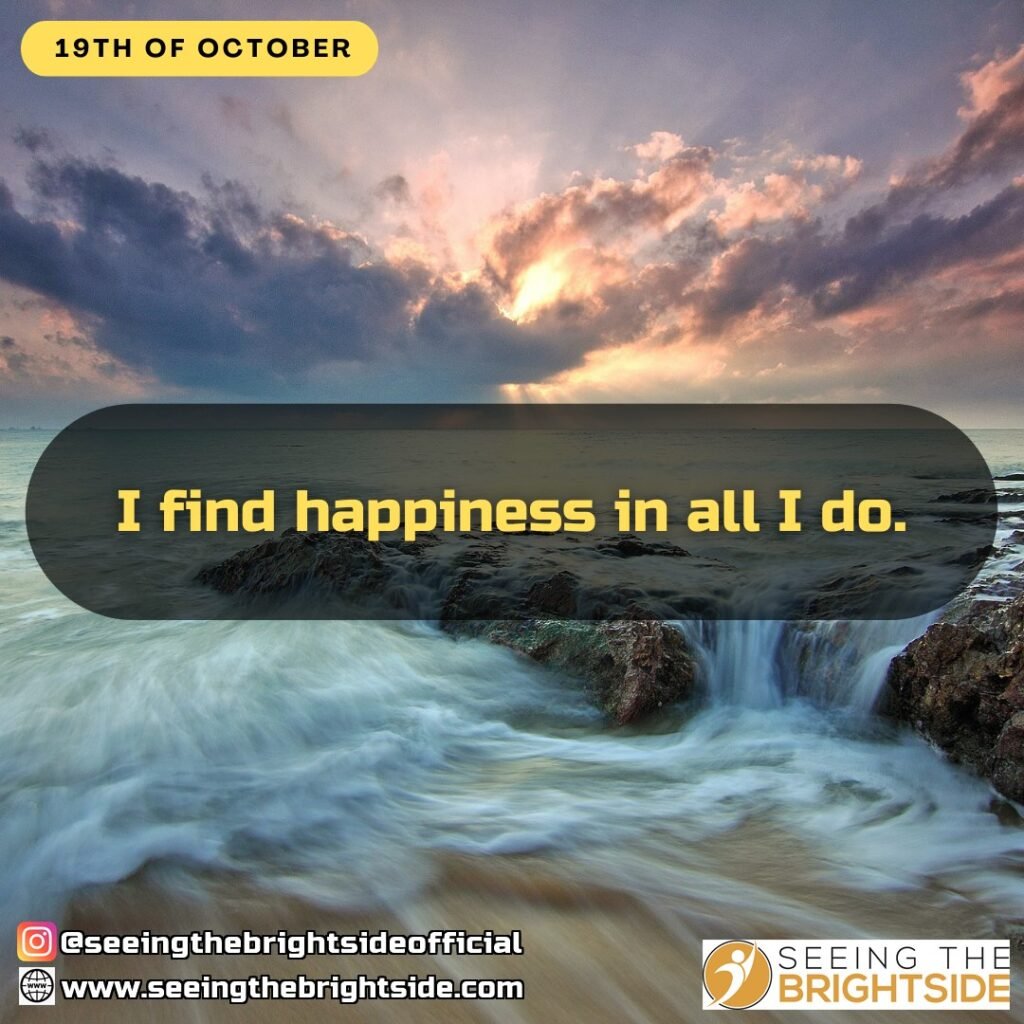 20th October: I find solutions to challenges easily.
21st October: I become more successful every day.
22nd October: I inhale confidence and exhale timidity.
23rd October: My personality transmits confidence.
24th October: I adjust myself to new situations easily.
25th October: My inner wisdom is my best guide.
26th October: I deserve great things in life.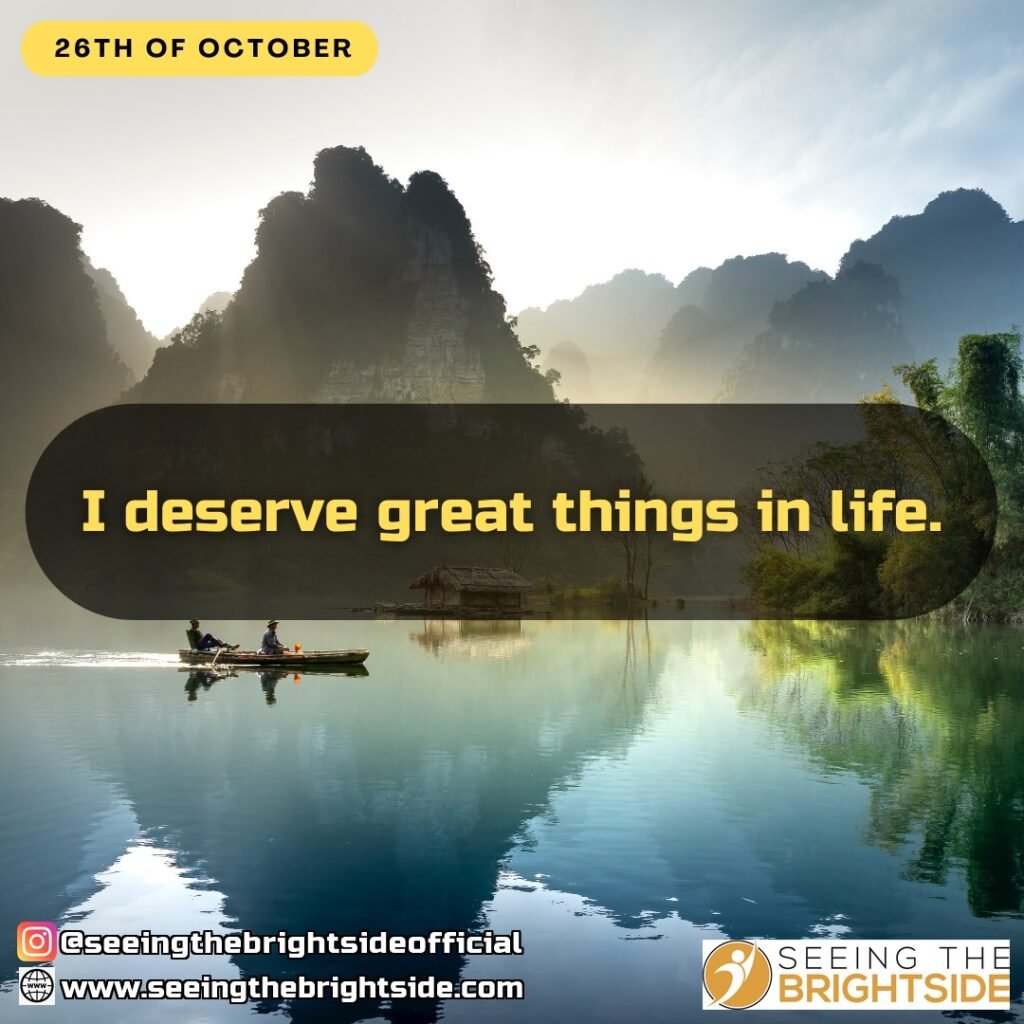 27th October: My confidence increases every day.
28th October: My whole being is calm and relaxed.
29th October: My mind is filled with pleasant thoughts.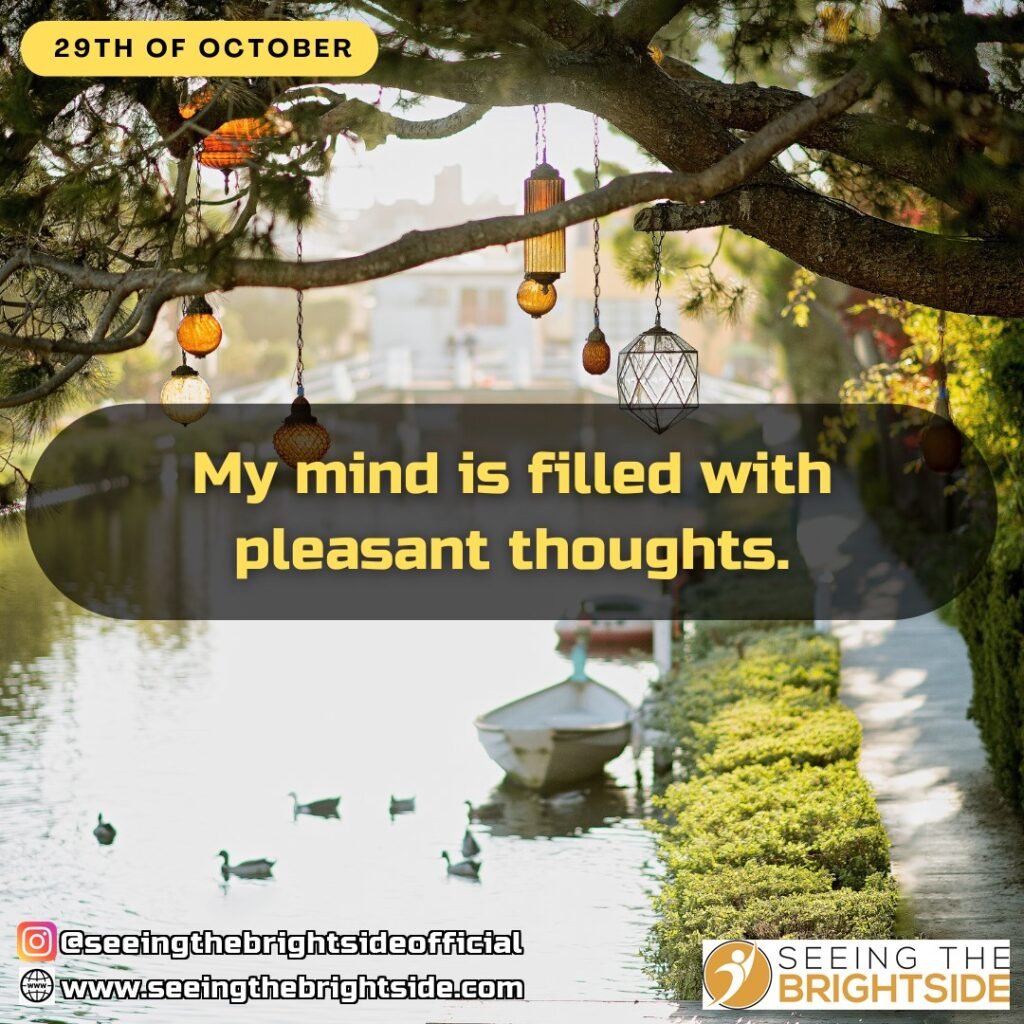 30th October: I have all it takes to improve my health and happiness.
31st October: I attract healthy and beneficial relationships.
1st November: I am hopeful and full of blessing.
2nd November: I will become more prosperous as i grow older.
3rd November: I command respect everywhere i go.
4th November: I am a valuable asset to the world.
5th November: I step into unique opportunities every day.
6th November: I am beautiful, brilliant and bold.
7th November: I will never give up.
8th November: I make the best of every situation.
9th November: Everything works out to my favour.
10th November: I am content and free from pain.
11th November: I grow at my own pace daily.
12th November: I am loved and worthy.
13th November: I am more than my circumstances dictate.
14th November: I am peaceful and whole.
15th November: My perspective is unique and essential.
16th November: All things are possible for me.
17th November: My ideas are mind-blowing.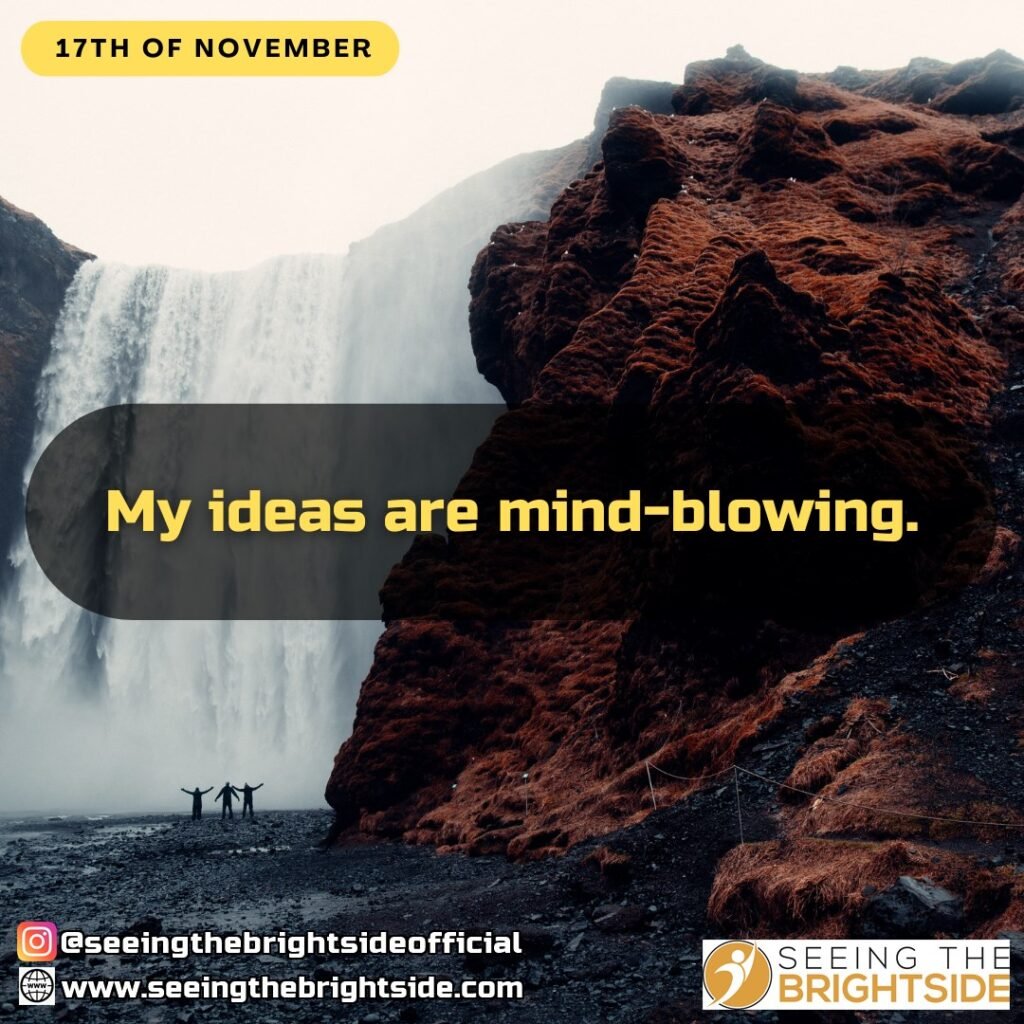 18th November: Today i will be brilliant and authentic.
19th November: I am buzzing with joy every day.
20th November: I choose to smile today and always.
21st November: I will live fearlessly always.
22nd November: I have the potential to achieve my goals.
23rd November: Today will be a productive day.
24th November: I will focus on positivity always.
25th November: I will become a better version of myself daily.
26th November: My abilities are exceptional.
27th November: I will enjoy every moment to the fullest today.
28th November: Today i will be wiser and kinder.
29th November: I live a purposeful life every day.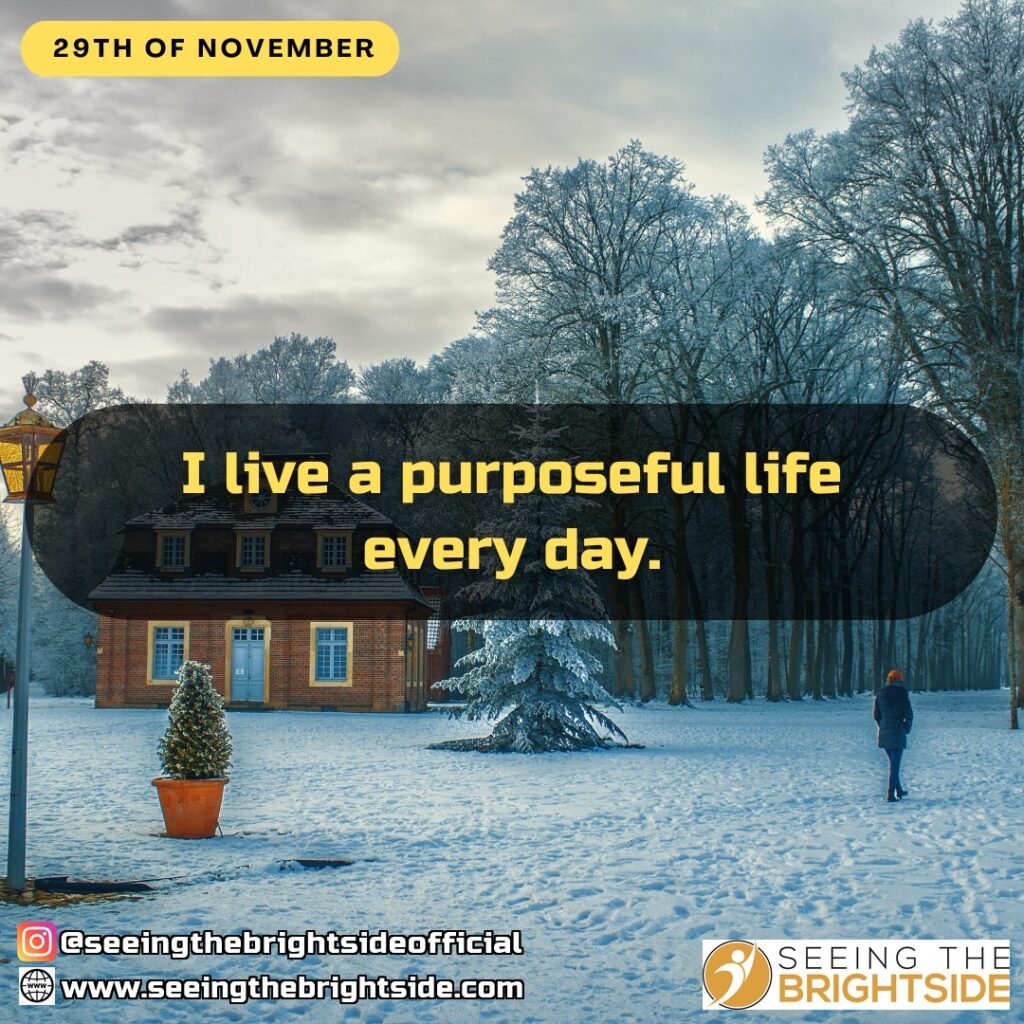 30th November: I create joy for others every day.
1st December: My body is worthy of healthy choices.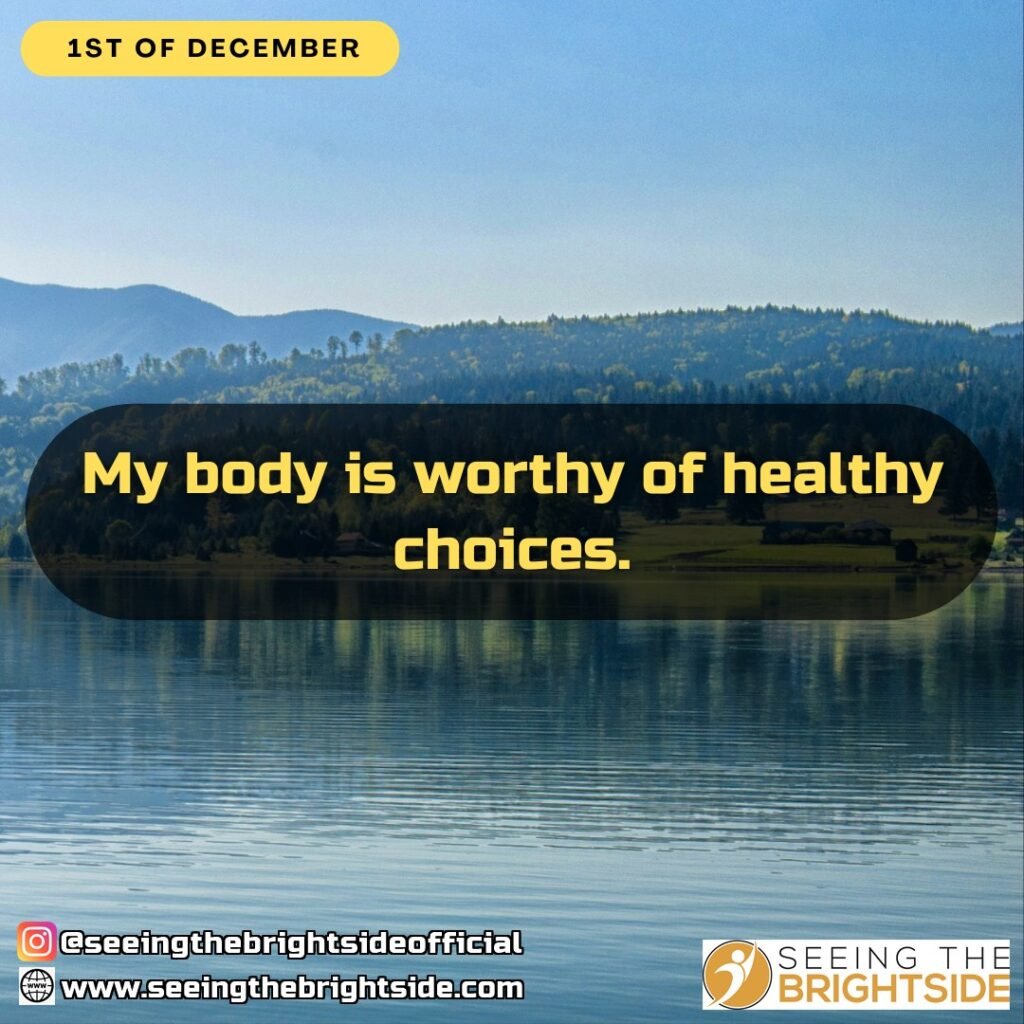 2nd December: I am a vessel of wellness.
3rd December: I will focus on what makes me feel good everyday.
4th December: Today will be a good day.
5th December: Negative thoughts have no root in my mind.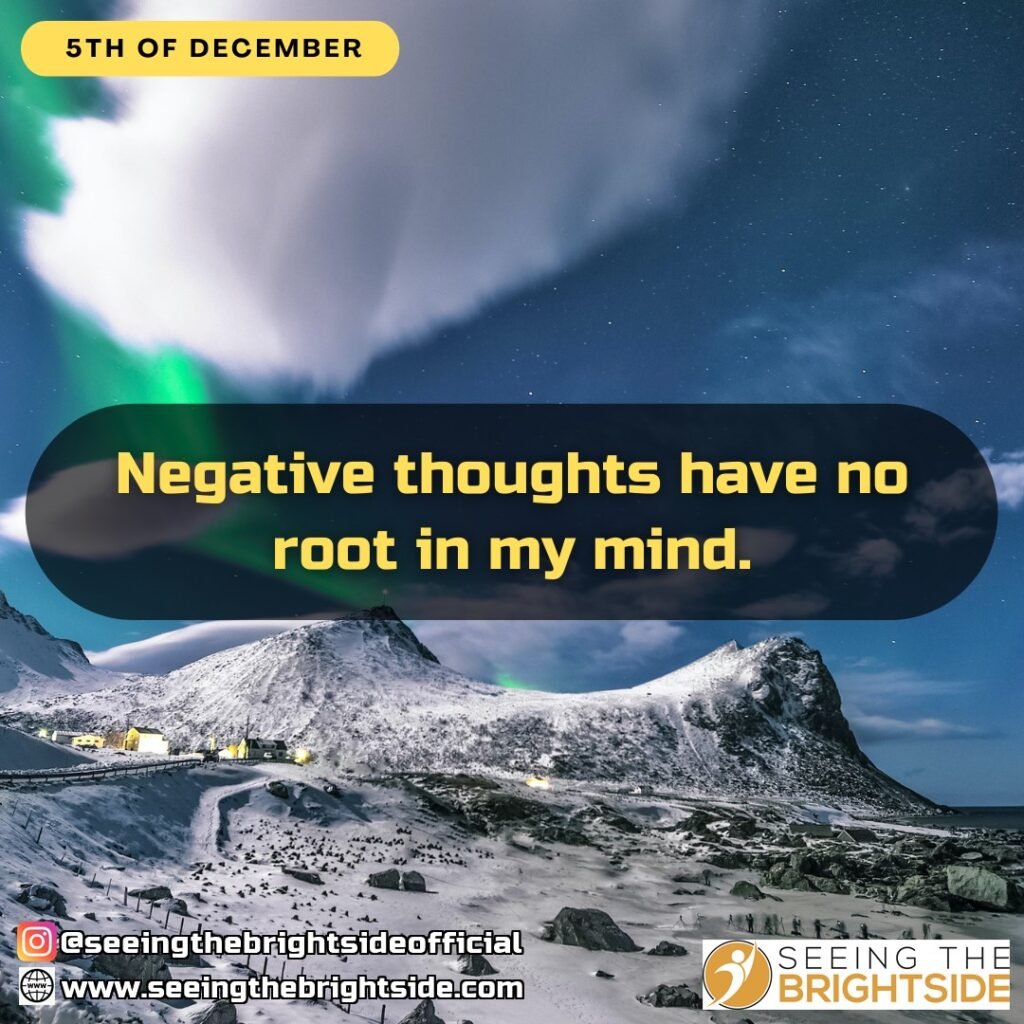 6th December: I happily receive love each day.
7th December: I am grateful for the opportunity to live.
8th December: My smile comforts me in every circumstance.
9th December: I am a product of unconditional love.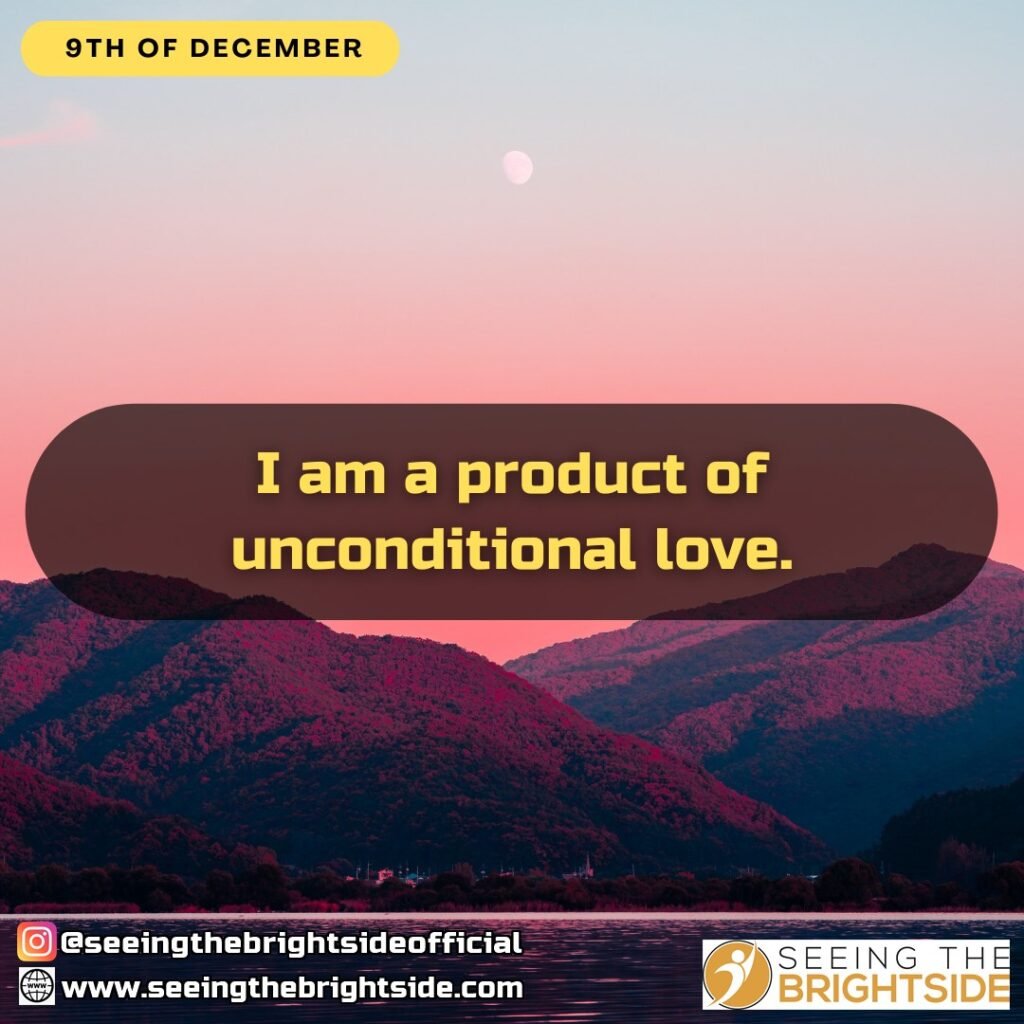 10th December: I will maximize the infinite possibilities of today.
11th December: Today is another chance to make my dream come true.
12th December: I am confident in my dreams.
13th December: I radiate love and happiness everywhere i go.
14th December: My prosperity is unlimited.
15th December: My body inspires my confidence.
16th December: My heart desires are achievable.
17th December: I see opportunities always.
18th December: I open my heart to receive blessings today.
19th December: My energy towards growth is 100%.
20th December: I am the most reliable source of inspiration.
21st December: Bad experience does not define me.
22nd December: My life is an adventure.
23rd December: My existence is a blessing to everyone around me.
24th December: I exceed expectations.
25th December: My goals are distraction-free.
26th December: I will be recognized for excellence.
27th December: I am full of energy to achieve my dreams.
28th December: I start my day joyfully and confidently.
29th December: I welcome the simple pleasures of life into my existence.
30th December: I am not limited by anyone or anything.
31st December: My life is filled with abundance and prosperity.
We at seeingthebrightside believe in self-development, improvement, and better performance. Check out some other highly recommended programs that will help you through the entire process.
Related Articles:
How to keep your relationship active | Simple Relationship goals
How to Achieve A WORK-LIFE BALANCE: 11 Easy Ways
Check out these 9 Simple and Easy Ways to Managing Stress
90 Never give up quotes; It can only get better
How to Find Inner Peace, 15 Simple Things You MUST Start Doing Today
Failure is Great, 14 Reasons Why you need to fail before you succeed
Dealing with Insecurity, Check out these 12 simple tips for getting over Insecurities in Relationships and Life in General
182 Simple Motivational Workout Quotes that will surely keep you focused
Do you want to be TIKTOK FAMOUS in 90 Days? (Check out these 9 proven ways)
How to Accept And Embrace Change in difficult Situations (15 helpful tips)
Do you want to Retire Early? You Need To Know These Things Before You Make That Decision
Why You must fully adopt Online Homeschooling Programs, 15 Ultimate Reasons (COVID is not the only reason)
Apply Now -10 Reasons You To Start Applying For Scholarships
Top 15 Learning Strategies To Understand Faster And Memorize Better
175 Ultimate Motivating short quotes to inspire you for greatness
15 Weight Loss Tips you need to know, it can only get better from here
You need these106 Monday motivation quotes to get the best out of the week
Top Pros And Cons of Social Media Platforms, How to use it to your advantage
Top 167 Positive Energy and Positive Vibes Quotes, you need this.
7 Exciting Reasons Why You Should Never Give Up On Your Dreams
Top 132 Family Love Quotes that are Exciting and Inspirational
8 Things That Are Just Not Worth Your Time, Let's Take Care Of These Things Quickly
6 Simple Ways To Attracting Amazing People Into Your Life
135 Inspirational Leadership Quotes, You Need This If You Want To Become A Great Leader
88 Most Inspiring and Love Quotes for Christmas
Want to Live a Happy Life? Here are 13 Things to Focus On
85 Inspiring Love Relationship Quotes, Let's build a greater bond
Ultimate Positive Mindset: Here are 15 ways to achieve it
22 Exciting Healthy Eating Lifestyle tips to keep you on track
Positivity and Negativity: 11 Reasons to quickly Avoid Negative People
Effective Skill Development,15 Ultimate ways to achieve it
Effective Study Strategy Techniques, 15 keys you need to activate
Team Motivation Strategies,10 Ultimate Tips To Keep Your Team Motivated
15 Ultimate Good Habits for Successful and Happy Life
These 9 Highly Effective Study Habits are Needed for a Successful Life
16 Ways to Stop Procrastinating, this is the ONLY way out
Life Improvement: 15 Small and easy ways to improve your life in 90 days
How to study smarter and not harder:14 Ultimate study strategy tips
Tracking Progress: You need to adopt all 12 Simple Ways to Track Progress Towards Your Goals
Anxiety (All you need to know): Managing and controlling Anxiety
Long Term Goals: You need these 10 proven ways to succeed
Motivation: 7 easy and applicable ways to stay motivated
Better Sleep: Sleep like a baby with these12 proven tips
Depression: All you need to know and getting out successfully
The needed and simple Time Management Skills for College Students
Vegan vs Vegetarian: Which is better? Everything you need to know
The FEMINISM MOVEMENT: All you need to know
7 Facts About The Law Of Attraction And 7 Practical Ways To Make It Work For You