Recounting the positive affirmations in this post is the best way to start your day. Every day begins with several expectations and aspirations. To build the momentum and the mental fortitude to forge on with your dreams, the need to start the day rightly can't be overstated.
While positive affirmation isn't an isolated magical formula for happiness or individual growth, it is a formidable force if practiced alongside other great and helpful principles that stabilize your interaction with the world. You can view 365 Days Affirmation Videos on SeeingthebrightsideOfficial.

Create momentum for a successful relationship, productive businesses, and sound health by deliberately making these inputs into your subconscious. These daily affirmations will make a meaningful impact on your personal growth. You can also find some more quotes Awesomebook And Goodreads.
1st January: Love finds me wherever I go.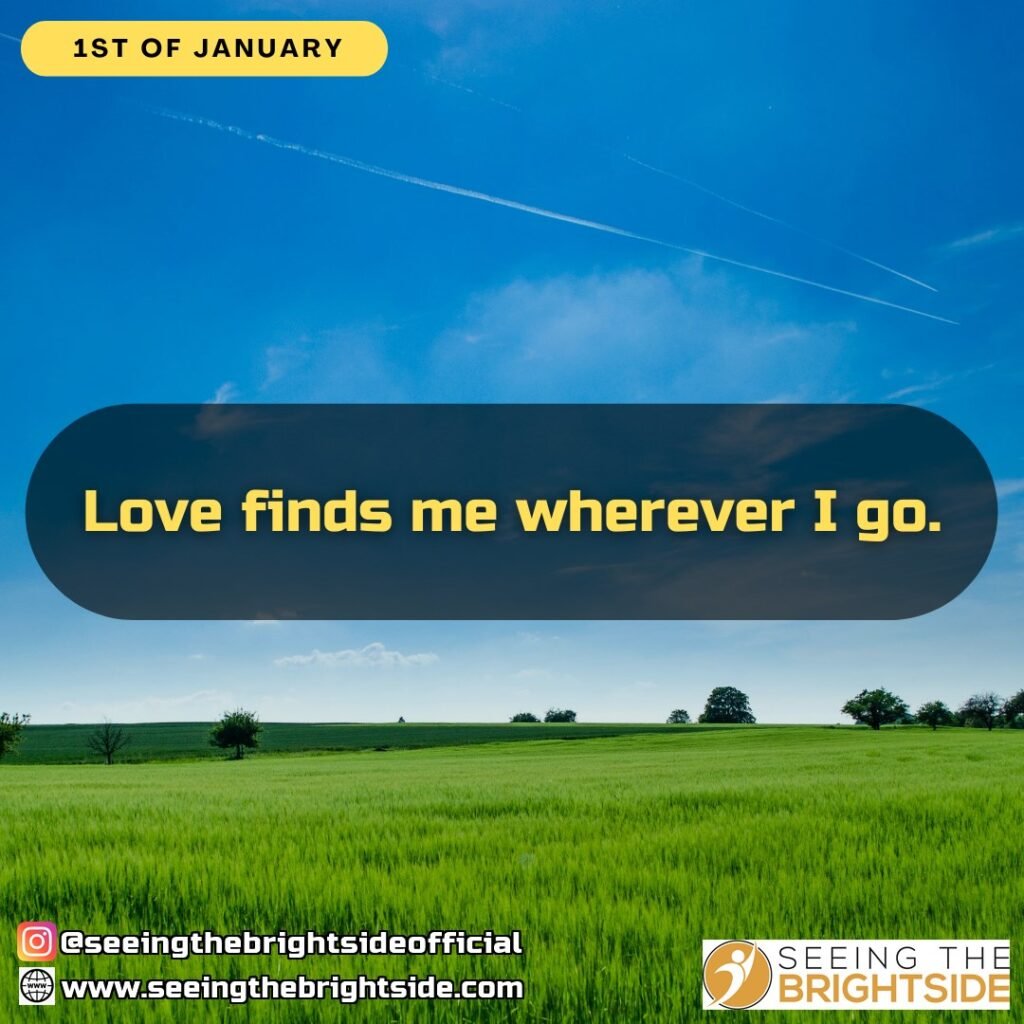 2nd January: My body feels healthy and wonderful every day.
3rd January: Every aspect of my life is filled with peace and joy.
4th January: I am in a perfect health because i choose to be happy.
5th January: Everywhere i go, joy and love surround me.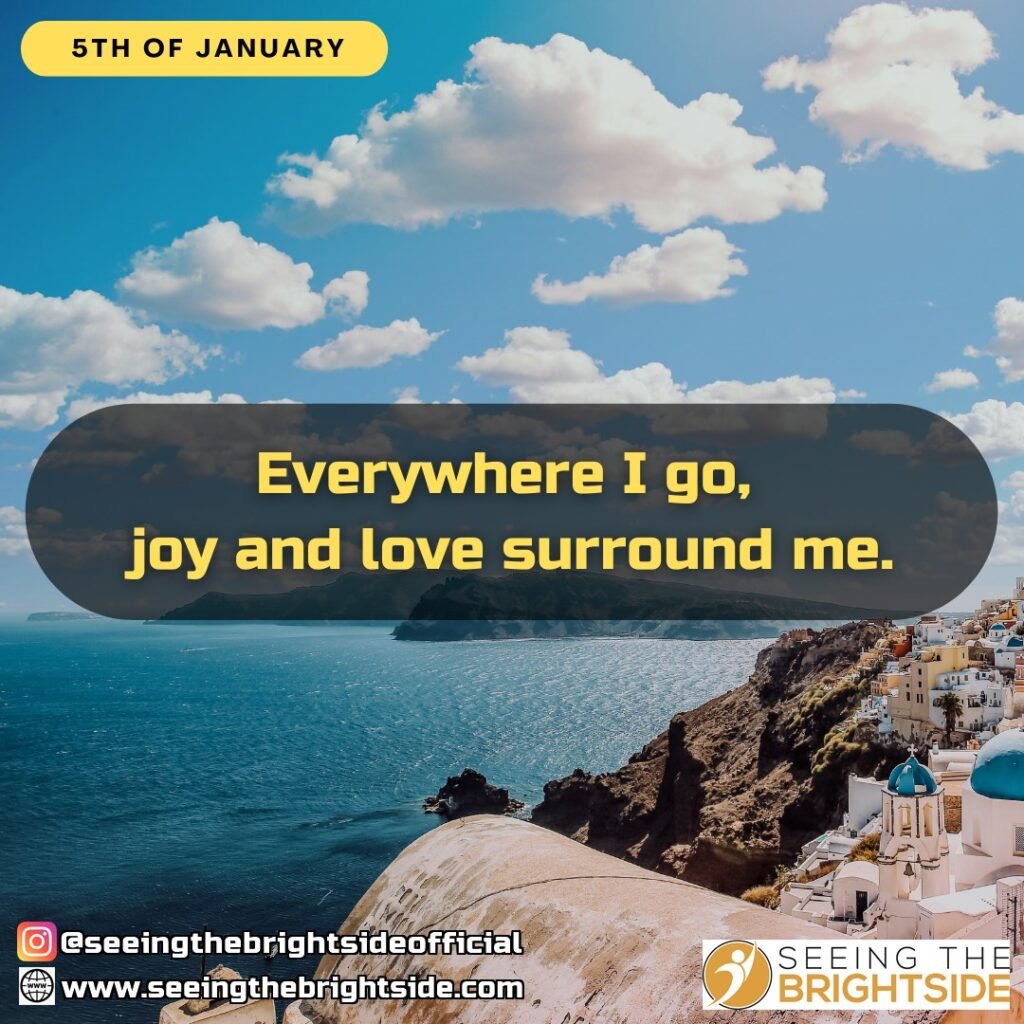 6th January: Joy makes the essence of my being.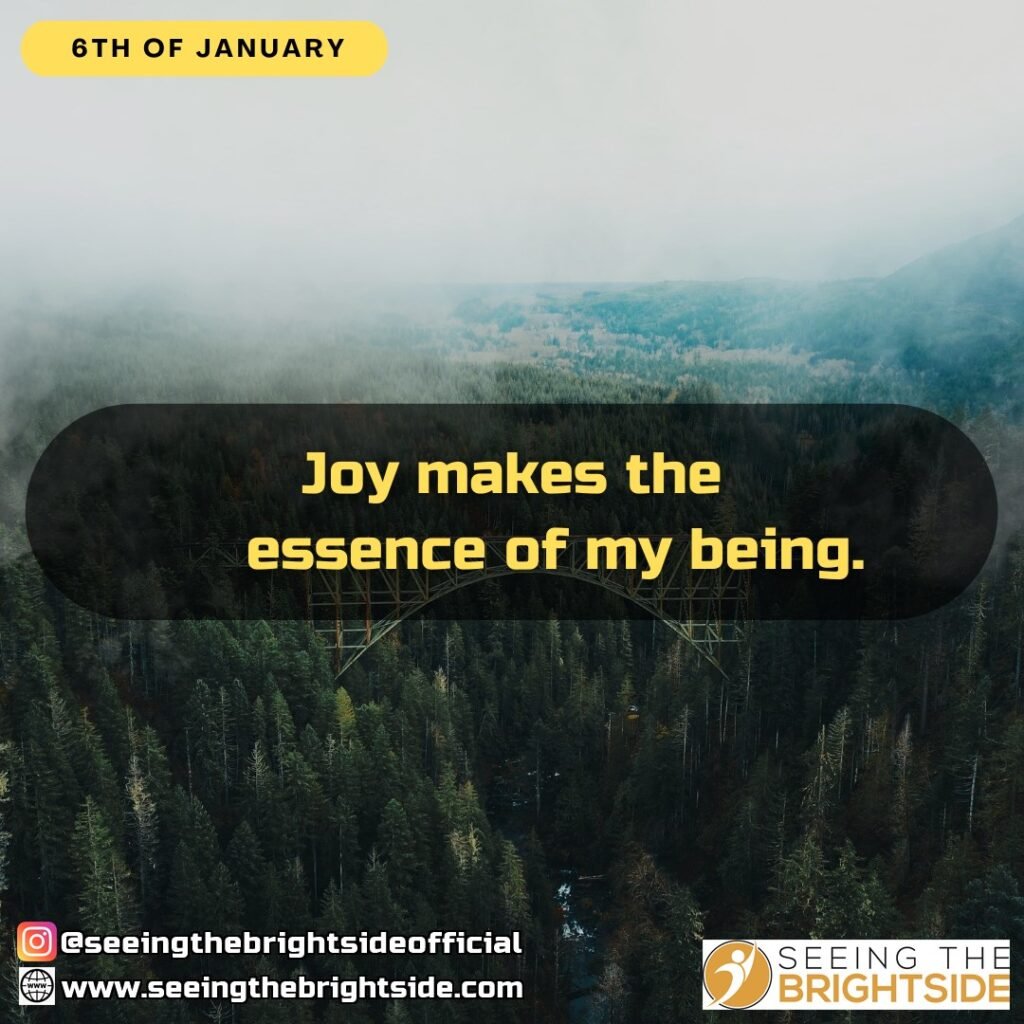 7th January: I have the peace that is deeper than all understanding on the inside of me.
8th January: My mind is peaceful as the depth of the ocean.
9th January: I view my world through the eyes of wonder and excitement.
10th January: I only wish the best for myself and others.
11th January: I am most receptive to blessings.

12th January: There's so much beauty in the nature that surrounds me.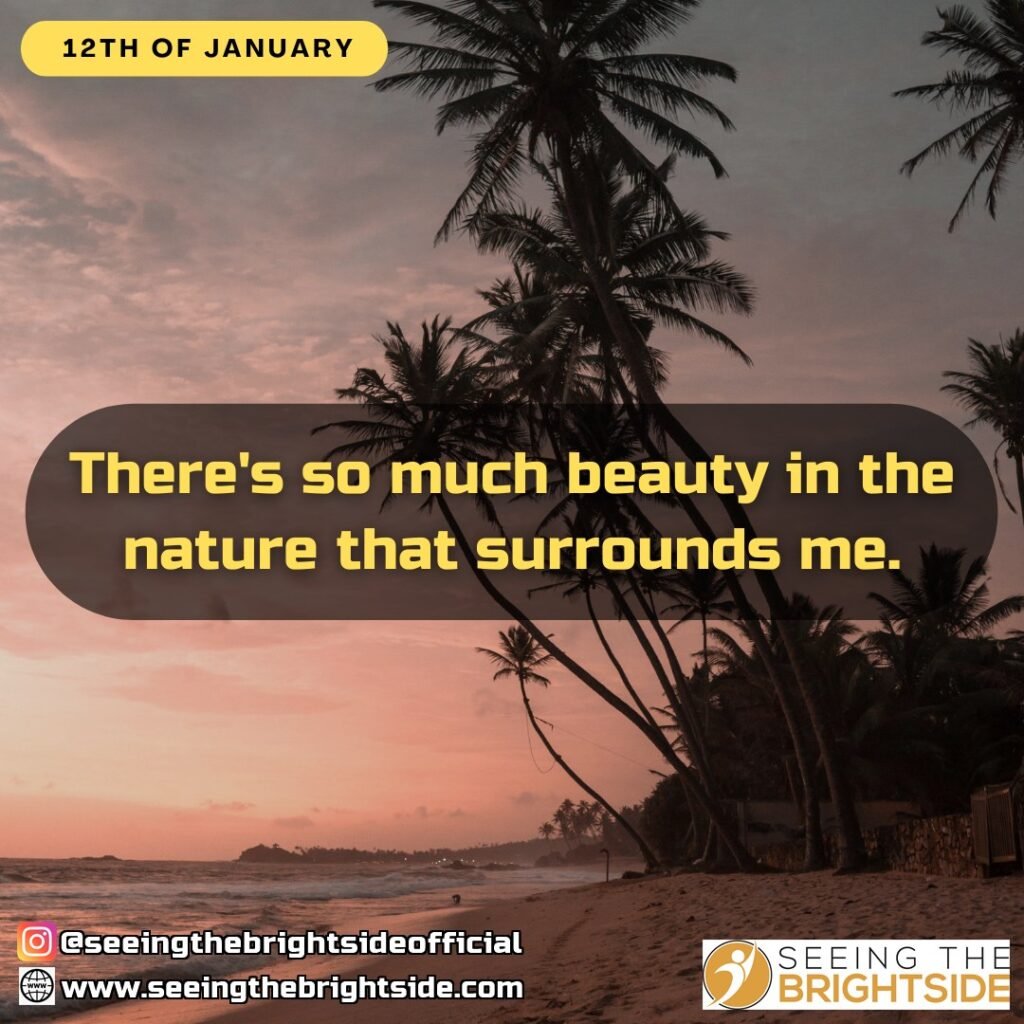 13th January: I creatively express my highest potential everyday.
14th January: Everyone i meet will accept and love me.
15th January: I let my unwavering faith do marvelous work for me always.

16th January: I am blessed by the divine breath that flows through me.
17th January: Love and healing flow through me because i am a channel of grace.
18th January: Everything i desire will come to me quickly.
19th January: Everything will work together for good in my life.
20th January: I will fulfil my heart desires.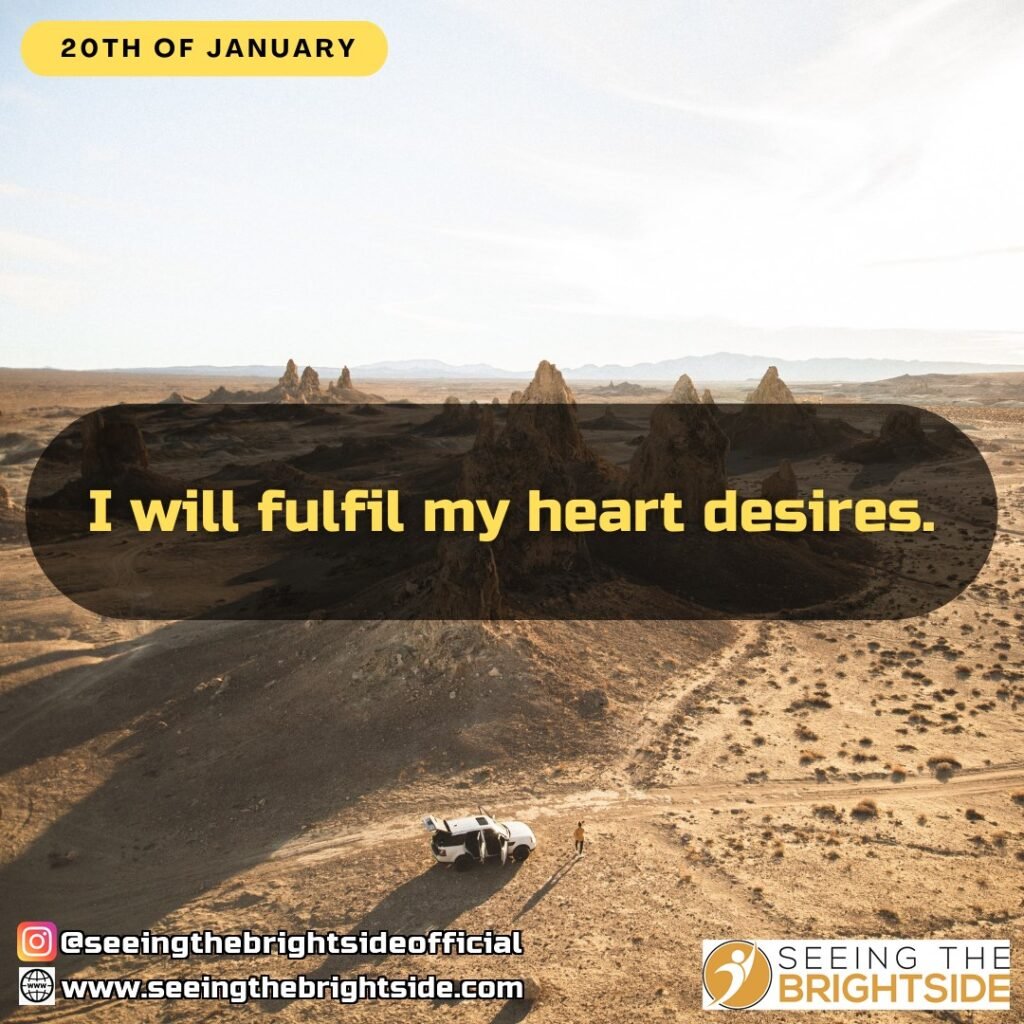 21th January: Every aspect of my life will express higher wisdom.
22nd January: My life will unfold perfectly.

23rd January: I give thanks for all the things i have.
24th January: My life is a product of positive change.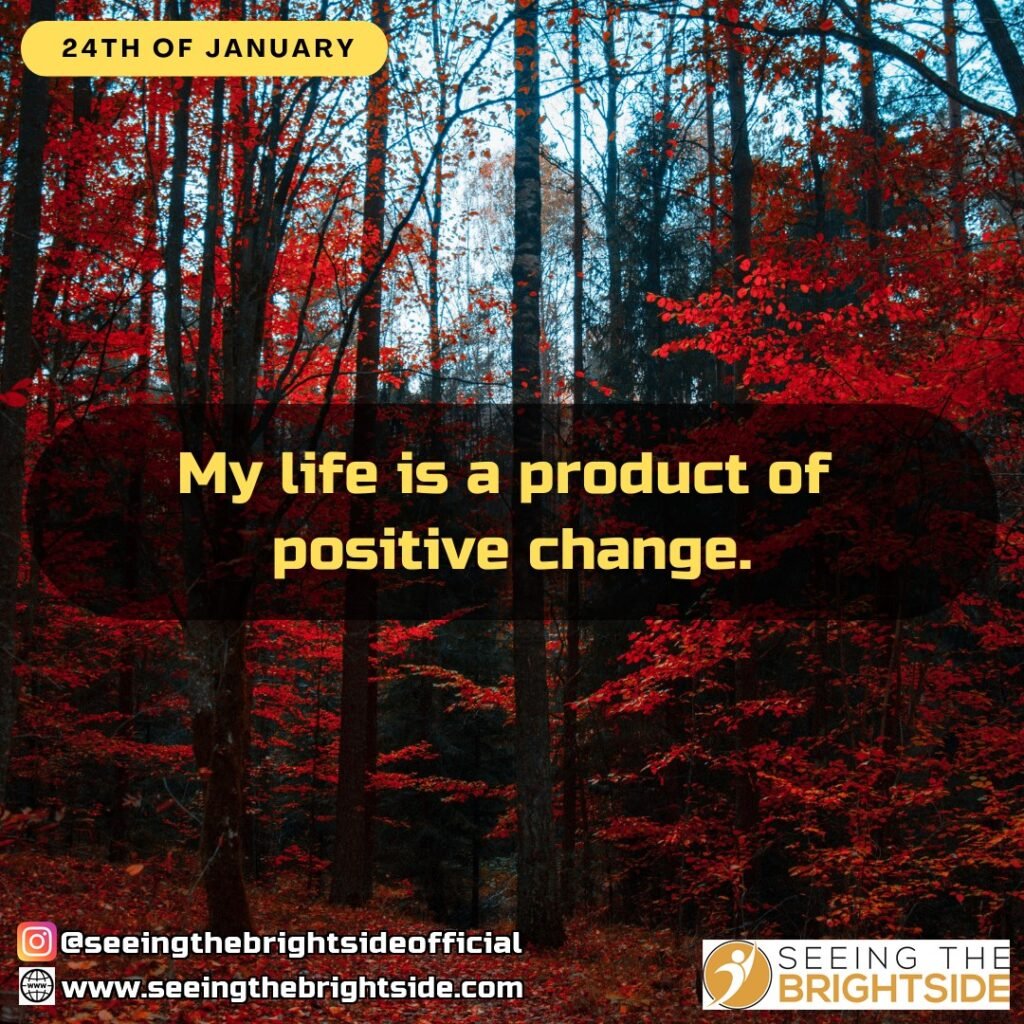 25th January: Every situation i encounter is a learning point.
26th January: I will encounter good fortunes all the days of my life.
27th January: My faith keeps me strong.
28th January: Peace and serenity are all i care about.
29th January: Abundant joy is all i see around me.
30th January: The joy that emanates from my soul fills my life unexplainably.
31st January: I carry joy inside of me always.

1st February: My world will expand today.
2nd February: I am thankful for life as i move through each day.
3rd February: My life blesses others.
4th February: I trust my life is under divine guidance.
5th February: I trust my life has the best outcomes.
6th February: I am open to all possibilities of abundance.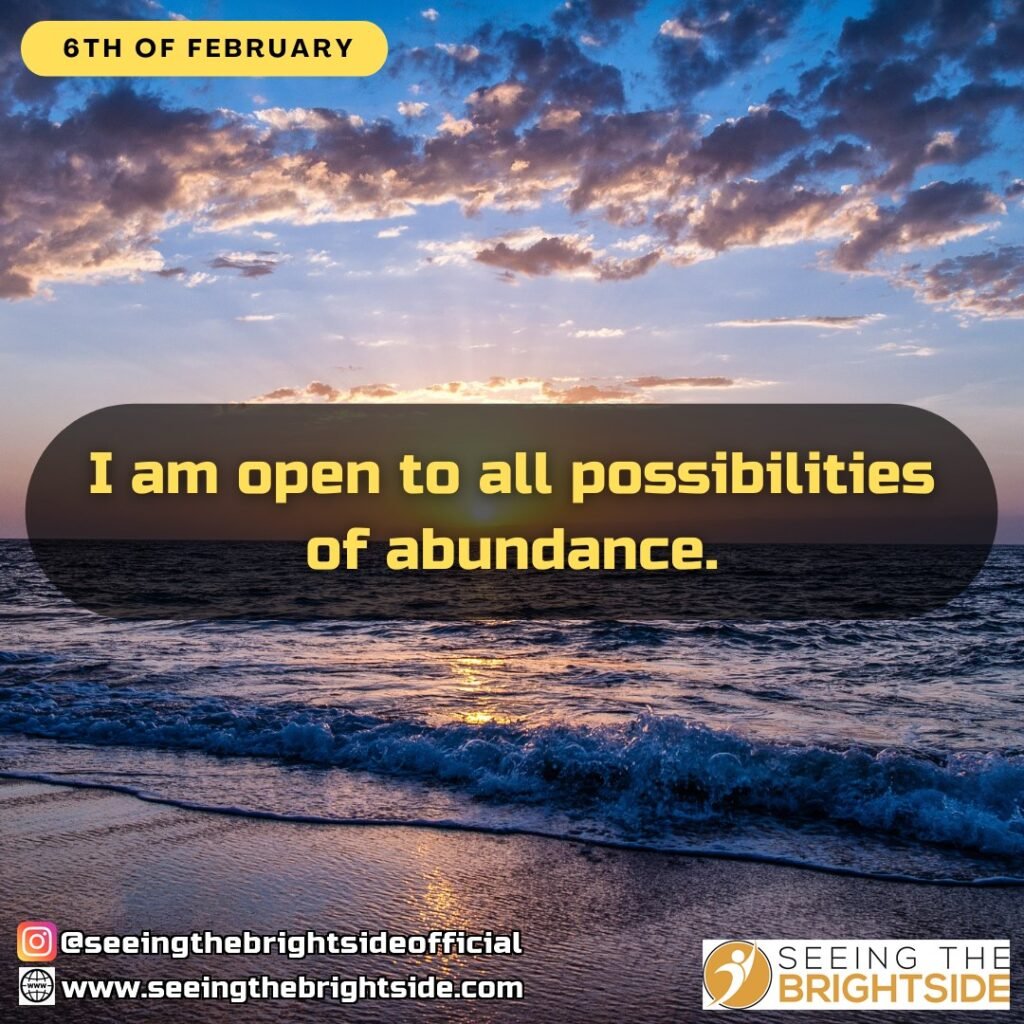 7th February:I bask in the abundance of the universe in me.
8th February: I am hopeful of receiving something extraordinary today.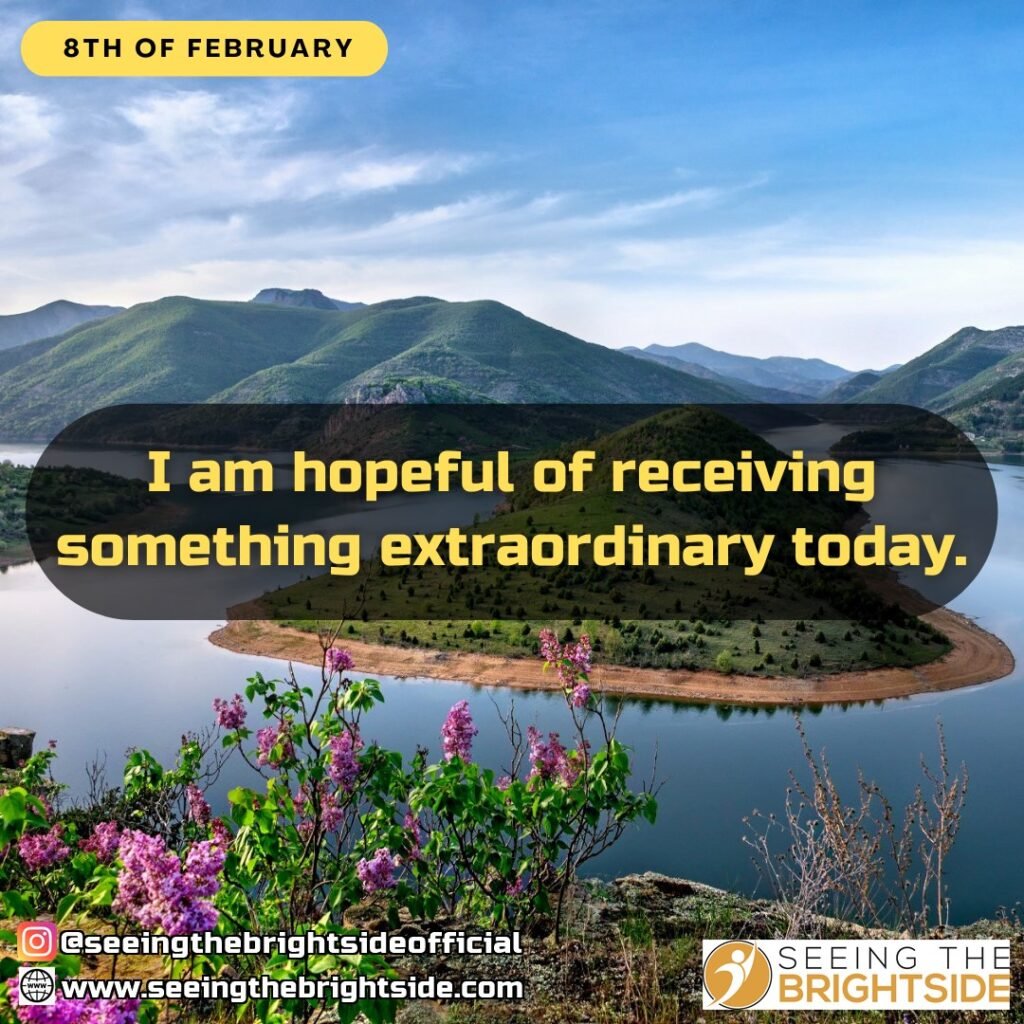 9th February: I receive unlimited prosperity.
10th February: Prosperity is my lot.
11th February: I will live in abundance.
12th February: I will experience remarkable coincidences in my life daily.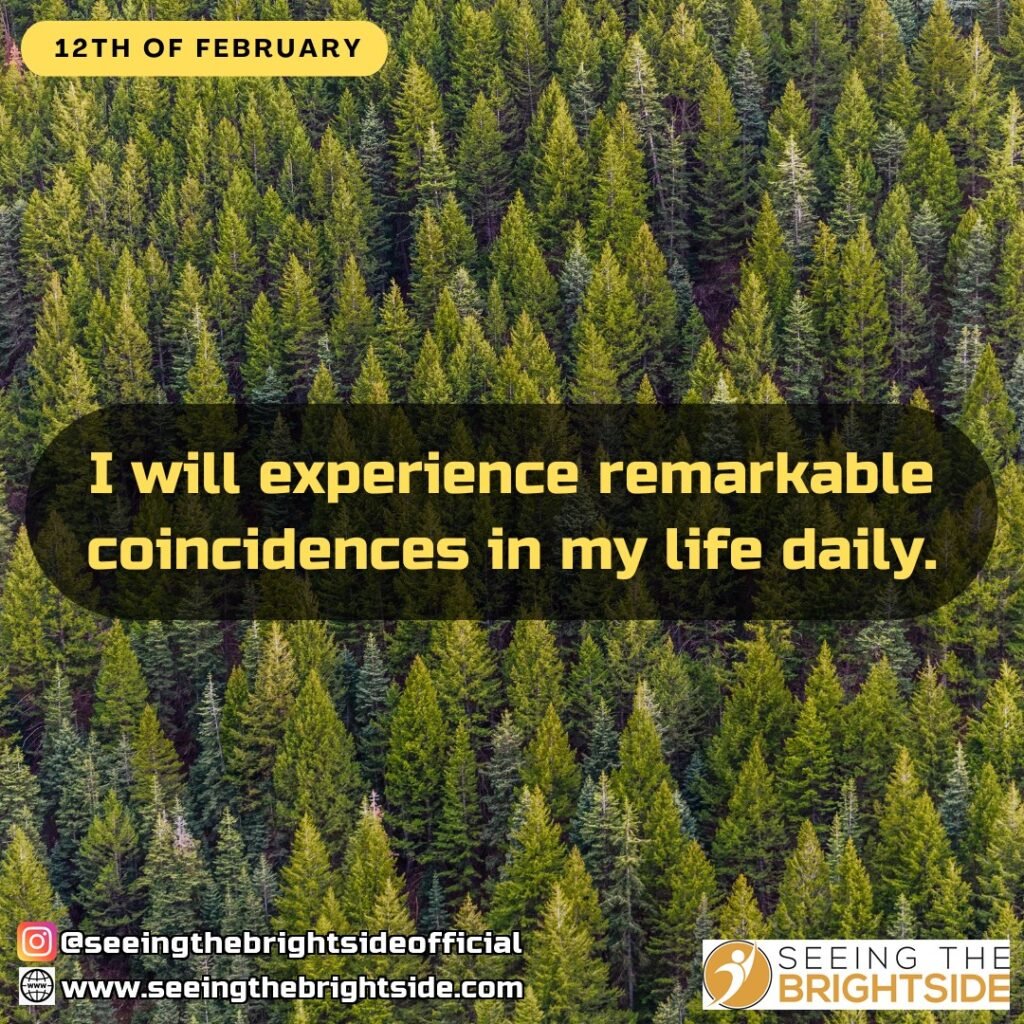 13th February: Opportunity comes my way at every point in my life.
14th February: I will experience endless joy daily.
15th February: Abundant opportunities will surround me daily.

16th February: I will derive great success in everything i do.
17th February: I will always be met with good news.
18th February: Beneficial circumstances flow through me always.
19th February: I am expectant of great things every day of my life.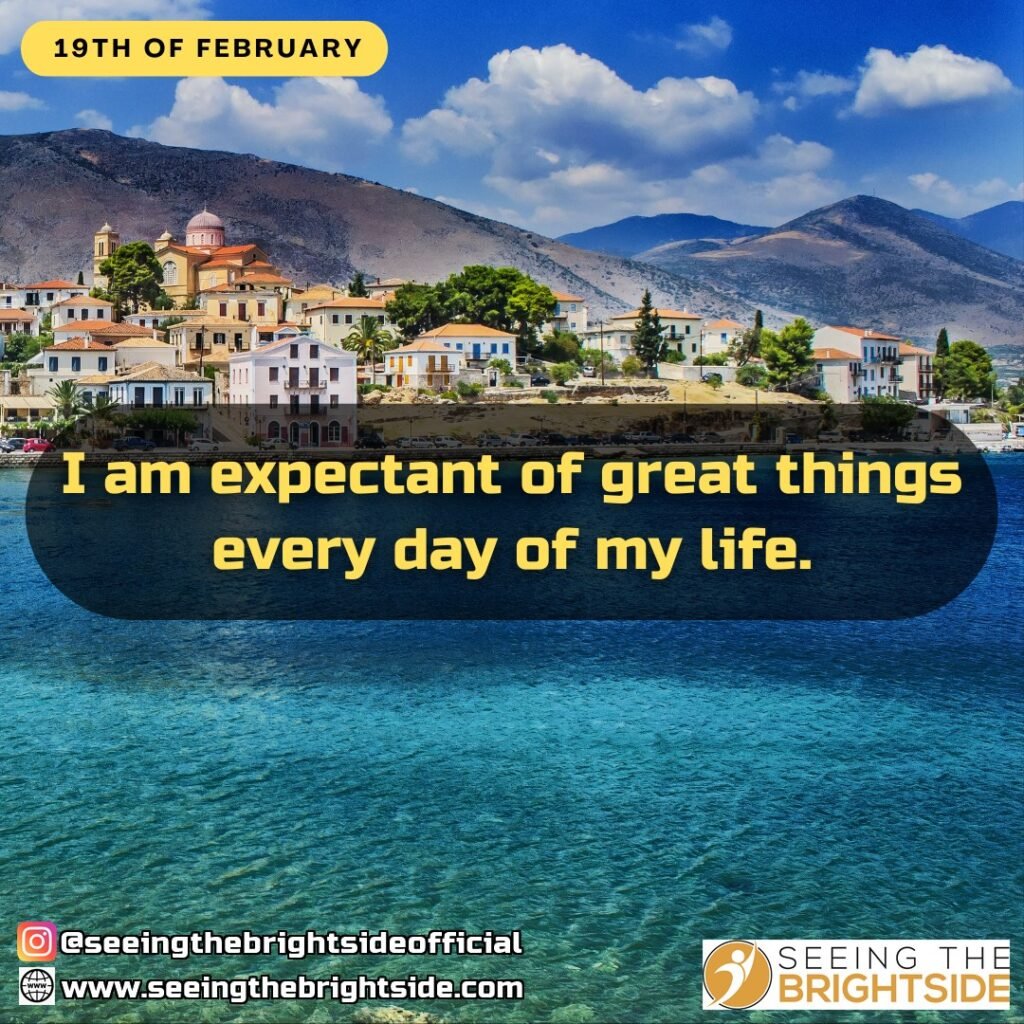 20th February: I get the best because i expect it always.
21st January: I am blessed with miracles every day of my life.
22nd February: My positive mindset attracts favour to me.

23rd February: My smart work earns me a blessing.
24th February: Things work out for me, marvellously.
25th February: Everyday i am blessed with limitless fortunes.
26th February: I will think positively today and always.
27th February: Exciting opportunities will come my way always.
28th February: I will always have constructive and powerful thoughts.

1st March: I will only attract wealth, good fortune and prosperity.
2nd March: My life attracts great and beneficial friends.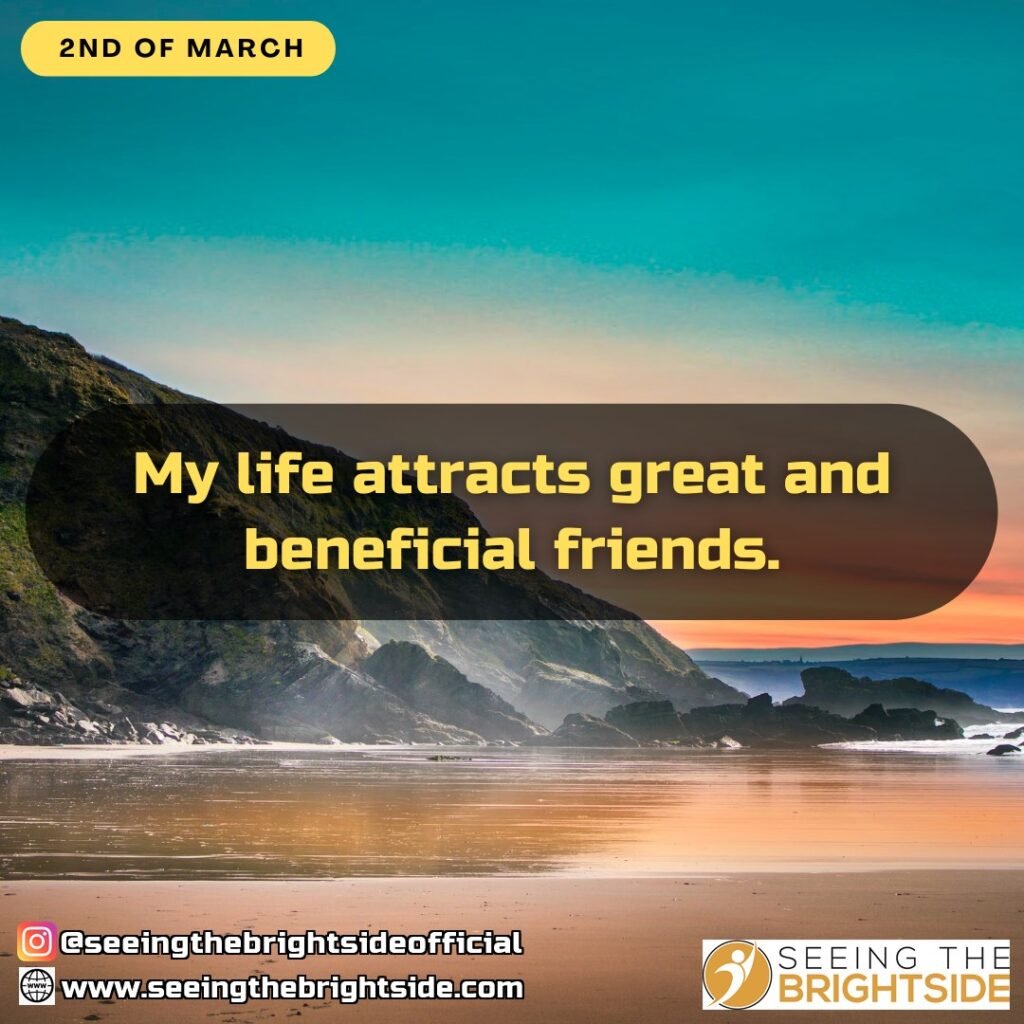 3rd March: Every aspects of my life has a blessing attached to it.
4th March: My life attracts successful people.
5th March: Only great jobs will come my way constantly.
6th March: Only good things are attracted to me.
7th March: I am blessed and fortunate.
8th March: Good things will come to me quickly and effortlessly.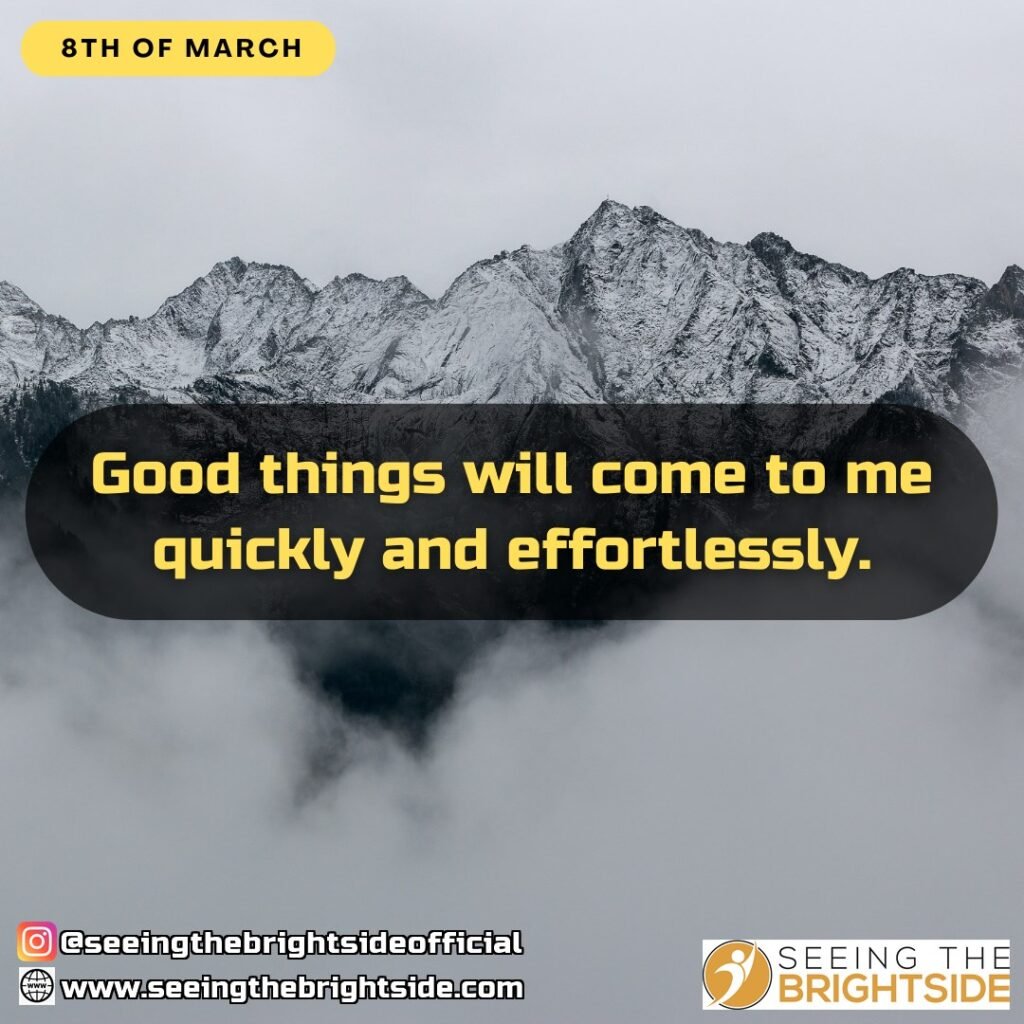 9th March: Things will come to me at the right time because i deserve the best.
10th March: I attract my greatest good every day.
11th March: Good things are manifesting in my life always.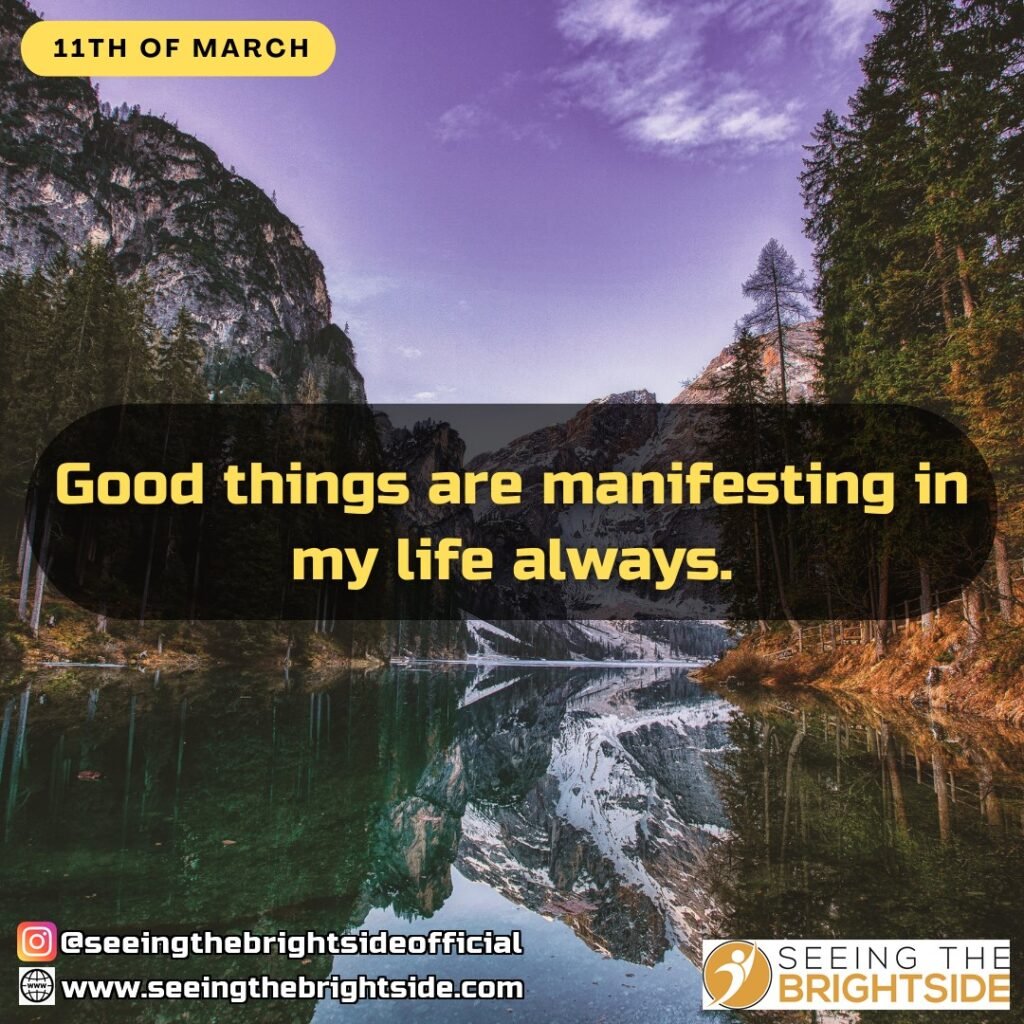 12th March: I have great joy and happiness always.
13th March: My life manifests miracle every day in wondrous ways.
14th March: My life magnets miracles.
15th March: I am propelled by the vision to make the world better than it is.

16th March: Favour speaks for me in every area of my life.
17th March: I choose to live in a world of abundance, love and joy.
18th March: My life is a miracle.
19th March: I have the course to celebrate the miracle of my existence every day.
20th March: I get all i want through my loving thoughts.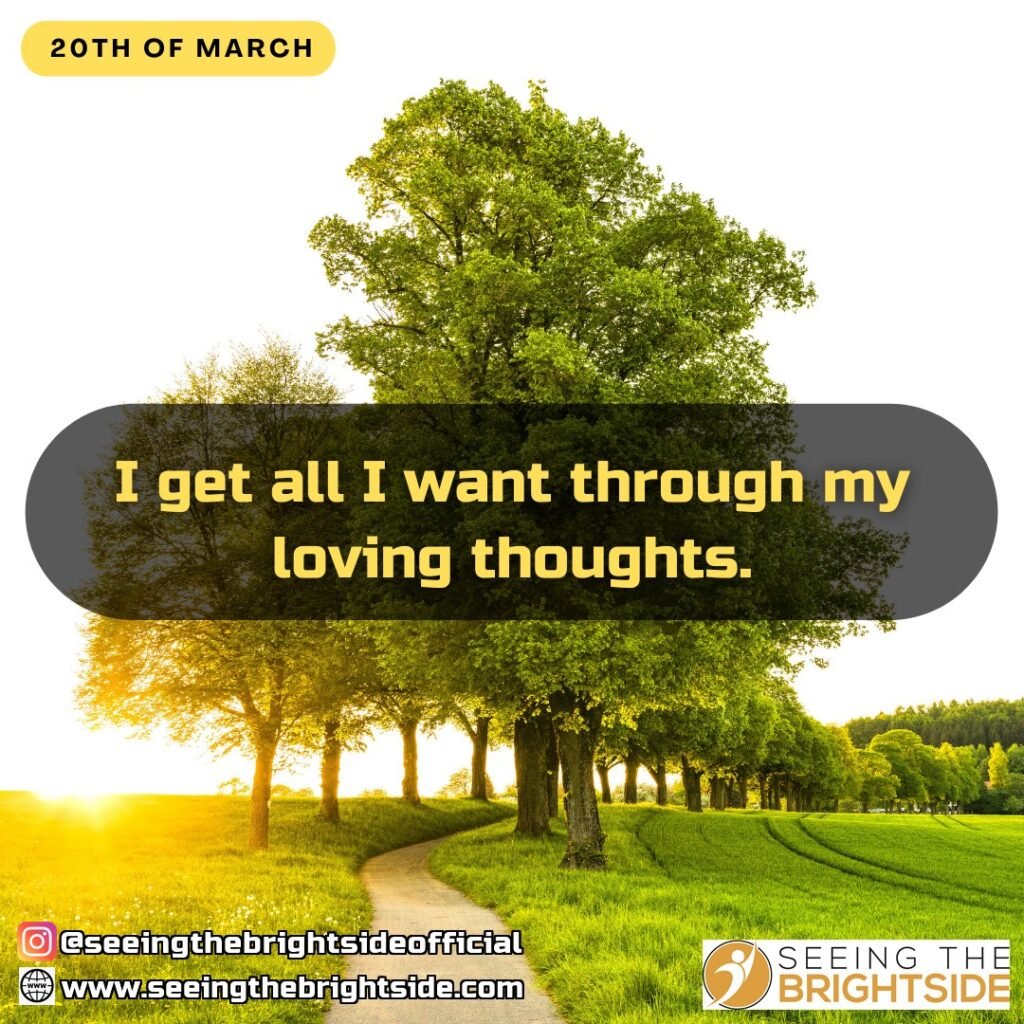 21st March: My brilliant light dispels every lack in my life.
22nd March: I cherish the wonderful experience of love and friendship.

23rd March: I attract great relationships.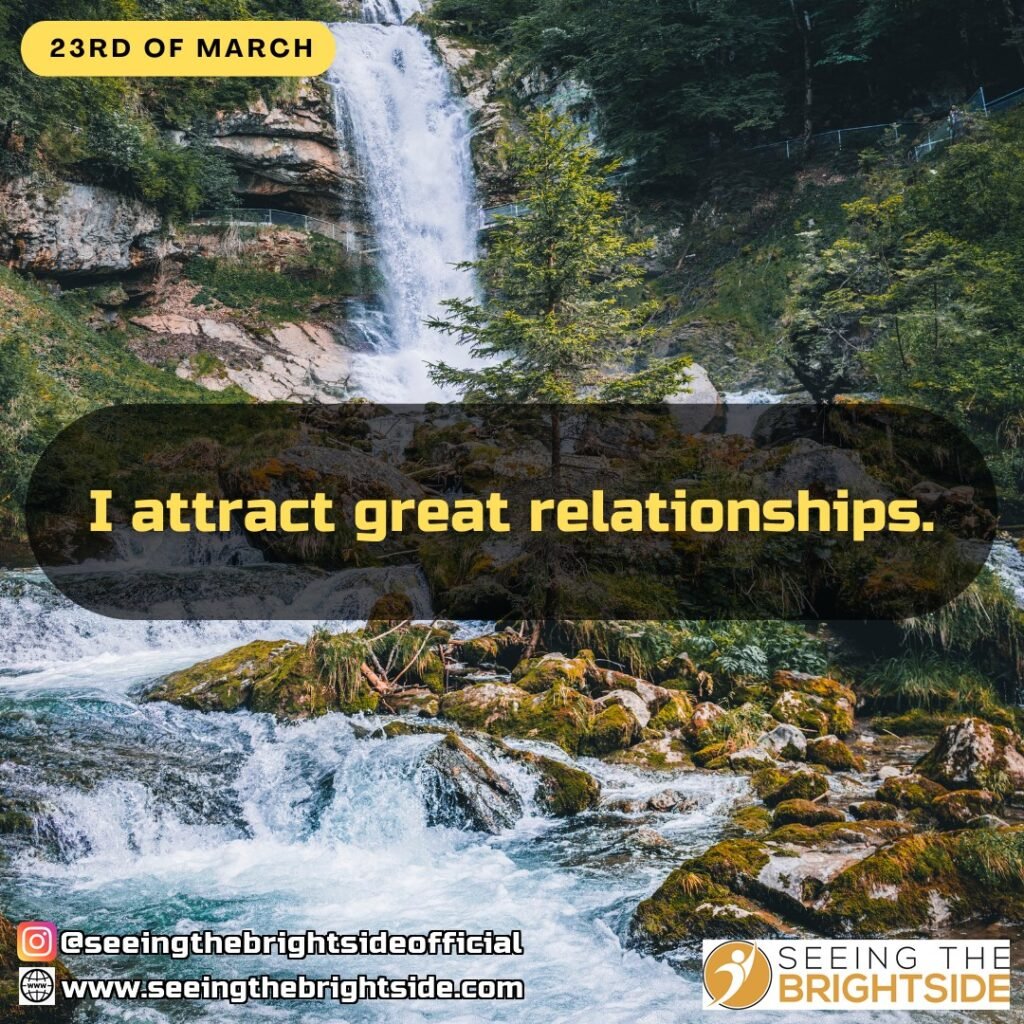 24th March: My future is independent of my past.
25th March: My life will get better every day.
26th March: My endless talent and potential will help me achieve my goals.
27th March: I am grateful for the caring and supportive people in my life.
28th March: I am optimistic, always.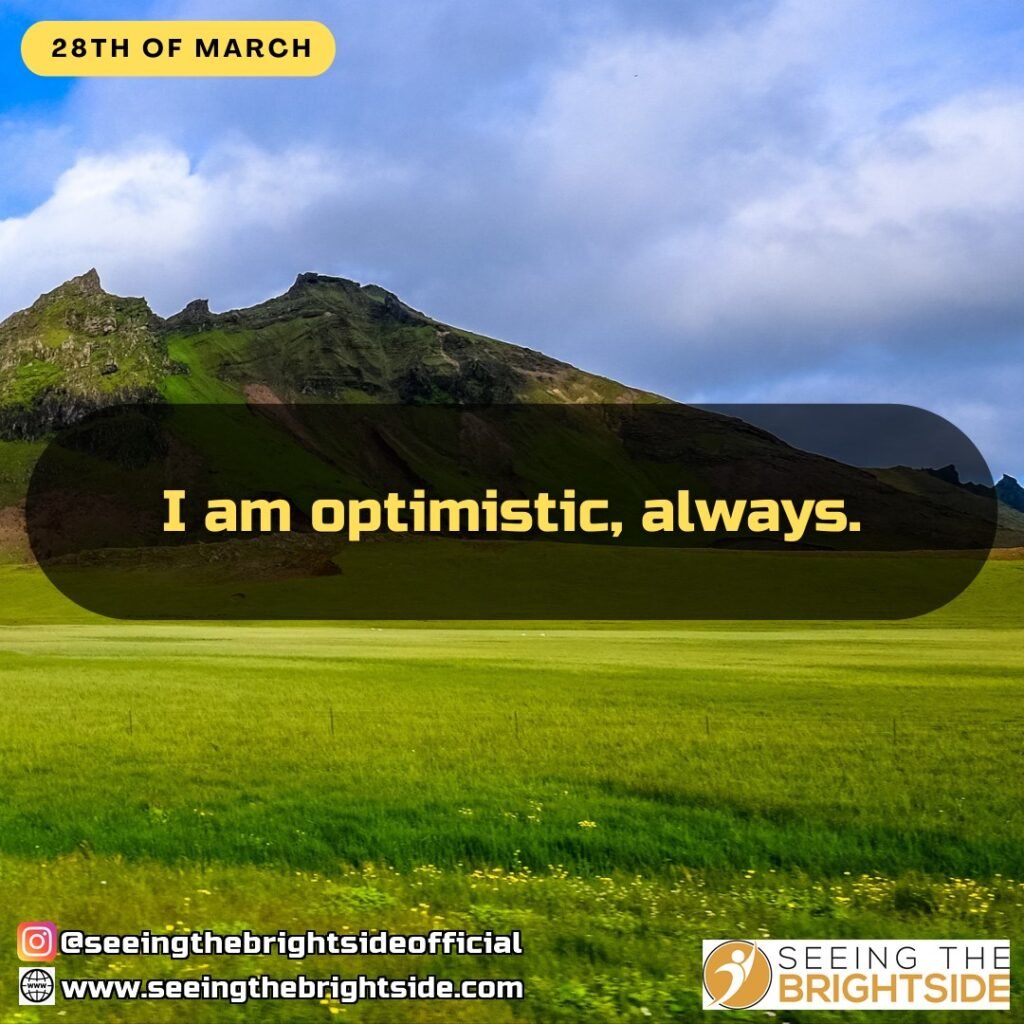 29th March: I get through difficult situations always.
30th March: I evolve as i learn through my mistakes and challenges.
31st March: I love myself, unconditionally.

1st April: My self confidence brims with positivity.
2nd April: I offer love to others and i deserve it too.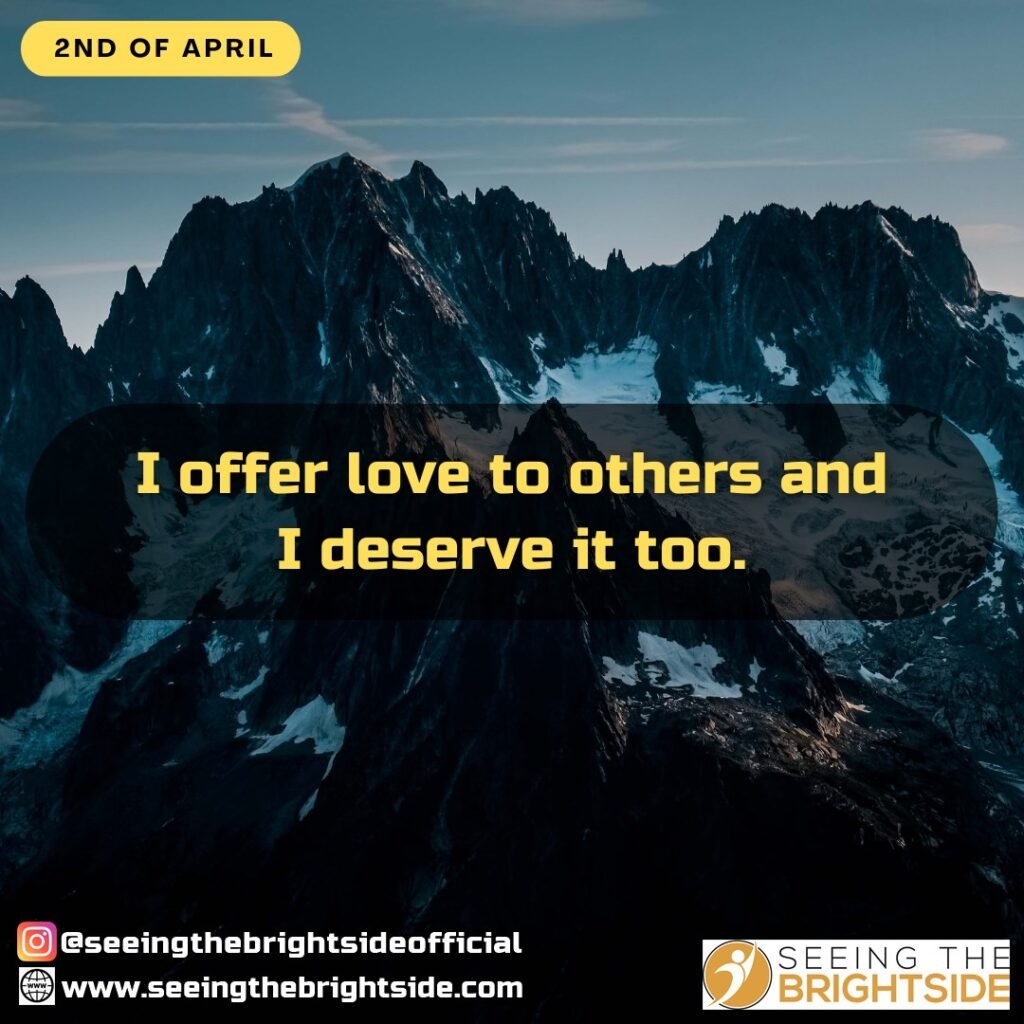 3rd April: I am capable of facing all odds because i am unique.
4th April: I will not give up till my goals are achieved.
5th April: I don't compare myself to others because my life is unique.
6th April: I do amazing things with ease.
7th April: I forgive myself always.
8th April: I live in confidence and bravery.

9th April: My creativity is endless.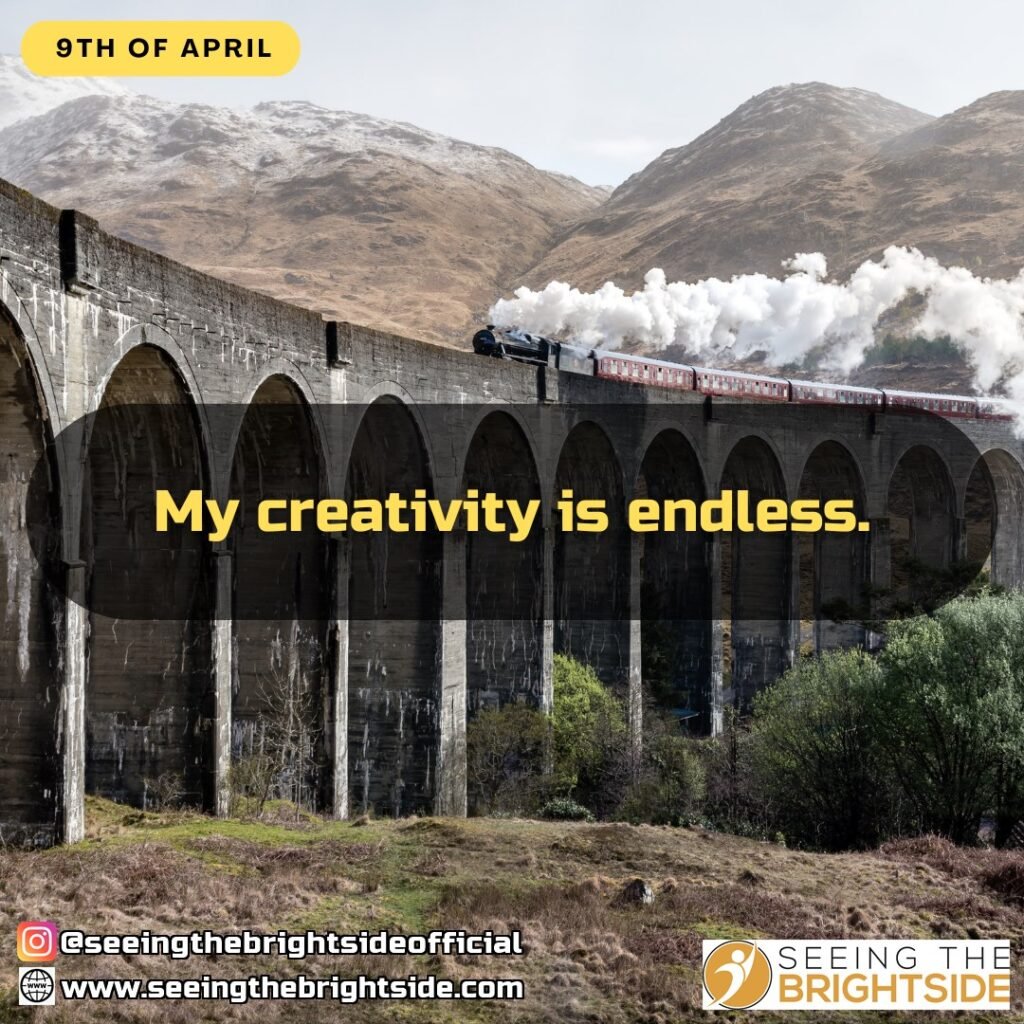 10th April: I am cute, smart and intelligent.
11th April: My confidence helps me achieve success in all i do.
12th April: My goals will never be left unattained.
13th April: I live by compassion and benevolence.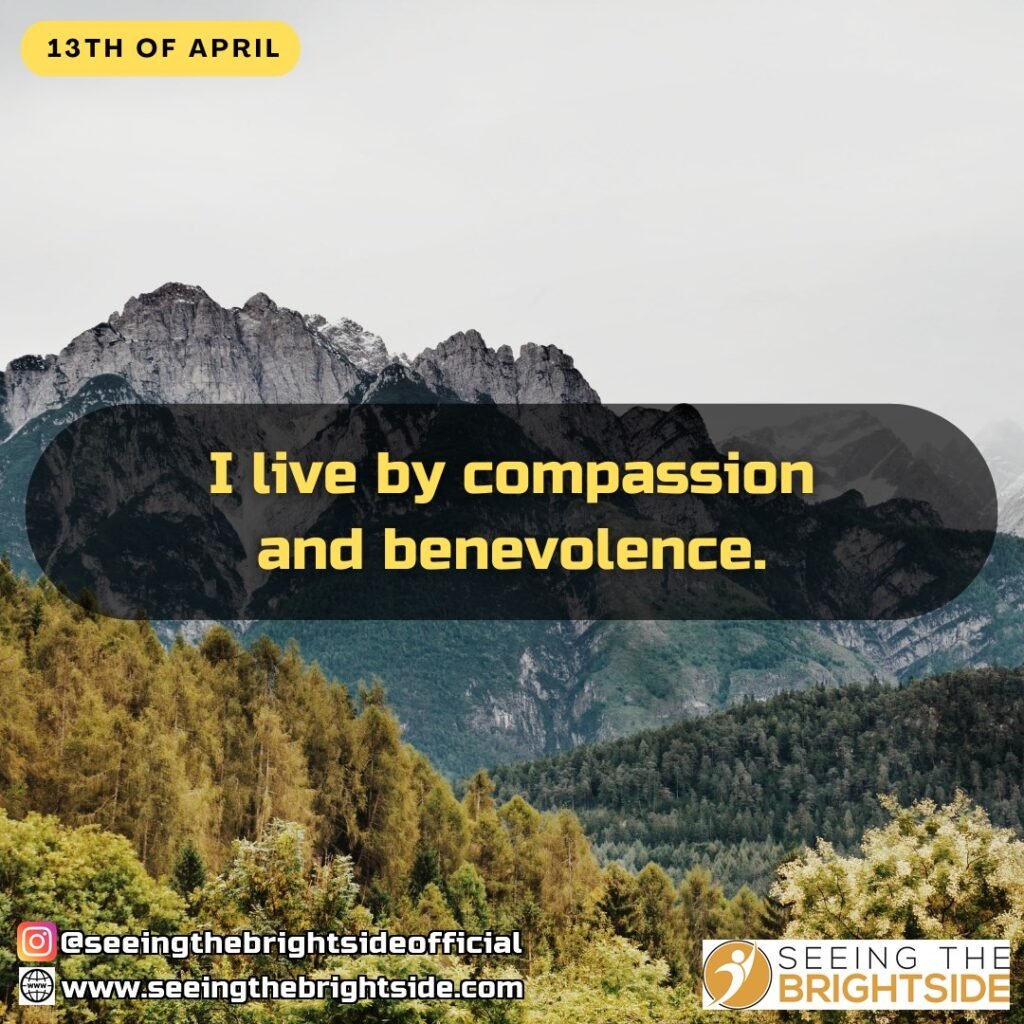 14th April: My resilience and confidence help me handle situations.
15th April: I achieve excellence through challenges.

16th April: I bounce back quickly from difficult situations.
17th April: I get better by learning from my past.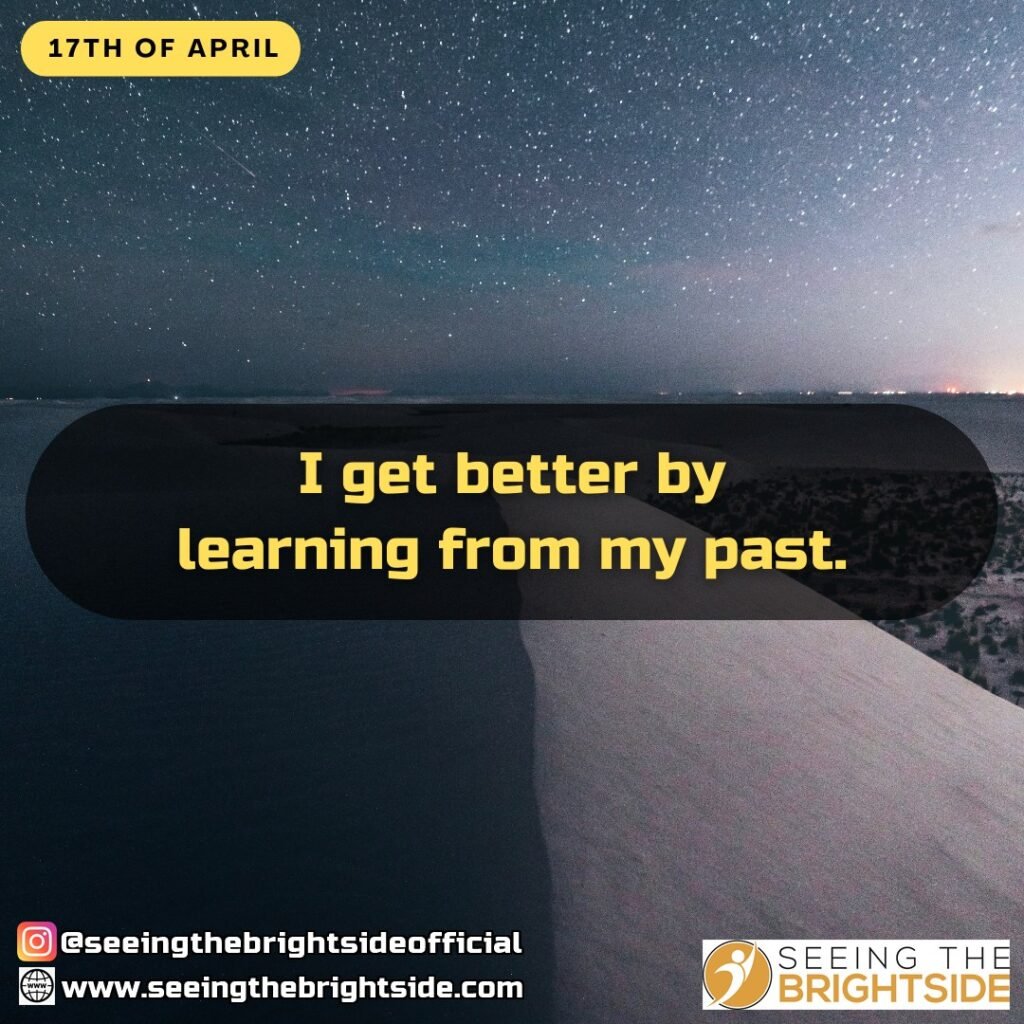 18th April: I cherish the fine things in life.
19th April: I will always be happy and healthy.
20th April: I don't give up on defeats.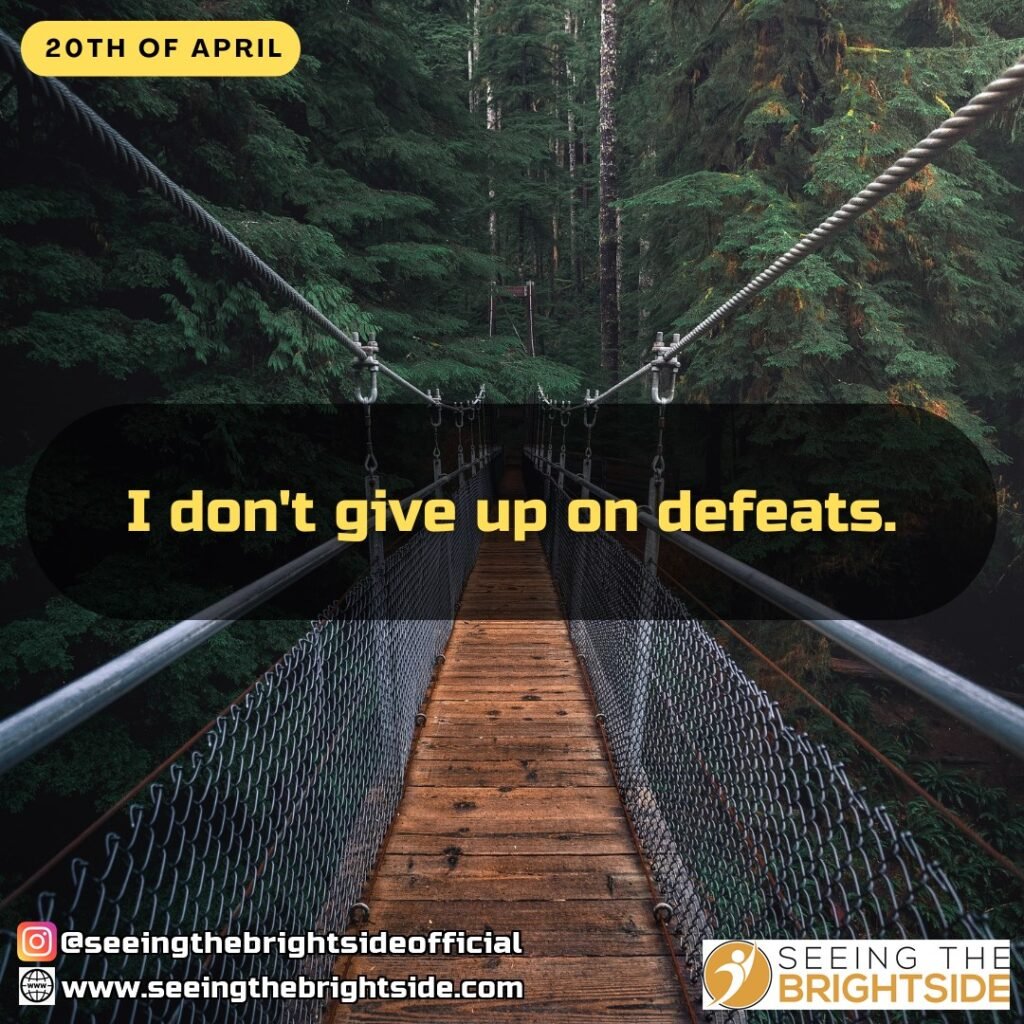 21st April: My happiness knows no bound.
22nd April: I radiate happiness.

23rd April: All will be well with my life.
24th April: I do not look for joy elsewhere because it's within me.
25th April: I cherish happy memories every moment of my life.
26th April: I live in abundance and completeness.
27th April: I feel happy each day because of the peace and harmony that dwells in me.
28th April: My life is full of positivity.
29th April: My happiness is connected to making others happy.
30th April: I feel good because my life is worth living.

1st May: It feels great to be me.
2nd May: I have good thoughts because my mind is relaxed.
3rd May: My mind is calm always.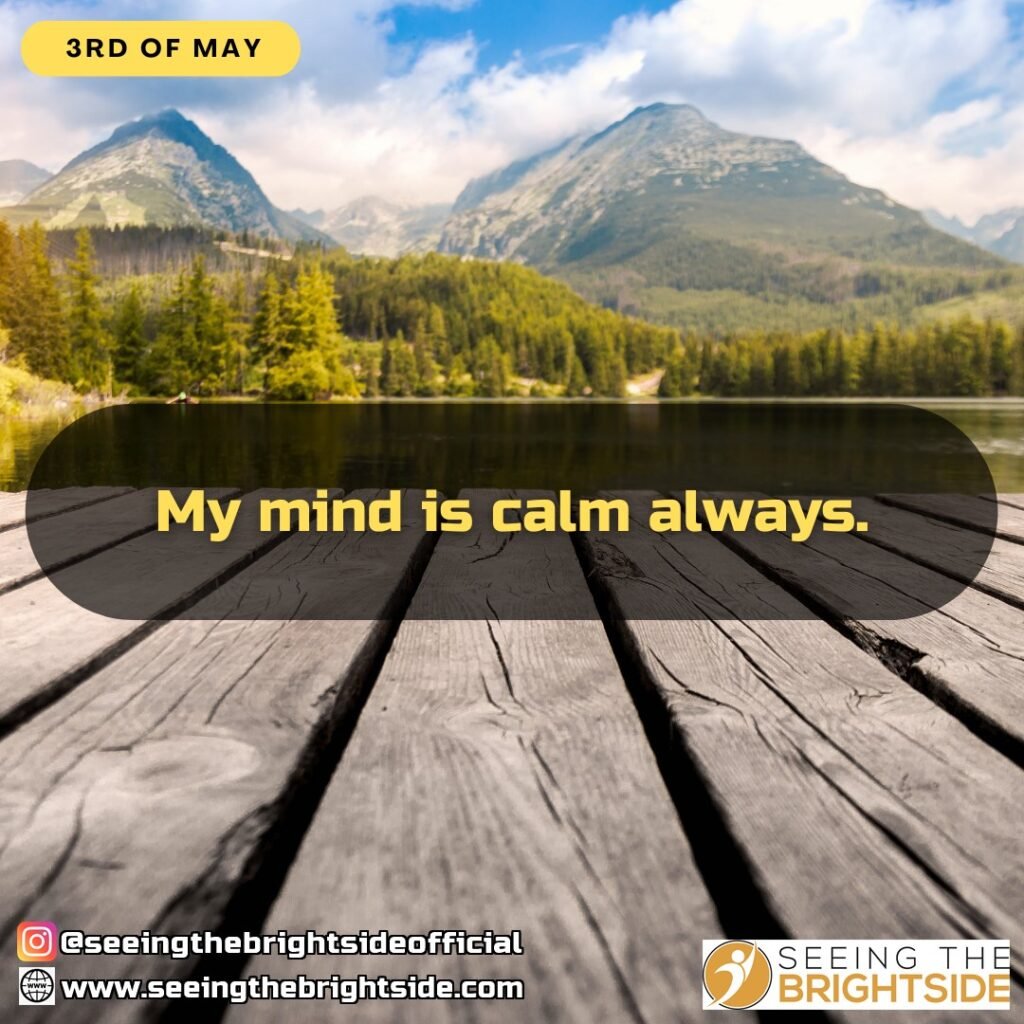 4th May: I love calm moments and live by it.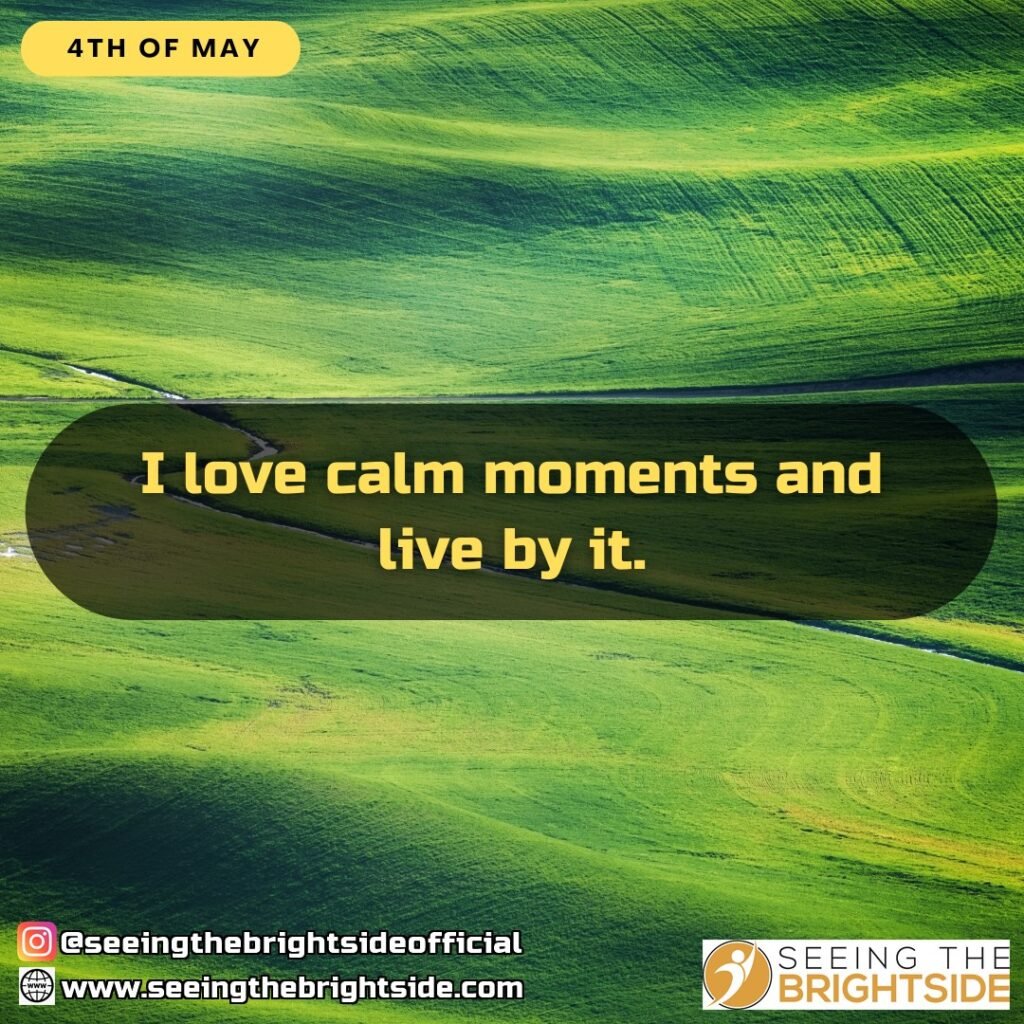 5th May: I do what is right for me always.
6th May: I am confident in my ability to stay calm despite misfortunes.