The cost of education has really skyrocketed in the past couple of decades, especially for college courses. In fact, for many parents and students, it has become a major source of stress. Since education is a basic necessity in everybody's life, it can't be avoided. And yet, the sky-high prices charged by educational institutes might leave a really bad taste in your mouth. This is where scholarships for college students come in as relief.
Scholarships are a great way to pay for modern-day education. They are designed to promote educational advancement and help remove barriers for certain students. They help take some or all of the financial burden off. But there are many other benefits of getting a scholarship. That is why scholarships for college students are still considered a significant achievement.
If you are looking to apply to a college and start a fresh chapter in your life, or if you are an adult trying to go back to school to learn a new skill, you should first apply for some scholarships for college students. Who knows, you might get lucky and get one! If you need more convincing to do so, let's take a look at all the reasons for getting one below.
1. College Costs A Lot
This is perhaps the first and foremost reason most people apply for some scholarships for college students. As stated earlier, the cost of education is on the rise. In fact, it has been on the rise for quite a while now. Although the public sector has remained affordable, more or less, the private sector is slowly becoming unreachable for many. And this is not just in the western nations. Even in developing nations, private colleges charge an exorbitant amount for their courses.
According to a study, the average cost at a private college in the US was around $34000 per year in 2017-18. That means for a whole course, the cost could be anywhere between $110000 and $ 136000. This is an insane amount of money to pay for education. That is why most students opt for a student loan and keep paying it well into their adulthood. The situation has become so serious that many in the US are calling for a loan waiver to support the students. This is where scholarships for college students become ever more critical.
A scholarship is like funding that you don't have to pay back! Even if it covers only a small percentage of the total cost, it certainly helps a lot. And luckily, if it covers the entire cost, well, there can be nothing better than that. Reducing the financial burden can be a huge thing for most people. It can give them peace of mind, and they can pursue their studies without any hesitation. In fact, with the money they save, they could probably afford to do some other activities to bolster their skills. So, scholarships for college students are the most effective way to provide financial benefits to students.
2. You Might Already Be Eligible For One
There are a lot of misconceptions when it comes to scholarships for college students. Most students wrongly think that they need to have awe-inspiring achievements and check an entire list of criteria to be eligible for a scholarship. However, this is not the case. There are all kinds of scholarships out there. And each one has its own set of criteria. Some may focus on grades, some may focus on achievements in the sports field, and some others may want to promote students with musical talents, and so on.
If you don't apply for different types of scholarships for college students, you won't even know whether or not you qualify. And who knows, you might already be eligible for a scholarship without even realizing it. After all, everyone has a unique capability. In all likelihood, you do too. You need to look at yourself, your track record, and get feedback from your parents, teachers, siblings, and friends.
Once you have a strong idea about what talents you have, you can start looking for scholarships for college students that you might already qualify for. It doesn't matter how you get it. It matters that you get it in the first place. Once you do, the doors to other benefits automatically open up!
3. Some Scholarships Provide Incredible Academic Benefits
Most people do not think about this, but some scholarships for college students provide great academic benefits. This is overlooked mostly because the focus for most people is the financial benefit. However, if you take some time to study scholarships in general, you will realize that there are many scholarships for college students that do way more than cover the education costs. They can even provide you with opportunities for fellowships, travelling abroad, and even internships at prestigious places.
Each of these benefits can provide you with even more benefits. An internship, for instance, can be really valuable for your future career. It could give you a glimpse into how the corporate world works or what entrepreneurship means. This alone can put you ahead of everybody else in your college. Add to it the networking benefits, and it becomes even more alluring. Similarly, travelling abroad can be an extremely crucial experience. It can broaden your horizon in ways that you can't have even imagined before.
To understand this better, we can take the example of The Fulbright Scholar Program. This is one of the scholarships for college students that provides great academic benefits. It allows eligible students the opportunity to study and conduct research in any of the 155 countries under the program. This is life-changing stuff and is, therefore, a big reason why you should apply for a scholarship as soon as possible.
4. It Can Help You Get A Good Job
This one is a no-brainer. If you get one of the scholarships for college students, it will reflect well on your resume. Imagine going for a job interview and the interviewers being impressed with you even before you speak a word. That is what these scholarships can do for you. The reason behind this is straightforward. A scholarship is proof of your achievement. It gives you credibility, and that matters a lot in the work-life. So, interviewers are more likely to consider you for the job than the other candidates.
Also, the quality of the job you can get goes up. Having passed college with a scholarship is a big deal. It showcases your prowess and abilities. In today's world, companies and other businesses are always on the hunt for talents that can be beneficial for them. It is almost like a market where there is a huge demand for highly skilled people. By having a scholarship, you fulfil that demand.
Also, as discussed above, many scholarships give you the opportunity to intern at various organizations. Once you start working in a real environment, even just as an intern, it can open up doors to a much better job in the future. The people in the organization will know who you are and what you can do. It is a real opportunity for you to showcase your abilities. If the right people notice you, you may immediately land a high-paying job as soon as you graduate from college. This should truly show you the power of these scholarships for college students.
5. Competition May Not Be That High
This is another misconception that most people have and is often the number one reason why many don't apply for scholarships in the first place. Most parents and students automatically assume that there must be huge competition for every single scholarship out there, and it is unlikely that they will ever get one. However, the truth is that there are countless scholarships for college students out there. And most people don't even know about them. This means that the competition may not be as high as you think.
In such cases, the likelihood of scoring some scholarships for college students increases a lot. Also, the timing matters a lot. During the fall season, most students are actually focused on the admission requirements for the college of their choice. This is often the first step before they move on to the funding part. It is only when spring gets nearer do they start thinking about scholarships for college students. It is then that the competition ramps up.
So, knowing this, you should look and apply for scholarships for college students before anybody even thinks about it. This gives you a head start and increases the chances of you scoring one as the competition is lower. This is a strategy that many still don't know about, and you can capitalize on it!
6. Scholarships Usually Have A Deadline
This is one thing that you should always keep in mind if you are looking for scholarships for college students. Scholarship deadlines can happen without any notice and at any time of the year. The organization or people that establish scholarships are under no obligation to set a fixed date or extend the deadline for their offerings. They can stop accepting new applications on a whim. This means that you need to be proactive in your search. If there is something that looks promising right now, don't waste a single second dwelling on it.
You need to ask yourself, "what could go wrong"? When applying for scholarships, literally nothing can go wrong. Either you get it, and your current situation improves. Or you don't get it, and your situation stays the same. There is no net loss while applying. To make the application process much easier for yourself, it is a good idea to have all your information in one place. In fact, you can have all the general information stored in a file on your computer. That way, applying for scholarships for college students can be as easy as copying and pasting information.
Also, when you apply for as many scholarships as you can find, your chances of being selected for one can greatly increase. So, be proactive in your approach and do not miss any opportunity that comes your way. This whole process should also teach you how things work in real life. Sometimes, you don't get a second chance.
7. It's Not As Hard As You Think
This is also another common reason why most students and parents don't apply for scholarships for college students in the first place. They think that it is a very complicated process, and they might have to jump through hoops to apply for even just one of them. This is not the case. In fact, those who are offering scholarships want the application process to be as easy as possible for students. After all, there is a reason why they are doing this in the first place. They want to promote education for students!
If you take the first step and try to understand how everything works, you will realize just how easy it is. All you need is some basic information about yourself and answers to some common questions. You can have all this information prepared beforehand. So, whenever you come across scholarships for college students that work for you, you can apply in a matter of minutes.
There is another easy way you can apply for multiple scholarships for college students at once. Some many programs and institutions allow you to apply once for a whole slew of scholarships. So, basically, you need to give your details once, and then you are set. If you get selected for any scholarship, you will be informed of it on your contact details. This is another little tidbit that not many may know.
8. You Can Get Multiple Scholarships
There is no limit to how many scholarships for college students you can get at once. You may have multiple scholarships and for different reasons and criteria. In fact, this will put you in a much better position than everyone else. It proves that you are incredibly talented and possess different sets of skills. As stated above, it can increase your chances of getting a good job a lot.
Also, from a financial standpoint, it is better if you can get multiple scholarships for college students. A single one may not cover all or even a meaningful portion of the overall cost of college. So, additional scholarships can help fill the gap. One more thing to note here is that competition for larger scholarships is often very fierce. However, for smaller scholarships that range from $1000 to $2000 is not that much. So, you could easily apply for multiple scholarships within that range and accumulate a meaningful sum.
9. You Might Get To Study In A Much Better College
Ask any student, and they would tell you that they want to study in the best colleges in the world. It is true that if you graduate from a top-rated college, the chances of getting a good job increases a lot. Even if you don't want to look for a job after college, the exposure and experiences you get at a top-level college is class apart. It equips you with the knowledge and wisdom to manoeuvre the real world.
This is exactly what scholarships for college students can do for you. If you receive a prestigious scholarship, you may be eligible to study at some of the best colleges in the world. You may get to go to another country for this purpose, and this can set you off on a whole different trajectory. Imagine all the opportunities that will suddenly be available for you. Imagine all the things you will be able to do at such colleges and afterwards when you graduate.
10. Networking Opportunities
Most students who are selected for scholarships for college students, don't often think about the benefactors. Usually, they may be an organization, an individual, an agency, and so on. If you get a scholarship, you shouldn't just walk away. You can contact the people behind the scholarship and start expanding your network. After all, they do want to help you and your career. And if they see genuine interest from you, they might even provide more support. And who knows how valuable these connections can be in the future!
So, take the initiative and reach out to the benefactors of the scholarships for college students. Go grab a coffee with them or visit them at their office. It will take some effort on your part, but you will be much better for it. You will gain some really valuable real-world experience.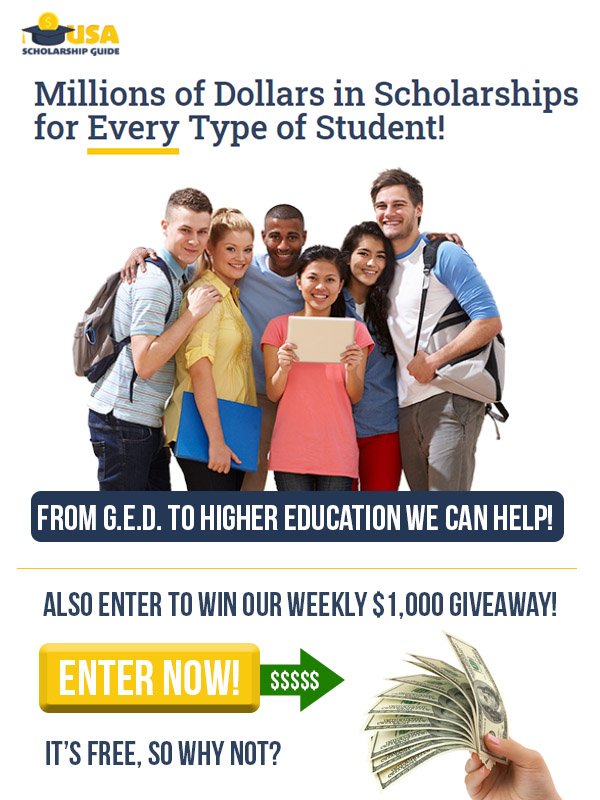 Related Articles:
How to Find Inner Peace, 15 Simple Things You MUST Start Doing Today
Failure is Great, 14 Reasons Why you need to fail before you succeed
Dealing with Insecurity, Check out these 12 simple tips for getting over Insecurities in Relationships and Life in General
182 Simple Motivational Workout Quotes that will surely keep you focused
Do you want to be TIKTOK FAMOUS in 90 Days? (Check out these 9 proven ways)
How to Accept And Embrace Change in difficult Situations (15 helpful tips)
Do you want to Retire Early? You Need To Know These Things Before You Make That Decision
Why You must fully adopt Online Homeschooling Programs, 15 Ultimate Reasons (COVID is not the only reason)
Apply Now -10 Reasons You To Start Applying For Scholarships
Top 15 Learning Strategies To Understand Faster And Memorize Better
175 Ultimate Motivating short quotes to inspire you for greatness
15 Weight Loss Tips you need to know, it can only get better from here
You need these106 Monday motivation quotes to get the best out of the week
Top Pros And Cons of Social Media Platforms, How to use it to your advantage
Top 167 Positive Energy and Positive Vibes Quotes, you need this.
7 Exciting Reasons Why You Should Never Give Up On Your Dreams
Top 132 Family Love Quotes that are Exciting and Inspirational
8 Things That Are Just Not Worth Your Time, Let's Take Care Of These Things Quickly
6 Simple Ways To Attracting Amazing People Into Your Life
135 Inspirational Leadership Quotes, You Need This If You Want To Become A Great Leader
88 Most Inspiring and Love Quotes for Christmas
Want to Live a Happy Life? Here are 13 Things to Focus On
85 Inspiring Love Relationship Quotes, Let's build a greater bond
Ultimate Positive Mindset: Here are 15 ways to achieve it
22 Exciting Healthy Eating Lifestyle tips to keep you on track
Positivity and Negativity: 11 Reasons to quickly Avoid Negative People
Effective Skill Development,15 Ultimate ways to achieve it
Effective Study Strategy Techniques, 15 keys you need to activate
Team Motivation Strategies,10 Ultimate Tips To Keep Your Team Motivated
15 Ultimate Good Habits for Successful and Happy Life
These 9 Highly Effective Study Habits are Needed for a Successful Life
16 Ways to Stop Procrastinating, this is the ONLY way out
Life Improvement: 15 Small and easy ways to improve your life in 90 days
How to study smarter and not harder:14 Ultimate study strategy tips
Tracking Progress: You need to adopt all 12 Simple Ways to Track Progress Towards Your Goals
Anxiety (All you need to know): Managing and controlling Anxiety
Long Term Goals: You need these 10 proven ways to succeed
Motivation: 7 easy and applicable ways to stay motivated
Better Sleep: Sleep like a baby with these12 proven tips
Depression: All you need to know and getting out successfully
The needed and simple Time Management Skills for College Students
Vegan vs Vegetarian: Which is better? Everything you need to know
The FEMINISM MOVEMENT: All you need to know
7 Facts About The Law Of Attraction And 7 Practical Ways To Make It Work For You