Sylvester Stallone's words can be turned into a book of quotes.
Sylvester Stallone is a household name for all the '80s kids. The 75-year-old actor, director, and producer played two challenging and iconic roles in Hollywood, Rocky, and Rambo.
Stallone has touched millions around the world with his solid onscreen performances. But much like reel life, his real life has been no less demanding and inspiring. His words of wisdom are like the light at the end of a dark tunnel, and they will motivate you to get back up after hitting rock bottom.
From a homeless person to one of the most loved stars of Hollywood, Stallone came a long way. He never forgot his roots and the lessons that life had offered in between. We bring you a collection of the best Stallone quotes inspired by his films and personal life. We've covered everything, from Sylvester Stallone's Rocky sections to Rambo! You can Check out more Sylvester Stallone Quotes on Awaken the Greatness Within and Wiki Quotes.
You can also see our Merch at positivedip.com

Read Out These Best Sylvester Stallone Quotes
"No one will hit you harder than Life itself. It doesn't matter how hard you resist. It's about your level of endurance or tolerance, keep fighting." – Sylvester Stallone
"Have knowledge of the source. Don't be educated by a fool."
"That's the hardest thing about doing sequels, losing the element of surprise."
"Don't only call on God in times of need but in all ramifications."
"Don't discuss your future. Chase them!"
"Believing begot reality!"
"For every guy, there is an opportunity to be better than people's expectations. We can't all be behind people's success but we must be successful. That's where you set your goal."
"Let me tell you something you already know. The world isn't all sunshine and rainbows. It's rough and rugged even to the strongest man, so you must choose to fit back."
"I am not the most talented person in the world, but I succeed because I was relentless."
"One more effort when all hope was lost can make all the difference in your life."
Sylvester Stallone's Quotes On Life Lessons
"Every champion was once a contender that refused defeat."
"You are every legacy you left behind."
"There's a natural law of karma that vindictive people, make the life of people miserable will end up in regrets."
"You can put your hope on some certain persons; you can put your eyes on them. And that's Love, even if it doesn't seem very exciting."
"When you're in a state of despondence and limbo, then you're going to see what you're really made of."
"I'm not just painting for painting's sake. Every piece of art matters."
"Dreams cost Nothing. The hard part is walking towards it."
"If you express yourself too much, you're considered dependent and vulnerable."
"When you find the right combinations in your life, then you feel as though you're unstoppable. It may be a fallacy, but you at least feel as though you can accommodate all that Life can send your way."
"The problem is, your ego sometimes makes you invisible. But sometimes, it's best to be honest with yourself."
Sylvester Stallone's Quotes on Dreams
You can also see our Merch at positivedip.com

"I really am the product of my dreams."
"You've got to show your uniqueness. Otherwise, you're just like everyone else."
"Without Love, beliefs, and all the other ingredients that go into making the human soul something so elevated that only God knows its limits, we are a hidden treasure waiting for the persistent sailor. And if you can figure that out, please write and explain it to me because you're a better man than I am."
"I'm the city of dreams."
"Age is not a hindrance to pursuing your dreams."
"The world is infected; can you cure it?"
"Good always triumphs over evil; try to be on the good side."
"Gangster is my closest friend."
"Clothing is the first step in making a character."
"Loving badly has more consequences than loving bad people."
Sylvester Stallone's Passionate Quotes
"A bad team can destroy great effort, so no matter the effort you put in a breakthrough, never take the glory for yourself."
"Artists die not once but twice. First creatively, then physically. The second one is the easiest."
"Suddenly, I've got an overwhelming desire for art. It gives creativity"
"Nothing's harder than writing. While speaking, you share your ideas without stress. There's tremendous support—you've got editors and sound mixers. With writing, it's all you and yourself, and how annoying you get when your writings are torn."
"I have tremendous respect for fighters and I always tell people to act as a boxer is divine because when you get into the ring for real, even the worst heavyweight in the world is going to murder you. You've just got to endure the pain and add it to your strength."
Sylvester Stallone Quotes on Vision
"I have tons of regrets, but I think that's one of the reasons that push me to greatness. Out of their despair, comes the best from artists."
"A dead artist is a happy artist because that's the only way you can change. In my next life, I'll probably be a paintbrush."
"If you want to fail, at least let it be something you enjoy doing."
"You must do the needful."
"When you're an actor, you're a slave to the viewers."
"I try to eliminate as much dialogue as possible, action speaks louder than words."
"Good actors are unpredictable; because they feel more secure playing the role of another personality than theirs."
"'Rocky' represents the optimistic side of Life, and 'Rambo' represents purgatory."
"At the very end, the one person who Rambo should kill, he spares. He let him live because you can't kill that kind of hypocritical bureaucracy. His disciples will follow suit, so you use
him to expose others."
"Movies are products of connected minds. It takes 500-800 people on a movie to complete a vision."
"Theater is like boxing—having the audience ringside. It's instant praises or condemnation."
You can also see our Merch at positivedip.com

Best Sylvester Stallone Quotes
"Making a movie is the same as an orchestra; it's the cooperation of all instruments in harmony."
"I don't fall into the category of people who are good with letters. So I guess people assume the scripts are delivered to me under the door."
"I made some truly awful movies. 'Stop! Or My Mom Will Shoot was the worst. In every nonsense, there is always sensible. If you ever want someone to confess to murder just make him or her sit through that film. They will confess to anything after 15 minutes."
"I take rejection as someone blowing a trumpet in my ear to wake me up and get me pushing for greatness."
"I have great expectations for the future because the past was hyped."
"Every time I never made it, people had me out for the count, but I always bounce back."
"Plan B is having a Plan B."
"Kids while growing up, if they were picked on and feeling inferior at 12, they're going to feel that way at 72. You just have to deal with your inferiority."
"When Jesus was added to my Life I never felt guilty, come to him with equity and he will forgive our iniquities."
"I think that gravity sets into everything, including careers, but pendulums do swing and mountains do become valleys after a while if you believe and work towards your belief."
Sylvester Stallone's Moving Forward Quotes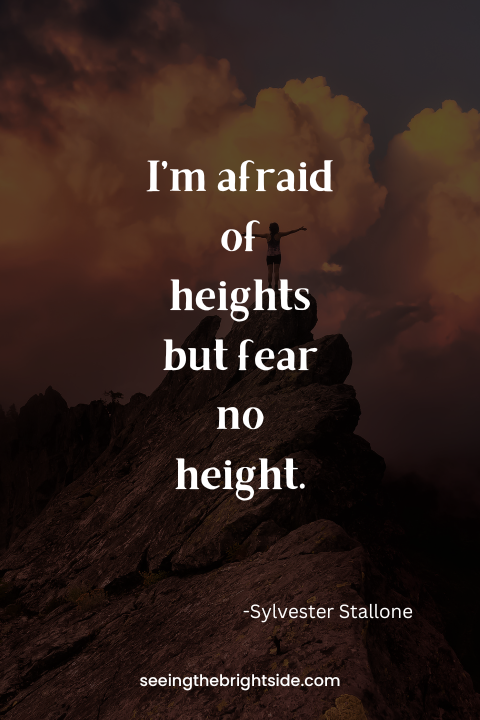 "If you can look back at Life, I bet you will regret many actions you took. But Life consists of all mistakes, no one is perfect."
"I'm afraid of heights but fear no height."
"Most action is based on redemption and revenge, and that's the secret recipe. Moby Dick was a formula. How you jump to a conclusion makes things interesting."
"Now if you know what you're worth, then go out and walk with value."
"I realized, the older I get, the more difficult Life becomes. It's just like a contest, every stage shows greater complexity."
"I was an insecure kid. Once I saw 'Hercules' with Steve Reeves, it completely changed my Life. Something must be a spark to your greatness."
"You got to be willing to take the hits, and not put the blame on others!"
"As I said, I have much respect for women to marry them, but that doesn't mean you can't be her hands and legs."
"I wasn't born a superman; I built myself to be super."
"If to perish redeems other than what's worth living, that's why I cherish Jesus Christ."
"I'm not handsome to your expectations. The mouth is crooked, the teeth aren't straight, and the voice sounds like a base guitar but they all witnessed greatness."
You can also see our Merch at positivedip.com

Sylvester Stallone Success Quotes
"Love is absolute loyalty. People fade, but a loyal friend never fades."
"I think everyone has a certain kind of formula in their Life. When you deviate from that formula, you're either going to fail or have your most outstanding achievements."
"Remember, the mind is your best muscle. Big arms can push rocks, but wise words can move mountains. Think wise, speak wisely."
"Your level of spirituality will make you either a winner or a loser."
"Success is usually the morale for defeating failure."
"I keep telling people. I said, at 40, 45, your Life just begins."
"It would be so honored to be able to pass on to someone all of the successes, the failures, and the knowledge that one has had."
"The way to be successful in life is to just know that there's always someone for that position."
"If you're willing to take the humiliation of listening to the crowd, the pleasure will be worth the pain."
"If it's not broken, break it. That's how new discoveries are made. There must always be a crack on an egg before it hatches."
"All young men want to be heard by the world."
"You have to grab Life by the throat and squeeze before it gets your first. The violent take it by force."
Sylvester Stallone Quotes on Strength
"Don't be gullible; never be an instrument for man. Understand there are no free lunches, and for every action you take, there's an equal positive and negative reaction."
"Real Love is when you become selfless and you are more concerned about the affairs of others than yours."
"I'm a big believer that, in Life, we must taste loss so as not to maintain perfection."
"When Life hits you pretty hard, you can go into a dark corner, not to weep but cook a surprise comeback."
"Sometimes you need tribulations to test your endurance, if not we will feel too relaxed."
"If bad advice was a hanging offence, there'd be bodies hanging from every tree!"
"When you're pushed, fantasy becomes reality."
"Life will always be difficult until you have none."
"Life is just a waste of time, after all the success we will leave it behind. I talk like a fool; my better Life was the sacrifices of people before me. Every step we take becomes a pathway for people ahead of us."
"I just like stories about redemption—about getting a second chance at Life. I think everyone in the world deserves a second chance."
"A lot of guys don't want to admit that them giving out is a seed that they will love to harvest in time to come."
Sylvester Stallone Quotes on Life
You can also see our Merch at positivedip.com

"I'm more cautious of the time I waste in an activity because the more time you put on just one necessity leaves others pending."
"I've been involved in something which was chaotic and insane but man will always prevail."
"Learn from failures and not success."
"Voices are lost to the ears but never lost to the mind."
"Sensitivity to me must be something every human must develop because being sharp thinking and alertness makes you more efficient."
"Movies are a whole different ball game, now. It's much more of a business than an entertainment."
"Some actors are brilliant character guys. They are reflections of the character."
"Once in one's life, for one mortal moment, one must have a taste of immortality."
"If I eventually reach 70, I will go to the nearest amusement park and have the ride of my life."
"Sometime we should appreciate ourselves; it's not easy to reach the level we have reached."
Conclusion
He wrote or co-wrote most of the 16 films in the first three popular franchises and directed many of them. Stallone's movie Rocky was inducted into the National Film Registry and had its props placed in the Smithsonian Museum. His use of the front entrance to the Philadelphia Museum of Art in the Rocky series made the area nicknamed the Rocky Steps.
Philadelphia has a statue of his Rocky character placed permanently near the museum. He received positive reviews, his first Golden Globe Award win, and a third Academy Award nomination for reprising the role of Rocky Balboa in Ryan Coogler's 2015 film Creed. May his quotes inspire you to take action so that you may live yours.