Irish are majorly known for their sayings and poetry; they are generally familiar words.
That's why people prefer Irish words for funeral blessings or eulogies.
Prayers and blessings are farewell wishes to comfort the soul of the lost. So if you're looking forward to getting eulogies, the Irish sayings below may be capturing.
Table of content
1. Irish sayings for death
2. Weep Not
3. Irish Prayers for the deceased
4. Famous Irish Sayings about Death
5. Farewell wishes
IRISH SAYINGS FOR DEATH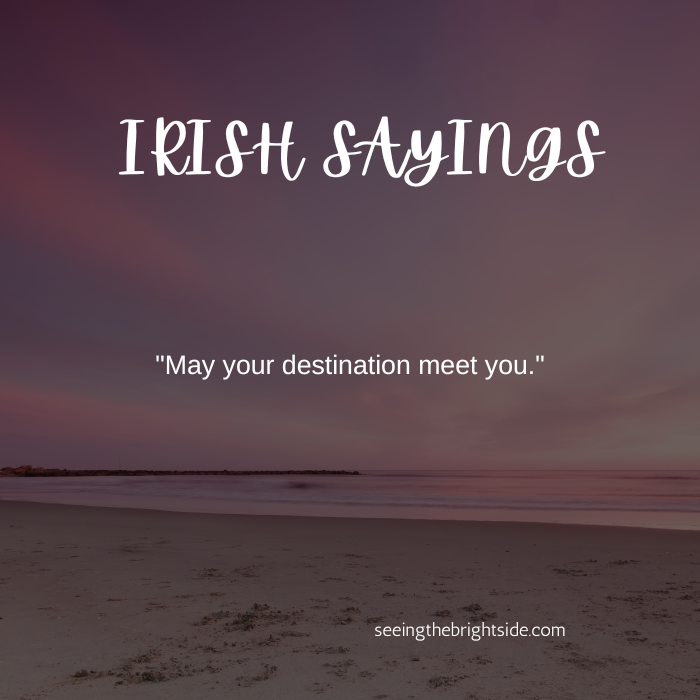 1. "May your destination meet you."
2. "May the wind always blow your sails."
3. "May the sun smile at you."
4. "May rain of joy fall on you."
5. "May God hold you on his right hand until we meet again."
6. "May the judgment of God be in your favor."
7. "May the light of God shine on your soul."
8. "Death leaves a heartache no one can heal; Love leaves a memory no one can steal."
9. "Until we meet again, may God give you a peaceful night."
10. "I pray your days in life are never forgotten."
11. "May you never know fear."
12. "May your departure be peaceful and joyous."
13. "May you be welcome warmly where you are headed."
14. "You are not away from home, you are going back home."
15. "May you live life to the fullest."
16. "May your life be a lesson to others positively."
17. "May your life be full of fulfilled dreams."
18. "May your going be blessed."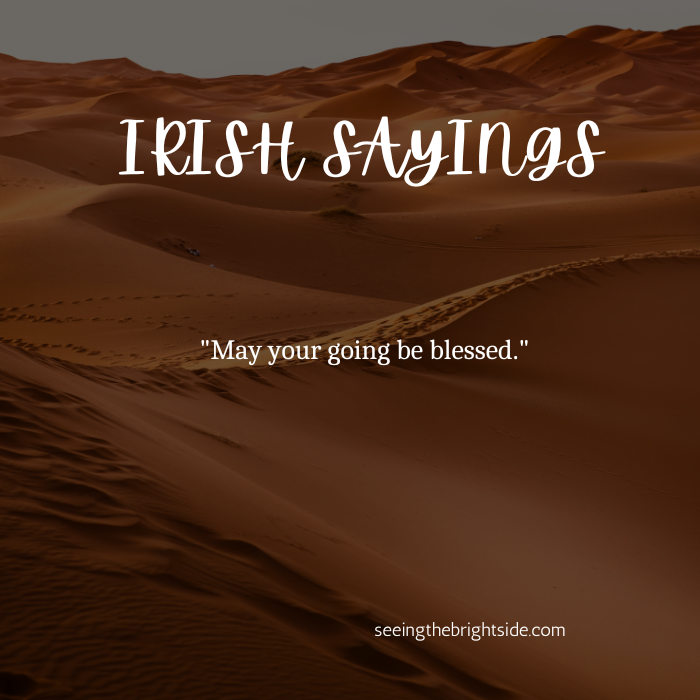 WEEP NOT
1. "Don't cry, for I am free!"
2. "I found mercies in the sight of God; he says I welcome my beloved servant…."
3. "May you never be found wanting at his mercy seat."
4. "Am happy that I lived a meaningful life on earth."
5. "I shall miss all our moments together; we will create another when my years on earth expire."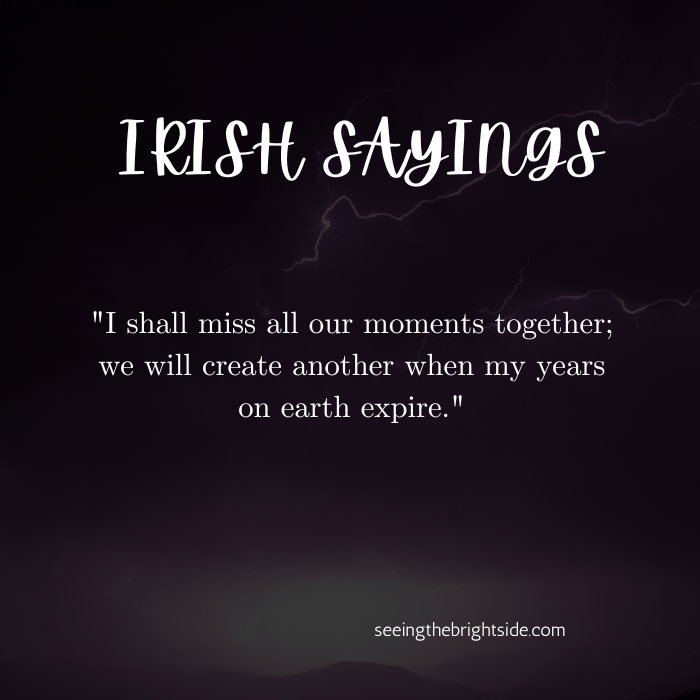 6. "I lived the best life towards the sight of man; I pray it is so in the sight of God."
7. "Don't shorten your life with grief and mourning because of me."
8. "Tomorrow will always be the greatest today."
9. "May our entire years be meaningful."
IRISH PRAYERS FOR THE DECEASED
1. "Death only has power over our body and not our soul."
2. "I have ventured where no man can bring me back."
3. "My departure should never alter our past relationships."
4. "Refer to me as our usual reference, I'm gone, but you are still in my mind."
5. "Think of us always and always remember me in your prayers."
6. "Let my name be spoken with joy and not in a depressed manner."
7. "even when the family is in distress, I too am distressed; my absence will never prevent
my emotions."
8. "I am always waiting for you on the other side."
9. "All must be well no matter the situation."
10. "May we touch lives greater than our previous ones."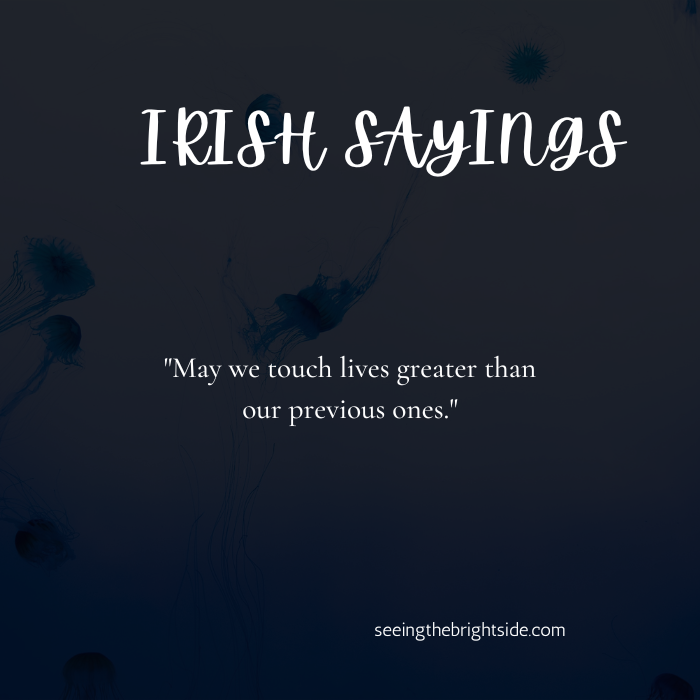 11. "Your presence is irreplaceable."
12. "If Christ is with us, no one can stand against us."
13. "May everything I do be for Christ."
14. "May the blessing of light be on you, light without and light within."
15. "May the sun smile at your day and the moon smile at your night."
16. "May your blessings favor me while you're gone."
17. May God cause his face to shine on food, lest you dash a foot against a stone."
18. "May this earth bear witness to your good deeds."
19. "May the spirit of God guide and lead you."
20. "May the Lord bless you and cause his face to shine on you."
21. "We shall find mercy amid sin."
22. "I pray the lord shall reveal himself to us."
23. "Though trials and tempest persist, the lord will show himself faithful and strong."
24. "Who will separate us from the love of God, though sin may persist, our God loves
mankind dearly."
25. "May the lord illuminate the dark that we might walk without dashing our feet."
26. "May you always follow the will of God."
27. "In this life, you are never left alone, fear nor, for God is with you."
FAMOUS IRISH SAYINGS ABOUT DEATH
1. "May be the devil be unaware of your triumphant entry into heaven."
2. "May God value your existence, but should let you stay here a while."
3. "Heavenly peace is your portion as in earth you struggled your whole life."
4. "May the Lord put you on his right hand and call you good soul."
5. "May the love of Christ be my healing in transgressions."
6. "Death leaves an incurable problem; Love leaves an unaltered memory."
7. "May earth mourn your departure, and may heaven welcome your arrival."
8. "He who loses vanity loses pleasure, but he who his faith is lost, loses everything."
9. "Lost of the flesh, eyes and pride of life are the rulers of self, by his grace you shall
overcome."
10. "May goodness and mercy dwell in you and not follow."
11. "May the birds sing of your good works on earth."
12. "May God restore all your lost years."
13. "May God grant you his angel to take charge over you."
14. "May you live longer than your expectations, only if its below 150 years."
15. "May good luck save you and may problem get frustrated looking for you."
16. "May God satisfy you beyond asking."
17. "May smile never cease from your face, no room for sorrows."
18. "May receive more than what you request for."
19. "May God guide you daily, the name of the lord is a strong tower, the righteous run there
and are safe."
20. "May your struggles reap bountiful harvests."
21. "How pleasured I am to be mentioned among the saints."
22. "May sin never rein in out mortal body."
FAREWELL WISHES
23. "May the love of Christ deliver you from the midst of uncertainty."
24. "May the joys of today Be the beginning of tomorrows outburst of favors."
25. "May the good deeds of your fathers speak for you in times of sin and falling short of his
glory."
26. "May we start a journey that its ending will be salvation, honor and fulfillment."
27. "May sadness not overshadow your happiness."
28. "May the good lord grant you internal peace."
29. "May you be remembered for good and not in despise."
30. "May his wise be fulfilled in your life."
31. "May you never run short of grace."
32. "May you rest in the bosom of Christ."
33. "May God keep you alive to see your children's children."
34. "May you have a peaceful life after death."
35. "May your life be long and you may wish for death."
36. "May your reward of righteousness be glory in heaven."
37. "May you see great elevation in your remaining days."
38. "May you never fear because the lord is with you."
39. "May nothing separate us from Christ."
40. "May heaven await your welcome."
41. "May you sleep be never disturbed."
42. "May your commitment be rewarded with recognition."
43. "May your guardian angel always be by your side to uphold and direct you."
44. "May your departure be a thing of joy."
45. "May God deliver us from destruction."
46. "May we be called the sons and daughters of God, may he not cast us out of his
presence."
In Conclusion,
An Irish eulogy does not only talk about the departure of loved ones but also the celebration of joy.
The body is usually visited at the deceased's home, where family and friends come to pay respect. This action was usual until it was finally abolished in the mid-1990s. We only live once; let the years and time we spend on earth be meaningful.