The word "mentor" is as old as storytelling, first coined to mean a wise teacher in Homer's The Odyssey, and its definition is little changed even now, thousands of years later. Take a look at these best 100 mentorship quotes.
It's not easy to find a wise teacher who will look out for you and guide you in the right direction. Mentors play a vital role in our lives because without them; we wouldn't be able to find our interests and explore our talents.
Mentors are full of empathy, which is why we feel drawn to them.
They are great listeners and advisors and communicate well. If you are beginning your career, a mentor can guide you through the best loopholes and in-depth information. They give you honest feed-backs and help you find success!
If you plan on becoming a mentor or finding one, here are some great quotes with tips, tricks, and motivation! You don't have to be clueless for long now; find your mentor and get on to success.
100 Best Inspiring Mentor Quotes – You Must Read To Succeed
1. The luckiest person in the world is one who has a good mentor.
2. The way we treat nature as a mentor and not as a nuisance to be evaded or manipulated, we will certainly acquire much more reverence for life than we seem to be showing now.
3. One importance of mentorship is that the more you teach people. The more you retain such knowledge.
4. I have a wonderful mentor who helps me, reads my work, and criticizes me. Sometimes praises make me look too perfect.
5. The human is just like a conductor; anything that influences you becomes part of you. If you have a hot mentor, you will be hot.
6. The meaningful times, the meaningful people, even those who were not so meaningful, are just there to steer your success.
7. I'm not competing with my mentors. They are the people who taught me my ideology. They're the exemplars and the role models. So how does one compete with a mentor?
8. A true mentor is not just one who rekindles your love for skill but one who rekindles your love for a skill you hate.
Good Mentorship Quotes
9. A true mentor takes responsibility when wrong.
10. Find a great mentor who believes in you; your life will change for good.
11. Getting a mentor is a shortcut to a breakthrough.
12. A mentor is someone who channels your talents and passion into the right course.
13. My biggest mentor is myself because I have you push me beyond my limits.
14. A great mentor changes the destiny of the student.
15. Think of yourself as a resource to your students, a mentor and a friend.
16. Your good works will merchandise you and not your efforts.
17. Regarding changes, the spiritual mentors teach me that I must remove my mind from all negativities and think of greatness.
18. I look up to many people besides my parents, but I have not seen any more fantastic mentors.
Great Mentorship Quotes
19. My mentor, my doctor.
20. I've never had a mentor. I've always wanted one. I've always been my mentor.
21. Have respect for everyone that's mentorship.
22. As we age, it's essential for us to help hand back some of what we've gained to the younger generations. That's what makes us mentors.
23. My heart, independent of my reasoning, have reserved for my tormentor and my solace.
24. He brought war and peace, the creator of the dark and the light. My mentor.
25. All values are necessary; everyone who has ever come in contact with me has been a mentor, either good or bad.
Quotes For Mentor Appreciation
26. My experience in life, the people I was able to call brothers, mentors, friends and foes, the travel, all of it, are far more than anything I ever thought possible in my lifetime.
27. Trusted leaders, mentors and guides make a permanent mark on their disciples, and they provide the two ingredients to success in life–caring and sharing–that cannot be purchased anywhere.
28. However self-sufficient we may fancy ourselves, we exist only about those closest to us; and even to forces we cannot fully conceive of, let alone define. In many ways, we are our relationships.
29. You know, mentors are just there to direct you, and then it's left for you to follow.
30. Any politician is, to a certain degree, a mentor. They teach us that we can lie and get scot-free.
31. Pain is my most extended mentor, and success is my youngest.
32. You are in no position to change anyone; change is inevitable depending on the individual.
33. So, if I had a mentor, it would be in afflictions.
34. I'm just as famous as my mentor, years of discipleship paid off.
35. You can't dig a different hole by digging deep.
Best Mentorship Quotes
36. Blessed are those that believed and didn't see.
37. Be a mentor to others, not just your kids.
38. You're not my mentor, so stay out of my fur.
39. My interest in photography did not begin with books or mentorship training but with a burning desire to see the world through a camera. So I put more interest in it.
40. A true mentor learns from what they teach.
41. You can't do it by yourself; seek help.
42. I had some great mentors as I was coming up and starting to sing so early – I've been singing since I was four. All the voice training was never a waste.
43. I came from a lower-middle-class post-war family in a time of austerity, with no one in the family who was in any way artistic or having a spirit of leadership, but I stood in the gap.
Famous Quotes About Mentorship
44. I learnt a lot from the lord of the rigs; you are not too small to make a difference.
45. Make the move, and people will follow.
46. Every disciple needs two types of relationships in their life. He needs a planter and the rain, and then the lord will give him an increase.
47. I have a mentor. I have… guides. I have a lot of guides, someone that I look up to in times of trial.
48. I was lucky that I met the right mentors and teachers at the right time.
49. Be reasonable in what you do, and people will fly far and wide to meet you.
50. Imagine it's 1981. You're an artist, in love with art, smitten with art history. You're also a woman with almost no mentors to look to. Sometimes you need to push yourself before you can be recognized.
51. I am grateful for having my parents in my life.
52. Don't misbehave because you have people looking up to you.
53. I remember saying to my mentor, if I had more money, I would have a better plan. He laughed and said that if I had a better plan, it would produce more money.
Leader Mentorship Quotes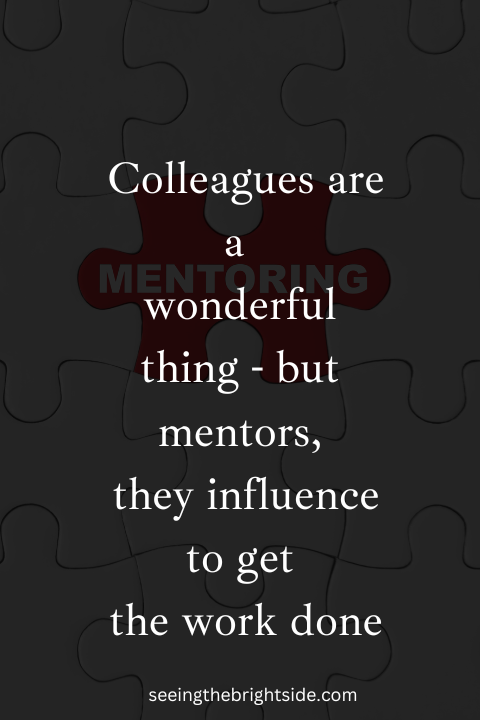 54. My mentor asked me how much was in my account. I said I don't have much; he then said I thank God there would be enough space for his ideas.
55. My mentor said; let's go do it, not you go do it. How powerful the word; Let's Is.
56. The best way a mentor can prepare another leader is to expose such individuals to people as great as he is.
57. No matter your age and where you come from, everyone can change the world in some way, whether you are a mentor or a student. You have to believe and work for it.
58. I never chased after any particular institute or had mentors; I just did what looked good to me.
59. Colleagues are a wonderful thing – but mentors, they influence to get the work done.
60. I always wish I'd had wise people around me.
61. Context begins with mentors and produces mentors.
62. My mentor, as a child, was scolded.
63. But I get a thrill out of bringing a group together and helping them reach a place their destinations.
Be Your Own Mentor
64. I am always with myself, and I am my chastiser.
65. When I mentor, I tell people that don't have to look like superman; be super in your likeness.
66. Our true mentor in life itself.
67. Being a mentor is something that's taught me every day and a role that I take seriously.
68. Don't deceive yourself; you can only teach what you learn; you can't give what you don't have.
69. If you want someone to be your mentor, you better be attentive and humble.
70. If people had been mentored earlier, they won't take some actions.
Quotes To Thank A Mentor
71. I had many mentors who didn't know I adored them.
72. Motivate yourself; don't wait till you have problems before you should.
73. It doesn't matter if you're the most intelligent person in the room: If you're not someone people look up to, your knowledge is for yourself.
74. I'm proud of my mentors. What will I have become if not for your backing and support?
75. I was lucky enough to have a great mentor both in the disciplinary world and the world of chefs. No other than my lovely mother.
76. I am my mentor; I improve by listening to myself.
77. My mother was very persevering. She was the one who gave me the courage never to stop, even when all hope was lost.
78. It's wonderful to work with someone with the spirit of leadership.
79. A mentor is someone who allows you to see the future while being in the past.
80. The passion/hunger of the student gives the knowledge that I'm doing well.
Mentorship Quotes That Will Change Your Life
81. Excel and people will look up to you.
82. I had seen how in an instant, those you called friends could suddenly become devils, Trust no one and love your enemies.
83. Even a literate can educate the literate.
84. My mentor is gone, but his legacy lives on.
85. "He was my disciple" that's the word all mentors want to say.
86. Be the reason for the smile on people's faces.
87. Many people that started the race with me never reached the finish line with me, so we must give accolades to those who helped lift us.
88. Can you pay the price for knowledge?
89. Remember that mentorship is all about service to humanity.
90. The spirit of leadership is inborn, not learnt.
91. I've had many mentors, but none can be compared to my parents.
Appreciate Your Mentors
92. I give so much respect to a psychiatrist because they communicate with insanity.
93. Never depart from the knowledge gained from a mentor; it will be in vain if, after mentorship, you go back to your past reasoning.
94. What you want in a mentor is someone who truly cares for you and utilizes your interest without giving you a selection.
95. A mentor doesn't have a style or way; your situation gives him his style.
96. Conscience, as a mentor, the compass of every act, always leads to happiness. When the individual can stay alone with their conscience and get its approval, it changes their behaviour.
97. Some friends and mentors are gone, and a very forward-looking new generation is coming up behind me. So it's up to me to choose if I should join them or if they follow my legacy.
98. Don't make a mistake by utilizing the wrong idea. It's up to the mentor to know what's right for me
99. Don't feel like, be like.
100. When you look at your achievements, you will wish why you never had a mentor earlier because if you have had one, you would have gotten double greatness.
Sometimes, all we need is a little push to go after our destinies, and a mentor is a perfect person to do so.
With these inspirational mentor quotes, you will feel much more motivated and uplifted in your life!
Conclusion
Think of spending time with someone who has done the job or worked in the career field that you want to enter. You could ask all of the questions that have been bothering you.
You may think you know what that job entails, but it sure would help to talk with someone who has done it. Ponder on these Quotes, which will help you in the long run, and share it with your friends and loved ones.