Arsène Wenger Quotes
Arsene Wenger is a French football manager and former player. He is also the longest-serving manager of the club Arsenal and the most successful in the club's history. Arsene Wenger is known for being bold and never afraid to criticize and speak up. We have put together some great quotes from Arsene Wenger that inspire us through Football to motivate you to live boldly and without fear by simply reaching out for your dreams and never being afraid to speak your mind and live life to its fullest.
Arsène Wenger's Famous Quotes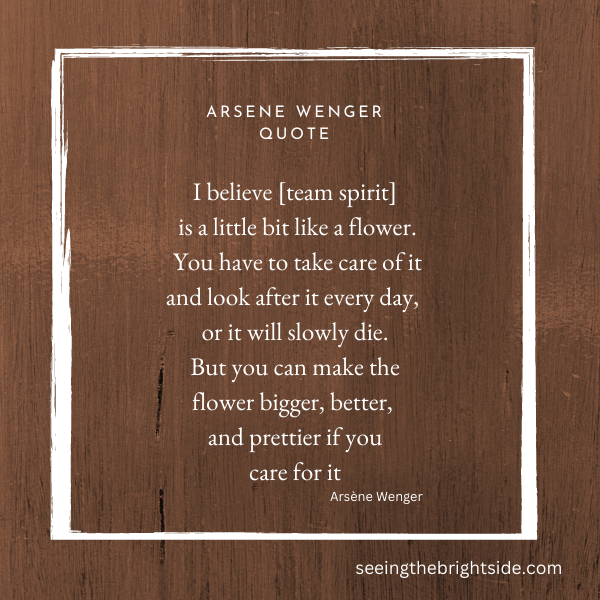 1. "Don't be scared to be ambitious. It's not a humiliation to have a high target and to fail. For me, the real humiliation is to have a target and not to give everything to reach it."
2. "I believe [team spirit] is a little bit like a flower. You have to take care of it and look after it every day, or it will slowly die. But you can make the flower bigger, better, and prettier if you care for it."
[Winning] It's like a child used to have ice cream whenever he wanted. When it doesn't come when he asks; he tends to get confused and nervous.

Arsène Wenger Quotes
4. What is unbelievable is that I am in a position where people criticize me for making a profit. The people who lose money – Nobody says a word."
5. English players are easy to coach. The problem is that the Premier League has the best players in the world; statistically, not all of them can be born in England. But we don't have enough English players: we are working very hard on it."
6. The most significant things in life have been achieved by people who, at the start, we would have judged crazy. And yet, if they had not had these crazy ideas, the world would have been more stupid."
7. It's silly to work hard the whole week and then spoil it by not preparing properly before the game."
8. "When you look at successful people, you will find that they aren't the people who are motivated, but have consistency in their motivation."
9. "If you have a child who is a good musician, what is your first reaction? It is to put them into a good music school, not an average one. So why should that not happen in Football?"
"You are responsible for the motivation of all the people around you."

Arsène Wenger Quotes
11. "We live in a society where Everybody knows everything, and it looks like it is a shame to say I don't know
12. "To remain unbeaten in a championship like the English championship now is unbelievable. I want to win the Champions League, but this is more important. It is something amazing, something special."
13. "The only moment of possible happiness is the present. The past gives regrets. And future uncertainties."
14. "Young players need freedom of expression to develop as creative players. They should be encouraged to try skills without fear of failure."
15. "My job is to give people who work hard all week something to enjoy on Saturdays and Wednesdays."
Arsène Wenger Teamwork Quote
16. "I believe the target of anything in life should be to do it so well that it becomes an art. When you read some books they are fantastic, the writer touches something in you that you know you would not have brought out of yourself".
17. "If you live like an animal, what is the point of living? What makes daily life interesting is that we try to transform it into something close to art. And Football is like that. When I watch Barcelona, it is art."
18. "At some clubs, success is accidental. At Arsenal, it is compulsory."
19. "If you do not believe you can do it, then you have no chance.
20. "I cannot classify the moments of happiness and sadness, but every defeat is a scar in your heart that you never forget."
21. "I don't look at the passport of people; I look at their quality and attitude."
"We do not buy superstars. We make them."

Arsène Wenger Quotes
23. "Football is an art, like dancing is an art – but only when it's well done does it become an art."
24. "A manager is a guide. He takes a group of people and says, 'With you, I can make us a success; I can show you the way."
25. "Religiously, it is said that God created man. I am only a guide. I allow others to express what they have in them. I have not created anything. I am a facilitator of what is beautiful in man."
Arsène Wenger Football Quotes
26. "I think you overeat sugar and meat and not enough vegetables in England."
27. "I am not scared to spend money. You will understand if you go out with me one night."
28. "The real revelation of a player's character is not in his social life but in how he plays. In my social life, I can hide my real personality."
29. "When you give success to stupid people, it makes them more stupid sometimes and not more intelligent."
30. "One of the things I discovered in Japan was from watching sumo wrestling. In the end, you can never tell who has won the fight and who has lost because they do not show their emotion because it could embarrass the loser. It is unbelievable. That is why I try to teach my team politeness. It is only here in England that Everybody pokes their tongue out when they win."
31. "I'm not a witch doctor; I'm just a football coach."
32. "To achieve great things, you must first believe it."
33. "Maintain that motivation to go from A to B and to keep your focus on that target without any weakening. That is called tenacity; stamina in your motivation".
34. "I cannot classify the moments of happiness and sadness, but every defeat is a scar in your heart that you never forget."
35. "I also think we live in a competitive world, and I love competition."
36. "The streets are full of talented people who didn't have the luck of finding someone who placed their faith in them. I can be the one that facilitates life, that gives an opportunity."
Arsene Wenger on Success in Football
37. "A football team is like a beautiful woman. When you do not tell her, she forgets she is beautiful."
38. "A manager is a guide. He takes a group of people and says, 'With you, I can make us a success; I can show you the way."
39. "At a young age, winning is not the most important thing… the important thing is to develop creative and skilled players with good confidence."
"A company works best when everybody does the job he is paid to do."

Arsène Wenger Quotes
41. "At some clubs, success is accidental. At Arsenal, it is compulsory."
42. "Nobody will finish above us in the league. It wouldn't surprise me if we were to go unbeaten for the whole of the season."
43. "As a club, we have an educational purpose: to give back to those people who love Arsenal so that they learn moral values from our game and how we behave."
"There is no priority other than being at the top level in Football. When you look back, you'll see that Arsenal has been consistently at the top level of European Football."

Arsène Wenger Quotes
45. "I believe one of the best things about managing people is that we can positively influence lives. That's basically what a manager is about. When I can do that, I am pleased."
46. "Everybody forgets quickly in life how good he is and how good he can be when things go wrong. I believe my job is to be an optimist."
47. "You (Patrick Vieira) weren't world-class when Arsenal signed you."
48. "I think in the future we need to look at our youth department to provide more players for the first team… a club needs to have a good amount of players that have roots with the club and region."
49. "You cannot say that you are happy when you don't win."
Arsène Wenger's Inspirational Life Quotes
50. "We have tried to get closer to them, but we never copied anybody; we always tried to play our Football."
51. "Of course, we also have the responsibility to win games, and the difficulty in the job is to combine both."
52. "People who work, make the world live better, and to reward these people well is normal. Yet they are not the people who are the wealthiest."
53. "I believe in work, in connections between the players; I think what makes Football great is that it is a team sport. You can win differently by being more of a team or having better individual players. It is the team ethic that interests me, always."
"I believe I do my job the way I have to."

Arsène Wenger Quotes
55. "What makes him special? He has a mixture of physical talent and technical ability, as well as remarkable intelligence and, above all, a great passion for the game."
56. "I am still hopeful we can go through the season unbeaten – a frightening thought."
57. "It is always a danger when you have a big game ahead, but there is only one way to prepare well for our Champions League game – and that is to do well tomorrow. Therefore, I feel there is a lot at stake for us tomorrow. It is a massive game for us."
58. "Sometimes now, when I watch continental games on television, I'm a bit bored. I ask, where is the intensity?
59. "I have been accused of not taking the FA Cup seriously on Saturday. I have won four times the FA Cup. Who has won it more? Give me one name."
60. "If you want to win a horse race, you need your horse to be 100%."
"If I were going to war, I would want to be alongside an Englishman, not a Frenchman. The Frenchman would overthink."

Arsène Wenger Quotes
62. "Everybody has a different opinion in this league, and Nobody is a prophet. I don't know who will win the league. I managed 1,600 games, so if Nani knows, he must be 1,600 times more intelligent than I am."
63. "If I go into a season and I say, For f***ing sake if we don't win anything, they will all leave; I have already lost. The problem of the media is always to imagine the worst. The problem of the manager is always to imagine the best."
Arsene Wenger wisdom nuggets.
64. "Sometimes you have to swallow the unswallowable."
65. "The only way to fight time is not to look back too much. If you do, it can make you feel anxious and guilty."
66. "No matter how much money you earn, you can only eat three meals a day and sleep in one bed."
67. "What matters, I think, is that you retain your childlike soul and never lose sight of your dreams: What are they, what do you need technology to make them come true? Discard any negative ideas that might prevent you from getting there, and above all, commit completely."
"I just want to share what I've learned and give it back to the game differently."

Arsène Wenger Quotes
69. "Maybe one day people will realize that it's not so easy to stay at the top, as well as facing financial compulsories that you face at that level."
70. "You go up by stairs and come down by the lift. That's what confidence is. That's what you have to show that you have the level to be at Arsenal Football Club."
71. "Nobody has enough talent to live on talent alone. Even when you have talent, a life without work goes nowhere."
72. "What motivates me is an ideal of thinking about how Football should be. And to try to get near this way of playing. And to try to improve all aspects of my personality that can help me get near this ideal way of playing Football."
73. "For me, motivation is a person who can recruit the resources he needs to achieve a goal."
74. "Any man who concentrates his energies totally on one passion is, by definition, someone who hurts the people close to him."
Arsene Wenger Life Nuggets
75. "Work on your strong points because they are what made you."
76. "If you eat caviar daily, it's difficult to return to sausages."
77. "Some are wrong because they are not strong enough to fight temptation, and some are wrong because they do not know."
78. "If I left, I would feel a deserter – like a guy who walks away from the army once there is a war. I am highly committed to this club. I love what I do here and the team's spirit."
79. "You ask me: Was he a fair player?; I say: ' No, I'm sorry, for me, he was not a fair player. I think I respect him highly as a quality player. I was not too fond of what he did on the football pitch, and I have the right to say that. It's not because you are suddenly older that you are a saint."
"You build a player like you build a house. You start with the foundations. The fundamentals."

Arsène Wenger Quotes
81. "Everyone thinks they have the prettiest wife at home."
82. "I am in a job where you always look before me. Unfortunately, the older you get, the less distance there is in front of you."
83. "When you give success to stupid people, it makes them more stupid sometimes and not more intelligent."
84. "You cannot play for Arsenal and give up, no matter the score."
Arsene Wenger on Morals
we have seen how compassionate Arsene is toward human nature and society.
85. "In a competitive world, not Everybody can follow the pace; you will leave people out. We now accept that we must take care of these people. You cannot let them die in the streets; people will not accept it. And that is right, too."
86. "If somebody stamps on your head that way, you wouldn't say; thank you very much&#39, and turn the other cheek. Only Jesus Christ did that."
87. "In my job, you expect to suffer. That's why when I go to hell one day, it will be less painful for me than you because I'm used to suffering."
"If you don't question the officials' role, then you've got to ask what they are doing."

Arsène Wenger Quotes
89. "It's like you wanting to marry Miss World, and she doesn't want you; what can I do about it? I can try to help you, but what can I do if she does not want to marry you?".
Arsène Wenger Motivationl Quotes
90. "When you're dealing with someone who only has a pair of underpants on if you take his underpants off, he has nothing left – he's naked. You're better off trying to find a pair of trousers to complement him rather than change him."
91. "We played a whole season unbeaten, but you did not see me every week jumping on the tables. Once it's over, it's over, and you do in the next one as well as you can. Many managers who have won the Champions League will not be considered great managers."
92. "If I give you a good wine, you will see how it tastes and after you ask where it comes from."
93. "I know how important it is to have a helping hand."
94. "Spare me the articles about how nice Shawcross is because that was a horrendous tackle. People say we don't fancy the physical side of it, but this is the result. If you see a player getting injured like that, it's not acceptable."
95. "When you represent a club it's about values and qualities, not about passports."
96. "Sometimes I see it (a foul by an Arsenal player), but I say that I didn't see it to protect the players and because I could not find any rational explanation for what they did."
97. "Just try to give your best and be better tomorrow than yesterday."
98. "Passing the ball is communicating with another person; it's in the service of another person. It's crucial. For the past to be a good one, the player has to put himself in the position of the person who will receive it. It's an act of intelligence, generosity, and technical empathy."
99. "The moral values I've learned in my life through football."
To all the Arsenal lovers, take care of the club's values. My love and support forever.

Arsène Wenger Quotes
Conclusion
Arsene Wenger no doubt has so much love and passion not just for Football but for his team Arsenal. For the many years he worked for the team, he has put in creativity, drive, tenacity, and strategies to bring out the best in his players. Arsene Wenger inspires us to push for what we believe in with a never say never attitude and reach for the stars!
You can also check more quotes on Seeing the bright side.