Travis Scott is a fashion and music icon who has worked his way up with consistency, commitment to his music and uniqueness. He is an artist with an unbiased and accepting mindset who loves to try new challenges and overcome old ones.
He is an American rapper, songwriter and record producer. Travis has an admirable sense of style and with his constant release of thought-provoking quotes in his music that will inspire anyone reading to appreciate life, it is no surprise his quotes have become popular. We have put together some of his amazing quotes to help you appreciate the gift of life.
Travis Scott Quotes on Innovation and Music
1. "I'm not into just one thing; I always felt like I had to have my hand in everything revolving around what I do, whether it's directing videos, making beats, making music, performing."
2. "I see hip-hop as going in a self-managing place. It's very culturally controlled and artist-controlled. It's not really based on a label anymore. Everything is pretty much in the control of the artist, which is amazing."
3. "There are people who take fashion at different levels, but personally, I'm just a kid with it."
4. "The most ironic thing is my grandfather has his master's in music composition; he was a jazz
composer. My dad was a musician, too. He played more, like, soul music."
5. "I like how fashion is becoming more like music. It's more adaptive to young kids. It's more adaptive to a more on-the-go lifestyle. More street vibe, but I've always been into it."
6. "School kills artists."
7. I must say, I've been in the studio with Jay Z, dog… I thought the freestyle thing was a myth. But, bro!
8. I think, with production, I pay very close attention. 'Cause, that's my favourite thing in music. That's the whole drive. That's the reason.
9. I'm a big fan of Kid Cudi. He was, like, the only concert I think I went to as a kid. He was on tour with Asher Roth
10. That's where I get my whole music theory from, my pops and my grandfather.
Travis Scott Quotes About Others.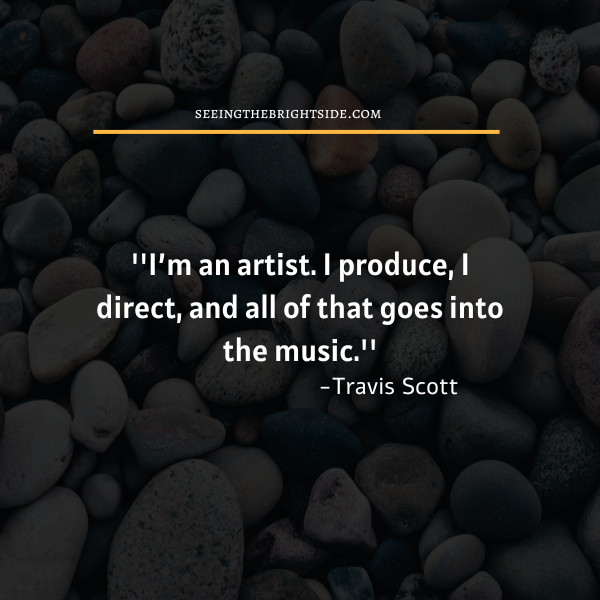 11. Beyonce is, like, the highest level. We all reach for that level.
12. "I'm attached to the beat. The beat speaks words. I love music."
13. I was working with Jay Z while I was still learning how to be who I was about to become.
14. I wouldn't make music with you if I didn't know you. If you're a good artist, and if you know it as well, I'm down.
15. Kanye is the leading eagle: he's like the president who stands up for kids like us who have ideas.
16. I'm an artist. I produce, I direct, and all of that goes into the music.
17. "My work ethic is crazy. I'm a producer, an artist, and a video director."
18. "I'm big on diversity. My music is very diverse; I don't want it to ever be type casted."
19. "I feel like Houston is one of the leading things in music culture. Everyone loves Houston culture. It needs to have its own monument, its own moment for artists like me, artists like Beyonce who set it off."
No one goes all out like Travis Scott in making the most out of life, making new friends and harnessing skills to make money…. Here are some more quotes to show this.
Heart to Heart Travis Scott Quotes
20. "Got new money, got new problems, got new enemies. When you make it to the top, it's the amenities."
21. "I watched 'em take that, then they change like a mood ring."
22. "Sun is down, freezing cold. That's how we already know; winter's here."
23. "I tried to show 'em, yeah. I tried to show 'em, yeah, yeah, yeah, yeah, yeah. Gone on you with the pick and roll, Young La Flame, he is in sicko mood."
24. "Thank God for the day."
25. "All of these hoes I made off records I produced, I might take all my exes and put 'em all in a group."
26. "If I take you to my past you will be traumatized."
27. "Take a shot, make a friend, just enjoy the moment. I'm Luke Skywalkin' on these haters."
28. "Why do you bother me when you know you don't want me? Why do you bother me when you know you got a woman? Why do you hit me when you know you know better?"
29. "I get those goosebumps every time you come around. You ease my mind; you make everything feel fine."
30. "Yes, money is important. But it's all about the creative process."
31. "I'm just here for good times, man. I want people to have the best time ever. Especially if they're around me."
32. "Party on a Sunday. Do it all again on Monday. Spent a check on a weekend. I might do it all again.
Legendary Travis Scott Quotes from the lyrics of his songs.
33. "I remember my mom bought me one of their shirts for Easter so that I could wear Helmut Lang FOR Easter. That was my first piece."
34. "I feel like more artists like me should be on the radio. Everything is, like, so controlled by, like, super popular music. You know what I'm saying? Like, C'mon."
35. "You say You love, Don't you lie."
36. "You can't buy swag. You can't buy a vision, and you can't buy aesthetics. You can copy it, but that shit doesn't last."
37. "We always forgive but don't forget easily. Cut my phone off so they can never reach me."
38. "This time of the year I feel alone."
39. "I design music; I don't produce it."
40. "I feel like everything needs to be stylized; that's always been my mindset."
41. "If it makes you happy, it doesn't have to make sense to others."
42. "Don't lose what you can't replace."
More Travis Scott Quotes to make you dream big
43. "I realized this year that even though you may want a person in your life more than anything in the world. It doesn't always necessarily mean that person should be in your life; if they don't value you enough, then the position you wanted them to fill is for someone more deserving of it."
44. "You will never influence the world by trying to be like it."
45. "But to be honest, I probably didn't know myself all the way. I knew there was something in me, but I didn't know myself all the way."
46. "Promise I won't cry over spilt milk. Gimme a paper towel, gimme another Valium, Gimme another hour or two, an hour with you."
47. "We as people have to find better ways to connect with each other through other avenues other than anger. The word beauty means a lot to me, but it all comes down to who you are as a person. It has a lot to do with your heart, how good you are to others."
48. "I don't need a stage to perform. We just need something to stand on."
49. "Make money not friends."
50. "There's a lot of us out here that are birds, man. We all need to just fly."
51. "Never let fear obstruct your vision."
Travis Scott shares how he overcomes life challenges and rises above every storm.
52. "If I take you to my past, you will be traumatized."
53. "Life is just a maze, goin' through my phases."
54. "Did you have the time of your life? Let's have the after-party at my place."
55. "Everybody has just different steps in their life that they take to do what they should."
56. "Keep on loving in the face of hate."
57. "For this life, I cannot change." 
58. "When the power of love overcomes the love of power, the world will know peace."
59. "God watch over us. Keep us strong and lifted."
60. "My whole story is straight mythical. It's tangible, but it's also what life could be."
61. "Raging and having good feelings and having fun is something I plan on doing and spreading across the world. I just need air and a mic."
62. "You can't buy vision, and you can't buy aesthetic".
63. "I know what my identity is".
64. "Yes, money is important. But it's all about the creative process."
Travis Scott's Quote on Intentional Childhood Upbringing
65. "Her mindset will raise your children, not her body and good looks. So choose wisely."
66. "I was born in Houston, Texas. I grew up in Houston, by Missouri city. It's, like, a suburb in the area; it's middle-class. But I used to stay with my grandma in the hood from ages one to six."
67. "I feel like everyone just gets constricted by their parents or, just, life."
68. "I was a smart kid. I went to a private school in middle school and got kicked out."
69. "You've gotta motivate kids. They wanna grow up. They have problems. You've gotta give 'em that music to make 'em feel like they're OK, and it's only a couple of artists that do that."
70. "There's definitely a lot of kids who like to express their feelings, you know, escape out of whatever they're going through."
71. "Shit, high school was on some sports shit. I was always running around doing dumb shit. Hyper activities. I was always into music, so I did that. I was smart. I fucked with school. I fuck with education. But I always had an urgency to do something awesome. When you young, you look at n—– like Lil Bow Wow and shit like, balling."
Travis Scott Quotes on igniting love in the mind
He believes so much in love and how the world would be a better place when there's so much love to give.
72. "Need ya love, not a need; it is a must."
73. "I get those goosebumps every time you come around. You ease my mind, you make everything feel fine."
74. "Shawty, I just want your love for a minute. I be captain baby, you can be a lieutenant. Swear I lose my mind every time that I'm in it. You won't get a dime, naw naw, not mine."
75. "You ease my mind; you make everything feel fine."
76. "I can justify my love for you and touch the sky for God to stop debating war."
77. "Her vibe is pretty."
78.  "Been about you since I saw you."
79. "You mean so much to me, hope you understand."
80. "She said, 'where are we going?' I said, 'The Moon."
81. "Fuck the money. Never leave your people behind. It's never love, no matter what you try."
82.  "Wish you were here."
83. "You say you love me, don't you lie. Won't cross my heart, don't wanna die, keep the pistol on my side."
84. "I know you love me; I beat it ain't no cuddling."
85. When you're close, I'm alive, I can feel the sky; I just want your body close to me.
Travis Scott Quotes to drive your actions and decision-making.
86. "Don't think for a second your back won't be stabbed because people change, and feelings fade but don't worry, new friendships are made."
87. "All I got is myself."
88. "Remember to use your voice today to inspire someone no matter what happened in your past, look forward and progress. Become better than ur' old self."
89. "I want, first and foremost, to help other artists launch new names, to provide opportunities. I want to do for them what happened to me, but better."
90. "Words mean nothing without action."
Even when it's dark. Your spirit is light.

–Travis Scott
Money is something that keeps you alive and healthy and just keeps you focused. It's the drive; it's the passion."
Travis Scott's Famous Quotes
91. "Don't do it tomorrow. Do it now. There might not be tomorrow."
92. "I don't really write. I'm an on-the-spot type of person. This beat, let's listen to it; let's vibe. And then I'll do a melody, and then we'll go back and do it."
93. "I feel like God put me here to help out with people's souls, man."
94. "If you fall for the games then you're the one playing."
95. "Words mean nothing without action."
96. "Even when it's dark. Your spirit is light."
97. "Money is something that keeps you alive and healthy and just keeps you focused. It's the drive; it's the passion."
98. "Some days start better than others. How ya end them is what counts."
99. "Never let fear obstruct your vision."
100. "When the day gets better, the night gets brighter."
Conclusion
Travis Scott believes everything happens for a reason and we shouldn't let the events of our lives bring us down rather we pick the lessons learnt to make us better people. Travis tells us how vast life is and how we should try not to spend the moments of our lives feeling sad as there's so much to achieve and engage in.
We should rather live life fully, love wholeheartedly and reach for our dreams. We hope these quotes inspire you to enjoy life like today is all you have got. Remember you've got only one life, Go Live it!