No greater way to relax and rest than a glass of your favorite Wine and some wine quotes to cheer your spirit up. These quotes written below will delight all varieties of wine lovers, from Chardonnay to Cabernet Sauvignon. There are a few for Champaign lovers too. Below are lists of quotes that will entertain and bring out the joy, meaning, and importance of wine.
Best Wine Quotes That Will Teach You Life Lessons
"Wine is sunshine, bounded by water." 
2 "An arbiter of taste doesn't just drink wine but have a taste of its secret."
3. "The volume of wine in a man's glass can determine his mood."
4. "The difference is in the taste; the taste is the difference."
5. "Wine does not lie."
6. "At the moment of one sip, we discover light at the end of the tunnel."
7. "Beer is manmade, wine was given by God."
8. "Wine brightens the hidden pleasure in our hearts."
9. "Wine is a mixture of human knowledge and divine making."
10. "Imagine King Solomon sipping a glass of wine; a burst of knowledge."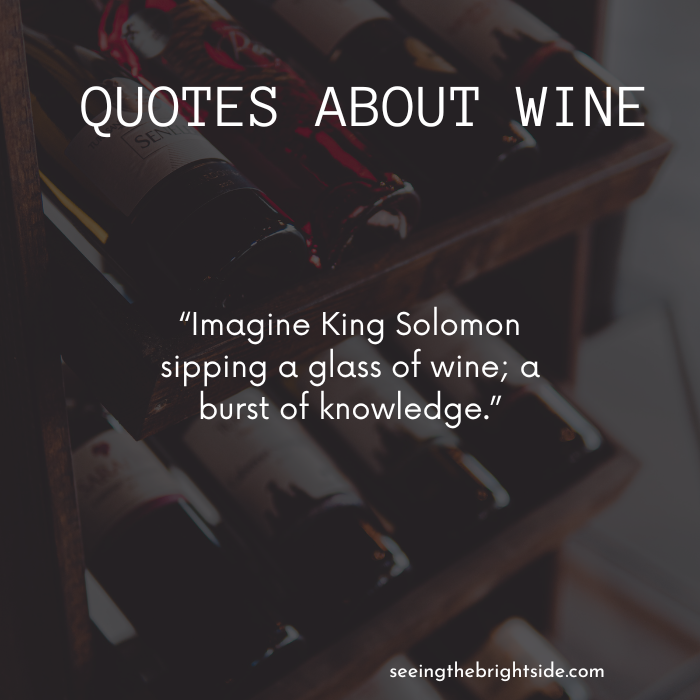 FUNNY QUOTES ABOUT WINE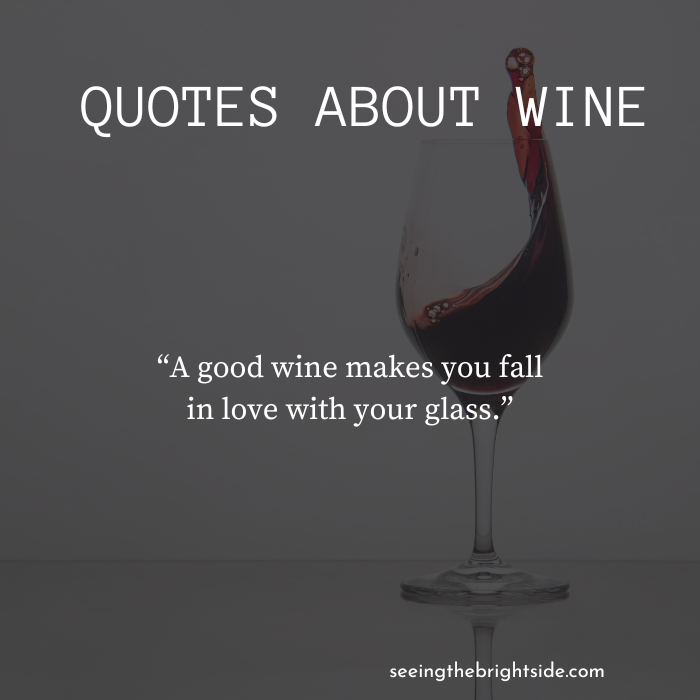 "Wearing clothes with the same color of my wine always help to hide wine stains."
2. "A good wine makes you fall in love with your glass."
3. "With wine at my side, who can be against me?"
4. "The older the wine, the greater the madness it brings."
5. "If I ever go missing, just wait in the bar because I must come back for more wine."
6. "I was glad when they said lets open a bottle of wine."
7. "And the greatest invitation was; come let's dine and wine at nine."
8. "I decided to stop taking wine and then I woke up."
ONE-LINERS QUOTES
"When I drink, I obtain wisdom in foolish words."
2. "I breathe in wine and I breathe out sanity."
3. "I only go home when I have no more money to order more wine."
4. "I wish I could have a sip of the wine transformed by Jesus Christ."
5. "A glass of wine each day depends if you can afford it."
6. "There's no compromise when it comes to wine."
7. "If you living a life of drinking partying and dancing, give up dancing."
8. "The three essentials in life: wine, women and wealth."
9. "The greatest step in life is taking the first step just after finishing a bottle of wine."
10. "A drop of water makes a mighty ocean, what am I waiting for… a drop of wine it shall
be."
WINE QUOTES ABOUT VALUES
"If you follow my steps, you will eventually end up in a wine bar."
2. "Wine is the greatest disciplinarian; it saves your tears for another day."
3. "A good wine is equivalent to hundreds is beer."
4. "Do not ask for the benefits of wine but rather think of what you are willing to do for it."
5. "Drinking wine does not kill; what kills a person is standing up."
PECULIAR WINE QUOTES
"Drink responsibly or go home irresponsibly."
2. "A glass of Wine is good… The remainder in the bottle is best for your morale."
3. "An empty bottle of wine is greater than a full one because it shows who's successful."
4. "A wine in need is a wine indeed."
5. "The art of drinking is another lifestyle entirely."
6. "A glass of wine brings out the man in you, but a bottle of wine makes you a man."
7. "It is easier to save things than to save remnants of wine in the bottle."
SHORT QUOTES ABOUT WINE
"Give me more, or let me mourn."
2. "Wine makes us alive."
3. "Live the rest of your life with good wine."
4. "The greatest regret in life is dying before being able to drink from your oldest wine."
5. "Wine is poetry on a piece of glass."
6. "Wine is wisdom to the wise and greater stupidity to the foolish."
7. "A shy man will be outspoken when holding a glass of wine."
8. "God made water to keep us alive, manmademanmade wine to give meaning to life."
9. "Keep your worries outside the bar."
10. "You can't know a good wine until you taste it."
11. "If God opposes drinking, he wouldn't have made wine so good."
12. "Deception is devil's wine."
13 "Wine opens the mind from debris accumulated by pain and sorrows."
14. "A fine wine can be gotten from a dunghill, as far it hasn't been open."
15. "Wine sharpens the mind of his dweller."
16. "There is evil in every wine, know your wine and he shall know you."
17. "A good wine is known for ending a man's facial expression with a smile."
18. "Go fetch me a glass of wine, give the bills to my next personality."
19. "And wine said, 'worry not, for I am with you."
QUOTES BY WINE LOVERS
"The older the wine the younger the taste."
2. "There is no love in sharing a wine, it only results to shortage."
3 "Wine is the same today, greater tomorrow and will be the best in the future."
4 "Wine makes us communicate freely with psychiatric patients."
5. "A great fool is one filled with wine; wine never satisfies the soul, only the body."
6. "Every moment shared with wine is wished to be remembered."
7 "Wine enlightens the soul, gives us hope, boosts the morale of the weak, and gives the mind a new mindset."
QUOTES ABOUT WINE AND LOVE
"I found love in the wine bar."
2. "Wine brings people together."
3. "We were human until our first kiss and another glass of wine."
4. "When we were young, we gave love and flowers; now, at our age, we give life and wine."
5. "Winemaking is just like giving birth, you love each of them, but they can never be the same."
6. "Wine provides freedom; love vanquishes it.

7. Wine makes us kings in our mind; love makes us subjects."
8. "No greater love than the love of wine."
9. "Fill up every glass because Wine empowers us and strengthens us with love, determination, and joy."
10. "We take the wine in communion with the love of Christ towards man."
ROMANTIC QUOTES ABOUT WINE
"She loves jokes, a glass of wine and a handsome lad."
2. "Perfection is first kiss accompanied with first glass of wine."
3. "Beauty is in what we see, either in the glass or in the eyes of the beholder."
4. "Memories of the past are remembered with a glass of wine and a smile."
FAMOUS QUOTES ABOUT WINE
"Wine is a proof of God's love towards man."
2. "Alcohol is mans greatest enemy, but we must learn to love our enemies."
3. "I love wine, and he too does."
4. "When victorious, you earn wine, but when in loss, you need wine."
5. "Wine is lives longer than all hygienic food on earth."
6. "A bottle of wine can turn a bar into an asylum."
7. "You don't force the truth from a foolish man, you give him win, and the truth will be given in a golden platter."
8. "A man who doesn't drink wine is harder than a rock."
9. "There are many varieties of wine that can take away your sanity, look for the one that gives."
10. "In wine wisdom is found, in beer liberty is found, but in water there are harmful bacteria's."
11. "I obtain pleasure in the sight of a glass of wine."
12. "Cheap wine only drunken the body, but expensive wine drains the body and soul."
13. "Water has no enemy but wine contains water and people still criticize it."
14. "Wine is the petroleum of human consumption."
QUOTES ABOUT TOASTS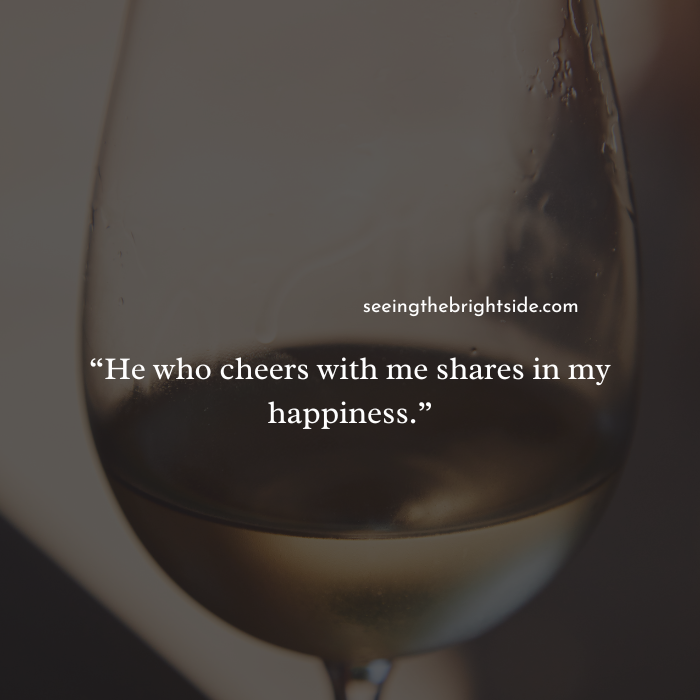 1. "He who cheers with me shares in my happiness."
2. "The older I get the closer I get to wine."
3. "Drink up and wake up and forget everything."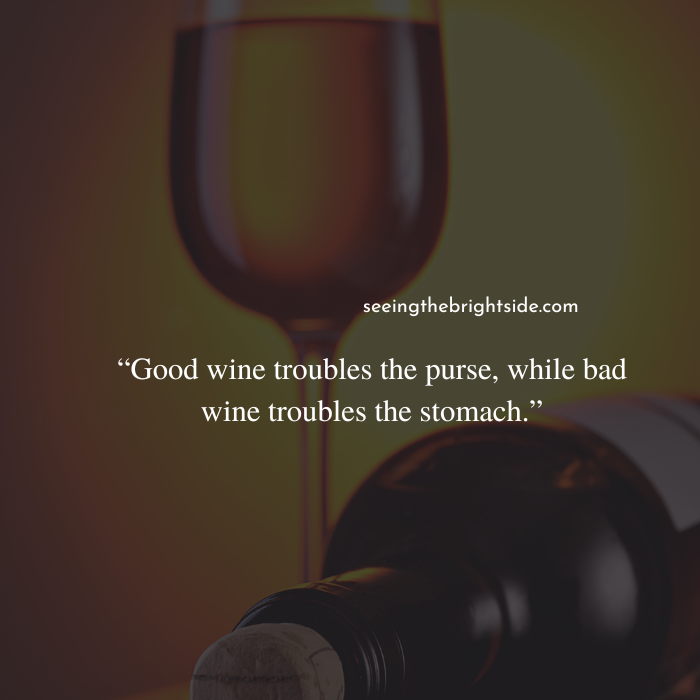 4. "Every man drinks according to the capacity of his worries."
5. "Young men are the cutest in man, but in wine, old wines are the best."
6. "I share my bad wine with myself."
7. "Good wine troubles the purse, while bad wine troubles the stomach."
Conclusion
I hope these quotes were able to give you some entertainment and you feel amazing reading these quotes with a glass of Wine; know that you are helping boost your health one way or the other, both physically and mentally. It's even more interesting when reading with friends and family.