1. Because our love knows no bounds, I will always find you in a sea of people.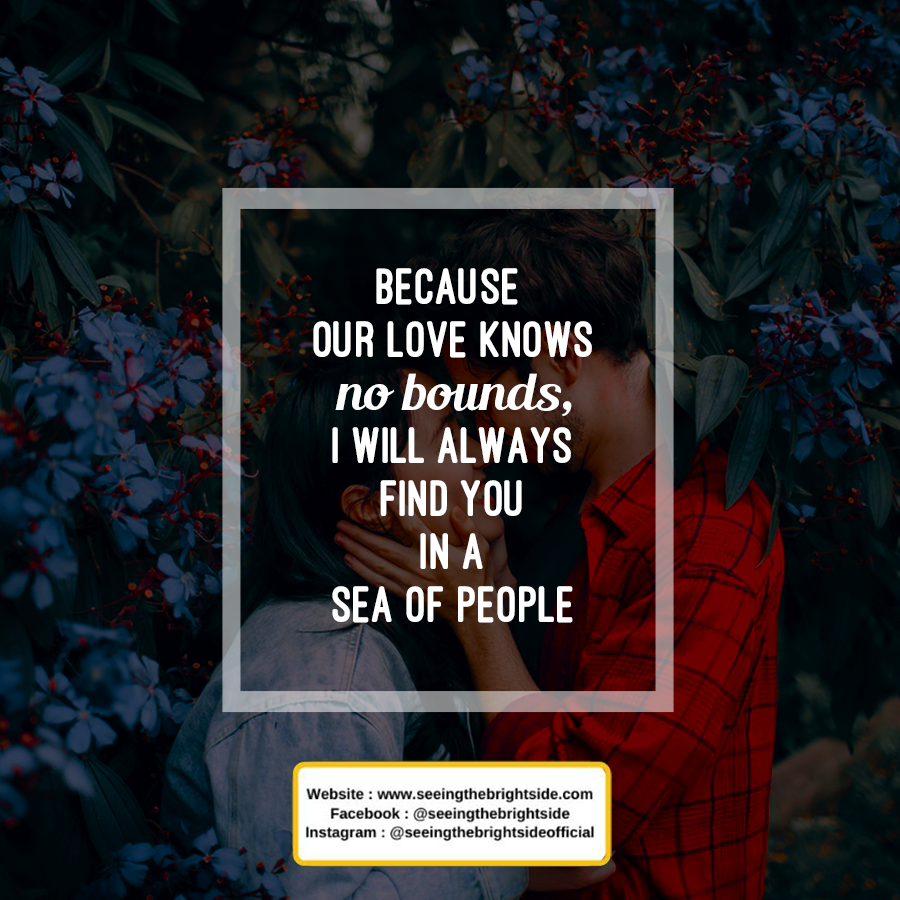 2. Love is a habit, most difficult to satisfy and hardest to break.
3. My love, you intoxicate me with your sweet kisses and warm hugs.
4. A positive life can never survive with a negative mind.

5. I must be sincere with you. No one is worth thinking about, ever since I met you.
6. When you meet someone that rekindles your inner spirit, don't let them go.
7. Deep intimacy and intense companionship are the best things that life has to give.
8. Because love is the only true adventure, we can't but love.

9. You need no contract, agreement or bargain to love unconditionally.
10. No matter where you are, the chance to love and be loved is sure.
11. Loving you more is not what I originally planned. But I love how it feels now.
12. Don't prioritize someone who makes you an option.
13. Without a doubt, I will keep choosing you over and over—my love.
14. It's easier to love someone you see all the time, but it takes commitment to love someone you don't see every day because love exists in the heart, not insight.

15. My heart spreads every ounce of love when it beats because of you, my love.
16. Love is an act, not just a feeling.
17. I don't care if it's late, but I won't hesitate to tell you how I've totally fallen in love with you.
18. You plant more roses if you want to have more roses. Same applies to love.
19. Flower just blossoms, it doesn't bother competing with the flowers next to it.

20. Thanks for gracing my life with your sweet presence. My love.
21. Your life never worked with anyone because the right someone hasn't walked in yet.
22. We derive the greatest joy and pain in our relationship with others.
23. Laughing with you is what I want to spend the rest of my life doing.
24. When I think of love and happiness, I picture myself with you.

25. You can put a price tag on pieces of jewellery but not on love.
26. The love that was meant to be yours will always find its way to you.
27. Because the entire universe conspired in helping me find you, I can't love you less.
28. Use things, love people. Don't reverse the arrangement.

29. You will love people better when you stop expecting perfection from them.
30. Love should be a choice and not to be forced.
31. Loving freely with your whole heart is the greatest gift you can give yourself.
32. Love is all about sustaining your commitment to each other forever.

33. My love, thank you for making me smile. Thank you for making me happy. And I really appreciate you for coming into my life.
34. You are my world. I am reminded of your love everywhere I look.
35. True love cannot be denied where it exists and cannot be found where it doesn't exist.
36. I promise to treasure your heart with love and handle it with care.
37. Assumptions break relationships.

38. I never knew you'd have so much impact on me, cuz it's weird reminiscing how we met.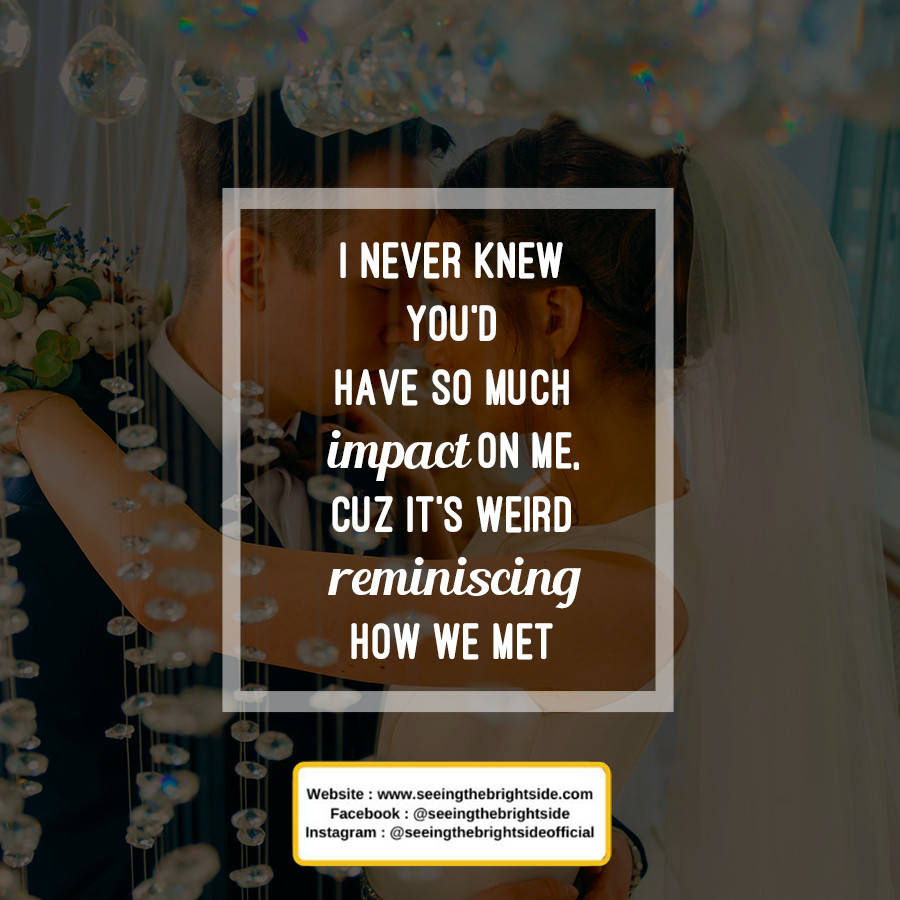 39. If you love someone, you will be patient with them; cuz patience is the mark of true love.
40. All relationships thrive on forgiveness.
41. Two can play, and both win in the game of love.

42. Life can only be rekindled by love.
43. A loving heart produces the truest of wisdom.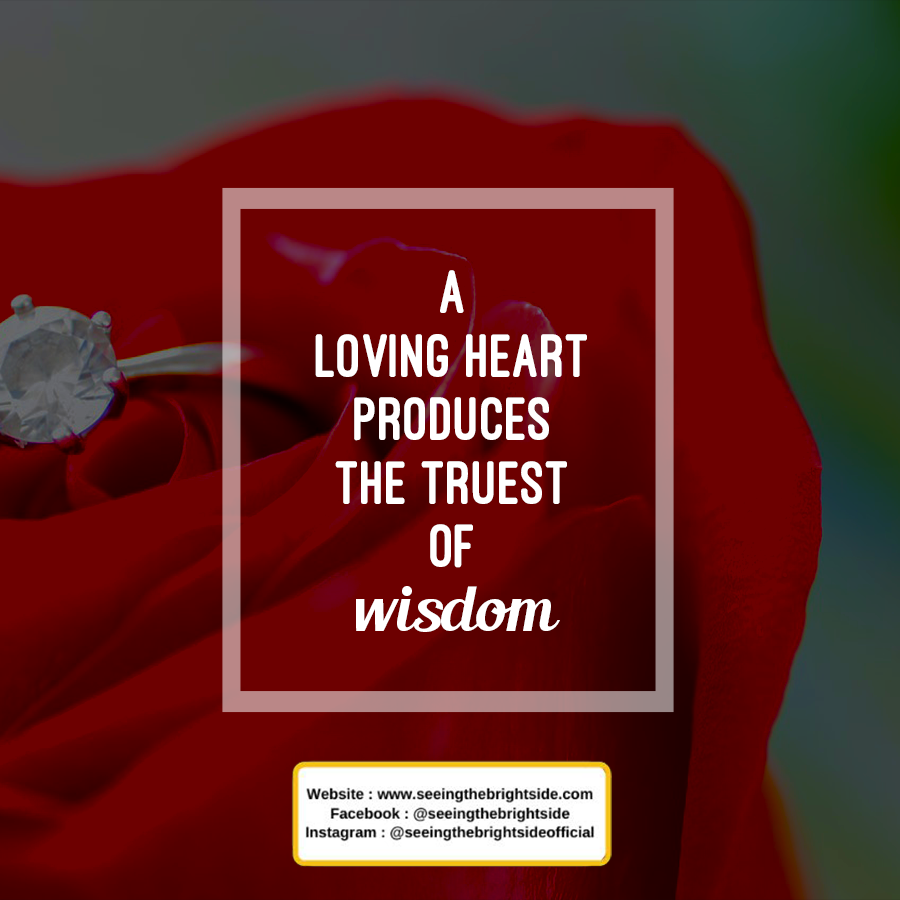 44. We all become poets at a touch of love.
45. Holding on to each other is the best thing in life.
46. There are no endings to true love stories.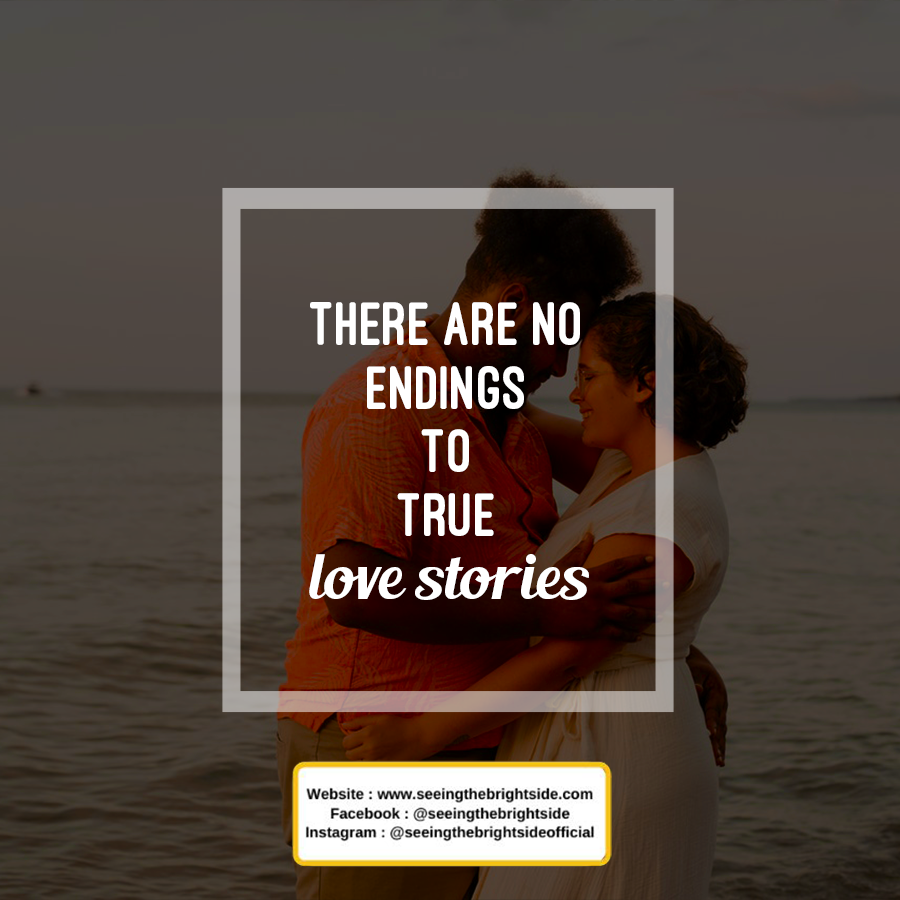 47. When we are in love, we are most alive.
48. Never let love disappear, keep it as a souvenir, cherish it as a promise.
49. Your definition of love makes it an extraordinary word.
50. The bravest thing to do is to expect nothing in return while loving unconditionally.

51. You sure deserve me at my best if you can handle me at my worst.
52. Any relationship that won't let you be yourself don't settle for it.
53. Because you are my paradise, I don't mind getting stranded on you forever.
54. Love is about how you love each other every day, not how long you've been together.
55. Loving you is a habit, and when I tell you how much I love you, I am actually reminding myself of how essential you are in my life.
56. You hold my heart forever even when you hold my hand for a while
57. Holding on to each other is the best thing in life.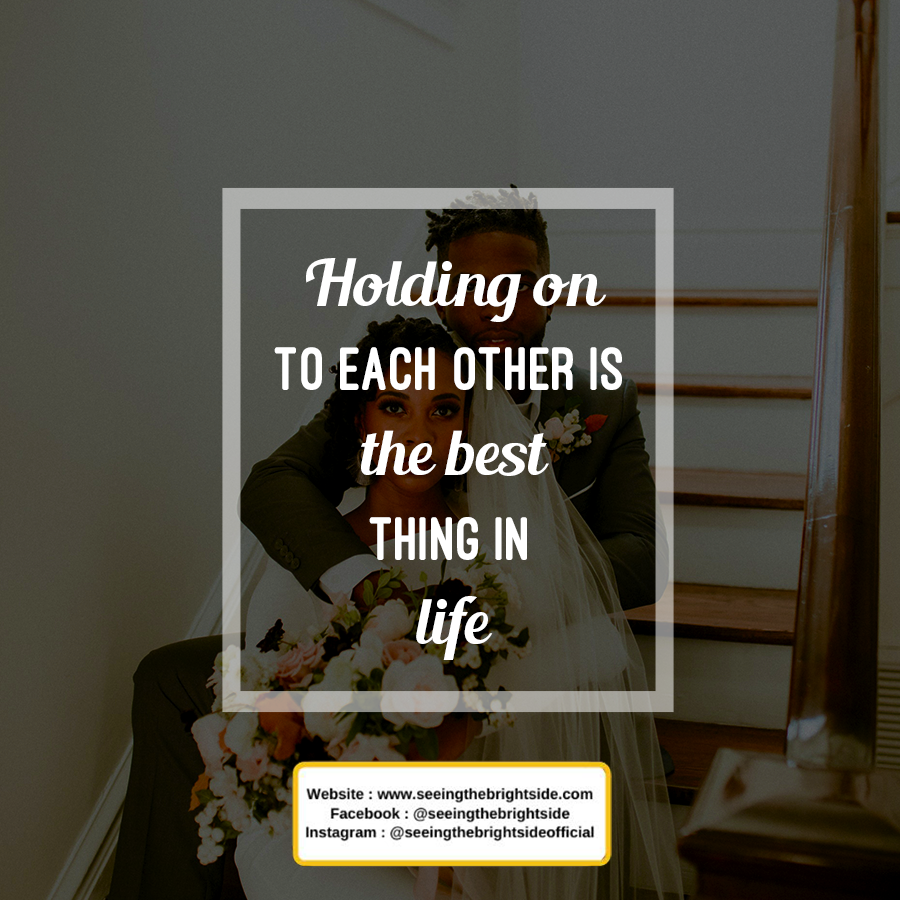 58. Love dies because we don't know how to replenish its source.
59. Just like the wind, love is felt but can't be seen.
60. There is no right place or time for true love. It happens in a single flash.

61. The love we think we deserve is what we accept.
62.
63. Giving my heart to you seems the best choice I ever made.
64. Every love song reminds me of you.
65. Strangely, I dream of you even when I'm wide awake.
66. I can't explain how much those little moments with you matters to me.
67. Our lives are shaped and fashioned by those we love.
68. Because I love you, I don't care how many times you annoy me; I'll rather spend every irritating minute with you.
69. My heart actually talks, and it's only about you.
70. My entire world flipped the first day I looked into your eyes.

71. I am totally completely, seriously, passionately and deliciously in love with you.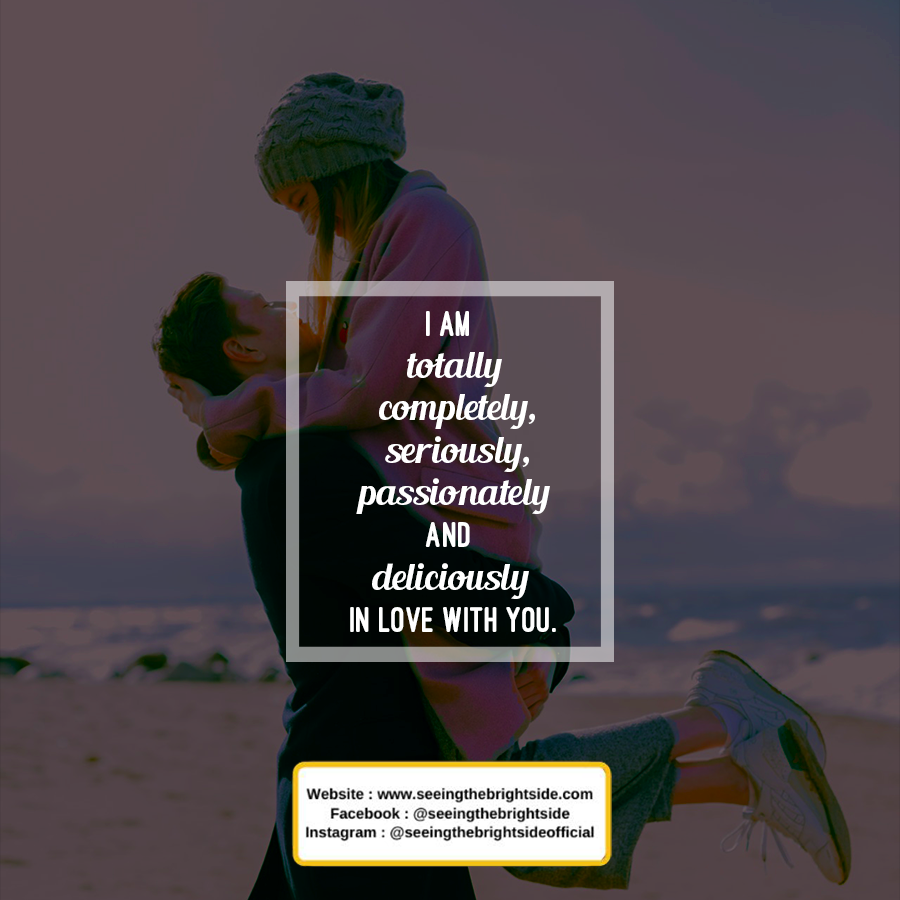 72. I can listen to you talk for hours because your voice has become my favourite sound.
73. Words are not enough to express how much I love you.
74. I never knew how much I loved you until I looked beyond our friendship.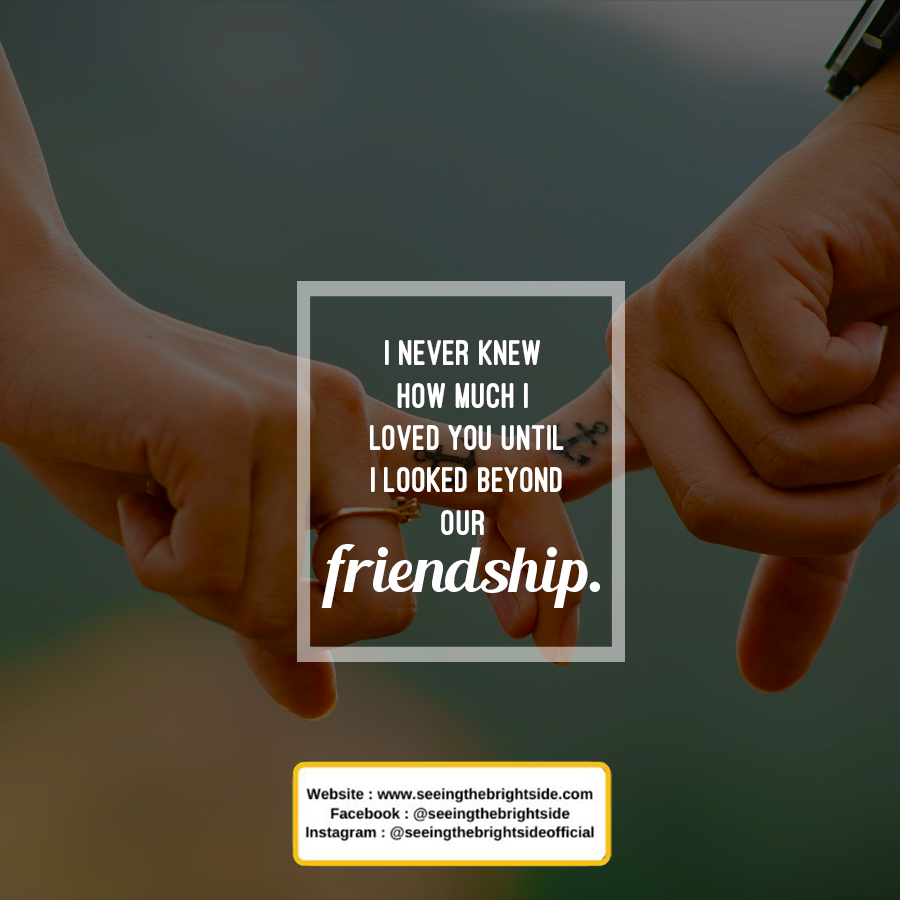 75. You can't rush love if you want it to last forever.
76. You can't wait to start the rest of your life when you realize that someone is worth the rest of your life.
77. Because the universe brought us together, I won't stop loving you.
78. Love makes everything poetic.
79. I may not fix all your problems, but trust me; you won't face them alone.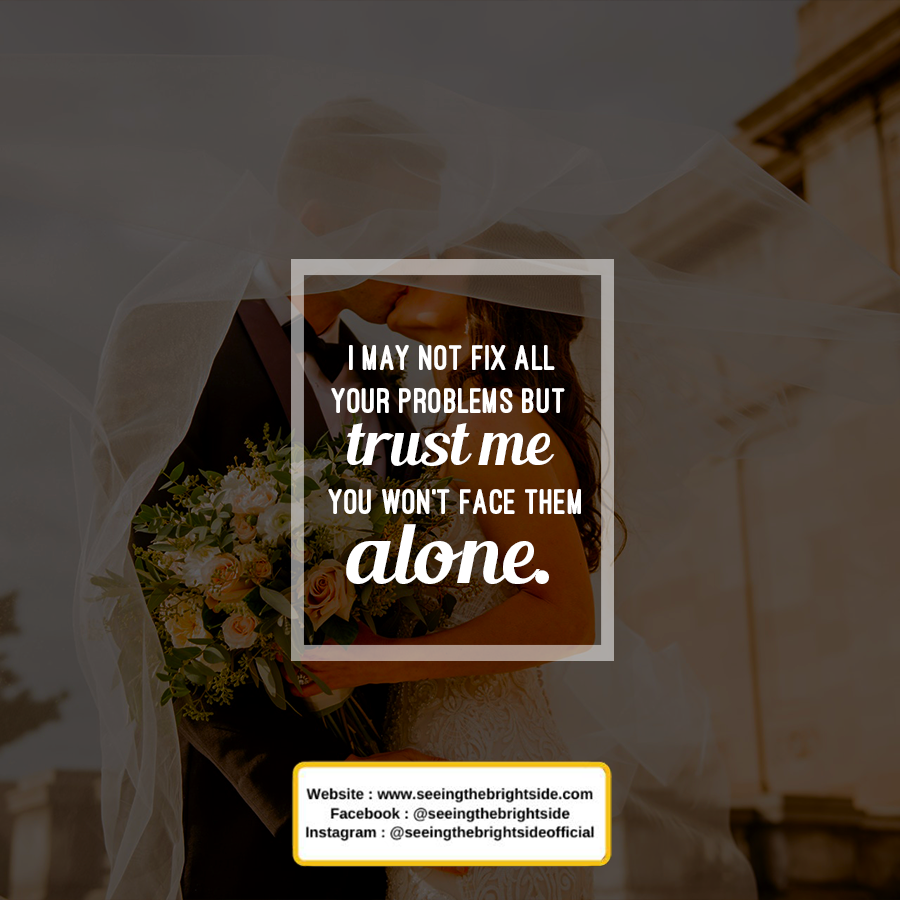 80. To love and be loved in return is wonderfully unexplainable.

81. I saw the rest of my life in front of my eyes when I looked at you.
We at seeingthebrightside believe in self-development, improvement, and better performance. Check out some other highly recommended programs that will help you through the entire process.
Related Articles:
How to Find Inner Peace, 15 Simple Things You MUST Start Doing Today
Failure is Great, 14 Reasons Why you need to fail before you succeed
Dealing with Insecurity, Check out these 12 simple tips for getting over Insecurities in Relationships and Life in General
182 Simple Motivational Workout Quotes that will surely keep you focused
Do you want to be TIKTOK FAMOUS in 90 Days? (Check out these 9 proven ways)
How to Accept And Embrace Change in difficult Situations (15 helpful tips)
Do you want to Retire Early? You Need To Know These Things Before You Make That Decision
Why You must fully adopt Online Homeschooling Programs, 15 Ultimate Reasons (COVID is not the only reason)
Apply Now -10 Reasons You To Start Applying For Scholarships
Top 15 Learning Strategies To Understand Faster And Memorize Better
175 Ultimate Motivating short quotes to inspire you for greatness
15 Weight Loss Tips you need to know, it can only get better from here
You need these106 Monday motivation quotes to get the best out of the week
Top Pros And Cons of Social Media Platforms, How to use it to your advantage
Top 167 Positive Energy and Positive Vibes Quotes, you need this.
7 Exciting Reasons Why You Should Never Give Up On Your Dreams
Top 132 Family Love Quotes that are Exciting and Inspirational
8 Things That Are Just Not Worth Your Time, Let's Take Care Of These Things Quickly
6 Simple Ways To Attracting Amazing People Into Your Life
135 Inspirational Leadership Quotes, You Need This If You Want To Become A Great Leader
88 Most Inspiring and Love Quotes for Christmas
Want to Live a Happy Life? Here are 13 Things to Focus On
85 Inspiring Love Relationship Quotes, Let's build a greater bond
Ultimate Positive Mindset: Here are 15 ways to achieve it
22 Exciting Healthy Eating Lifestyle tips to keep you on track
Positivity and Negativity: 11 Reasons to quickly Avoid Negative People
Effective Skill Development,15 Ultimate ways to achieve it
Effective Study Strategy Techniques, 15 keys you need to activate
Team Motivation Strategies,10 Ultimate Tips To Keep Your Team Motivated
15 Ultimate Good Habits for Successful and Happy Life
These 9 Highly Effective Study Habits are Needed for a Successful Life
16 Ways to Stop Procrastinating, this is the ONLY way out
Life Improvement: 15 Small and easy ways to improve your life in 90 days
How to study smarter and not harder:14 Ultimate study strategy tips
Tracking Progress: You need to adopt all 12 Simple Ways to Track Progress Towards Your Goals
Anxiety (All you need to know): Managing and controlling Anxiety
Long Term Goals: You need these 10 proven ways to succeed
Motivation: 7 easy and applicable ways to stay motivated
Better Sleep: Sleep like a baby with these12 proven tips
Depression: All you need to know and getting out successfully
The needed and simple Time Management Skills for College Students
Vegan vs Vegetarian: Which is better? Everything you need to know
The FEMINISM MOVEMENT: All you need to know
7 Facts About The Law Of Attraction And 7 Practical Ways To Make It Work For You