1. The real enemies of freedom are those who want people to think and act like them.
2. Unless freedom is used, it dies.
3. Until you understand the responsibility that comes with your freedom, you are not a hero.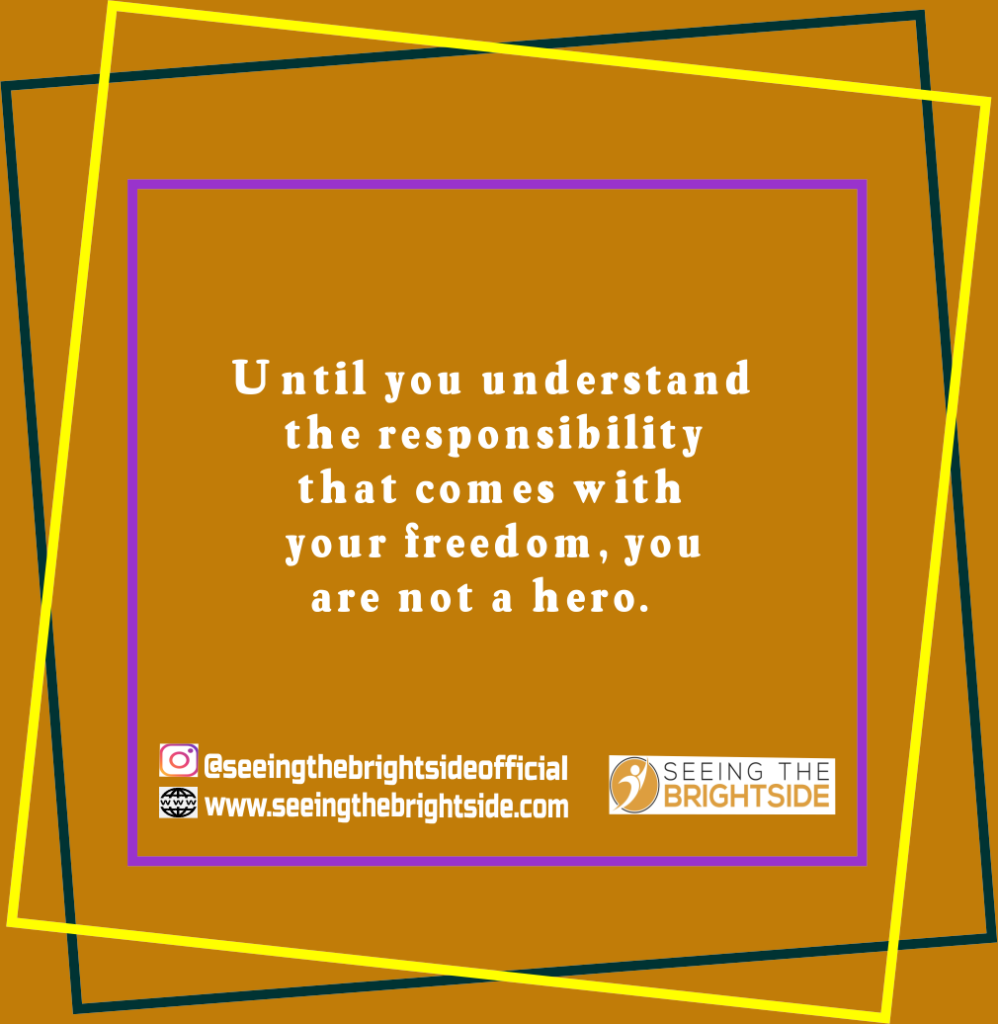 4. There is no little freedom, you are either free or not free.
5. Cherish early successes because they are a great generator of freedom.

6. Finding your path to ecstasy is the route to true freedom.
7. Except you want to do right, you have no right to do as you please.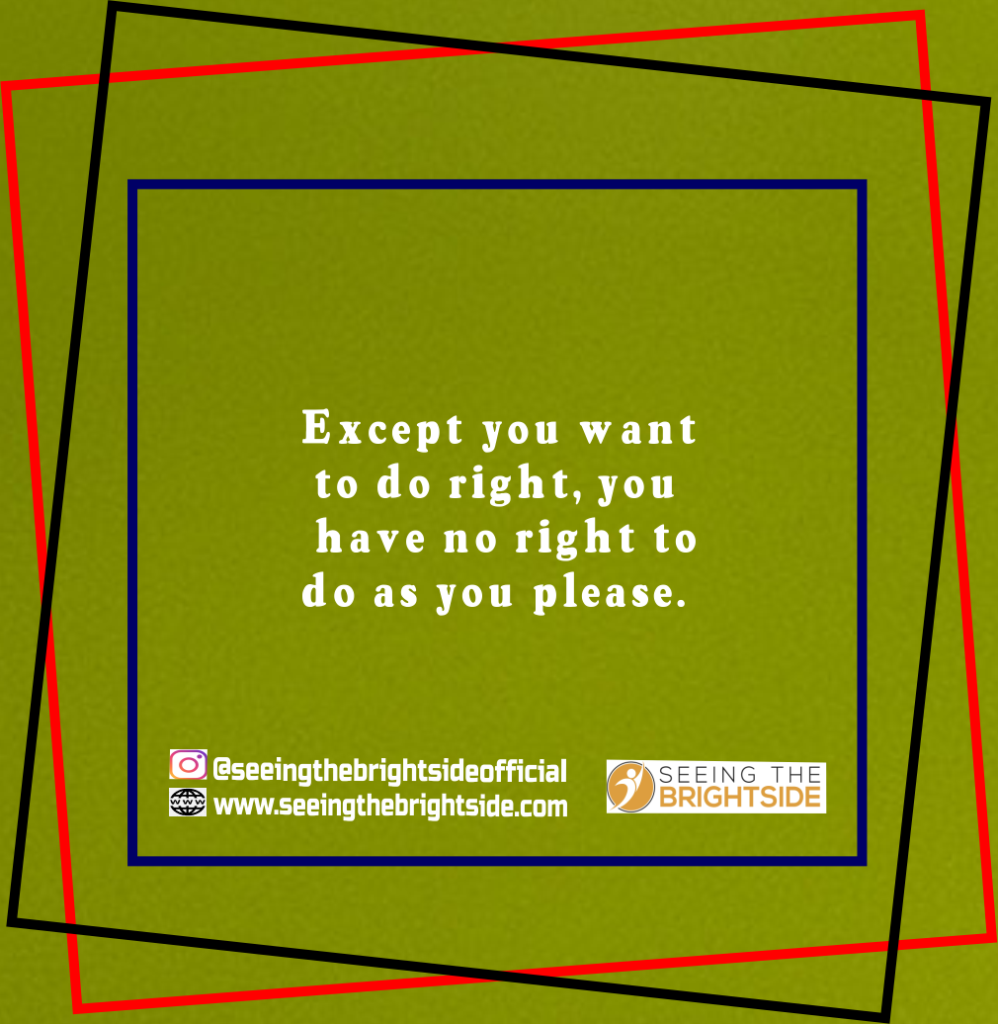 8. The freedom to decide is the most precious gift to have.
9. We only have as much freedom as our intelligence and courage permit.
10. A healthy mind and body create the freedom that helps us enjoy life.

11. Be ready to die for your freedom.
12. Freedom is a space we have to occupy every day.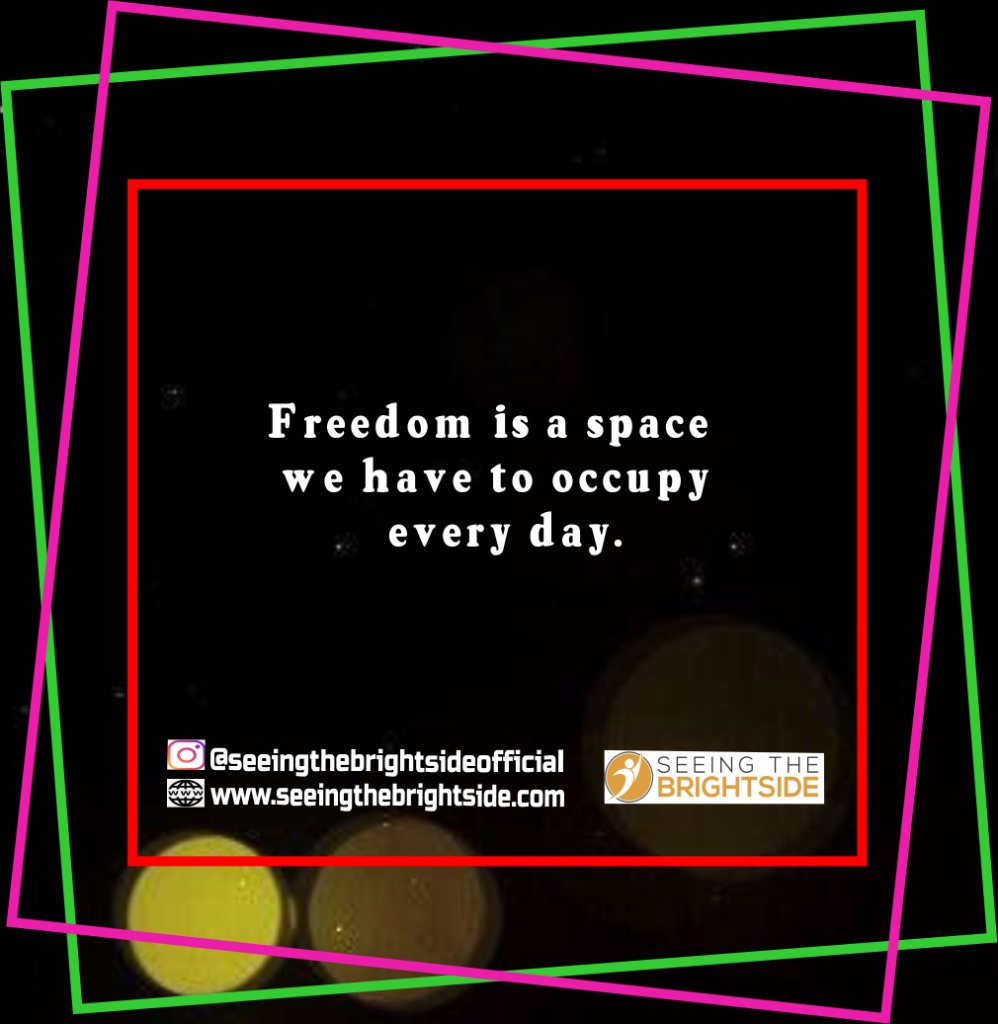 13. Freedom is our natural power of doing things we love as long as the law doesn't prevent us.
14. The more freedom we give away, the more we will have.
15. Freedom is the right to our dignity.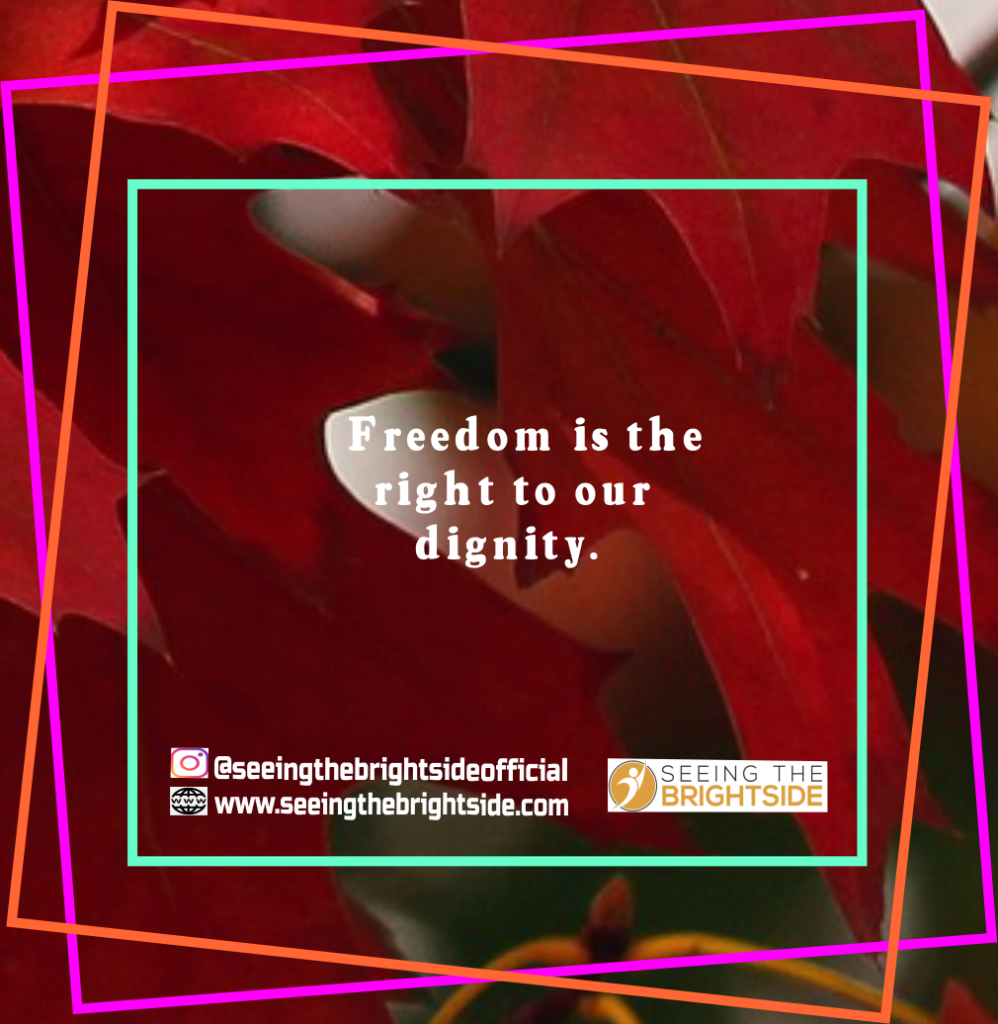 16. Freedom is nothing else than the right to live as we wish.
17. We can only protect our freedom by protecting someone else's freedom.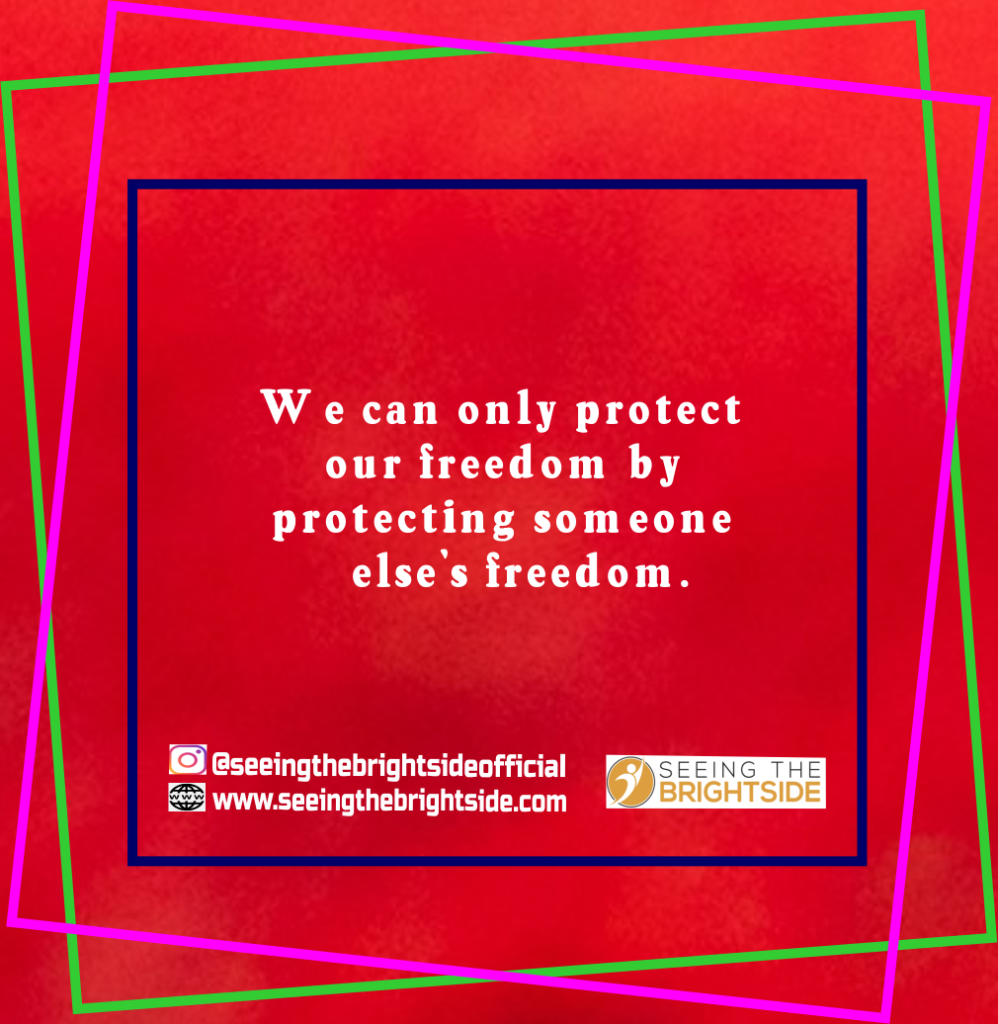 18. Freedom granted before its maturation could be detrimental.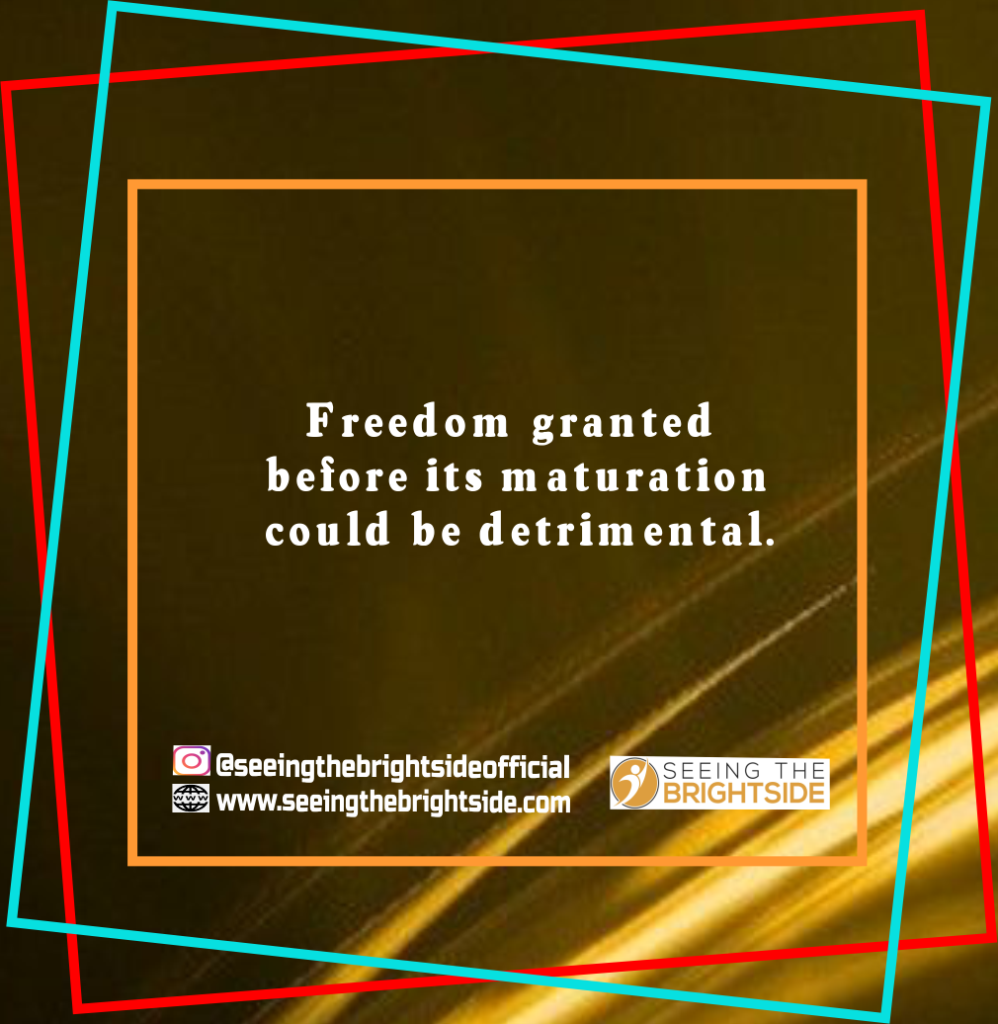 19. Freedom holds so much value because of its pricelessness.
20. Freedom is blind until it becomes a conscious necessity.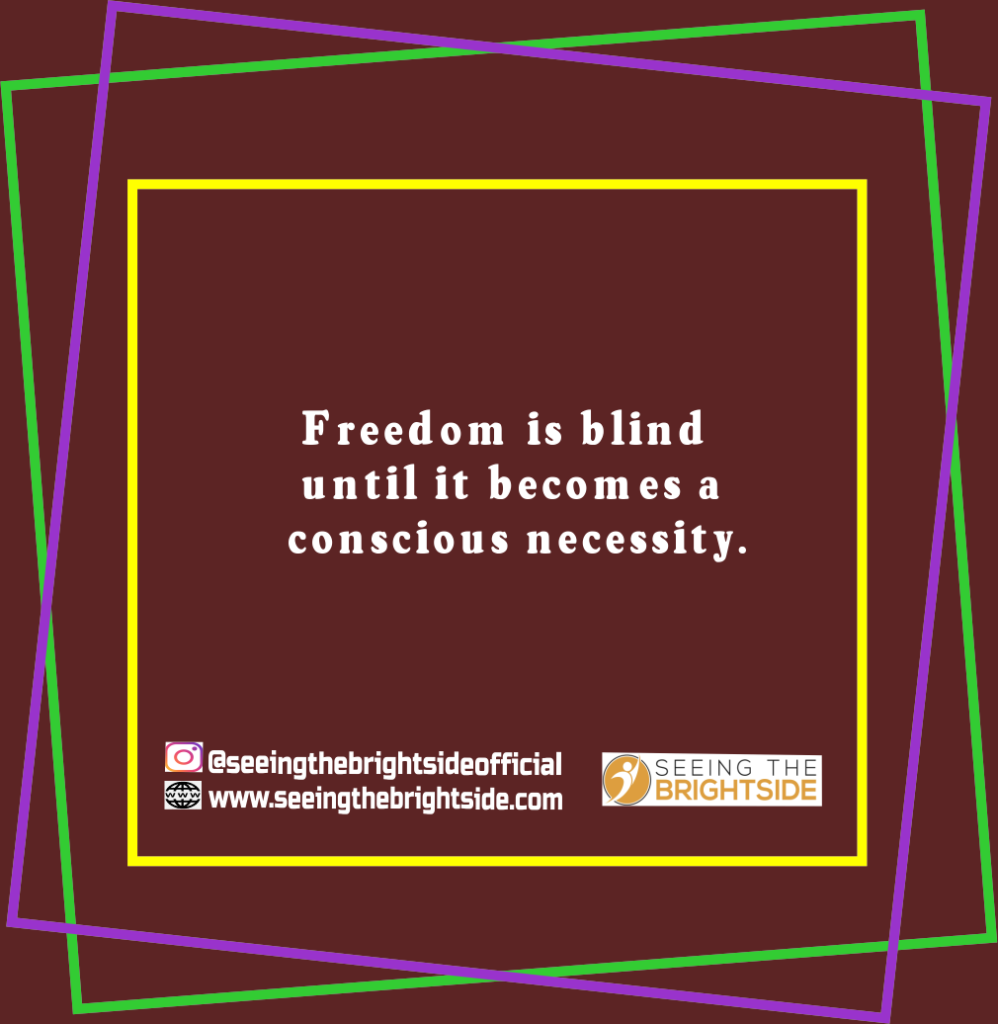 21. Humanity craves freedom at its core.
22. Freedom is living your life free from obstruction.
23. Freedom allows you to be what you never thought you could be.
24. Freedom of expression goes with the freedom to offend.
25. Freedom is an opportunity to be better.

26. Freedom recognizes necessity.
27. Except you support freedom, you cannot reap its blessing.
28. It is complete hopelessness to falsely believe we are free, when in reality we are not.
29. Fear is the imprisonment of freedom.
30. Freedom is the boldness to act and be who you've always desired.

31. The power to choose inner peace is the richest freedom we can have.
32. We have the freedom to go wrong in our way, but not in someone else's.
33. Never sacrifice your freedom for fear of truth.
34. Be free as you can, even when there is no freedom yet.
35. The quality of our lives is determined by the level of freedom we have.

36. True freedom lies in authenticity and fearlessness.
37. See rejections as newfound freedom, and it won't hurt much.
38. Freedom is the product of flexible thought.
39. There's always a great price to pay for freedom but it is worth it.
40. Only when we are free to choose can we become responsible for our actions.

41. Commitment brings the most meaningful freedom in our lives.
42. It's difficult to preserve freedom if you have been in bondage for too long.
43. Freedom is delicate and must be handled with utmost care.
44. Freedom is worthless if you don't know what to do with it.
45. A life without freedom is empty.

46. The beautiful thing about freedom is our ability to forget and move on.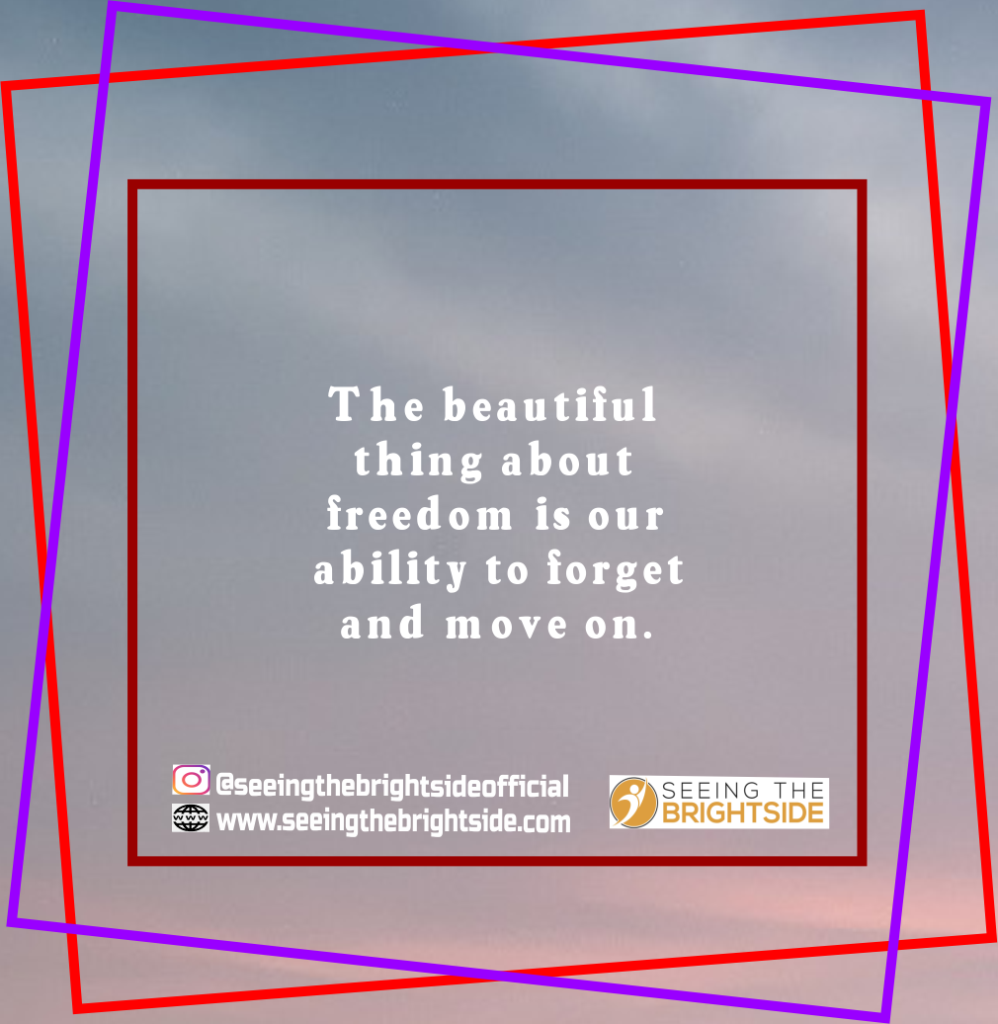 47. Until you overcome your fears, you cannot be truly free.
48. You become free when you understand that no external force can rule you inwardly.
49. Freedom makes us whole on our own, without needing someone else to complete us.
50. It's hard to win back freedom once it has been lost.

51. Finding freedom is the first step to living free.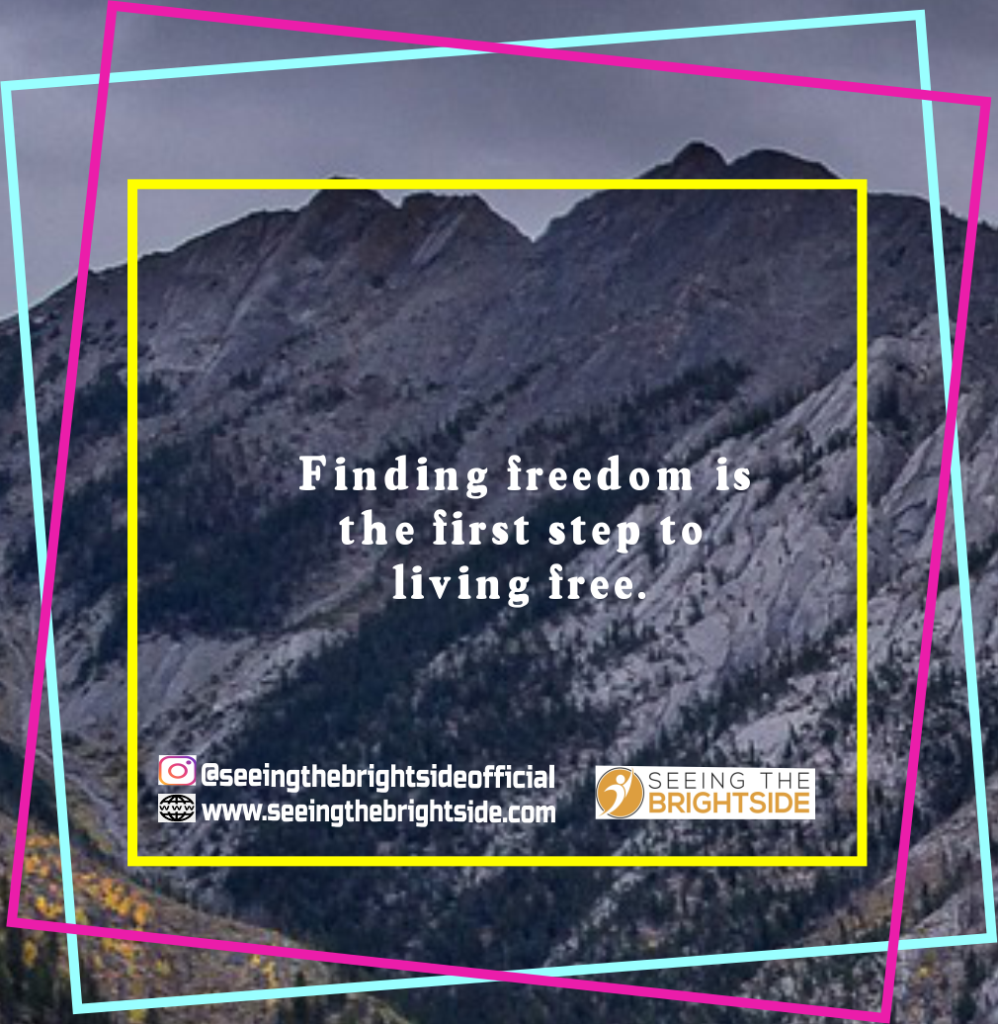 52. There is no absolute freedom except you take absolute responsibility for your life.
53. Except you snap out of the illusion of freedom, you can never have it.
54. Except freedom is your goal, you will repeat the same mistakes.
55. With freedom, we have the choice of how we spend our time.
56. Freedom is the most civilized experience anyone can have.
57. The feeling of full freedom is the most liberating ever to have.
58. Never trade your freedom for safety.
59. Until you realize that no one can give you freedom, you've not stepped into self-realization.
60. Let your love for freedom help you do what you love.

61. We are not free until we do not need to impress everyone.
62. We can't thrive in the future or enjoy the present if we don't find freedom from our past.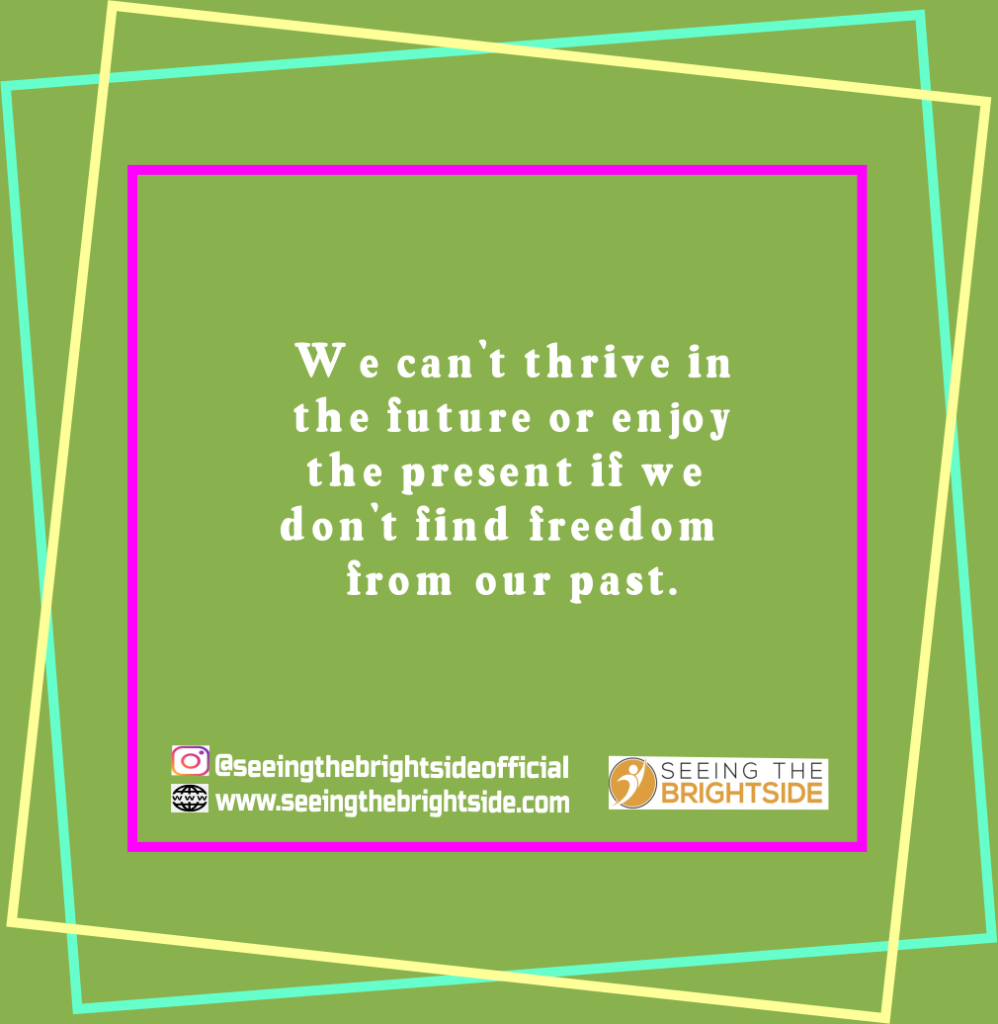 63. You have to value your freedom enough to defend it.
64. Because freedom is limitless, it has the potential to destroy.
65. Freedom means accountability to yourself and mastery of yourself.
66. Responsibility is the mark of progress, not freedom.
67. Your freedom is dependent on how much your society has evolved.
68. Cherish the gift of freedom with all of your heart.
69. Your choice of freedom becomes the freedom you get.
70. Except well managed, too much freedom could be chaotic, and too little of it could mean captivity.

71. Having freedom is not enough, knowing how to practice it matters too.
72. It's your responsibility to secure your freedom and happiness.
73. We have to be indifferent to the future and the past to be truly free.
74. Freedom is an expensive jewel, yet a cheap parchment.
75. Abuse of freedom is the greatest form of mental confinement.
76. Face the challenges of today for the freedom of tomorrow.
77. Freedom with restriction is classified as bondage.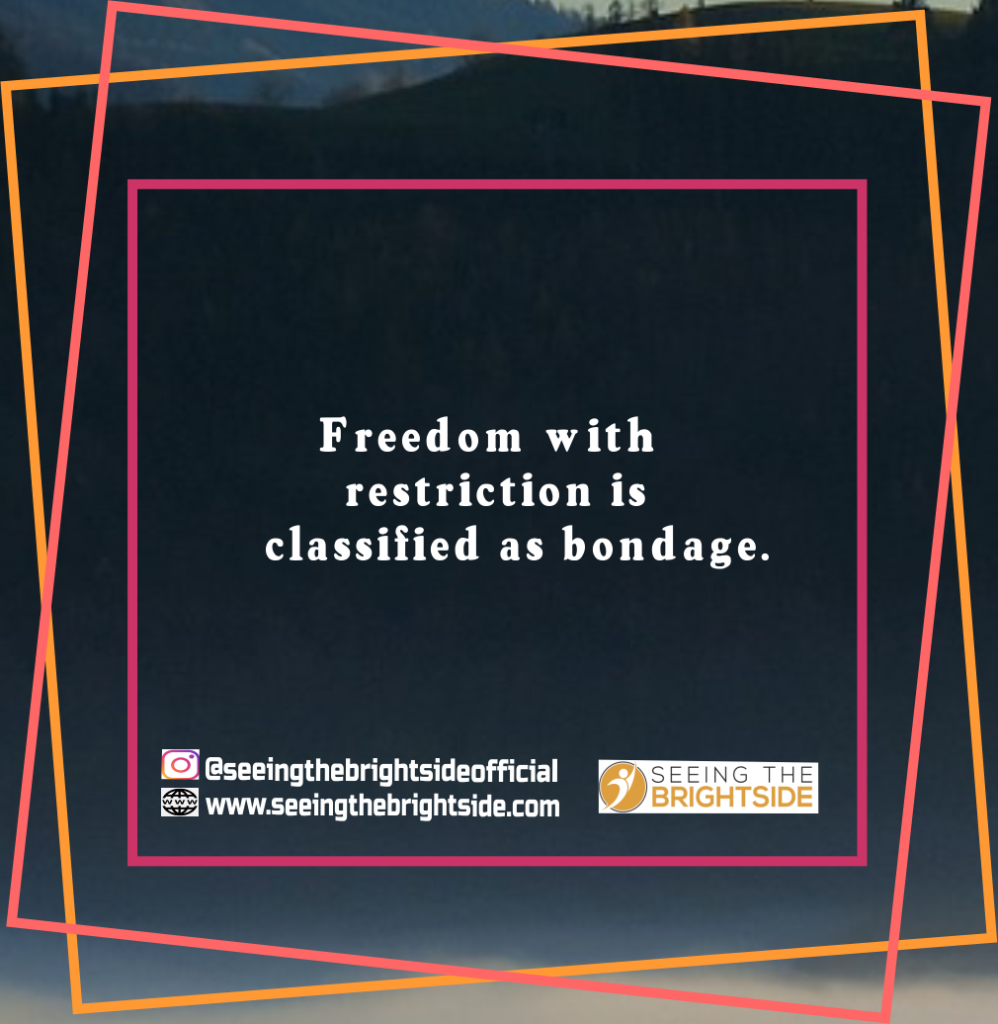 78. Freedom is not just a state but a feeling.
79. The value of freedom can best be described by those who only dream of having it.
80. We all have the freedom to fail, so we can learn and not repeat the same.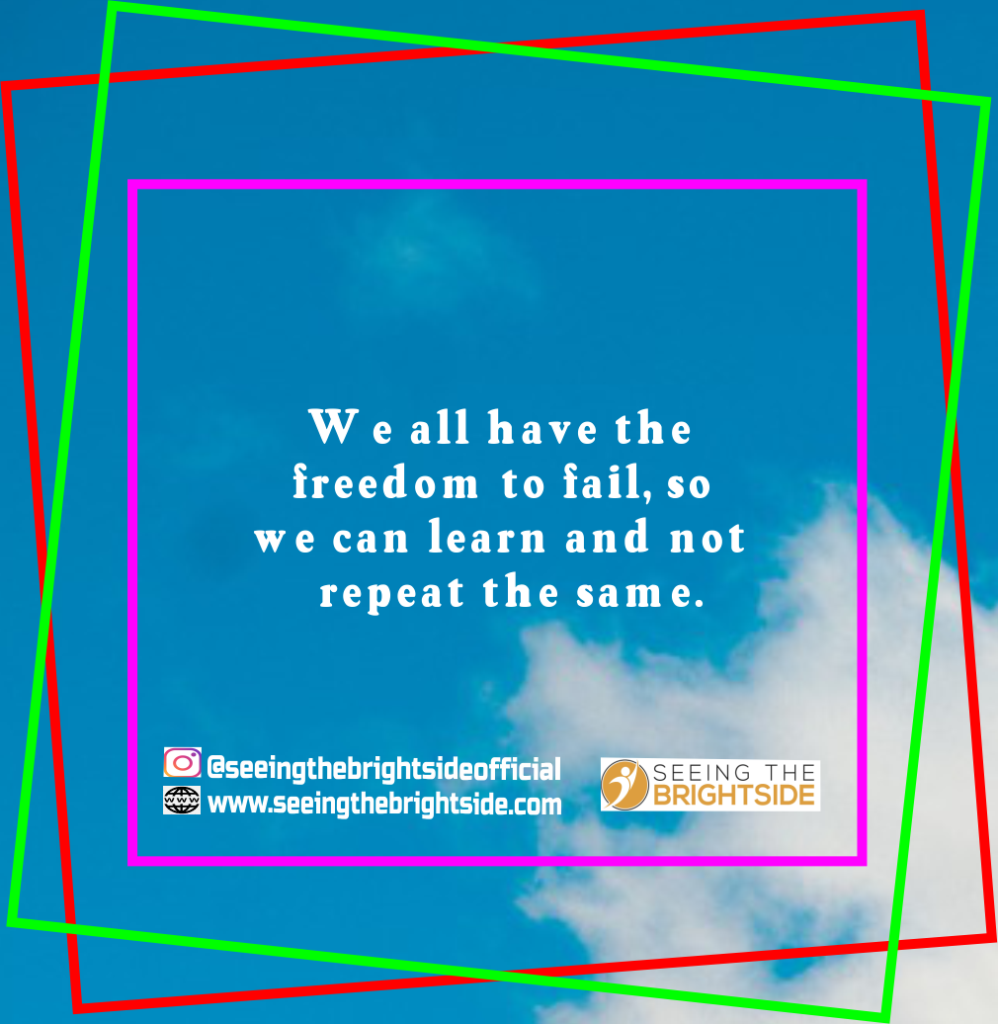 81. Freedom doesn't come naturally, we have to fight for it.
82. Celebrating freedom without freedom is the worst type of deceit.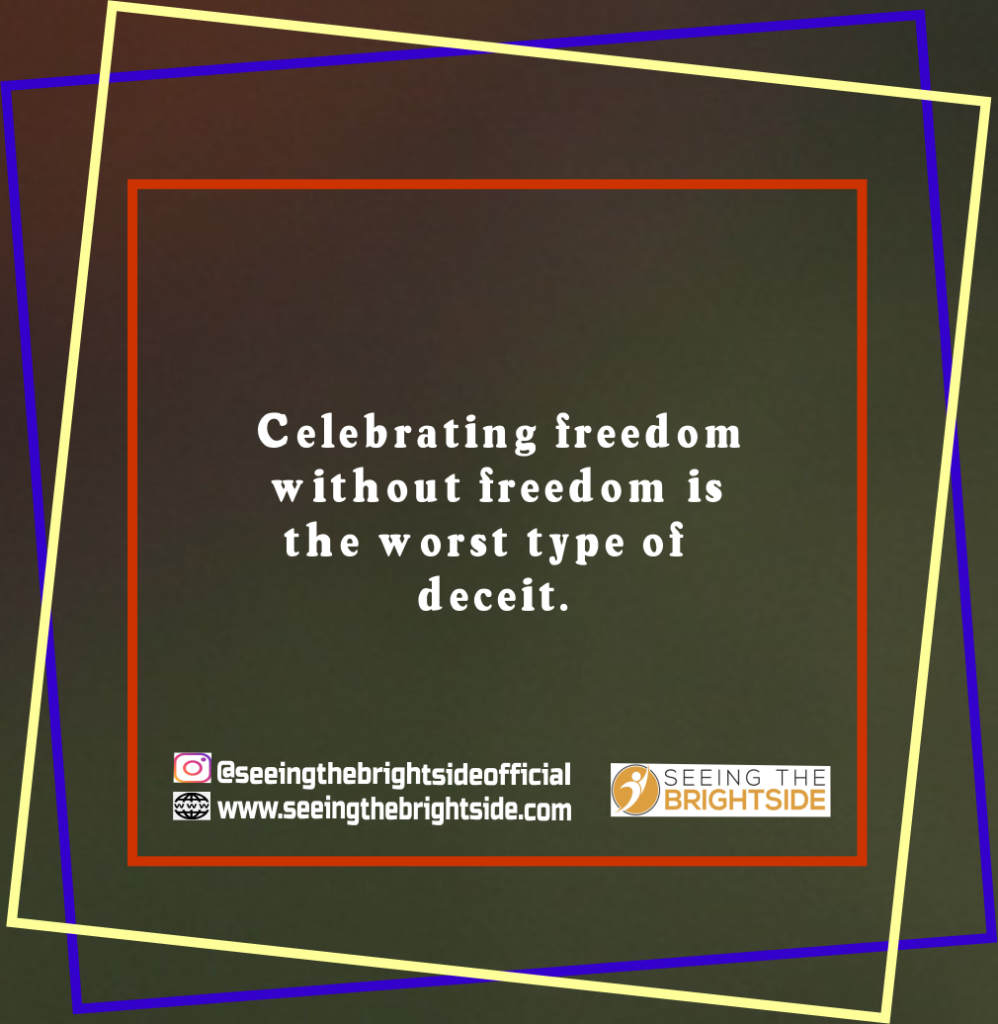 83. Valuing your freedom above everything else keeps you at the top of your game.
84. Freedom depends on collective effort rather than personal will.
85. In true love, we attain freedom.
86. Appreciating the freedom of others is how we learn to value ours.
87. Freedom gives no liberty to stupidity but a prudent use.
88. Freedom without a moral compass can result in detrimental habits.
89. Freedom requires a natural flow of emotions.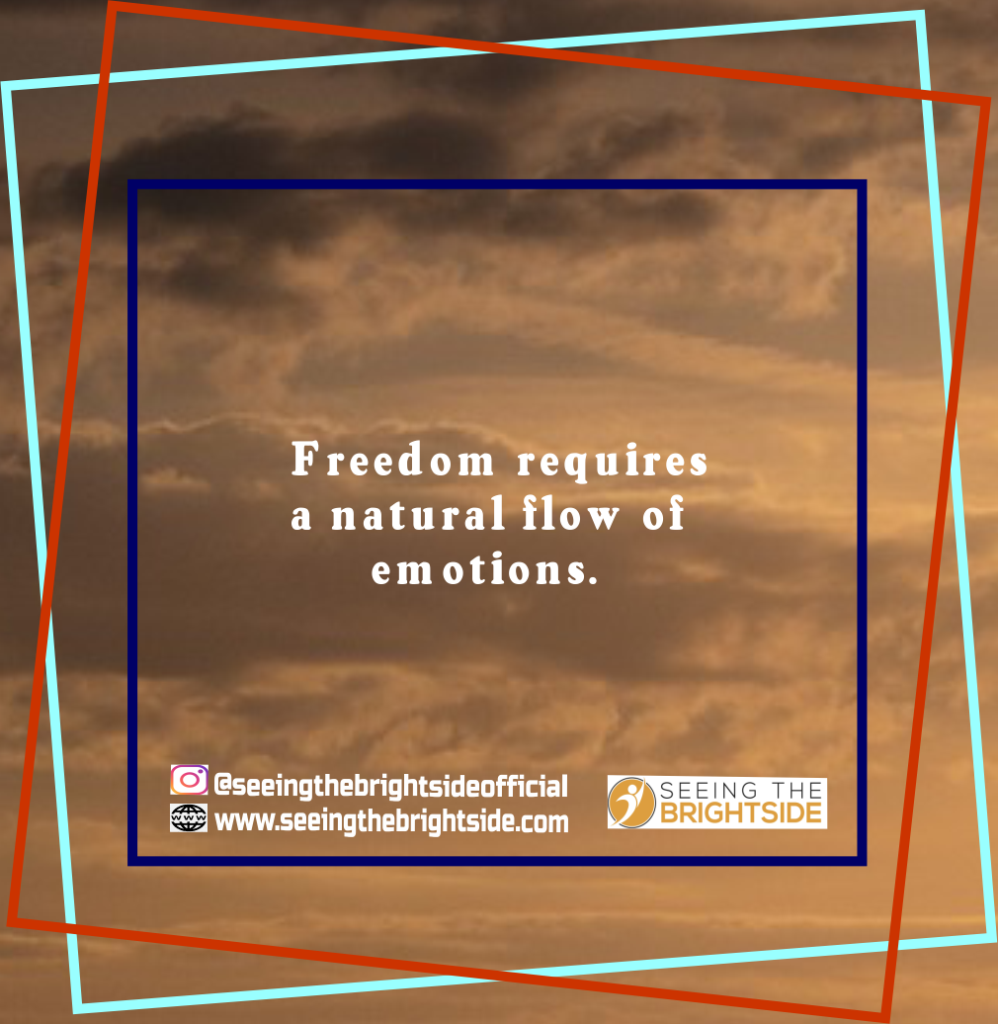 90. Our freedom is hinged on our beliefs.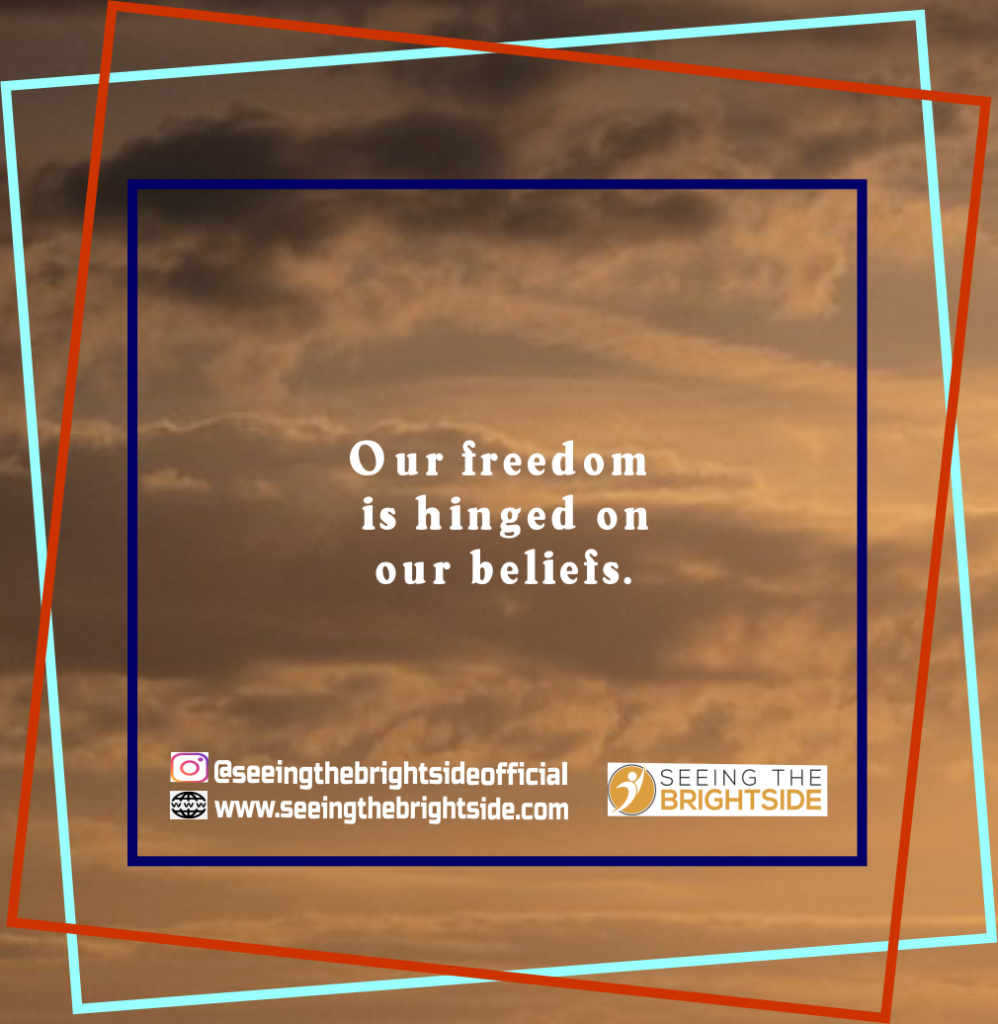 91. Freedom without forbearance is not complete.
92. Irresponsible freedom is a complete disaster.
93. Without rules, freedom is left unguided and prone to abuse.
94. Cruel freedom serves you more rights but takes away your most choices.
95. The freedom to get up and leave in a toxic environment is the most valuable.
96. To be truly free, we need to free ourselves from attachment to delusions that stops our intentions.
97. Freedom is a chore, not a reward.
98. True freedom lies in detaching yourself from pleasing everybody.
99. Except freedom penetrates your consciousness, it is a mere desire.
100. If you don't discern slavery masquerading as freedom, you will fall prey to its plot.

101. Until we cease to exist, we are not free from the demands of life.
102. Until you are free from pleasing everyone, you are not free.
103. Don't just seek freedom, embrace the responsibilities that come with it.
104. We must love so much that the other person feels the freedom in their soul.
105. If your freedom to believe is taken away, your humanity will suffer.
106. Living your life your way with your rules is the best experience of freedom you can ask for.
107. Be prepared for battles if freedom is your goal.
108. Freedom is the right to be different without the fear of repression.
109. Fight for your freedom because no one will give it to you.
110. The lack of freedom is a constraint, even with riches.

111. If you don't cherish your freedom, you will exchange it for something far less.
112. Freedom is the force that binds us all more than the willingness to live.
113. Freedom is the positive vibrations of joy and happiness.
114. Once you've tasted freedom, there is no going back.
115. Never mistake independence for freedom.
116. Your willingness to suffer for freedom is a remarkable thing to do.
117. Freedom is the purest intent of our existence.
118. Freedom can easily be taken away if taken for granted.
119. Taking responsibilities guarantees freedom, giving it away keeps you in bondage.
120. The need to coexist makes freedom limited.

121. Believe you have the freedom to make your dreams come true or it will only remain a dream.
122. Creativity cannot thrive in the absence of freedom.
123. Living life on your terms is the truest definition of freedom.
124. Letting go of bondage is the most liberating thing to do.
125. Never mistake insolence for freedom.
126. Freedom keeps you soaring, but doubt destroys your ability to fly.
127. The opposite of freedom is staying in the bondage which keeps you from living the life you deserve.
128. Freedom is doing what you should, not what you want.
129. We all have the freedom to change our destiny.
130. Freedom is not a lack of constraint or choice but what we are meant to be.

131. Our freedom is an opportunity to do what is right.
132. Only after we conquer our fear do we find freedom.
133. No one gets free by worrying about offending others.
134. Freedom is the ability to set ourselves free.
135. Freedom belongs to those who dare to defend it.
136. Never confuse money making with freedom.
137. Freedom is not complete without bravery.
138. There is no freedom of choice if we don't learn how to make choices.
139. Freedom gives us the opportunity to understand the worth of living.
140. Step out and take the risk because you have the freedom to begin again at any moment.

141. Protect your freedom until there is nothing left.
142. You don't walk away from freedom, you walk into it.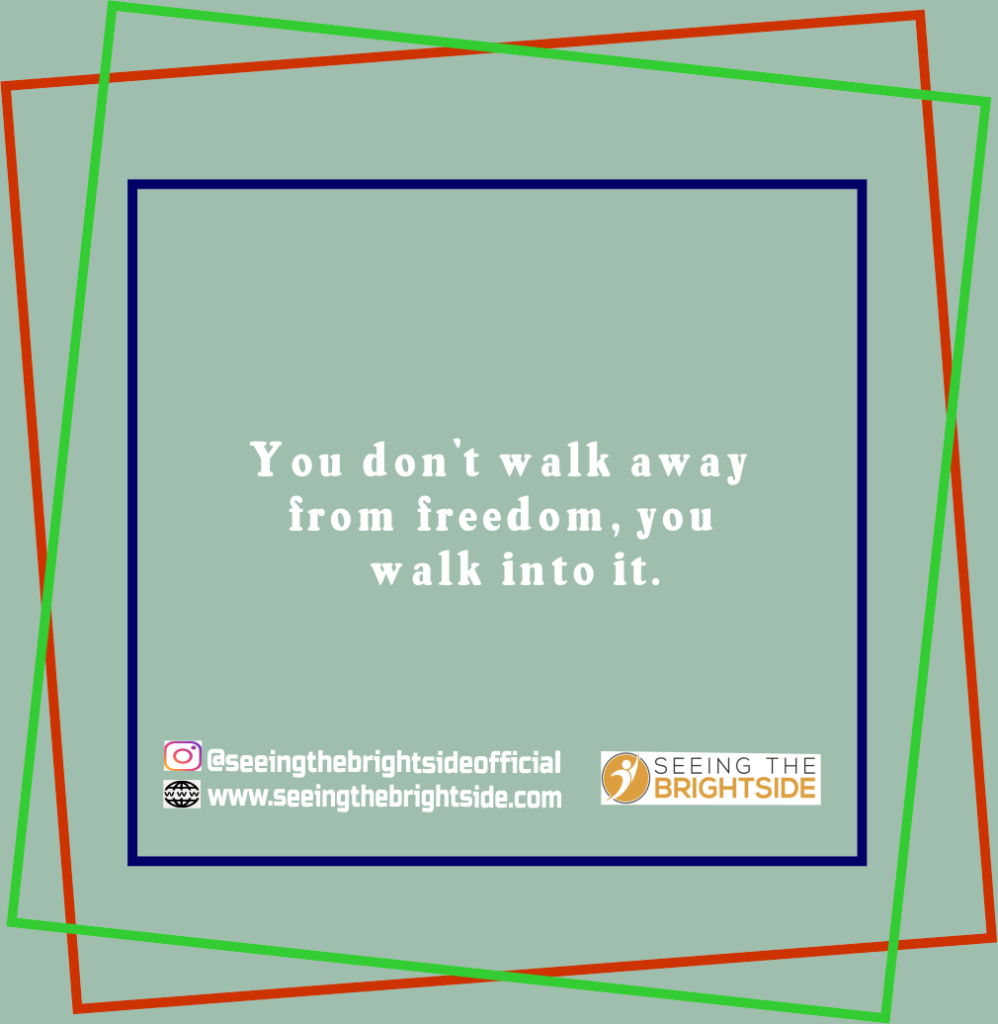 143. Freedom allows us to choose from alternatives.
144. If we do nothing better in freedom, we remain in the confinement we once wished to escape from.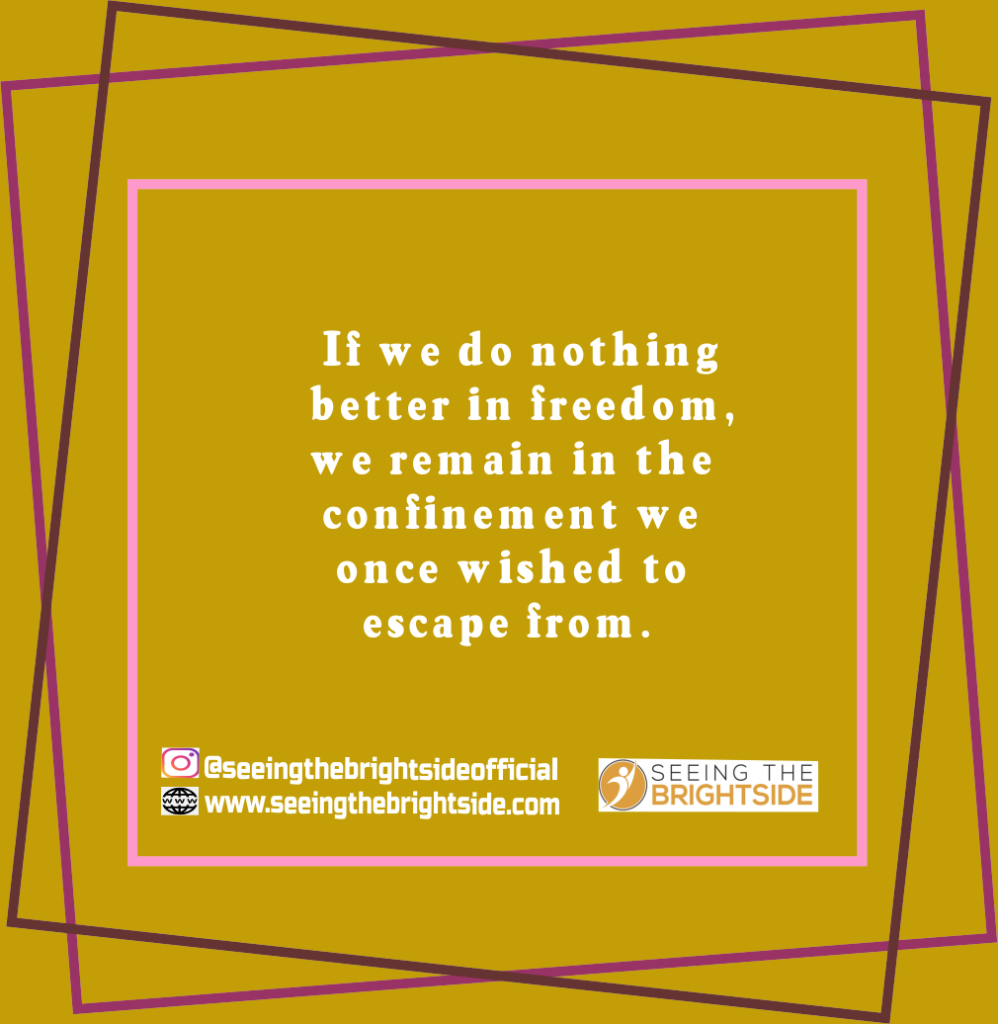 145. Complete freedom follows no rules.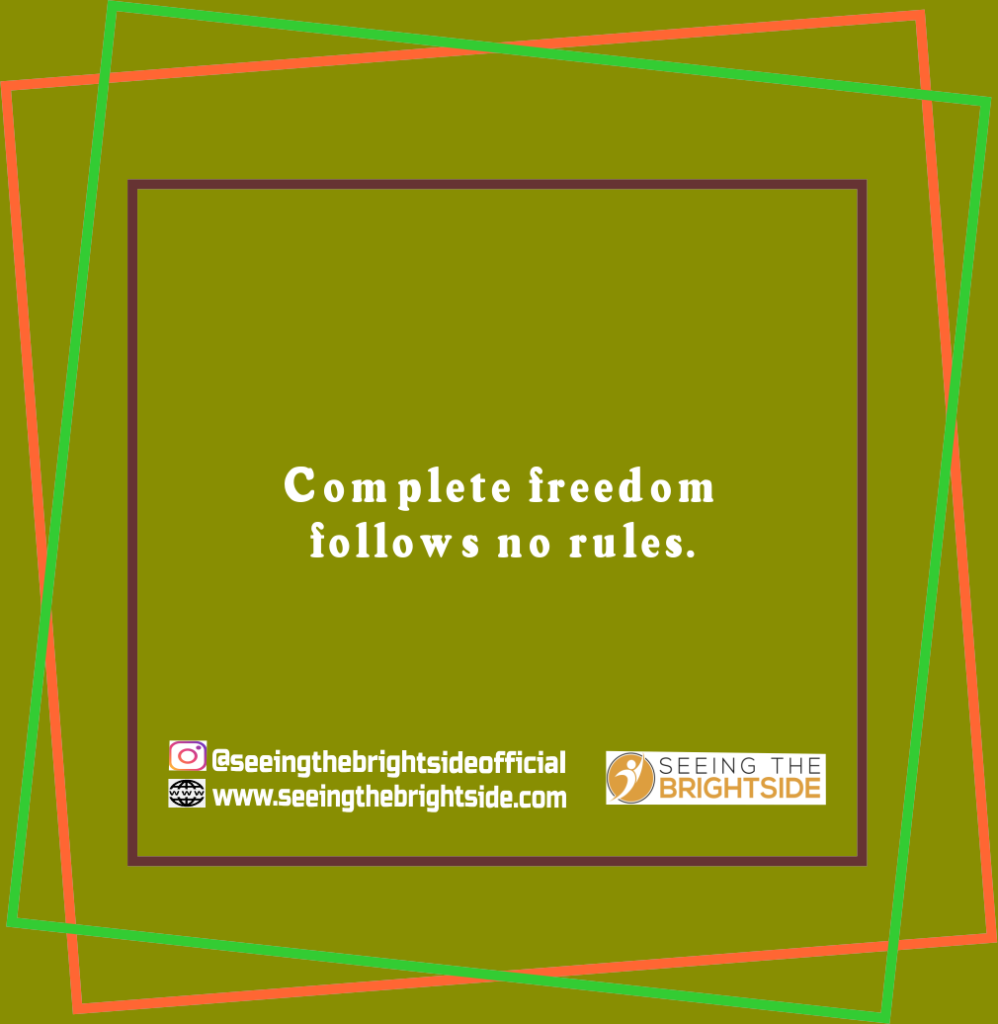 146. Freedom is not just a state but a title you need to defend constantly.
147. Without freedom, every other thing is vanity.
148. The level of peace you are willing to sacrifice will determine the level of your freedom.
149. Freedom begins on the day you wander from mediocrity.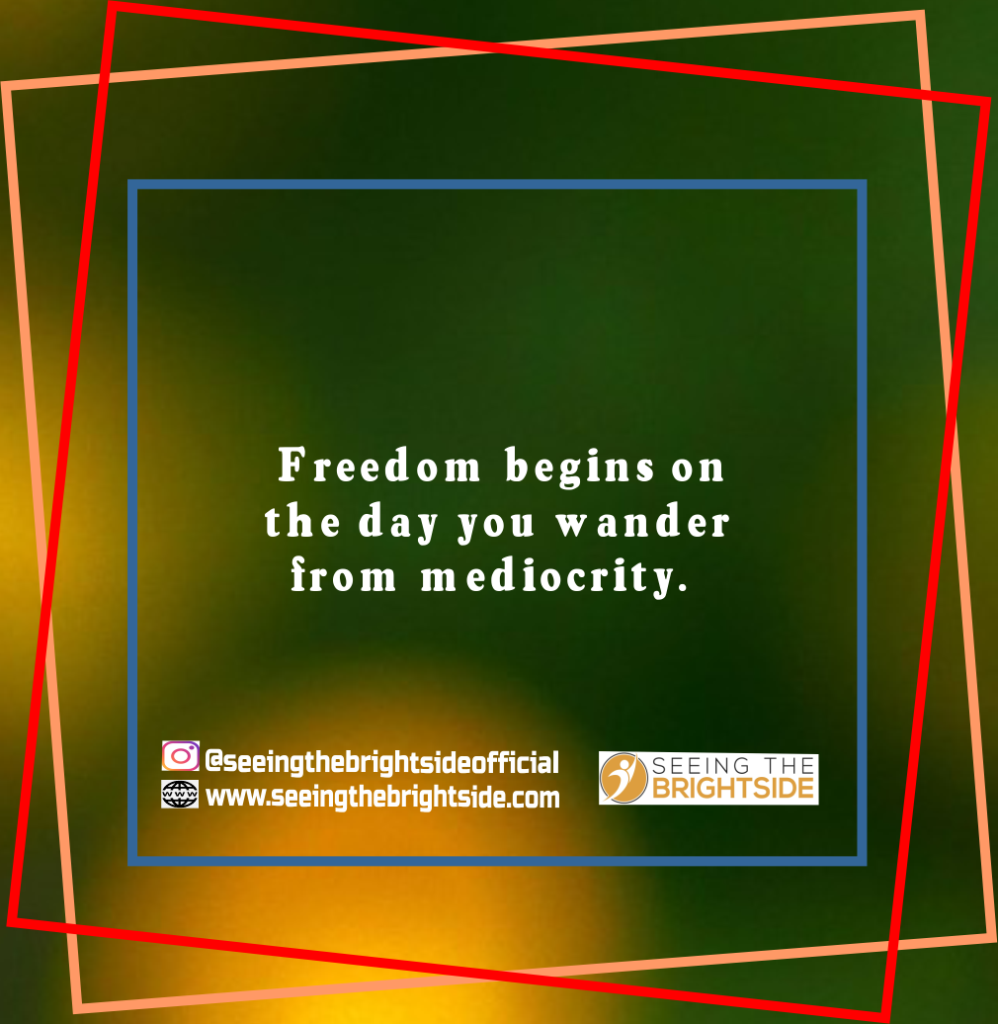 150. Indiscipline can creep in when you have more freedom than you can handle.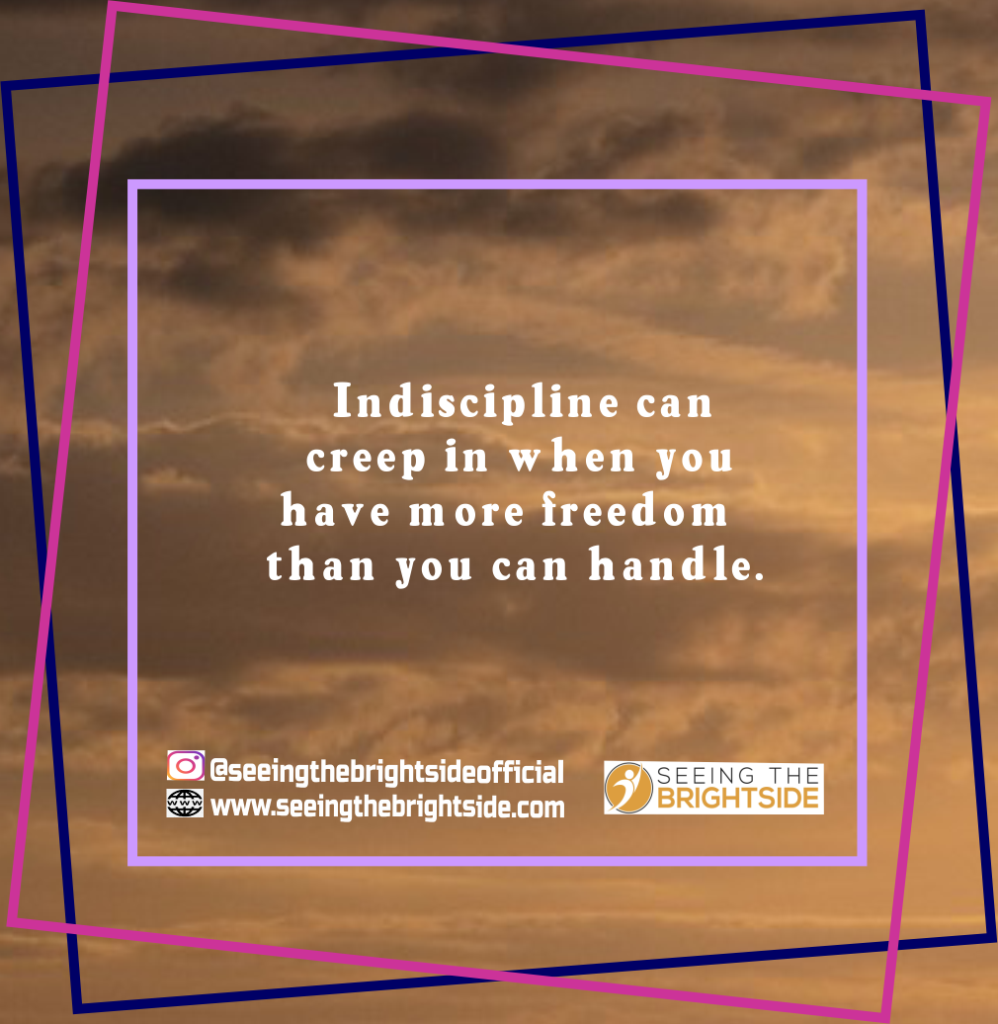 151. Sometimes it hurts to be free, but it's worth the pain.
152. Freedom is a priceless value to possess.
153. Freedom and discipline are inseparable.
154. If you don't start using the freedom in your mind, it won't reflect in your life.
155. Until we awaken to our truth, we are not free.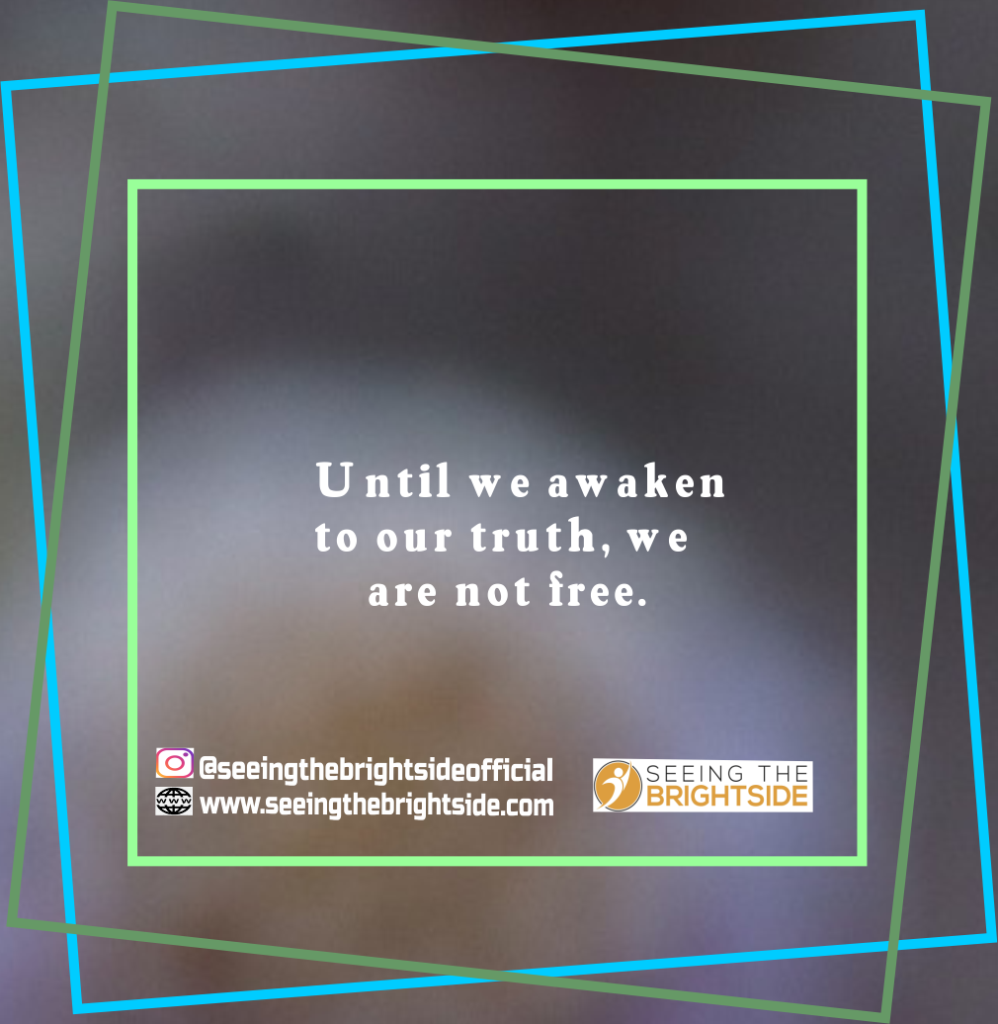 156. The closest thing to freedom is having someone who loves you without trying to control you.
157. Freedom of thought and action are the most important things in life.
158. The freedom to do what you want is where happiness lies.
159. Freedom is a license to exercise our choice in given situations.
160. A suppressed freedom causes an ailment to the heart.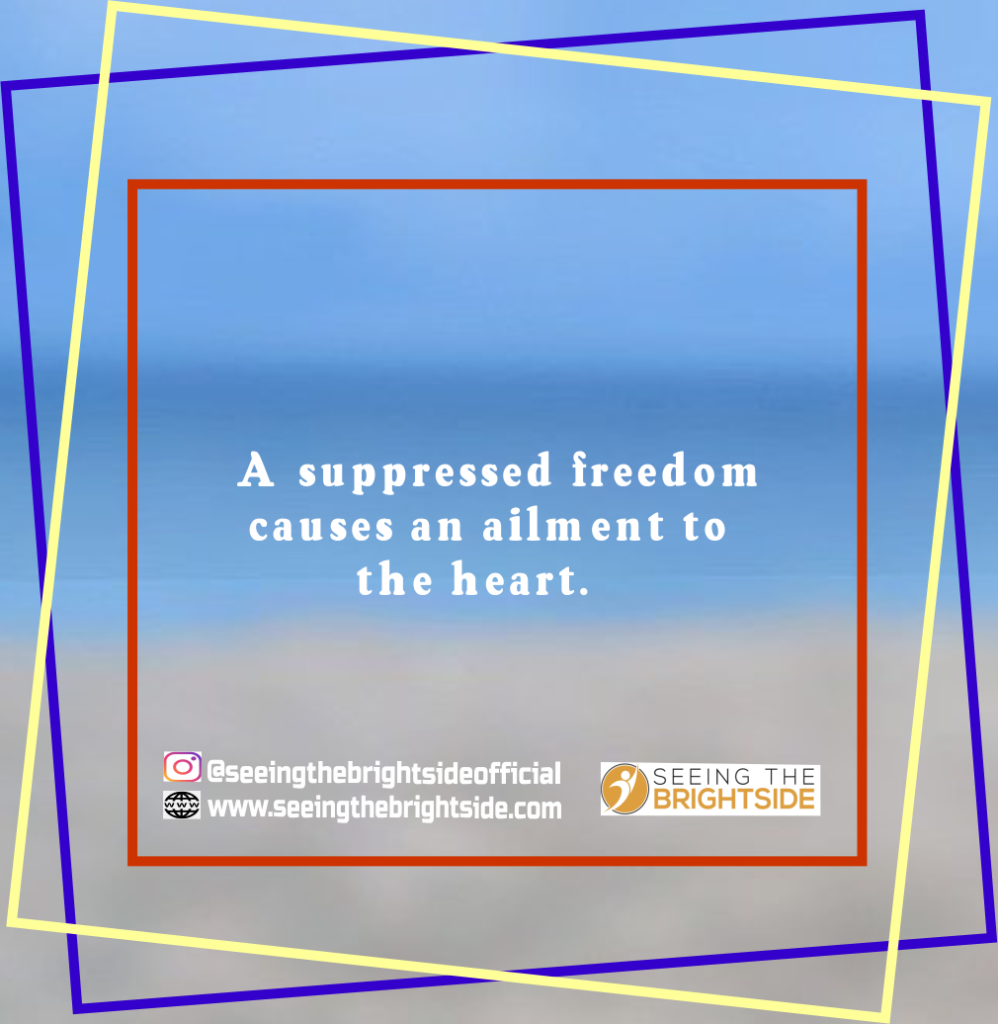 161. Indivisible freedom is freedom indeed.
162. There is no peace without freedom.
163. Our freedom is what we make of it.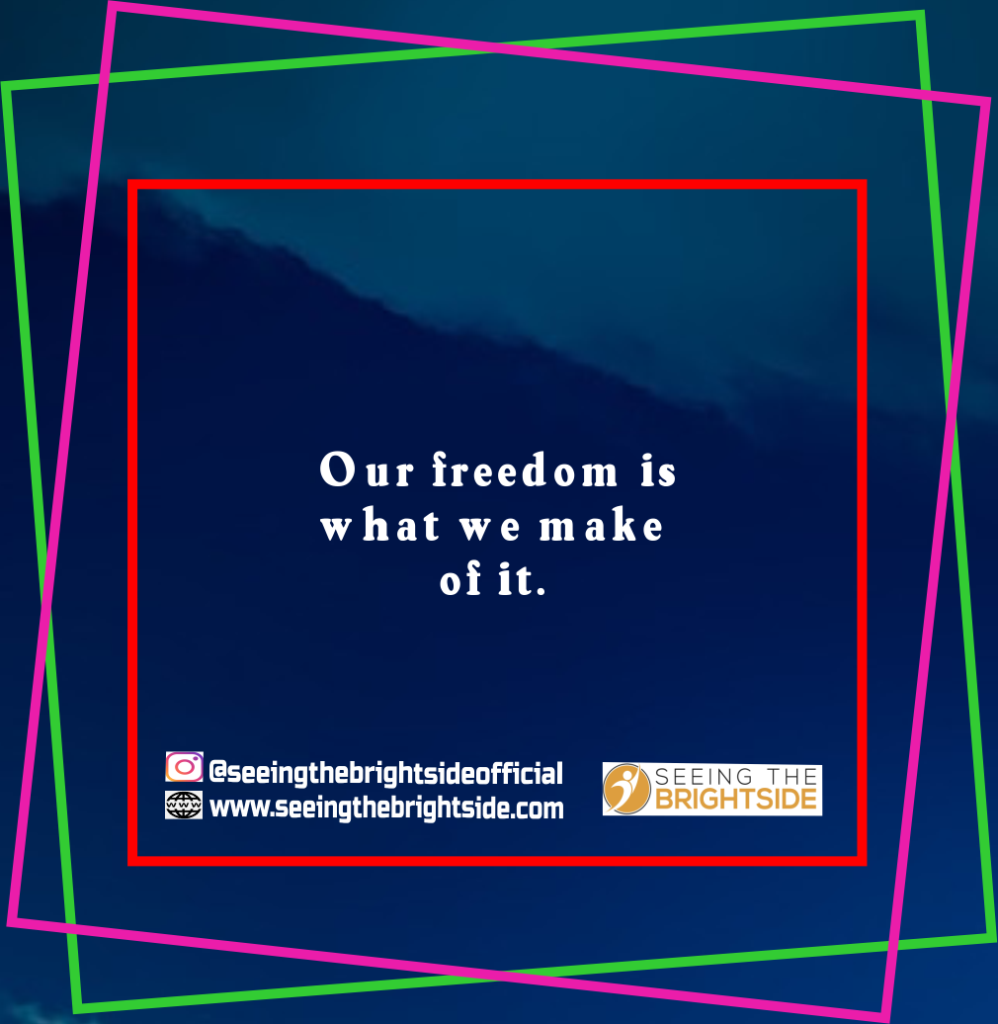 164. Freedom makes us responsible for ourselves.
165. Freedom is the ability to choose and be committed to a worthy goal.

166. Until we examine the choices available to us and the consequences, we cannot have freedom.
167. We all need freedom for the full expression of our personality.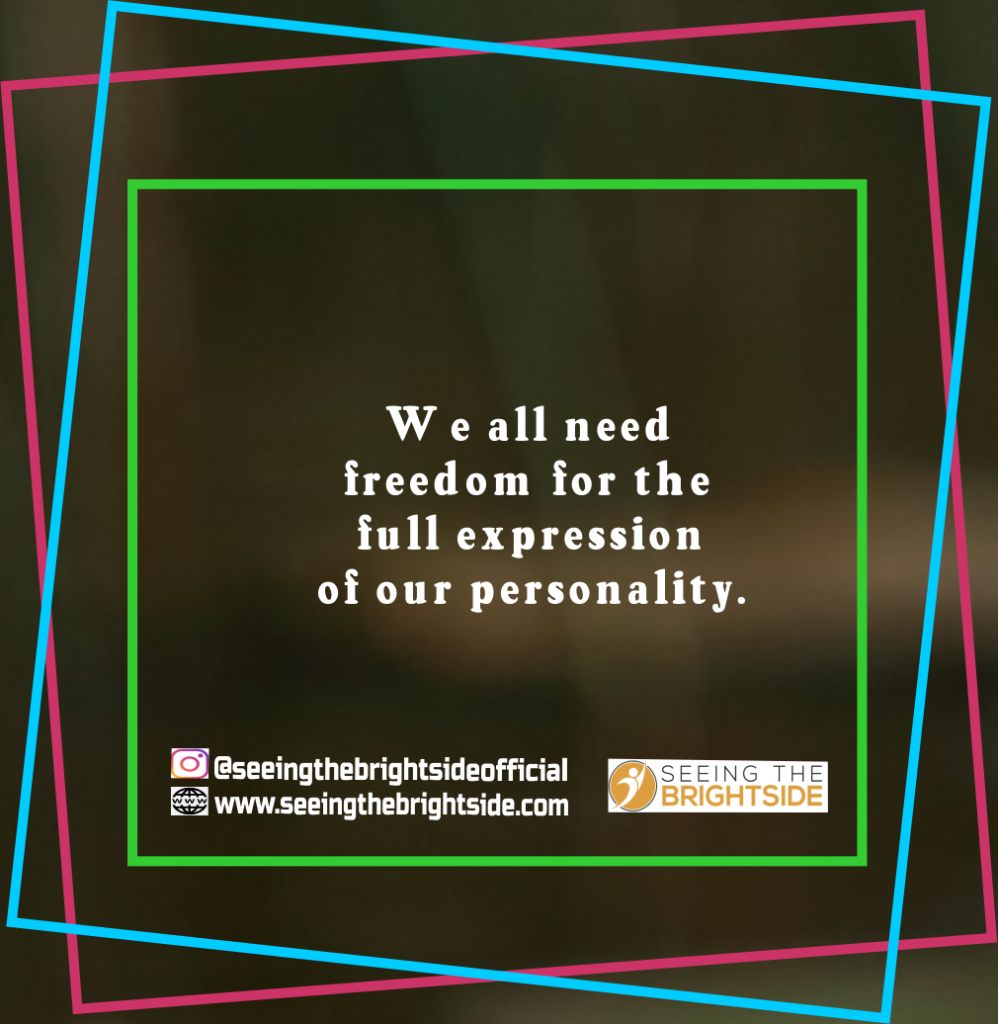 168. Bitterness and hatred are obstacles to freedom.
169. The people who hate you possibly envy your freedom.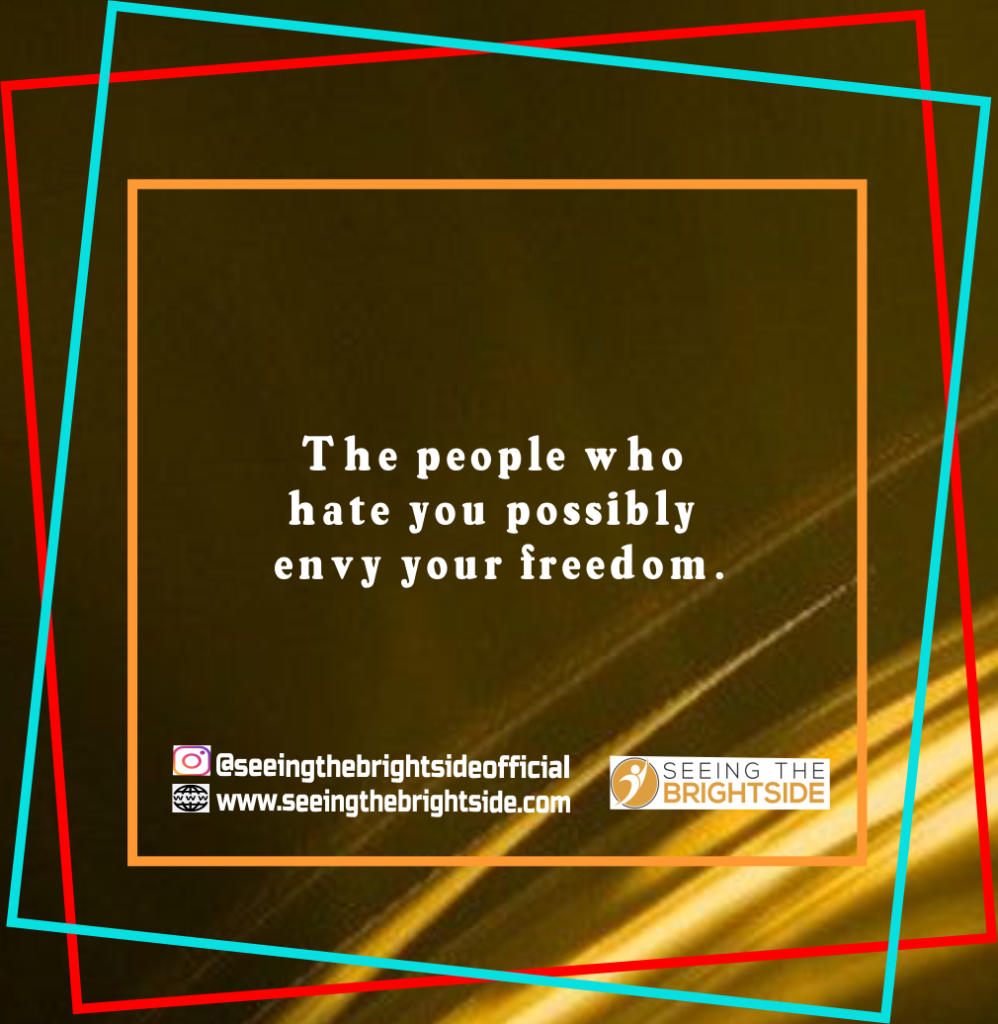 170. Freedom begins when we learn not to take things personally.

171. We can truly be free by disregarding things that are beyond our control.
172. Conformity takes away freedom and hinders growth.
173. Take freedom because no one will give you.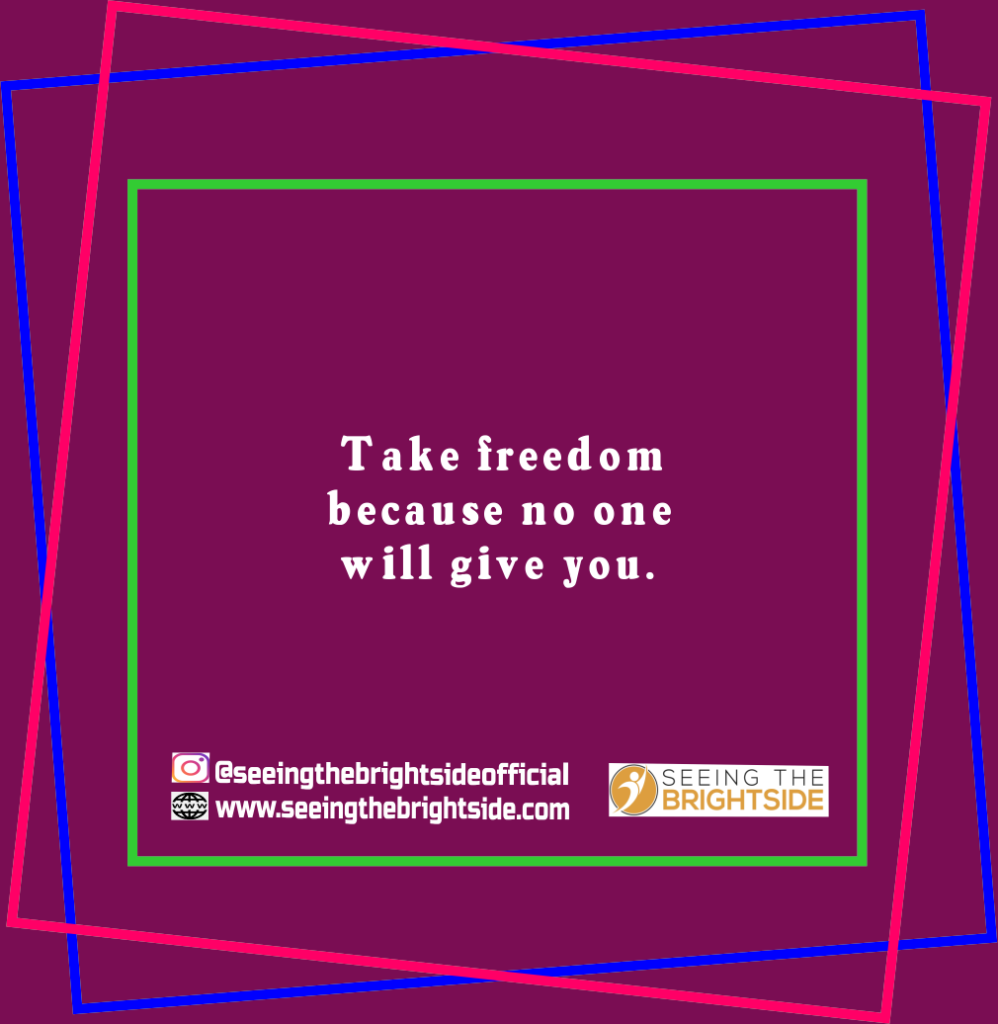 174. A poorly managed freedom can be destructive.
175. True happiness lies in freedom, but courage is the root.
176. You can't separate responsibility from freedom.
177. You can't achieve true freedom if your mind is not freed by discipline.
178. We cannot be free and happy if we keep worrying about what other people think of us.
179. You can't be free until you have nothing to lose.
180. Boldness is the first step to freedom.

181. Our fear of freedom vanishes when we expose ourselves to our deepest fear.
182. Giving up your freedom for temporary safety makes you unworthy of freedom.
183. You need to give up on what weighs you down if you want to be free.
184. The freedom to be what you are, is the most important kind of freedom.
185. The freedom to make mistakes is one of the things that makes freedom valuable.
186. You don't earn freedom by denying others theirs.
187. True Freedom is living in a way that enhances and respects the freedom of others.
188. Freedom is only for the bold.
189. Until you desire to be responsible for yourself, you cannot be truly free.
190. Freedom is a chance to be better.

191. Freedom from fear is what you need to move forward.
192. Don't just acquire freedom, do all you can to preserve it.
193. We all have the freedom to stand for what is right in order to make our life beautiful and meaningful.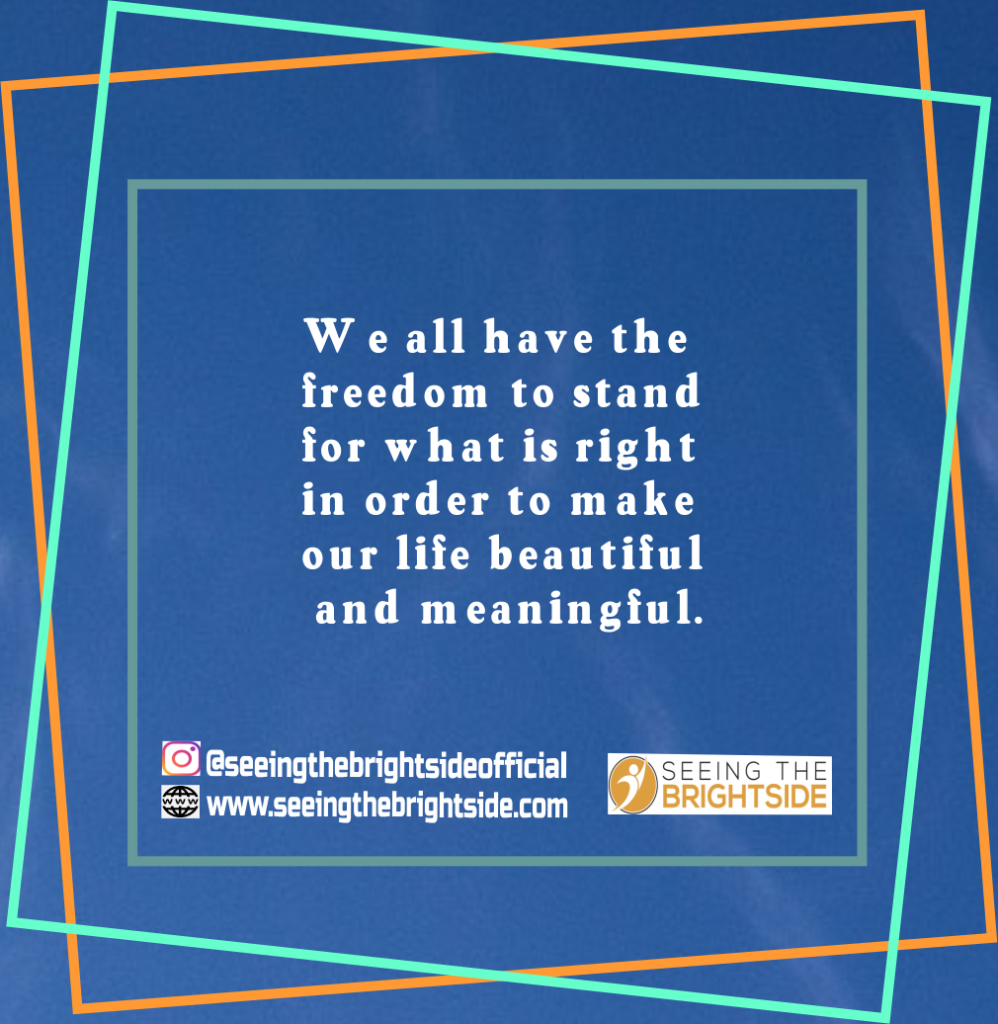 194. You have to take the life and freedom you desire by storm every day.
195. You have to struggle for freedom if you want it constantly.
196. Until we discover who we are, we are never free.
197. The ultimate freedom is the freedom of the mind.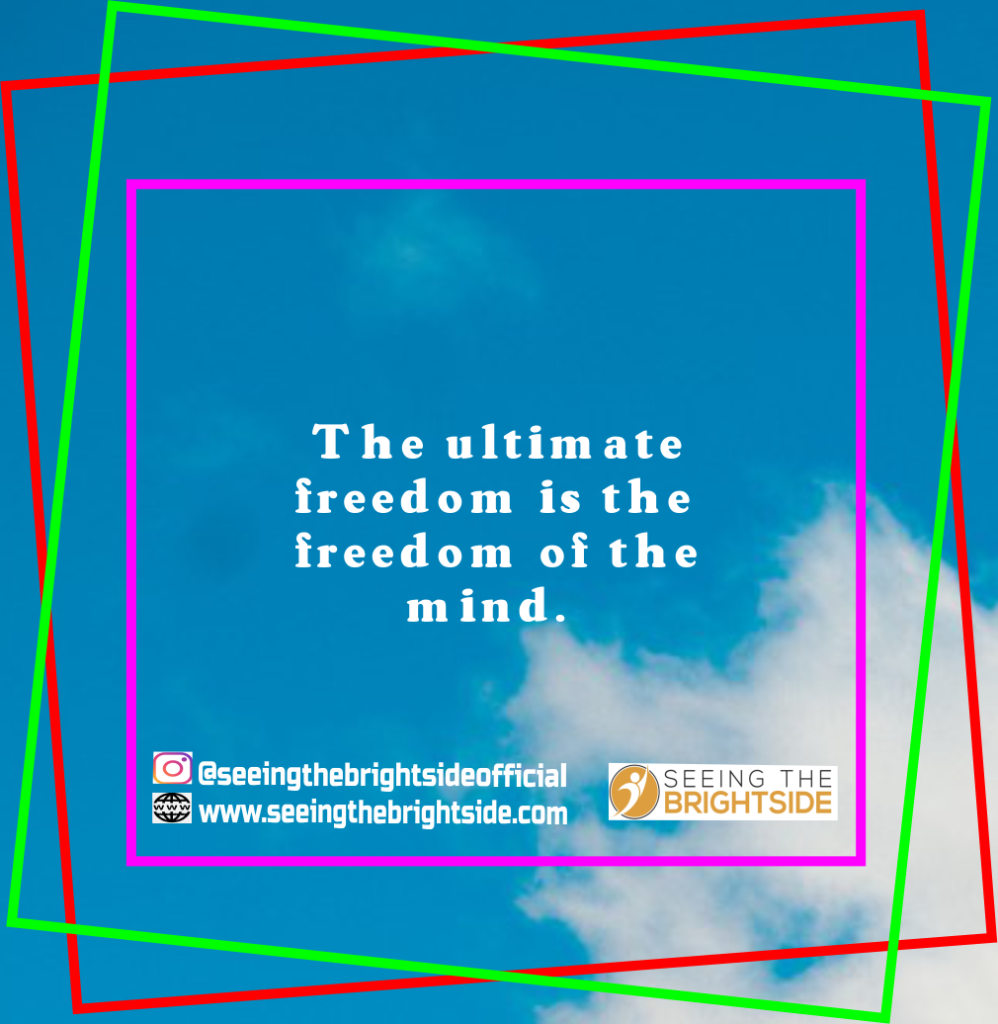 We at seeingthebrightside believe in self-development, improvement, and better performance. Check out some other highly recommended programs that will help you through the entire process.

Related Articles:
193 MOVING FORWARD QUOTES and Forget the Past Quotes (It Can Only Get Better From Here)
170 Most Helpful Quotes To Making Life Choices
Solid Confidence Quotes That Will Get You to a Better Place
217 All-Round Life Motivational Quotes. It Can Only Get Better From Here
228 Proven Quotes That Will Push You In The Direction Of Your Dreams
180 Wise Money Quotes, let's keep you on track
252 Encouraging Quotes To Inspire You For Success, It Can Only Get Better From Here
192 Inner Peace Quotes you need for development and calmness
Goal Setting Quotes That Will Set You Up For Life and keep you on Track
New Beginning Quotes that will help you in every area
How to improve your CHARISMA | We all need this
Startup Success 101 (The baseline to be successful in any business)
365 Days Daily Affirmations and Positive Statements | It can only get better from here
How to keep your relationship active | Simple Relationship goals
How to Achieve A WORK-LIFE BALANCE: 11 Easy Ways
Check out these 9 Simple and Easy Ways to Managing Stress
90 Never give up quotes; It can only get better
How to Find Inner Peace, 15 Simple Things You MUST Start Doing Today
Failure is Great, 14 Reasons Why you need to fail before you succeed
Dealing with Insecurity, Check out these 12 simple tips for getting over Insecurities in Relationships and Life in General
182 Simple Motivational Workout Quotes that will surely keep you focused
Do you want to be TIKTOK FAMOUS in 90 Days? (Check out these 9 proven ways)
How to Accept And Embrace Change in difficult Situations (15 helpful tips)
Do you want to Retire Early? You Need To Know These Things Before You Make That Decision
Why You must fully adopt Online Homeschooling Programs, 15 Ultimate Reasons (COVID is not the only reason)
Apply Now -10 Reasons You To Start Applying For Scholarships
Top 15 Learning Strategies To Understand Faster And Memorize Better
175 Ultimate Motivating short quotes to inspire you for greatness
15 Weight Loss Tips you need to know, it can only get better from here
You need these106 Monday motivation quotes to get the best out of the week
Top Pros And Cons of Social Media Platforms, How to use it to your advantage
Top 167 Positive Energy and Positive Vibes Quotes, you need this.
7 Exciting Reasons Why You Should Never Give Up On Your Dreams
Top 132 Family Love Quotes that are Exciting and Inspirational
8 Things That Are Just Not Worth Your Time, Let's Take Care Of These Things Quickly
6 Simple Ways To Attracting Amazing People Into Your Life
135 Inspirational Leadership Quotes, You Need This If You Want To Become A Great Leader
88 Most Inspiring and Love Quotes for Christmas
Want to Live a Happy Life? Here are 13 Things to Focus On
85 Inspiring Love Relationship Quotes, Let's build a greater bond
Ultimate Positive Mindset: Here are 15 ways to achieve it
22 Exciting Healthy Eating Lifestyle tips to keep you on track
Positivity and Negativity: 11 Reasons to quickly Avoid Negative People
Effective Skill Development,15 Ultimate ways to achieve it
Effective Study Strategy Techniques, 15 keys you need to activate
Team Motivation Strategies,10 Ultimate Tips To Keep Your Team Motivated
15 Ultimate Good Habits for Successful and Happy Life
These 9 Highly Effective Study Habits are Needed for a Successful Life
16 Ways to Stop Procrastinating, this is the ONLY way out
Life Improvement: 15 Small and easy ways to improve your life in 90 days
How to study smarter and not harder:14 Ultimate study strategy tips
Tracking Progress: You need to adopt all 12 Simple Ways to Track Progress Towards Your Goals
Anxiety (All you need to know): Managing and controlling Anxiety
Long Term Goals: You need these 10 proven ways to succeed
Motivation: 7 easy and applicable ways to stay motivated
Better Sleep: Sleep like a baby with these12 proven tips
Depression: All you need to know and getting out successfully
The needed and simple Time Management Skills for College Students
Vegan vs Vegetarian: Which is better? Everything you need to know
The FEMINISM MOVEMENT: All you need to know
7 Facts About The Law Of Attraction And 7 Practical Ways To Make It Work For You